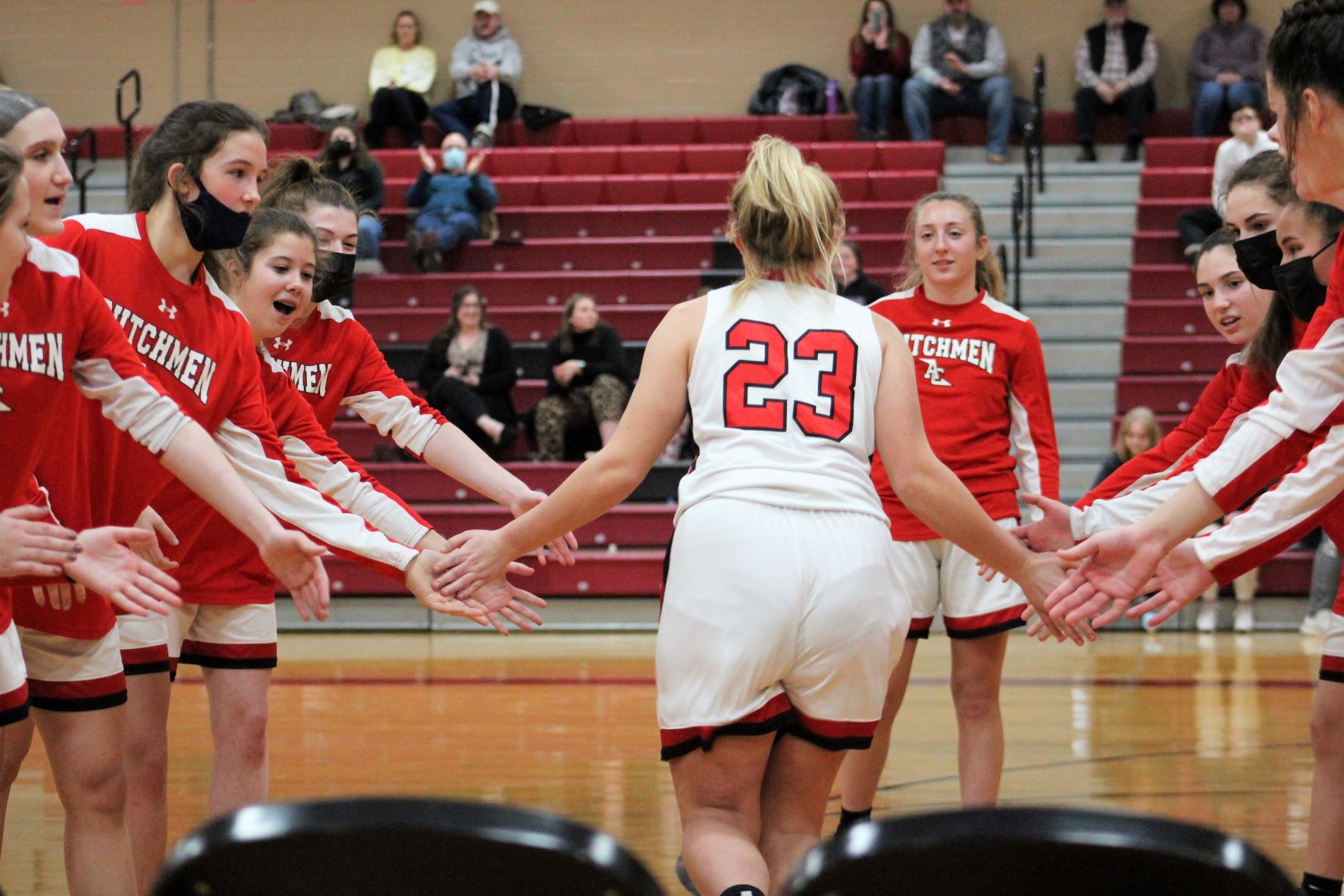 BY JEFF FALK
ANNVILLE – To this point of the season, the Annville-Cleona girls' basketball team has flown under the radar just a bit. But the Little Dutchmen are coming.
When they put together 32 minutes, that's how you'll know that they've arrived.
On Monday night at 'The Barn' on the campus of Annville-Cleona High School, the Little Dutchmen showed off their early-season improvement for three quarters, before falling to visiting East Pennsboro 53-40. Annville-Cleona displayed its determination, enhanced skills and  better ball movement for 24 minutes of action, but was outscored 16-3 in the fourth quarter.
With the non-league result, Annville-Cleona slipped to 3-6 under first-year head coach Wee Sanchez. East Pennsboro improved to 2-8 with the victory.
"I was with these girls over the summer," said Sanchez. "We have some talented athletes and we work hard, so the expectations were high coming into the season. Of all our games, we've been in every one but one. We're battling. We're a tough team and we're a good team. It's all new, but we're learning.
"I'm always an underdog," continued Sanchez. "I'm fine with flying under the radar, but these girls deserve some credit. They play hard, but we have to play 32 minutes. By the end of the season, we'll be sneaking up on some teams a little bit. We tell them, 'Work hard, and everything else will take care of itself.'"
After trailing by four points at halftime, Annville-Cleona concluded the third quarter with an 8-4 spurt to tie the game at 37. Sage Sherk netted four of those A-C points, while teammate Ava Hoover accounted for the other half.
The Little Dutchmen were still very much in it when Claire Hoover knocked down a jumper 2:12 into the fourth period to pull them to within 44-40 of the Panthers. But East Pennsboro notched the final nine points of the contest to make the final score a little misleading.
"I told them in the locker room that we had it," said Sanchez of his players. "We competed for about three quarters. In the last quarter, we kind of fell apart. We needed someone to step up, but we're young. That's going to happen. We need to understand the situations of the game and not panic. That's what you saw there.
"We definitely played well for three quarters," added Sanchez. "That's on us as coaches. We need to prepare them better for those situations."
In the final tally, Sherk paced the Little Dutchmen scoring with 13 points, while A. Hoover, an emerging freshman post presence, notched ten points off the bench. East Pennsboro shot the ball well and outscored Annville-Cleona 34-26 on two-point field goals.
"They're all important," said Sanchez. "We're still on the eight-spot for districts. But this one here was a winnable game for us.
"I think number 13 (East Pennsboro's Josie Shermyer) made four or five 'threes'," said Sanchez. "That was something that was in the scouting report. They're (the Panthers) shooters. In the first half, they killed us on 'threes'. In the fourth quarter, they made some 'threes' at the end. They're a nice team."
On three points from Sherk and a Sarah Speraw bucket, Annville-Cleona led 5-0, two-and-a-half minutes in. Later in the opening period, the Little Dutchmen registered six straight points, courtesy of a pair of A. Hoover baskets and a Sherk jumper, to open a 14-7 advantage.
"I think the positive takeaway was the energy," said Sanchez. "They (his players) showed a good 24 minutes of energy and heart. But we haven't seen 32 minutes from our team."
A three-pointer from Erin Schrader, followed by a pair of Josie Clay foul shots gave Annville-Cleona a 19-14 lead, 1:24 into the second stanza. Then 1:20 later, Clay's driving lay-in made it a 21-17 game.
But the Panthers outscored the Little Dutchmen 12-4 over the remainder of the first half and carried a 29-25 advantage to intermission.
"I think over the first couple of games, I was new to them (his players) and they were new to us," said Sanchez. "Now we're gelling. But we're a younger team and it's going to take some time. I'm happy with where we're at. We just have to learn how to win."
To purchase images in this article please email jeff@lebcosports.com.
2021-22 Annville-Cleona Girls' Basketball Schedule
| | | | | | |
| --- | --- | --- | --- | --- | --- |
| 2021-12-10 | A | vs | Hamburg(3) | L | 33-25 |
| 2021-12-11 | A | vs | Tri-Valley(11) | L | 37-31 |
| 2021-12-15 | A | vs | Columbia(3) | L | 63-18 |
| 2021-12-17 | H | vs | Pequea Valley(3) | L | 51-45 |
| 2021-12-20 | A | vs | Octorara(3) | W | 43-18 |
| 2021-12-28 | H | vs | Tulpehocken(3) | W | 44-29 |
| 2021-12-29 | H | vs | Littlestown(3) | W | 42-25 |
| 2022-01-05 | A | vs | Biglerville(3) | L | 62-48 |
| 2022-01-10 | H | vs | East Pennsboro(3) | L | 53-40 |
| 2022-01-12 | H | vs | Lancaster Country Day School(3) | | 0-0 |
| 2022-01-17 | H | vs | Lancaster Mennonite(3) | | 0-0 |
| 2022-01-18 | A | vs | Pequea Valley(3) | | 0-0 |
| 2022-01-20 | H | vs | Camp Hill(3) | | 0-0 |
| 2022-01-24 | A | vs | Middletown(3) | | 0-0 |
| 2022-01-25 | H | vs | Columbia(3) | | 0-0 |
| 2022-01-29 | A | vs | Camp Hill(3) | | 0-0 |
| 2022-02-01 | A | vs | Lancaster Mennonite(3) | | 0-0 |
| 2022-02-03 | H | vs | Octorara(3) | | 0-0 |
| 2022-02-05 | H | vs | Kutztown(3) | | 0-0 |
| 2022-02-07 | A | vs | York County School of Technology(3) | | 0-0 |
| 2022-02-08 | A | vs | Lancaster Country Day School(3) | | 0-0 |
| 2022-02-10 | A | vs | Oley Valley(3) | | 0-0 |