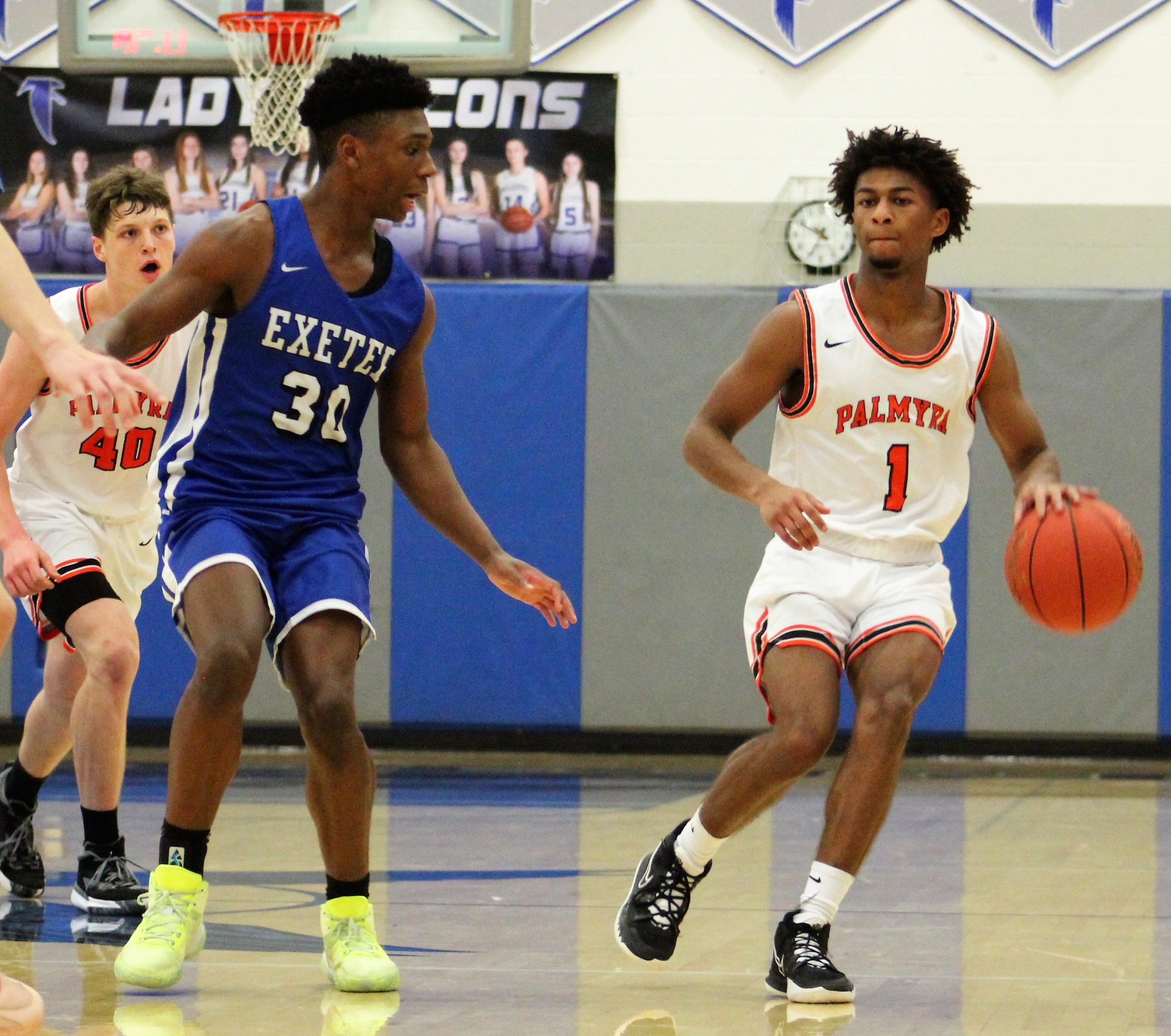 BY JEFF FALK
Editor
SOUTH LEBANON – The goal is to improve every day. But that's a lofty goal, an ultimate goal, sort of like chasing unattainable perfection and settling for excellence.
There's certainly a human element to the proposition, and there's also this sub-goal of wanting to peak at the right time of the season that needs to be addressed.
On Tuesday night, during the opening round of the Cedar Crest Holiday Tournament, the ever-evolving Palmyra boys' basketball team got just a little bit better, through a tough, grind-it-out 51-48 triumph over Exeter. After they led by a couple of possessions throughout, the Cougars needed Gavin Bean's clutch three-pointer with 15 seconds remaining to emerge victorious.
Teddy Snyder's free throws with 1:09 to go had tied the score at 48 for Exeter, before Palmyra ran the clock down and its offense produced Bean's clean look from the right wing. A desperation attempt by Snyder with four seconds left clanged off the rim short.
But not only did the stiff test make the Cougars a bit better, it also set up a showdown of Lebanon County's two best teams for the championship of the tournament. Palmyra will meet Lebanon at 7:30 p.m., back at Cedar Crest's 'The Cage'.
The Cedars reached the championship game by knocking off the host Falcons 51-46 in overtime.
The Cougars' 6-1 record represents their best start in Pete Conrad's 13 years as the head coach.
"That's just human nature," said Conrad, of the difficulties surrounding getting better every day. "You're not going to get better every day. But the goal is to strive for it. We were tested by a very good Exeter team, but we executed and we got a little better today.
"That's (6-1) nice," added Conrad. "Since I've taken over the program, we've never been 6-1. It just provide us with an opportunity to be better down the line."
Courtesy of back-to-back baskets from Christopher Edwards, Palmyra appeared comfortable, up 46-38 three minutes into the final quarter. But Edwards fouled out three minutes later, and all the Cougars could manage down the stretch was Eli Becker's inside score, as the Eagles tied the score with a 10-2 spurt.
During the third quarter, two free throws from Edwards and one from Becker had given Palmyra a 36-25 advantage.
"Some of the credit goes to number 12 (Exeter's Colin Payne)," said Conrad. "He scored in a variety of ways. We had a hard time dealing with him."
Becker pumped in 13 points to lead the Cougars' balanced attack. Edwards canned a dozen points and teammate Alex Dorta notched ten off the bench.
Palmyra outscored Exeter 28-22 on two-point field goals and 15-9 on 'threes'.
"We've got a group of laid back guys," said Conrad. "I thought the celebration in the locker room would've been a bit more vocal. That team threw some punches at us and we responded. I also told them (his players) that was the kind of game tonight that we're going to be playing in the playoffs.
"There's got to be some sort of balance there," continued Conrad. "You want to be improving, but I do think there are times when playing games is kind of like a reward for your hard work. We approach that opportunity with a lot of joy. I thought we played with toughness tonight."
Palmyra originally established its advantage with an early 10-0 run. A pair of buckets from Daniel Baldo, single baskets by Becker and Dorta and a couple of free throws from Edwards turned a modest 6-3 deficit into a 13-6 lead.
Then, the Cougars held Exeter without a point for the initial 5:21 of the second quarter and opened a 21-12 advantage on a Bean three-pointer and a Becker deuce.
"We talked about the idea of being aggressive and being assertive," said Conrad, of the key moments in the fourth quarter. "We think we were pretty good with the ball, so we weren't intentionally holding it. When you have senior guards, you can have a level of trust. That's a credit to those guys."
To purchase images in this article please email jeff@lebcosports.com.
2021-22 Palmyra Boys' Basketball Schedule
| | | | | | |
| --- | --- | --- | --- | --- | --- |
| 2021-12-10 | A | vs | Penn Manor(3) | W | 75-42 |
| 2021-12-11 | A | vs | Donegal(3) | W | 51-47 |
| 2021-12-14 | A | vs | Lower Dauphin(3) | W | 52-44 |
| 2021-12-17 | A | vs | Red Land(3) | W | 36-32 |
| 2021-12-20 | A | vs | Annville-Cleona(3) | W | 53-33 |
| 2021-12-22 | H | vs | Hershey(3) | L | 30-44 |
| 2021-12-28 | A | vs | Exeter Township(3) | | 0-0 |
| 2022-01-04 | H | vs | Mechanicsburg(3) | | 0-0 |
| 2022-01-07 | A | vs | Mifflin County(6) | | 0-0 |
| 2022-01-09 | A | vs | Lebanon(3) | | 0-0 |
| 2022-01-11 | H | vs | Cedar Cliff(3) | | 0-0 |
| 2022-01-14 | H | vs | Lower Dauphin(3) | | 0-0 |
| 2022-01-17 | H | vs | Milton Hershey(3) | | 0-0 |
| 2022-01-19 | H | vs | Red Land(3) | | 0-0 |
| 2022-01-22 | H | vs | Elizabethtown(3) | | 0-0 |
| 2022-01-25 | A | vs | Hershey(3) | | 0-0 |
| 2022-01-28 | A | vs | Mechanicsburg(3) | | 0-0 |
| 2022-02-01 | H | vs | Mifflin County(6) | | 0-0 |
| 2022-02-04 | A | vs | Cedar Cliff(3) | | 0-0 |
| 2022-02-05 | A | vs | Conrad Weiser(3) | | 0-0 |
| 2022-02-11 | A | vs | Milton Hershey(3) | | 0-0 |