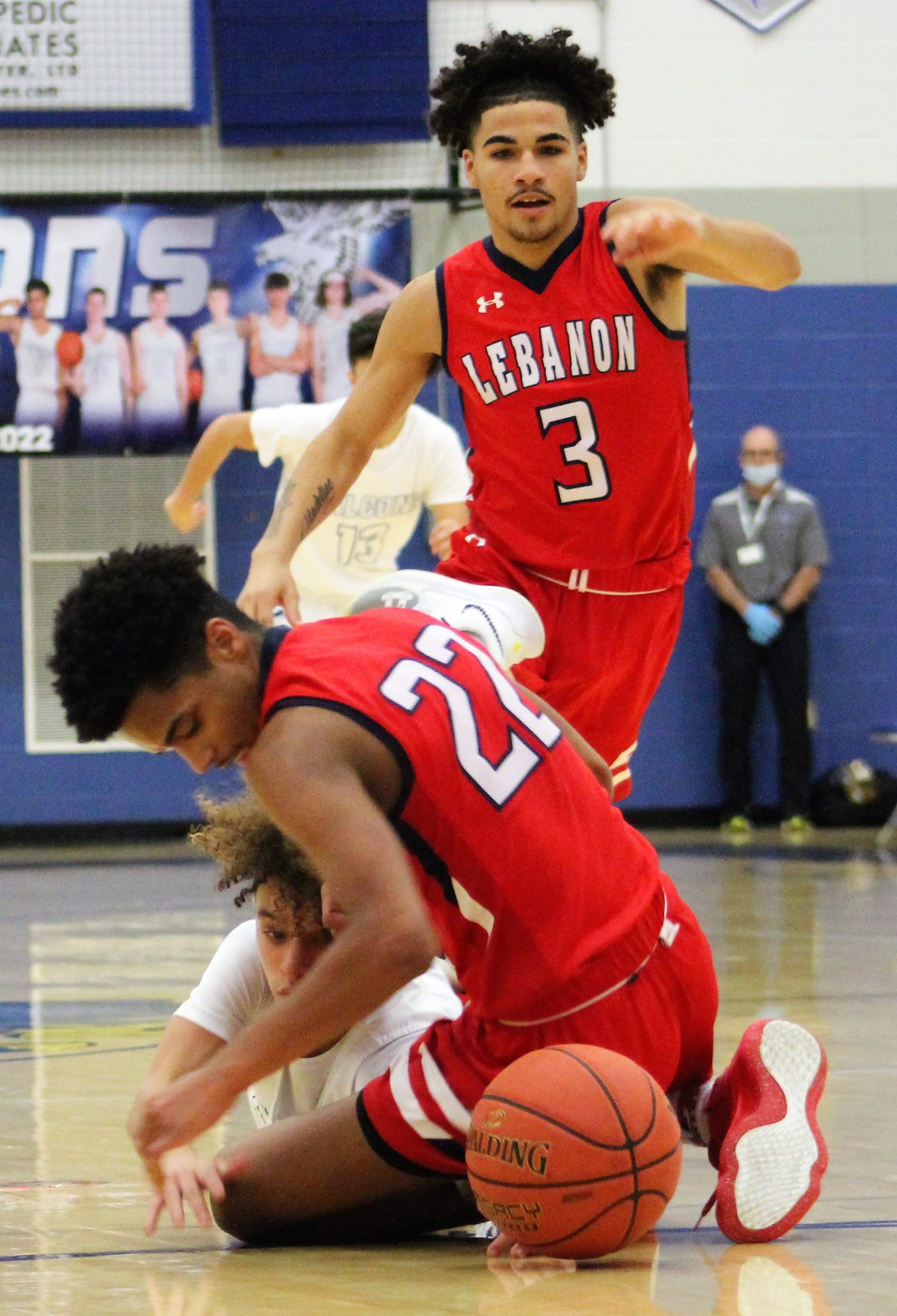 BY CHRIS SIOZOS
Correspondent
Photos from Jeff Falk
SOUTH LEBANON- Tough, scrappy, well-coached, a grind. Some of the key words taken away from last night's game featuring the Cedar Crest Falcons and the Lebanon Cedars, and quite frankly, the same words used to describe every matchup between these two.
Everyone loves a good rivalry matchup, especially when it rhymes with Cedar Crest vs Lebanon.
On Tuesday night in the second game of the Cedar Crest Holiday Tournament – following a game-winning three-pointer by Palmyra over Exeter in the opener – the Lebanon boys' basketball team was able to squeak out an overtime victory, 51-46 over cross-town rival Cedar Crest to advance to Wednesday's championship game. Marquis Ferreira finished with 16 points and Michael Franco-Suazo added 13 points for the Cedars. For the Falcons, Fernando Marquez had 13 points and Aiden Schomp added 11 points, along with a handful of blocks.
From the opening tip, it seemed like this was Lebanon's game. The Cedars got out quick by knocking down a couple of threes and forcing Cedar Crest to play out of their element. The Falcons were trying to match the energy of the Cedars, but turnovers and offensive fouls had the Lebanon crowd roaring early.
After a so-so second quarter, Lebanon took a commanding 27-17 into halftime.
"Do what we do" was the exact message Cedar Crest coach Tommy Smith gave to his guys at halftime. "Let's just get back to doing what we do"
In the third quarter, it looked as if the Falcons did just tha,t as they opened on a 10-2 run and just like that, the Cedars lead was evaporated. The Caged Crazies were louder than ever, and the Falcons fed off of it, as they forced missed shot after missed shot, and turnovers galore. After what seemed to be a clean block, but called a foul on Cedar Crest's Schomp, Lebanon was able to get a free throw and finish the quarter on a 5-0 run, giving the Cedars a 35-31 lead going into the fourth.
After a back and forth fourth quarter, that kept everyone on edge, Cedar Crest's Marquez dribbled through the lane and hit an and-1 layup to give the Falcons a one-point lead with 13 seconds left to play. After making the free throw and putting the Falcons up 42-40, Lebanon came back and tied the game on a Nate Diaz layup to force OT.
In OT, Lebanon was able to beat Cedar Crest, now 3-3, down low and come out with a hard-fought victory. The Cedars will play Palmyra on Wednesday for the Holiday Tournament Championship.
Talking to Lebanon Head Coach Tim Speraw after the game about his thoughts on the fourth quarter and on the final play for the Cedars, he said "We knew we wanted the ball in Marquis and Adrian's hands. We drew that final play up well, but the ability our players had to make those two extra passes to find Nate underneath for the layup was phenomenal."
Coach Speraw added that he has a great group of guys and that he is happy to be 6-1, after losing some key players at the start of the season.
As for Falcons' Head Coach  Smith, he mentioned the game was a "tale of two halves."
"First half was not good, we didn't defend well, gave up too man layups and second chance points and we just weren't doing the things we are good at," said Smith. "Second half was much better, we got back to our fundamentals, and I thought the last play we ran was executed perfectly."
Smith also mentioned that "experience shows" and Lebanon showed "good poise" to make that final bucket in regulation happen for them.
As for the Falcons, they will rematch with the Exeter Eagles on Wednesday at 6 p.m., trying to bounce back from their previous matchup, where the Eagles came out on top.
To purchase images in this article please email jeff@lebcosports.com.
2021-22 Lebanon Boys' Basketball Schedule
| | | | | | |
| --- | --- | --- | --- | --- | --- |
| | | | | | |
| 2021-12-10 | H | vs | Spring Grove Area(3) | W | 57-32 |
| 2021-12-11 | H | vs | Eastern Lebanon County(3) | W | 34-29 |
| 2021-12-14 | A | vs | Governor Mifflin(3) | W | 60-45 |
| 2021-12-16 | A | vs | Ephrata(3) | W | 63-34 |
| 2021-12-18 | H | vs | Hershey(3) | L | 59-46 |
| 2021-12-21 | H | vs | Elizabethtown(3) | W | 47-42 |
| 2021-12-28 | A | vs | Cedar Crest Tournament() | W | 51-46 OT |
| 2021-12-29 | A | vs | Cedar Crest Tournament() | | 0-0 |
| 2022-01-04 | H | vs | Warwick(3) | | 0-0 |
| 2022-01-07 | A | vs | Conestoga Valley(3) | | 0-0 |
| 2022-01-09 | A | vs | Rhoads Classic() | | 0-0 |
| 2022-01-11 | H | vs | J P McCaskey(3) | | 0-0 |
| 2022-01-15 | A | vs | Cedar Crest(3) | | 0-0 |
| 2022-01-18 | H | vs | Hempfield (3)(3) | | 0-0 |
| 2022-01-21 | A | vs | Penn Manor(3) | | 0-0 |
| 2022-01-24 | A | vs | Garden Spot(3) | | 0-0 |
| 2022-01-25 | H | vs | Ephrata(3) | | 0-0 |
| 2022-01-28 | H | vs | Manheim Township(3) | | 0-0 |
| 2022-02-01 | A | vs | Elizabethtown(3) | | 0-0 |
| 2022-02-04 | A | vs | Warwick(3) | | 0-0 |
| 2022-02-07 | H | vs | Lower Dauphin(3) | | 0-0 |
| 2022-02-08 | H | vs | Conestoga Valley(3) | | 0-0 |
2021-22 Cedar Crest Boys' Basketball Schedule
| | | | | | |
| --- | --- | --- | --- | --- | --- |
| 2021-12-10 | A | vs | Exeter Township(3) | L | 50-52 |
| 2021-12-11 | A | vs | Conrad Weiser(3) | W | 46-37 |
| 2021-12-15 | H | vs | Susquehanna Township(3) | W | 57-32 |
| 2021-12-17 | H | vs | Hempfield (3)(3) | L | 56-42 |
| 2021-12-21 | A | vs | Penn Manor(3) | W | 58-50 |
| 2022-01-03 | A | vs | Central Dauphin(3) | | 0-0 |
| 2022-01-05 | A | vs | J P McCaskey(3) | | 0-0 |
| 2022-01-07 | H | vs | Manheim Township(3) | | 0-0 |
| 2022-01-11 | H | vs | Wyomissing(3) | | 0-0 |
| 2022-01-12 | A | vs | Elizabethtown(3) | | 0-0 |
| 2022-01-15 | H | vs | Lebanon(3) | | 0-0 |
| 2022-01-18 | A | vs | Ephrata(3) | | 0-0 |
| 2022-01-21 | H | vs | Warwick(3) | | 0-0 |
| 2022-01-25 | A | vs | Conestoga Valley(3) | | 0-0 |
| 2022-01-28 | A | vs | Hempfield (3)(3) | | 0-0 |
| 2022-02-01 | H | vs | Penn Manor(3) | | 0-0 |
| 2022-02-04 | H | vs | J P McCaskey(3) | | 0-0 |
| 2022-02-08 | A | vs | Manheim Township(3) | | 0-0 |

Lebanon Federal Credit Union