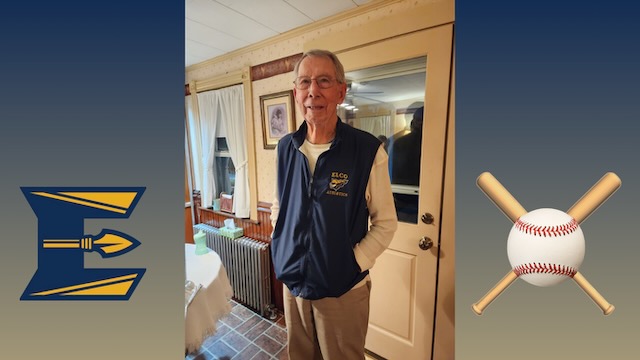 Lyle Krall, the ELCO Baseball legend, turns 91 on Saturday.  Happy birthday Coach!
In order to help celebrate, we'd like to share some birthday wishes from those that know him.
If you have a happy birthday message that you'd like to share with Coach Krall, please reach out on Facebook, tag us on Twitter/X (@lebcosports1), or by emailing dan@lebcosports.com.  We will then share any well wishes that we get.
Coach Lyle Krall is a legend in the baseball community.  After playing in the minor leagues, he settled in Lebanon County and served as the head coach of ELCO Baseball for over 40 years.  During his tenure, the Raiders won over 400 games.  He is still actively coaching, teaching the fundamentals of baseball to the next generation.
Happy 91st birthday to ELCO legend Lyle Krall! 🎂 🥳

If you'd like to share a birthday message to honor the legendary coach, please tag us. @ELCOAthletics @Coach_Thome pic.twitter.com/nCR9TMJmu0

— LebCoSports.com (@LebCoSports1) November 11, 2023
While there were hundreds of messages across social media, here is a sampling of some of the birthday wishes and memories of the living legend Lyle Krall.
"Happy birthday Coach Krall! You've been an amazing coach, teacher, mentor, and friend to so many of us.  I appreciate everything you've taught me and all of your support through the years.  I have great memories of you coming to visit me in college, introducing me to Mike Mussina, times in the batting cage, and all of our high school games among many others.  Thanks for all you've done for so many of us!"  – Corey Wenger
"Happy Birthday, Coach! Your impact on the community—on and off the field—is tough to quantify. I know you've made me a better man and coach by watching you and trying to follow your example of humility, grace, and class. You've mentored a lot of us just by how you live your life!" – Steve Beard
"Happy Birthday, Mr. Krall! I hope you enjoy your day. Thank you for teaching me how to keep the book!" – Becca Hollinger Hentz
"Happy birthday coach Krall. You are a legend for so many reasons, but the most important one, you're simply a great human being." – McKenzie Walker
"Simply the best. Never ages. Have another great year!!" – Debra Tice
"Happy Birthday Mr Krall. Remembering great times of ELCO baseball. Lifetime memories of Puerto Rico spring training trip 1979 & our 1980 section championship team. Thanks coach." – Greg Bicher
"Amazing coach and mentor. Coach Krall coached my dad in high school as well as me." – Clint Lutz
"Happy birthday, Lyle. Enjoy your day and thank you for all you have done for the young people for sure." – Joe Kirsch
"Congratulations on your 91st birthday! You will always be one of my favorite teachers & just a special human being!"  – Joanie Brooks Ludwig
"Happy 91st Birthday, Lyle.  My husband, Tom Reilly, would certainly have wished you a wonderful day on your birthday…"have a great day" as he would say." – Phyllis Reilly   
"Happy Birthday Lyle!!! Or, Mr. Krall!!!" – Ron and Sherrie Stohler 
"Happy Birthday 🎂🎈🎁🎊🎉 Lyle. Apart from being a great coach Lyle is an awesome person and was a wonderful friend when I worked at ELCO. We are blessed to know him." – Cyndi Boehler-Walsh
"One of the greatest inspirations in so many lives. Great man. Happy birthday Coach" – Sloan Caplan
"And when he comes to watch LVC and ends up parking far away, never ever complains. Always love our quick chats when he walks by. Happy birthday, Coach!" – Bob Adams
"Thank Lyle for all the years of you coaching. GOD bless you." – Joe Kirsch
"Happy Burpy Lyle. Glad you didn't teach spelling! I'll were my JIM shorts next class . Lol" – Brian Hoffman
"OMG Lyle…how is it possible that you're 91? We shared many good times with you & Loretta back in the day. HAPPY BIRTHDAY!" – Nancy Deiter
"Happy Birthday Lyle. Great coach and full of baseball knowledge." – Lee Lutz
"Was my greatest Honor to Coach With this man for 19 Seasons. My legacy was getting the field at ELCO named Lyle Krall Field!!" – Chris Weidner
"Best in the business! Should be a model for all coaches, no matter the sport!" – Tommy Long
"Best health teacher ever!" – Chris George
"Legend!!! Wonderful coach and mentor to so many. Happy Birthday Coach!" – Jon Shehan
"Happy Birthday Lyle! You still look like you could turn two!" – Gary Albert