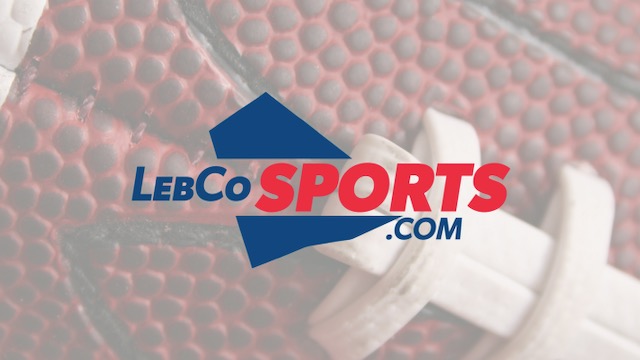 In what has become a tradition in Lebanon County, the coaches from the six high schools get together at the end of each year to vote on the All-County Team.  Below are the selections from the 2023.
Cedar Crest leads the way with the most individuals being honored, with seventeen First Team or Second Team selections.  This is fitting, as the Falcons went 8-2 and are currently preparing for their District 3 Playoff match-up this Saturday against Harrisburg.
In addition to the Cedar Crest players being honored, Coach Rob Wildasin was chosen by his peers as the Lebanon County Coach of the Year.
The coaches also selected "Big Mike" Rivera for the Inspirational Award in a touching gesture.  In April Rivera passed away unexpectedly ahead of his senior season and the Cedar Crest program dedicated their season his in honor.
---
If you like this type of coverage, please let us know by Following us on social media:
Twitter/X – @lebcosports1 and Facebook.
For any questions, comments, or discrepancies, please reach out to dan@lebcosports.com.
---
Coach of the Year
Rob Wildasin – Cedar Crest
---
First Team All-County Selections
First Team Inspiration
Michael Rivera (Sr.) – Cedar Crest
First Team All-County Offense
Quarterback
Jackson Custer (Jr.) – Cedar Crest
Running Back          
Cael Harter (Sr.) – Annville-Cleona
Fernando Marquez (Sr.) – Cedar Crest
Jake Williams (Sr.) – ELCO
Mo Gonzalez (Sr.) – Northern Lebanon
Wide Receiver          
Owen Chernich (Sr.) – Cedar Crest
Jack Waranavage (Jr.) – Cedar Crest
Malachi Briddell (So.) – Lebanon
Jon McDannell (Sr.) – Palmyra
Tight End      
Aiden Schomp (Sr.) – Cedar Crest
Center
Nicholas Lambros  (Sr.) – Cedar Crest
Tupac Vasquez Disla (Jr.) – ELCO
Guard/Tackle
Darrian Holloway (Sr.) – Annville-Cleona
Cam Simone (Sr.) – Cedar Crest
Carter Kemper (Sr.) – ELCO
Corbett Brickle (Sr.) – Lebanon
Beau Toler – (Jr.) – Palmyra
Offensive Athlete
Jon Shay (Jr.) – Annville-Cleona
Utility Player
Titus Orlando (Sr.) – Palmyra
First Team All-County Defense
Nose Guard / Defensive Tackle      
Damien Miller  (Sr.) – Annville-Cleona
Tristan Long (Jr.) – Cedar Crest
Corbett Brickle (Sr.) – Lebanon
Logan Howard (Sr.) – Palmyra
Defensive End
Aiden Schomp (Sr.) – Cedar Crest
Josiah Wright (Sr.) – Lebanon
Tanner Feagley (Sr.) – Northern Lebanon
Linebacker  
Darrian Holloway (Sr.) – Annville-Cleona
Caleb Dorshimer (Sr.) – Cedar Crest
Elliott Kreider (Sr.) – ELCO
Luke Shaffer (Sr.) – Northern Lebanon
Mo Gonzalez (Sr.) – Northern Lebanon
Kadin Jones (Sr.) – Palmyra
Kyle Koennecke (Sr.) – Palmyra
Cornerback 
Leo Tirado (Sr.) – Cedar Crest
Kenyon Figueroa (Sr.) – Cedar Crest
Charlie Stewart (Jr.) – Palmyra
Safety 
Cael Harter (Sr.) – Annville-Cleona
Owen Chernich (Sr.) – Cedar Crest
Logan Oriel (Sr.) – Cedar Crest
Nathan Eisenhooth (Sr.) – Palmyra
First Team All-County Special Teams                              
Kick Returner 
Malachi Briddell (So.) – Lebanon
Punt Returner
Jack Waranavage (Jr.) – Cedar Crest
Kicker
Ira Gensamer (Sr.) – ELCO
Punter
Riley Messinger (Jr.) – Northern Lebanon
Long Snapper
Gavin Bicher (Jr.) – ELCO
---
---
Second Team All-County Selections
Second Team All-County Offense
Quarterback 
Cameron Connelly (Sr.) – Annville-Cleona
Running Back          
Bryce Keller (Jr.) – Annville-Cleona
Alejandro Abreu (Sr.)  – Cedar Crest
Myles Watson (Jr.) – Northern Lebanon
Braxtin Risser (So.) – Palmyra
Wide Receiver
Braylon Beaver (Sr.) – Lebanon
Brendan Ryan (Jr.) – Northern Lebanon
Tight End     
Luke Shaffer (Sr.) – Northern Lebanon
Center
Alec Tetzlaff (Sr.) – Annville-Cleona
Kadin Jones (Sr.) – Palmyra
Guard/Tackle
Damien Miller  (Sr.) – Annville-Cleona
Malacai Victa (Jr.) – Annville-Cleona
Alex Kissinger (Jr.) – Cedar Crest
Christian Weaber (Sr.) – Cedar Crest
Hayden Adams (Jr.) – Northern Lebanon
Second Team All-County Defense
Nose Guard / Defensive Tackle      
Malacai Victa (Jr.) – Annville-Cleona
Christian Weaber (Sr.) – Cedar Crest
Luke Bailey (Jr.) – ELCO
Hayden Adams (Jr.) – Northern Lebanon
Defensive End          
Jon Shay (Jr.) – Annville-Cleona
Cam Simone (Sr.) – Cedar Crest
Paul Williams (So.) – ELCO
Linebacker    
Richie Hernandez (Sr.) – Cedar Crest
Malachi Victor (Jr.) – Cedar Crest
Lee Tobias (Sr.) – ELCO
Eli Rose (Jr.) – Palmyra
Cornerback   
Austin Yesko (Jr.) – ELCO
Bryan Mitzel (So.) – Northern Lebanon
Kaden Readinger (Sr.) – Palmyra
Safety
Derrick Briddell (Sr.) – Lebanon
Justin Smucker (Jr.) – ELCO
Second Team All-County Special Teams   
Kick Returner
Eli Rose (Jr.) – Palmyra
Kicker
Matt Bordner (Sr.) – Palmyra
Punter
Jason McCurdy (Sr.) – Palmyra
---
---
Honorable Mentions
Joey Altebrando – Palmyra
Dominic Casciotti – Annville-Cleona
Kael Erdman – Northern Lebanon
Keagen Kleinfelter – Palmyra
Ryan Kowalski – Palmyra
Jahkeim Medlock – Lebanon
Tim Montijo – Annville-Cleona
Hudson Sellers – Annville-Cleona
Anthony Snyder – Palmyra
Brady Stoops – ELCO
---
---
---
Selections by School
     Annville-Cleona Dutchmen 
Alec Tetzlaff (Sr.) – 2nd Team Center
Bryce Keller (Jr.) – 2nd Team Running Back
Cael Harter (Sr.) – 1st Team Running Back / 1st Team Safety
Cameron Connelly (Sr.) – 2nd Team Quarterback
Damien Miller (Sr.) 2nd Team Guard/Tackle /  1st  Team Nose Guard/Defense Tackle
Darrian Holloway (Sr.) – 1st Team Guard/Tackle / 1st Team  Linebacker
Jon Shay (Jr.) – 1st Team Offensive Athlete / 2nd  Team Defensive End
Malacai Victa (Jr.) – 2nd Team Guard/Tackle / 2nd Team Nose Guard/Defense Tackle
Honorable Mentions: Dominic Casciotti, Tim Montijo, Hudson Sellers

Cedar Crest Falcons 
Aiden Schomp (Sr.) – 1st Team Tight End / 1st Team Defensive End
Alejandro Abreu (Sr.)  – 2nd Team Running Back
Alex Kissinger (Jr.) – 2nd Team Guard/Tackle
Caleb Dorshimer (Sr.) – 1st Team Linebacker
Cam Simone (Sr.) – 1st Team Guard/Tackle / 2nd Team Defensive End
Christian Weaber (Sr.) – 2nd Team Guard/Tackle / 2nd Team Nose Guard/Defensive Tackle
Fernando Marquez (Sr.) – 1st Team Running Back
Jack Waranavage (Jr.) – 1st Team Wide Receiver / 1st Team Punt Return
Jackson Custer (Jr.) – 1st Team Quarterback
Kenyon Figueroa (Sr.) – 1st Team Cornerback
Leo Tirado (Sr.) – 1st Team Cornerback
Logan Oriel (Sr.) – 1st Team Safety
Malachi Victor (Jr.) – 2nd Team Linebacker
Michael Rivera (Sr.) – 1st Team Inspirational
Nicholas Lambros (Sr.) – 1st Team Center
Owen Chernich (Sr.) – 1st Team Wide Receiver / 1st Team Safety
Richie Hernandez (Sr.) – 2nd Team Linebacker
Tristan Long (Jr.) – 1st Team Nose Guard/Defensive Tackle
     

ELCO Raiders  
Austin Yesko (Jr.) – 2nd Team Cornerback
Carter Kemper (Sr.) – 1st Team Guard/Tackle
Elliott Kreider (Sr.) – 1st Team Linebacker
Gavin Bicher (Jr.) – 1st Team Long Snapper
Ira Gensamer  (Sr.) – 1st Team Kicker
Jake Williams  (Sr.) – 1st Team Running Back
Justin Smucker (Jr.) – 2nd Team Safety
Lee Tobias (Sr.) – 2nd Team Linebacker
Luke Bailey (Jr.) – 2nd  Team Nose Guard/Defensive Tackle
Paul Williams (So.) – 2nd Team Defensive End
Tupac Vasquez Disla (Jr.) – 1st Team Center
Honorable Mention: Brady Stoops

Lebanon Cedars
Braylon Beaver (Sr.) – 2nd Team Wide Receiver
Corbett Brickle (Sr.) – 1st Team Guard/Tackle / 1st Team Nose Guard/Defensive Tackle
Derrick Briddell (Sr.) – 2nd Team Safety
Josiah Wright (Sr.) – 1st Team Defensive End
Malachi Briddell (So.) – 1st Team Wide Receiver / 1st Team Kick Return
Honorable Mention: Jahkeim Medlock

Northern Lebanon Vikings
Brendan Ryan (Jr.) – 2nd Team Wide Receiver
Bryan Mitzel (So.) – 2nd Team Cornerback
Hayden Adams (Jr.) – 2nd Team Guard/Tackle / 2nd Team Nose Guard/Defensive Tackle
Luke Shaffer (Sr.) – 2nd Team Tight End / 1st Team Linebacker
Mo Gonzalez (Sr.) 1st Team Running Back / 1st Team Linebacker
Myles Watson (Jr.) – 2nd Team Running Back
Riley Messinger (Jr.) – 1st Team Punter
Tanner Feagley (Sr.) – 1st Team Defensive End
Honorable Mention: Kael Erdman

Palmyra Cougars
Beau Toler (Jr.) – 1st Team Guard/Tackle
Braxtin Risser (So.) – 2nd Team Running Back
Charlie Stewart (Jr.) – 1st Team Cornerback
Eli Rose (Jr.) – 2nd Team Kick Return / 2nd Team Linebacker
Jason McCurdy (Sr.) – 2nd Team Punter
Jon McDannell (Sr.) – 1st Team Wide Receiver
Kaden Readinger (Sr.) – 2nd Team Cornerback
Kadin Jones (Sr.) – 2nd Team Center / 1st Team Linebacker
Kyle Koennecke (Sr.) – 1st Team Linebacker
Logan Howard (Sr.) – 1st Team Nose Guard/Defensive Tackle
Matt Bordner (Sr.) – 2nd Team Kicker
Nathan Eisenhooth (Sr.) – 1st Team Safety
Honorable Mentions: Joey Altebrando, Keagen Kleinfelter, Ryan Kowalski, Anthony Snyder