Cedar Crest Boys Tennis is the 2023 Section 1 Champion!  With yesterday's emphatic 6-1 victory over the visiting Hempfield Black Knights, the Falcons secured at least a share of the Section 1title.  With a win over Warwick on Wednesday, they will win it outright.  The title is the second in a row for a program that in recent years has become a dominant force in the Lancaster Lebanon League.  This is the third time that the Falcons have won the Section 1 title in the past four season over five years (if you may remember, there was not a 2020 season).
Without a doubt, first year head coach Phil Rader inherited a solid program from former coach Mike Rohrbach. Rader, who had previous experience as the Cedar Crest Girls Tennis coach, has not missed a beat and has consistently put his players in a position to win.  Coach Rader's most major challenge was that three seniors from last year's team had graduated.  That has not seemed to matter, as the Falcons are now 12-0 and hold the #1 spot in the District Three 3A Power Rankings.
The Falcons have benefitted from strong play from a talented crew of young men throughout the season.  In the win over Hempfield, they swept Singles with Viseth Meng, Rocco Shkreli, Joe Shkreli, and Charlie Robbins each winning their matches. In Doubles, the Shkrelis paired up to win, while the duo of Ryan Glover and Ben Sheffield also earned a victory.  In communicating with Rader following the match, he made it clear that he is proud of all the young men on his team and that he is confident they will be able to close it out on Wednesday, a match for which he is excited.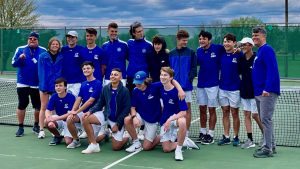 In catching up with the former coach Rohrbach, who served twenty-one years as the head coach before resigning to take on a new role as an administrator at Cedar Crest High School, he pointed out that from 2000-2018 his teams won Section 1 just once prior to this most recent run. The section was dominated each year by Hempfield and Manheim Township. He went on to say, "To put together this kind of run where we have either won or been in the mix of the section championships over the last 5 years is special."  In defeating Hempfield to win the championship puts a special emphasis on how far the Falcon tennis program has come.  Rohrbach said, "I love that it is an expectation (to win) as opposed to a 'What if we can just beat either Hempfield or Manheim Township!?'"  Now those programs are left saying that about Cedar Crest.
With one goal just about checked off the list, the Falcons will now look ahead to the postseason.  With the way that they are currently playing, we may be waiting awhile until Cedar Crest's season officially ends.
Cedar Crest Boys Tennis Season Results