This section was started as a way to share some of the many noteworthy items that occur on a regular basis.  We get some of it out via our social media, but keeping up with every item can prove difficult.  We hope you enjoy.  If you have anything you think we should know, please reach out by sending an email dan@lebcosports.com or by finding us on Twitter @lebcosports1.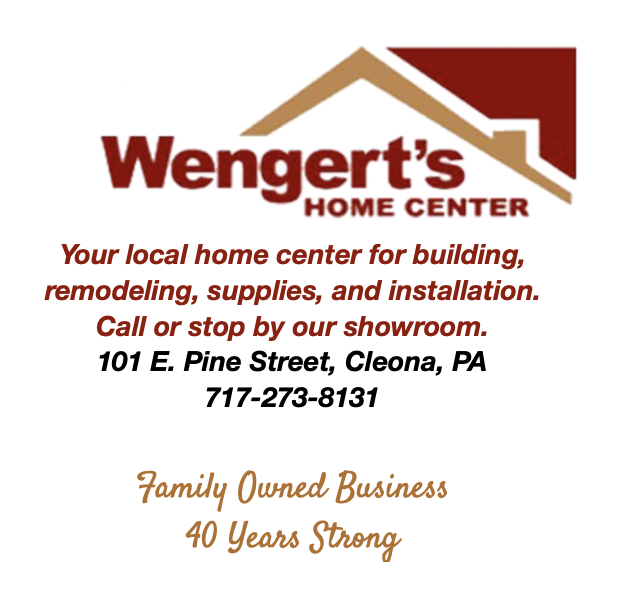 Today's Sport Shorts is proudly presented by our sponsor, Wengert's Home Center, the home improvement leader in the Lebanon Valley since 1981.
---
The Pennsylvania State Football Coaches Association's annual East-West All-Star Game will feature two familiar faces in the Small School game.  Representing the East will be Annville-Cleona senior linebacker Alex Long.  The head coach for the East Team is Annville Cleona's Matt Gingrich.  The game will take place on May 21st at Bishop McDevitt High School.  Kickoff will occur at noon.
This was not the only exciting announcement this week involving Long.  On Tuesday, he took to Twitter to announce that he committed to play collegiately at Robert Morris University.  As a member of the Colonials, Long will compete in the Big South Conference of the FCS.
I am very excited to announce that I will be continuing my academic and athletic career at Robert Morris University! Thank you to the entire staff for this opportunity. Also thank you to all of my family, coaches, and teammates for the continued support. Can't wait to work! pic.twitter.com/Nw2KmgS8TZ

— Alex Long (@alex_long22) February 28, 2023
---
Lebanon Girls' Basketball star Kailah Correa is only a sophomore, but on Monday night eclipsed the 1,000 point mark for her varsity high school career.  The moment came when she hit a key corner three in the 4th quarter as the Cedars defeated Manheim Township 50-44 in the Consolation Round of the PIAA District 3 Playoffs.  Her name will be added to the banner that hangs in the Lebanon High School gymnasium, right beside Lebanon's last 1,000 point scorer who Kailah knows well as it is her sister Giahny.  The older sister, who plays for PSU-Harrisburg was present for her younger sister's achievement.
---
If you watch Twitter, one of Kailah Correa's fans seems to be another former Lebanon County basketball superstar who is currently tearing it up at the collegiate level.  Cedar Crest's Ariel Jones again won the PSAC Eastern Division Women's Basketball Athlete of the Week for the NINTH time this season.  Over the course of two games last week, Jones average 33 points to go with a multitude of other impressive stats.  She also broke her own Shippensburg record for points in a single season when she scored her 691st point of the '22-'23 campaign (she now has 729).  With her Shippensburg Lady Raiders winning both games, they claimed a share of the regular season conference championship.
Last night, Jones scored 23 as her team defeated Kutztown to move onto the PSAC Semifinals where they will face Gannon on Saturday afternoon.
WBB: Congratulations to Ariel Jones for breaking the school record for single season career points with 691 points. She broke her own record of 690 that she set her sophomore year!🎉 pic.twitter.com/RD6TtgRwoc

— SHIP Sports Info (@ShipURaiders) February 25, 2023
---
Three members of the New Covenant Basketball community have been named CCAC All-Conference Team.  Top tier scoring threat Ben Hartman was named 1st team.  High flying Colson Hess was given an Honorable Mention nod on the boys side, while Miracle Hershey was given the same on the girls side.
Some Phi Slamma Jamma action from last night's New Covenant game. Colson Hess slams it down!!! Ben Hartman with the assist. pic.twitter.com/uXCZFZ8Jq8

— LebCoSports.com (@LebCoSports1) January 19, 2023
---
At the PIAA District 3 Wrestling Tournament, Northern Lebanon's Clayton Erb was selected as a recipient of the Scholarships for Books award that is given to wrestlers planning to further their education after having proven they work as hard in the classroom as they do on the mat.  Erb will be one of six Viking wrestlers competing in this weekend's AA Southeast Regional Wrestling Tournament (see the full list here).
---
Palmyra Field Hockey sophomore Hadley Hoffsmith was named by MaxFieldHockey as a Top 100 player to watch for the Class of '25.  Hoffsmith was a key member of last season's team that finished the season as the PIAA Runner-up.  Though only a sophomore, Hoffsmith was given Honorable Mention honors on the All-State Team.
---
If you are looking to provide feedback or are a business or individual interested in providing sponsorship to aid our mission at LebCoSports, you are asked to contact Dan by emailing dan@lebcosports.com.