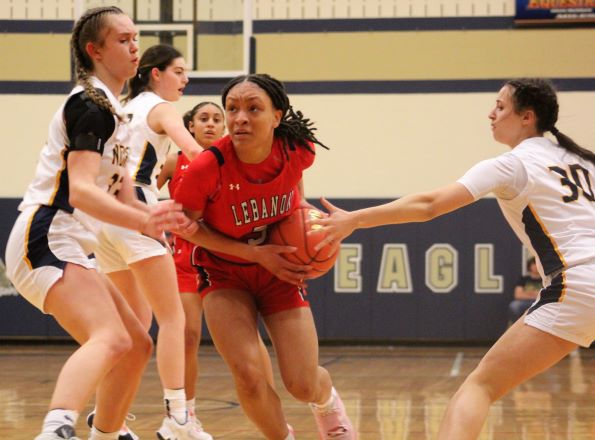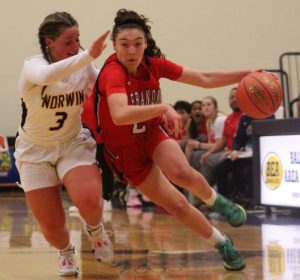 BY JEFF FALK
Editor
BELLEFONTE – No dissension. No dissatisfaction.
No excuses. No regrets.
No apologies. No quit.
They didn't play their best game. But they did leave everything they had on the floor.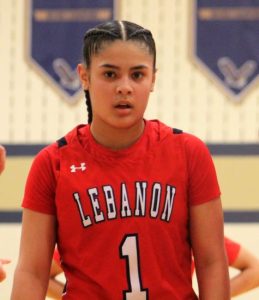 On Tuesday evening at Bald Eagle Area High School, one of the most successful seasons in Lebanon girls' basketball history concluded with a 57-43 loss to Norwin, in the second round of the PIAA Class AAAAAA playoff tournament. The Cedars hung with the Knights for a good portion of the first half, then succumbed to debilitating foul difficulties.
With the result, Lebanon, the fifth-place finisher out of District Three, ended its spectacular campaign at 27-3. By winning the first 24 games of their season, the young Cedars captured the Lancaster-Lebanon League Section One championship and advanced to the Lancaster-Lebanon League title game.
Norwin, the third-place finisher out of District Seven, moved to 23-4 and into Friday's quarterfinal round of the postseason.
"My favorite part of the season was just watching the kids come together," said Lebanon head coach Jaime Walborn. "I thought they did a great job of coming together as a team. It was neat to see different players step up throughout the season. When you have teams like that, good things happen.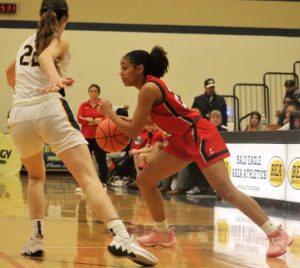 "We have our fan base, and they're awesome," continued Walborn. "I want the girls meant to the community. It's exciting what our kids did for the community. And I think it's huge for the program. It's a program builder."
After nursing a five-point halftime advantage, Norwin settled the outcome with a 10-3 spurt to open the third quarter. That pushed the Knights advantage to 34-21.
The Cedars did eventually respond with buckets from Kailah Correa and Olive Brandt late in the third quarter, but 41-32 was as close as they would come.
"We didn't make some easy baskets in the first half," said Walborn. "I think defensively, we were taken out of our game because of the foul trouble. They (the Knights) were getting offensive rebounds. They're a great team.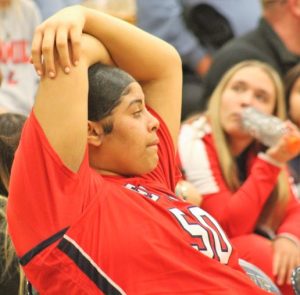 "I thought the foul trouble hurt us on both ends of the floor," added Walborn. "We are a team that feeds off of our defense. When we are in foul trouble, we can't be as aggressive on the boards."
Norwin tallied the first two buckets of the fourth quarter to extend its lead to 47-32. Not long after, Lebanon junior Zariyah Whigham, freshman Brandt, sophomore Lily Harrison, and finally sophomore Correa fouled out in succession.
Symbolically, the only remaining Cedar starter, senior Aaliyah Ferrer, was left out on the court to conclude her career with four reserves.
"I know what these kids have done," said Walborn. "They put a lot of work in. I love watching when they come out (of the pre-game locker room) and see the crowd. It was neat. You had such a good feeling.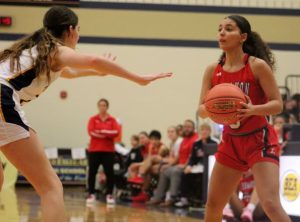 "We have a young group," Walborn continued. "We have a lot of starters coming back. They have nothing to be disappointed about. They're going to continue to get better."
Brandt continued her late-season offensive surge and paced the Lebanon scoring with 14 points, while Correa collected 13. The Cedars were whistled for a total of 24 fouls, which Norwin turned into 35 free throws and a 24-4 scoring advantage at the charity stripe.
The Knights decisively controlled both the offensive and defensive boards.
"I thought we were being over aggressive," said Walborn. "A lot of it was them (the Knights) being patient on offense. I don't know if we were anxious or nervous, but we were doing a lot of reaching in the first half.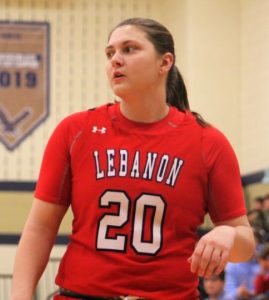 "They have some size," Walborn added. "They do a good job of running their offense. They're a good shooting team. We weren't getting rebounds and it put us in position to get more fouls. They got us in foul trouble."
Staring down an early 6-2 deficit, Lebanon got three points out of Brandt and an inside hoop by Whigham to assume a 7-6 edge after eight minutes of action.
A pull-up from Correa gave the Cedars a 9-8 lead early in the second period, and three minutes later, a Harrison stick-back gave Lebanon a 19-18 margin. But Norwin tallied the final six points of the first half, and the Cedars never led again.
"We do milestones at the beginning of the year, and we took it one game at a time," said Walborn. "A lot of it was we wanted to get further than last year. We met most of our milestones. We have a lot of kids coming back. We have a bright future."
To purchase images in this article, please email jeff@lebcopsorts.com.

Lebanon Federal Credit Union