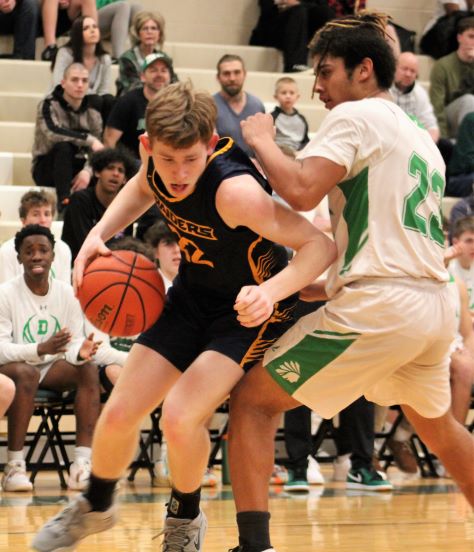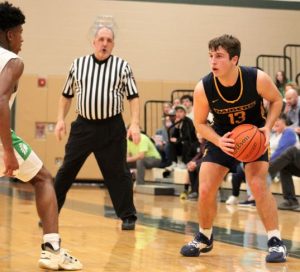 BY JEFF FALK
Editor
MOUNT JOY – The only thing worse than waiting – and the patience that's required for it – is not knowing, the uncertainty.
With the fate of its season hanging in the balance, the Elco boys' basketball team will spend the next week thinking, wondering and using practices to keep their collective minds occupied.
On Thursday night at Donegal High School, the Raiders closed out the regular season portion of their schedule with a 65-56 loss to the hometown Indians, an outcome that will only add anxiety to their wait-and-see mindset. The Lancaster-Lebanon Section Three affair was pretty much an even battle, except for Donegal's 12-0 run to open the second half.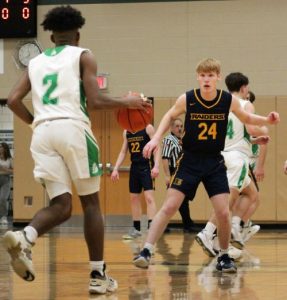 Elco concluded its regular season with an 11-11 overall mark. The latest District Three power rankings had the Raiders inside the bubble for the upcoming Class AAAA postseason, situated ninth in a classification which qualifies ten teams.
The brackets for the upcoming District Three tournaments are expected to be announced on Thursday, February 16, and postseason games will tip off on Monday, February 20.
With the victory, Donegal improved to 14-8 on the year. Back on January 17 in Myerstown, Elco had dropped a similar 40-30 decision to Donegal.
Following a tight first half of action, the Indians enjoyed a slim 34-33 edge at the break. But the Raiders failed to score over the initial 5:24 of the third quarter, and Donegal expanded its lead to 46-33.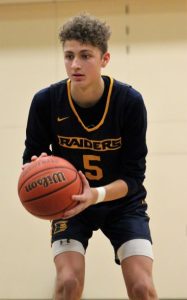 A free throw from Elco's Elliott Kreider ended the drought, but the damage was done.
Donegal ended the third quarter with a 49-36 advantage, and the closest the Raiders could come early in the final period was at 53-43, on a Micah Gray three-pointer, and at 55-45, on a driving lay-in from Camden Marquette.
"We got off to a slow start," said Donegal skipper Ryan Shipper. "I didn't think we settled in until the third quarter. The defense was the difference at the start of the second half. We changed our lineup and went a little smaller and quicker."
Dallas George poured in 14 points to pace the Raider offense, while Marquette pumped in 12 points and Gray contributed 11.  Five different Elco shooters connected on three-point field goals.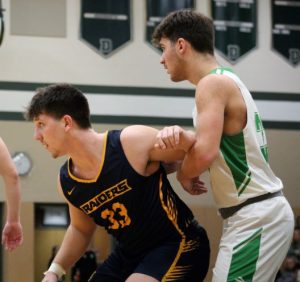 Donegal outscored Elco 32-24 on two-point baskets.
The Raiders shot the ball much more efficiently and played a much better overall game in the first half.
Three-pointers from Logan Kless, Marquette and George helped the Raiders to an early 11-4 advantage. A three-ball from Gray 33 seconds into the second stanza made it an 18-12 Elco lead.
But Donegal pieced together a subsequent 7-0 run to take a 19-18 lead.
To purchase images in this article please email jeff@lebcosports.com.
2022-23 Elco Boys' Basketball Results
| | | | | | |
| --- | --- | --- | --- | --- | --- |
| 2022-12-06 | A | vs | Pottsville(11) | L | 37-51 |
| 2022-12-09 | N | vs | North Schuylkill(11) | W | 63-49 |
| 2022-12-10 | N | vs | Spring Grove Area(3) | W | 64-56 |
| 2022-12-13 | A | vs | Hamburg(3) | W | 58-52 |
| 2022-12-16 | A | vs | Lampeter Strasburg(3) | L | 69-35 |
| 2022-12-19 | A | vs | Wyomissing(3) | W | 53-48 |
| 2022-12-22 | H | vs | Middletown(3) | W | 44-41 |
| 2022-12-29 | A | vs | Eastern York(3) | L | 60-41 |
| 2022-12-30 | N | vs | Spring Grove Area(3) | L | 42-33 |
| 2023-01-03 | A | vs | Northern Lebanon(3) | W | 63-46 |
| 2023-01-05 | H | vs | Lancaster Catholic(3) | W | 47-46 |
| 2023-01-06 | A | vs | Blue Mountain(11) | W | 48-45 |
| 2023-01-10 | A | vs | Cocalico(3) | L | 54-45 |
| 2023-01-13 | H | vs | Octorara(3) | L | 63-50 |
| 2023-01-17 | H | vs | Donegal(3) | L | 40-30 |
| 2023-01-19 | H | vs | Lampeter Strasburg(3) | L | 51-36 |
| 2023-01-25 | A | vs | Annville-Cleona(3) | W | 62-26 |
| 2023-01-27 | H | vs | Northern Lebanon(3) | W | 49-31 |
| 2023-01-31 | A | vs | Lancaster Catholic(3) | L | 63-54 |
| 2023-02-03 | H | vs | Cocalico(3) | W | 67-53 |
| 2023-02-07 | A | vs | Octorara(3) | L | 77-51 |
| 2023-02-09 | A | vs | Donegal(3) | | 0-0 |
PIAA District Three Class AAAA Power Rankings
| | | | | | | | | | | | |
| --- | --- | --- | --- | --- | --- | --- | --- | --- | --- | --- | --- |
| AAAA | School |  W |  L |  T |  Rating |  TWP |  OWP |  TWPW |  OWPW |  TWPL |  OWPL |
| 1 | Berks Catholic | 18- | 3- | 0 |  0.757576 |  0.890380 |  0.595259 |  19.90 |  264.95 |  2.45 |  180.15 |
| 2 | Fleetwood | 20- | 2- | 0 |  0.725552 |  0.920000 |  0.487894 |  20.70 |  226.70 |  1.80 |  237.95 |
| 3 | Littlestown | 18- | 4- | 0 |  0.680348 |  0.837719 |  0.488006 |  19.10 |  224.80 |  3.70 |  235.85 |
| 4 | Octorara | 14- | 6- | 0 |  0.667084 |  0.748768 |  0.567248 |  15.20 |  256.85 |  5.10 |  195.95 |
| 5 | Eastern York | 15- | 6- | 0 |  0.664025 |  0.743929 |  0.566364 |  16.85 |  252.40 |  5.80 |  193.25 |
| 6 | Bishop McDevitt (3) | 15- | 4- | 0 |  0.659054 |  0.804627 |  0.481131 |  15.65 |  190.60 |  3.80 |  205.55 |
| 7 | Schuylkill Valley | 17- | 5- | 0 |  0.636146 |  0.783482 |  0.456069 |  17.55 |  208.15 |  4.85 |  248.25 |
| 8 | Kennard Dale | 12- | 10- | 0 |  0.582187 |  0.601770 |  0.558251 |  13.60 |  261.15 |  9.00 |  206.65 |
| 9 | Eastern Lebanon County | 11- | 10- | 0 |  0.554148 |  0.564165 |  0.541905 |  11.65 |  251.20 |  9.00 |  212.35 |
| 10 | Lancaster Catholic | 9- | 12- | 0 |  0.540810 |  0.464720 |  0.633809 |  9.55 |  295.45 |  11.00 |  170.70 |
| 11 | Middletown | 12- | 10- | 0 |  0.535341 |  0.565611 |  0.498344 |  12.50 |  225.70 |  9.60 |  227.20 |
| 12 | Big Spring | 11- | 10- | 0 |  0.519582 |  0.574684 |  0.452236 |  11.35 |  201.20 |  8.40 |  243.70 |
| 13 | Wyomissing | 8- | 13- | 0 |  0.505258 |  0.399002 |  0.635125 |  8.00 |  300.70 |  12.05 |  172.75 |
| 14 | Conrad Weiser | 7- | 14- | 0 |  0.490970 |  0.388175 |  0.616608 |  7.55 |  279.20 |  11.90 |  173.60 |
| 15 | Hamburg | 10- | 12- | 0 |  0.474232 |  0.446009 |  0.508726 |  9.50 |  240.50 |  11.80 |  232.25 |
| 16 | Hanover (3) | 10- | 12- | 0 |  0.465191 |  0.473934 |  0.454506 |  10.00 |  209.80 |  11.10 |  251.80 |
| 17 | East Pennsboro | 8- | 13- | 0 |  0.452338 |  0.401891 |  0.513994 |  8.50 |  234.15 |  12.65 |  221.40 |
| 18 | Bermudian Springs | 9- | 13- | 0 |  0.448372 |  0.432243 |  0.468085 |  9.25 |  214.50 |  12.15 |  243.75 |
| 19 | Boiling Springs | 8- | 13- | 0 |  0.434480 |  0.399002 |  0.477841 |  8.00 |  215.10 |  12.05 |  235.05 |
| 20 | Biglerville | 4- | 17- | 0 |  0.295820 |  0.163683 |  0.457321 |  3.20 |  201.45 |  16.35 |  239.05 |
| 21 | West Perry | 2- | 19- | 0 |  0.282858 |  0.102828 |  0.502895 |  2.00 |  230.15 |  17.45 |  227.50 |
| 22 | James Buchanan | 1- | 21- | 0 |  0.277908 |  0.053299 |  0.552430 |  1.05 |  245.50 |  18.65 |  198.90 |
| 23 | Northern Lebanon | 1- | 21- | 0 |  0.269146 |  0.050481 |  0.536403 |  1.05 |  250.50 |  19.75 |  216.50 |

Lebanon Federal Credit Union