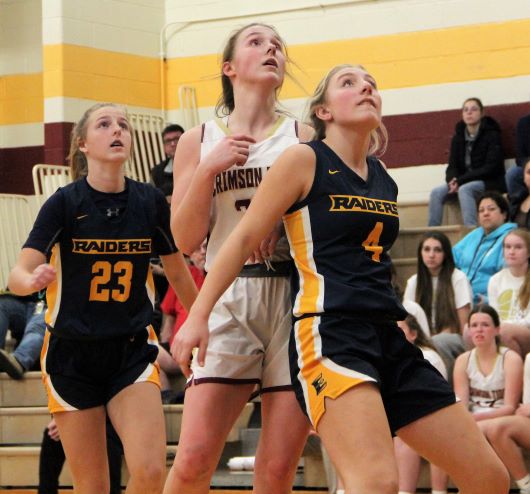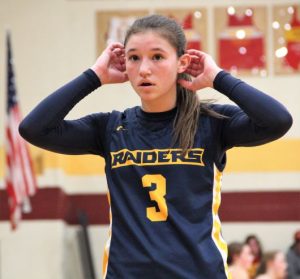 BY JEFF FALK
Editor
COLUMBIA – The Elco girls are having a really OK basketball season, and as such the jury is still very much out on its degree of success. Many of the goals that the Raiders set for themselves at the beginning of the year are still very much in reach.
But if Elco is going to attain them, it's going to have to play well. Better than it did last night.
On Thursday night at Columbia High School, the Raiders were overwhelmed 64-32 by the hometown Crimson Tide, in a non-league result that could ultimately damage Elco's postseason hopes. The Raiders succumbed to turnovers, their own poor shooting and an opportunistic Columbia crew.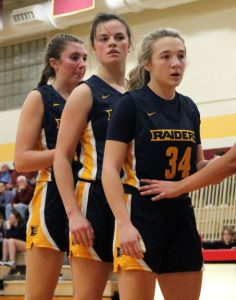 With the outcome, Elco slipped to 7-10 on the campaign. In the latest District Three power rankings, the Raiders were positioned 11th in an AAAA classification that takes ten for its postseason tournament.
The triumph extended Lancaster-Lebanon Section Four-leading Columbia's overall mark to 14-3.
"We don't have to make it to districts for the season to be a success," said Elco's rookie head coach Karl Keath. "We've grown as a team and as a program. As a first year head coach, things are changing. They've (his players) had to learn some things. We're getting younger players experience in critical games.
"We have a great group of kids and they come to play every night," added Keath.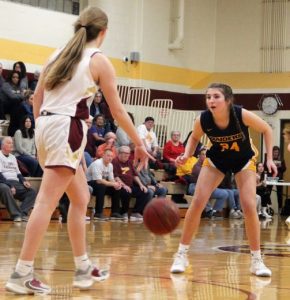 Things started off well enough for Elco last night. Inside buckets from senior Sam Nelson and junior Sara Miller staked the Raiders to a modest – and early – 4-1 advantage.
But after that, things went south in a hurry. Columbia closed out the opening quarter with 11 unanswered points, and with a 19-6 cushion.
"For us, we knew they were really good," said Keath of the Crimson Tide. "We had to play a better game. They hit shots and we were sloppy. We had turnovers and we weren't hitting from the outside.
"Playing on this court, we knew they were going to be tough," continued Keath. "Their press got to us a little in the first half. We had too many turnovers."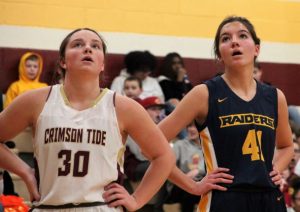 It was more of the same for Columbia in the second stanza.
With four points from freshman Maddie Stout and a couple of free throws by Miller, Elco rattled off six straight points early in quarter to remain within striking distance at 21-12. But the Crimson Tide again closed strong, matching the Raiders with a 6-0 run of their own to take a 36-16 lead to the intermission.
"The halftime message was, 'We didn't play very well,'" said Keath. "'But we can play better and turn this thing around.' My kids don't quit."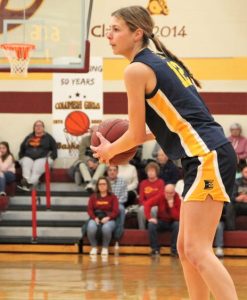 "I thought we were inconsistent," said Columbia head coach Karl Kreiser of his side's effort. "The first half was pretty decent. But in the second half, I was disappointed with our intensity."
With ten points, Miller was the lone Elco scorer to hit double figures. The Raiders did not make a three-pointer and were outscored 12-0 from beyond the arc.
"There were a couple of games where we had some growing pains," said Keath. "There aren't too many teams that have a tougher schedule than ours. We're still knocking on the door to districts, and we're going to try our darndest to get there."
Elco's second-half run never materialized. Miller tallied the first bucket of the third quarter to shave the Raiders' deficit to 18 points, but that would be as close as they would come.
"The girls had it as one of their goals at the beginning of the season," said Keath of the district playoffs. "I would think that's everybody's goal."
To purchase images in this article please email jeff@lebcosports.com.
2022-23 Elco Girls' Basketball Results
| | | | | | |
| --- | --- | --- | --- | --- | --- |
| 2022-12-06 | H | vs | Pottsville(11) | W | 50-32 |
| 2022-12-09 | N | vs | Mechanicsburg(3) | L | 44-64 |
| 2022-12-10 | N | vs | Harrisburg(3) | L | 38-31 |
| 2022-12-13 | H | vs | Hamburg(3) | W | 55-23 |
| 2022-12-16 | H | vs | Lampeter Strasburg(3) | L | 52-43 |
| 2022-12-19 | H | vs | Wyomissing(3) | L | 50-38 |
| 2022-12-22 | A | vs | Middletown(3) | L | 38-31 |
| 2022-12-27 | N | vs | Blue Mountain(11) | L | 52-36 |
| 2022-12-28 | N | vs | Nativity BVM(11) | W | 55-43 |
| 2023-01-03 | H | vs | Northern Lebanon(3) | W | 43-38 |
| 2023-01-05 | A | vs | Lancaster Catholic(3) | L | 62-17 |
| 2023-01-10 | H | vs | Cocalico(3) | W | 38-31 |
| 2023-01-13 | A | vs | York Catholic(3) | L | 57-51 |
| 2023-01-17 | A | vs | Donegal(3) | W | 56-42 |
| 2023-01-19 | A | vs | Lampeter Strasburg(3) | L | 49-46 |
| 2023-01-24 | H | vs | Lower Dauphin(3) | W | 46-44 |
| 2023-01-26 | A | vs | Columbia(3) | | 0-0 |
| 2023-01-27 | A | vs | Northern Lebanon(3) | | 0-0 |
| 2023-01-31 | H | vs | Lancaster Catholic(3) | | 0-0 |
| 2023-02-01 | H | vs | Conrad Weiser(3) | | 0-0 |
| 2023-02-03 | A | vs | Cocalico(3) | | 0-0 |
| 2023-02-09 | H | vs | Donegal(3) | | 0-0 |
PIAA District Three Class AAAA Power Rankings
| | | | | | | | | | | | |
| --- | --- | --- | --- | --- | --- | --- | --- | --- | --- | --- | --- |
| AAAA | School |  W |  L |  T |  Rating |  TWP |  OWP |  TWPW |  OWPW |  TWPL |  OWPL |
| 1 | Delone Catholic | 16- | 1- | 0 |  0.758446 |  0.957746 |  0.514857 |  17.00 |  198.40 |  0.75 |  186.95 |
| 2 | Berks Catholic | 11- | 4- | 0 |  0.714917 |  0.785933 |  0.628120 |  12.85 |  212.65 |  3.50 |  125.90 |
| 3 | Eastern York | 13- | 4- | 0 |  0.710743 |  0.806971 |  0.593132 |  15.05 |  221.95 |  3.60 |  152.25 |
| 4 | Wyomissing | 17- | 2- | 0 |  0.701958 |  0.904762 |  0.454087 |  18.05 |  166.65 |  1.90 |  200.35 |
| 5 | Bishop McDevitt (3) | 14- | 3- | 0 |  0.692788 |  0.845070 |  0.506665 |  15.00 |  174.85 |  2.75 |  170.25 |
| 6 | James Buchanan | 12- | 6- | 0 |  0.657565 |  0.720670 |  0.580435 |  12.90 |  205.30 |  5.00 |  148.40 |
| 7 | Middletown | 14- | 5- | 0 |  0.657042 |  0.770026 |  0.518951 |  14.90 |  182.10 |  4.45 |  168.80 |
| 8 | Trinity (3) | 11- | 7- | 0 |  0.616110 |  0.620219 |  0.611088 |  11.35 |  218.80 |  6.95 |  139.25 |
| 9 | Northern Lebanon | 11- | 6- | 0 |  0.614493 |  0.685131 |  0.528157 |  11.75 |  193.20 |  5.40 |  172.60 |
| 10 | Bermudian Springs | 10- | 8- | 0 |  0.568730 |  0.576923 |  0.558715 |  10.50 |  205.30 |  7.70 |  162.15 |
| 11 | Eastern Lebanon County | 7- | 9- | 0 |  0.544024 |  0.474522 |  0.628971 |  7.45 |  233.60 |  8.25 |  137.80 |
| 12 | West Perry | 7- | 9- | 0 |  0.532803 |  0.486577 |  0.589300 |  7.25 |  214.80 |  7.65 |  149.70 |
| 13 | Fleetwood | 9- | 8- | 0 |  0.523388 |  0.557522 |  0.481669 |  9.45 |  171.45 |  7.50 |  184.50 |
| 14 | Big Spring | 6- | 10- | 0 |  0.487541 |  0.420000 |  0.570092 |  6.30 |  188.90 |  8.70 |  142.45 |
| 15 | Boiling Springs | 7- | 9- | 0 |  0.480514 |  0.461290 |  0.504010 |  7.15 |  182.25 |  8.35 |  179.35 |
| 16 | Schuylkill Valley | 8- | 9- | 0 |  0.476031 |  0.465672 |  0.488692 |  7.80 |  179.35 |  8.95 |  187.65 |
| 17 | Hanover (3) | 8- | 11- | 0 |  0.458395 |  0.439276 |  0.481762 |  8.50 |  178.30 |  10.85 |  191.80 |
| 18 | Kennard Dale | 5- | 12- | 0 |  0.444070 |  0.356037 |  0.551665 |  5.75 |  207.95 |  10.40 |  169.00 |
| 19 | Hamburg | 6- | 11- | 0 |  0.434354 |  0.338369 |  0.551669 |  5.60 |  206.60 |  10.95 |  167.90 |
| 20 | East Pennsboro | 3- | 13- | 0 |  0.356377 |  0.189655 |  0.560148 |  2.75 |  203.95 |  11.75 |  160.15 |
| 21 | Littlestown | 2- | 17- | 0 |  0.281657 |  0.101983 |  0.501258 |  1.80 |  189.25 |  15.85 |  188.30 |
| 22 | Octorara | 1- | 14- | 0 |  0.227182 |  0.046440 |  0.448089 |  0.75 |  140.70 |  15.40 |  173.30 |

Lebanon Federal Credit Union