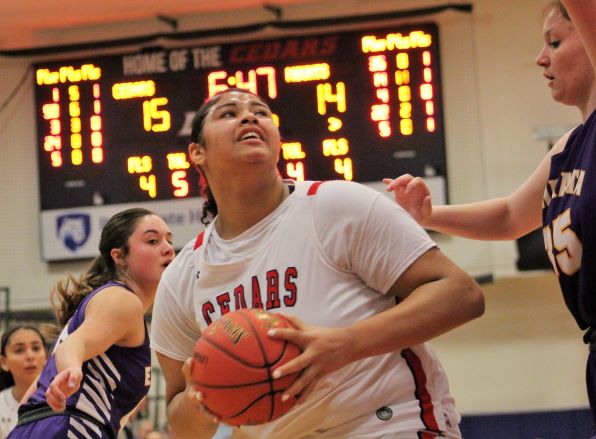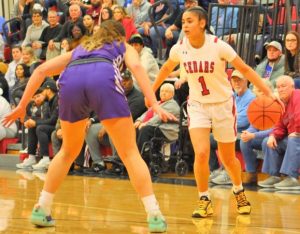 BY JEFF FALK
Editor
LEBANON – It's never about me.
They play for themselves and they play for each other. But they also play for their school, their community and quite possibly, their county.
Because everybody loves a winner, it's easy to get behind the Lebanon girls' basketball team.
On Saturday afternoon at Lebanon High School, the undefeated Cedars added another layer to the locale's feel-good story of the winter season with a 50-39 non-league triumph over Ephrata. After a few dicey moments in the first half, Lebanon asserted itself in the second, before pulling away from its former Lancaster-Lebanon Section Two rival.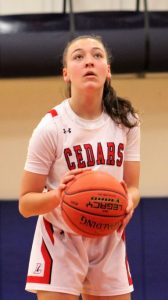 Here it is mid-January, and the victory was the Cedars' 13th straight to begin the season. According to recent memory, the Cedars haven't been undefeated to this point of a season in quite some time.
The 13-0 Cedars are currently positioned second in the District Three Class AAAAAA power rankings.
With the result, Ephrata slipped to 10-3 overall.
"We've gotten people's attention," said Lebanon head coach Jaime Walborn. "But this was a process. We've been building for this, building on the little things, for at least the last seven years. Absolutely we have a following. I think we're exciting to watch play. People want to come see what this team is about. I think we're doing a good job of just plugging away.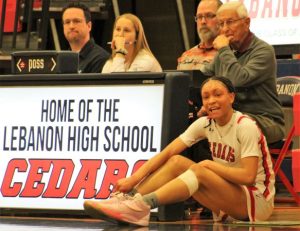 "I think they (her players) have a lot of pride in their community and their school," continued Walborn. "We are playing for each other. We're very unselfish. We're not relying on one or two players, and we are tough when we do that. That's what's made us successful."
Nursing the same four-point advantage they had at halftime, the Cedars used an 8-2 spurt in the middle of the third period to extend their advantage to 36-26. Super sophomore Kailah Correa and emerging freshman Olive Brandt each netted four points in the decisive stretch.
"I think every team we see knows we like to run," said Walborn. "They know we're tougher in a fast-paced game. Defensively, we do a good job of forcing people to play our style, because we're aggressive. Defensively, we like to make them take quick shots and get it up the floor.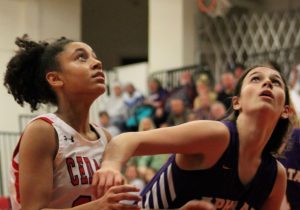 "We started off playing our style," added Walborn. "They (the Mounts) made a run and we backed off a little bit. In the second half we got momentum and we went off of that. We feed off our momentum. We feed off our defense. In the second half, we did a much better job using our defense to gain our offense."
Thanks to the play of point guard Jasmine Griffin, Ephrata hung around during the early moments of the final quarter, down just 43-37. But the Cedars held the Mounts to a mere two points over the final 4:44 and used scoring from Correa, Lily Harrison and Zariyah Whigham to pull away.
"It puts a bullseye on our back," said Walborn of her team's undefeated mark. "We know that. Our mentality is, 'We haven't lost a game so we're going to get everybody's best.' Is it pressure? Yes, but I don't think it's pressure we can't handle."
"We were playing a really good team," said Ephrata head coach Brian Cerullo. "There were two areas where we thought we could've done better – lay-ups and turnovers. Against a really good team, you can't make many mistakes. I also told our girls, 'Don't hang your heads.'"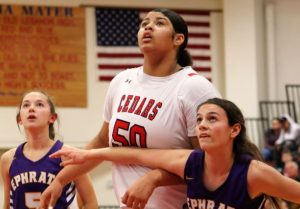 Correa popped for a team-high 20 points, while Harrison struck for 11. Lebanon outscored Ephrata 40-24 on two-point field goals.
"She's such a presence in the post," said Walborn of Harrison. "She's strong. She makes great post moves. She defends, for the most part. It serves us well. She makes guards from the other team think about driving to the basket.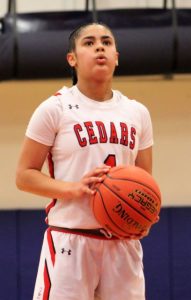 "I'm really pleased with a win," Walborn continued. "Ephrata has a great player (Griffin). We wanted to kind of contain her. We made some adjustments and (sophomore) Jae Burrus did a good job of making her work for her points."
Lebanon came out strong.
Courtesy of a couple of buckets apiece from Correa and Harrison, the Cedars tallied eight of the game's first ten points. But the Mounts closed the opening period decisively, before assuming a 17-15 edge early in the second stanza.
"They're (the Mounts) a six-A school," said Walborn. "It's a non-league game and we shared the Section Two crown with them last year. We're taking it one game at a time, and we're keeping our eye on the power rankings.
"This is a learning experience for us," Walborn added. "We have to learn how to defend. We didn't follow the game plan in the first half. But we did a better job in the second half."
The Cedars held the Mounts score-less for a 4:12 stretch of the second period, while pushing their lead to 22-14. Lebanon led 24-20 at the break.
To purchase images in this article please email jeff@lebcosports.com.
2022-23 Lebanon Girls' Basketball Schedule
| | | | | | |
| --- | --- | --- | --- | --- | --- |
| 2022-12-06 | H | vs | Manheim Central(3) | W | 43-40 |
| 2022-12-09 | A | vs | Bethlehem Catholic(11) | W | 55-53 |
| 2022-12-10 | A | vs | Fleetwood(3) | W | 59-24 |
| 2022-12-10 | P | vs | TBA() | | 0-0 |
| 2022-12-13 | A | vs | Governor Mifflin(3) | W | 51-45 |
| 2022-12-16 | A | vs | Manheim Township(3) | W | 53-50 |
| 2022-12-19 | H | vs | Garden Spot(3) | W | 82-30 |
| 2022-12-21 | H | vs | J P McCaskey(3) | W | 59-40 |
| 2022-12-28 | H | vs | Northern Lebanon(3) | W | 64-45 |
| 2022-12-29 | H | vs | Palmyra(3) | W | 59-34 |
| 2023-01-06 | A | vs | Cedar Crest(3) | W | 51-38 |
| 2023-01-10 | H | vs | Penn Manor(3) | W | 63-30 |
| 2023-01-12 | A | vs | Hempfield (3)(3) | W | 52-50 |
| 2023-01-14 | H | vs | Ephrata(3) | | 0-0 |
| 2023-01-16 | A | vs | Hershey(3) | | 0-0 |
| 2023-01-20 | H | vs | Manheim Township(3) | | 0-0 |
| 2023-01-24 | A | vs | J P McCaskey(3) | | 0-0 |
| 2023-01-27 | H | vs | Cedar Crest(3) | | 0-0 |
| 2023-01-31 | A | vs | Cocalico(3) | | 0-0 |
| 2023-02-02 | A | vs | Penn Manor(3) | | 0-0 |
| 2023-02-04 | H | vs | Reading(3) | | 0-0 |
| 2023-02-07 | H | vs | Hempfield (3)(3) | | 0-0 |
| 2023-02-09 | H | vs | Milton Hershey(3) | | 0-0 |
PIAA District Three Class AAAAAA Power Rankings
| | | | | | | | | | | | |
| --- | --- | --- | --- | --- | --- | --- | --- | --- | --- | --- | --- |
| AAAAAA | School |  W |  L |  T |  Rating |  TWP |  OWP |  TWPW |  OWPW |  TWPL |  OWPL |
| 1 | Central York | 13- | 0- | 0 |  0.850000 |  1.000000 |  0.666667 |  15.25 |  188.00 |  0.00 |  94.00 |
| 2 | Lebanon | 12- | 0- | 0 |  0.816166 |  1.000000 |  0.591479 |  14.10 |  172.15 |  0.00 |  118.90 |
| 3 | Cedar Cliff | 13- | 0- | 0 |  0.814095 |  1.000000 |  0.586879 |  15.35 |  147.60 |  0.00 |  103.90 |
| 4 | Central Dauphin | 11- | 2- | 0 |  0.752271 |  0.899666 |  0.572122 |  13.45 |  141.40 |  1.50 |  105.75 |
| 5 | Northeastern | 11- | 2- | 0 |  0.735019 |  0.879859 |  0.557993 |  12.45 |  155.15 |  1.70 |  122.90 |
| 6 | Cedar Crest | 12- | 4- | 0 |  0.728444 |  0.819209 |  0.617508 |  14.50 |  176.70 |  3.20 |  109.45 |
| 7 | William Penn | 11- | 3- | 0 |  0.719511 |  0.852941 |  0.556429 |  13.05 |  159.25 |  2.25 |  126.95 |
| 8 | Cumberland Valley | 7- | 3- | 0 |  0.716169 |  0.795455 |  0.619265 |  8.75 |  135.65 |  2.25 |  83.40 |
| 9 | Red Lion | 10- | 5- | 0 |  0.711076 |  0.755418 |  0.656879 |  12.20 |  195.75 |  3.95 |  102.25 |
| 10 | Ephrata | 9- | 2- | 0 |  0.684456 |  0.844898 |  0.488360 |  10.35 |  135.30 |  1.90 |  141.75 |
| 11 | Dallastown | 8- | 5- | 0 |  0.681536 |  0.719101 |  0.635623 |  9.60 |  187.35 |  3.75 |  107.40 |
| 12 | Manheim Township | 8- | 5- | 0 |  0.679530 |  0.715867 |  0.635119 |  9.70 |  185.55 |  3.85 |  106.60 |
| 13 | J P McCaskey | 10- | 6- | 0 |  0.677905 |  0.717791 |  0.629156 |  11.70 |  176.95 |  4.60 |  104.30 |
| 14 | Reading | 7- | 4- | 0 |  0.667830 |  0.725322 |  0.597563 |  8.45 |  171.65 |  3.20 |  115.60 |
| 15 | Hempfield (3) | 6- | 8- | 0 |  0.613950 |  0.522388 |  0.725859 |  7.00 |  221.75 |  6.40 |  83.75 |
| 16 | Carlisle | 6- | 7- | 0 |  0.588888 |  0.562249 |  0.621446 |  7.00 |  162.85 |  5.45 |  99.20 |
| 17 | Wilson (3) | 7- | 7- | 0 |  0.575368 |  0.590580 |  0.556776 |  8.15 |  157.15 |  5.65 |  125.10 |
| 18 | Harrisburg | 4- | 5- | 0 |  0.572376 |  0.549708 |  0.600082 |  4.70 |  146.90 |  3.85 |  97.90 |
| 19 | South Western | 7- | 7- | 0 |  0.567669 |  0.576087 |  0.557380 |  7.95 |  164.65 |  5.85 |  130.75 |
| 20 | Governor Mifflin | 5- | 8- | 0 |  0.531996 |  0.477551 |  0.598540 |  5.85 |  168.10 |  6.40 |  112.75 |
| 21 | Penn Manor | 4- | 10- | 0 |  0.502726 |  0.377953 |  0.655226 |  4.80 |  189.00 |  7.90 |  99.45 |
| 22 | Waynesboro | 5- | 9- | 0 |  0.480407 |  0.392857 |  0.587413 |  4.95 |  163.80 |  7.65 |  115.05 |
| 23 | Dover | 3- | 10- | 0 |  0.424495 |  0.283951 |  0.596272 |  3.45 |  159.95 |  8.70 |  108.30 |
| 24 | Central Dauphin East | 2- | 9- | 0 |  0.419383 |  0.251309 |  0.624807 |  2.40 |  162.20 |  7.15 |  97.40 |
| 25 | Chambersburg Area | 2- | 11- | 0 |  0.408487 |  0.219178 |  0.639866 |  2.40 |  161.95 |  8.55 |  91.15 |
| 26 | York County School of Technology | 5- | 9- | 0 |  0.372398 |  0.359848 |  0.387736 |  4.75 |  101.80 |  8.45 |  160.75 |
| 27 | Conestoga Valley | 2- | 11- | 0 |  0.346109 |  0.200913 |  0.523571 |  2.20 |  136.05 |  8.75 |  123.80 |
Lancaster-Lebanon League
Section One Standings

Lebanon Federal Credit Union