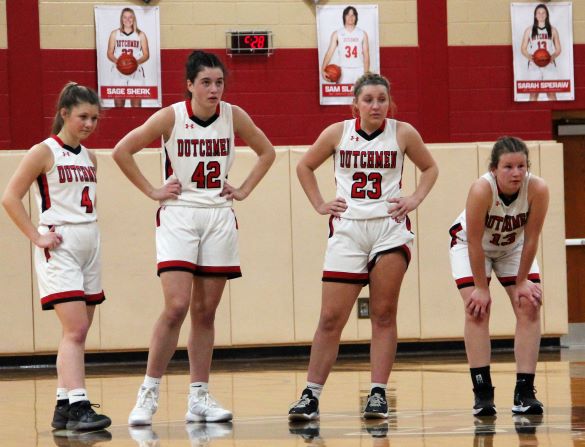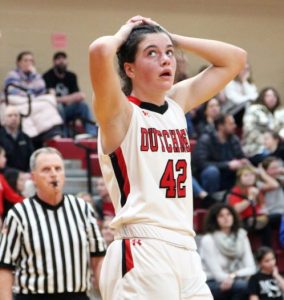 BY JEFF FALK
Editor
ANNVILLE – And this just in from the life-just-isn't-fair department, Annville-Cleona is having a fantastic season and might not qualify for the playoffs. The Little Dutchmen have done everything they realistically could have, and may not be rewarded.
On Friday night at ACHS' 'The Barn', the Little Dutchmen's magnificent campaign continued, with a 48-41 Lancaster-Lebanon Section Four triumph over Lancaster Country Day. The Little Dutchmen battled throughout, before making more big plays when they mattered most.
With its fourth straight victory, Annville-Cleona ran its record to 13-5 overall and 6-2 in Section Four of the L-L. In the latest District Three power rankings, the Little Dutchmen, who have four regular season contests remaining, are sitting eighth in an AAA classification which takes six teams for its postseason.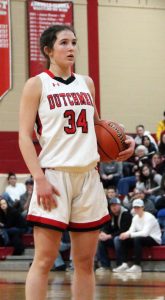 Here's a little context. The last time Annville-Cleona sported a winning record this good this late in the season was 2014. That was also the last time the Little Dutchmen qualified for the District Three playoffs.
The setback dropped Lancaster Country Day to 9-5 on the season and 4-4 in the circuit. Back on January 5 in Lancaster, the Little Dutchmen defeated the Cougars 38-30.
"To me, it's hard to swallow," said Annville-Cleona head coach Wee Sanchez. "But not just for me the coach, but for the players. If the bad news comes out and we don't get to districts, how do I go to them and tell them that? We have some good teams in three-A. All we can do is take it one game at a time and see how we finish. We can't control what the other teams do.
"It (the district playoffs) would be great for the girls to experience," continued Sanchez. "Could've we taken care of some of those games (losses)? We could have. I want to play the best of the best and see who we are. It's hard."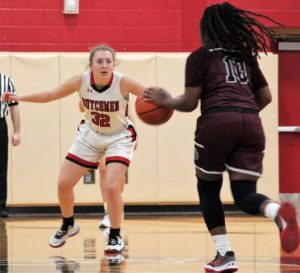 With last night's outcome very much in doubt, Annville-Cleona secured it in the fourth quarter.
Protecting a late 37-34 edge, it was a pair of three-point plays from sophomore Ava Hoover, within a span of 51 seconds during crunch time, that put Annville-Cleona over the top. Subsequent free throws from Kendall Cooper, Sara Speraw and Josie Clay made them stand up.
"I think the difference was that we were able to make 'stops'," said Sanchez. "We made some crucial 'stops' and we ran our offense. We worked the ball around. We got a couple of touches and we got some breaks in the middle (of the Cougars' defense). When you're patient against a 2-3 zone, the offense is going to work.
"We did a fantastic job of finishing it off," he added.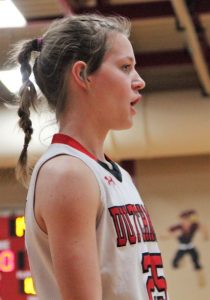 Moments earlier, an 8-2 spurt, consisting of four Sage Sherk points, a Speraw jumper and an inside move by A. Hoover, had extended Annville-Cleona's advantage to 37-28. But the Little Dutchmen went without a point for a 4:55 stretch during the middle of the fourth period.
"I think our defense is very good," said Sanchez. "We're aggressive. We stepped to the challenge and we were physical."
"I thought the effort was there," said Lancaster Country Day head coach Devonne Pinkard. "We competed and played hard. But we gave them (the Little Dutchmen) too many possessions. We didn't rebound well. They were just grittier than us."
A. Hoover posted 14 points to show the way for Annville-Cleona offensively. The Little Dutchmen outscored Lancaster Country Day 38-22 on two-point field goals.
"This was a big game for us, for district seeding," said Sanchez. "We need it. We'll take it. The kids were great.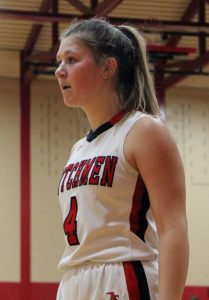 "You can't ask for a better season," Sanchez continued. "The teams we lost to are all good teams, and we were in most of those games. It kind of stinks the horses that are in AAA. Right now, we're on the outside looking in. But I'm happy with the way we're playing. I can't be disappointed."
Annville-Cleona used a 10-3 run to erase an early deficit and take a 10-9 lead. A. Hoover accounted for six of those points, while Cooper contributed a deuce and Sherk connected on a jumper.
But the Cougars responded with eight straight points to open a 17-10 margin.
"I told them (his players) at halftime, 'We've been here before,'" said Sanchez. "The first quarter wasn't the way we've been playing. I just told them to relax. I said, 'Let's relax and play our offense.' We came out and played well in the third quarter."
The Little Dutchmen enjoyed a 24-20 lead at the break, after piecing together a 12-1 run early in the second quarter. Speraw nailed a couple of jumpers, Clay drained a three-pointer and Cooper recorded three points.
"It's been a while since an Annville-Cleona (girls' basketball) team has been to districts," said Sanchez. "I think they're (his players)  hungry for that. I want them to be rewarded for the season. That's why I want them to experience that."
To purchase images in this article please email jeff@lebcosports.com.
2022-23 Annville-Cleona Girls' Basketball Results
| | | | | | |
| --- | --- | --- | --- | --- | --- |
| 2022-12-02 | A | vs | Hamburg(3) | W | 30-28 |
| 2022-12-03 | A | vs | Brandywine Heights(3) | L | 31-26 |
| 2022-12-06 | H | vs | Upper Dauphin(3) | L | 46-37 |
| 2022-12-08 | A | vs | Millersburg(3) | W | 45-27 |
| 2022-12-13 | H | vs | Oley Valley(3) | W | 45-41 |
| 2022-12-19 | A | vs | York County School of Technology(3) | W | 56-29 |
| 2022-12-20 | H | vs | Lancaster Mennonite(3) | W | 58-23 |
| 2022-12-28 | A | vs | Schuylkill Valley(3) | W | 43-37 |
| 2022-12-29 | A | vs | Littlestown(3) | W | 49-21 |
| 2023-01-03 | H | vs | Octorara(3) | W | 46-4 |
| 2023-01-05 | A | vs | Lancaster Country Day School(3) | W | 38-30 |
| 2023-01-07 | A | vs | Susquenita(3) | L | 45-39 |
| 2023-01-10 | A | vs | Pequea Valley(3) | L | 39-25 |
| 2023-01-12 | H | vs | Columbia(3) | L | 62-26 |
| 2023-01-16 | A | vs | Camp Hill(3) | W | 45-34 |
| 2023-01-20 | A | vs | Linden Hall(3) | W | 38-5 |
| 2023-01-23 | A | vs | Lancaster Mennonite(3) | W | 58-16 |
| 2023-01-27 | H | vs | Lancaster Country Day School(3) | | 0-0 |
| 2023-01-31 | A | vs | Columbia(3) | | 0-0 |
| 2023-02-02 | A | vs | Octorara(3) | | 0-0 |
| 2023-02-06 | H | vs | Pequea Valley(3) | | 0-0 |
| 2023-02-08 | H | vs | Linden Hall(3) | | 0-0 |
PIAA District Three Class AAA Power Rankings
| | | | | | | | | | | | |
| --- | --- | --- | --- | --- | --- | --- | --- | --- | --- | --- | --- |
| AAA | School |  W |  L |  T |  Rating |  TWP |  OWP |  TWPW |  OWPW |  TWPL |  OWPL |
| 1 | Lancaster Catholic | 16- | 1- | 0 |  0.818165 |  0.959128 |  0.645877 |  17.60 |  249.05 |  0.75 |  136.55 |
| 2 | Columbia | 14- | 3- | 0 |  0.709830 |  0.829721 |  0.563296 |  13.40 |  183.55 |  2.75 |  142.30 |
| 3 | York Catholic | 14- | 4- | 0 |  0.677027 |  0.790960 |  0.537776 |  14.00 |  208.20 |  3.70 |  178.95 |
| 4 | Pequea Valley | 16- | 2- | 0 |  0.671549 |  0.877193 |  0.420206 |  15.00 |  148.90 |  2.10 |  205.45 |
| 5 | Upper Dauphin | 15- | 2- | 0 |  0.662098 |  0.854890 |  0.426464 |  13.55 |  147.45 |  2.30 |  198.30 |
| 6 | Susquenita | 14- | 4- | 0 |  0.616978 |  0.756098 |  0.446943 |  12.40 |  155.00 |  4.00 |  191.80 |
| 7 | Brandywine Heights | 13- | 5- | 0 |  0.607070 |  0.722857 |  0.465552 |  12.65 |  172.65 |  4.85 |  198.20 |
| 8 | Annville-Cleona | 12- | 5- | 0 |  0.588142 |  0.686567 |  0.467844 |  11.50 |  162.95 |  5.25 |  185.35 |
| 9 | Oley Valley | 12- | 6- | 0 |  0.558699 |  0.687151 |  0.401702 |  12.30 |  158.15 |  5.60 |  235.55 |
| 10 | Biglerville | 7- | 12- | 0 |  0.442090 |  0.376694 |  0.522019 |  6.95 |  190.25 |  11.50 |  174.20 |
| 11 | Camp Hill | 4- | 13- | 0 |  0.359993 |  0.219436 |  0.531786 |  3.50 |  192.40 |  12.45 |  169.40 |
| 12 | Kutztown | 6- | 12- | 0 |  0.355203 |  0.322034 |  0.395743 |  5.70 |  155.25 |  12.00 |  237.05 |
| 13 | Tulpehocken | 1- | 18- | 0 |  0.216178 |  0.046832 |  0.423156 |  0.85 |  164.10 |  17.30 |  223.70 |

Lebanon Federal Credit Union