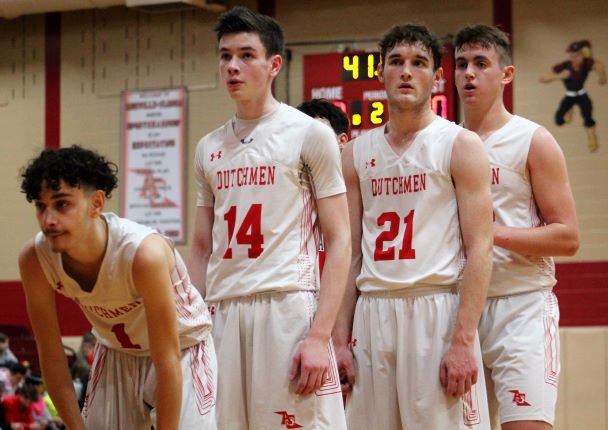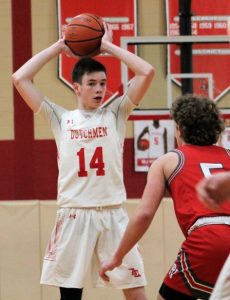 BY JEFF FALK
Editor
ANNVILLE – The Annville-Cleona boys' basketball team needs to have a conversation.
There's a certain topic of discussion that the Little Dutchmen have been avoiding all year. But the way things are going right now, the Little Dutchmen are playing that subject into relevancy.
On Friday night at 'The Barn', Annville-Cleona notched another important late-season victory, a 43-33 triumph over visiting Pequea Valley. After spotting their guests a 9-0 head start, Annville-Cleona outscored them 43-24 over the final 26 minutes of action.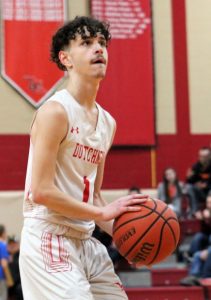 The win was Annville-Cleona's fourth over its last five outings and lifted the Little Dutchmen to 8-8 on the season and 1-3 in Section Four of the Lancaster-Lebanon League. In the latest District Three power rankings, Annville-Cleona was positioned seventh in an AAA classification that takes six for its playoffs.
The outcome dropped Pequea Valley to 3-14 overall and 0-5 in Section Four.
"I am avoiding it," said Annville-Cleona head coach Jason Coletti of talking to his team about its current playoff standing. "At some point I've got to say, 'This is what's in front of us'. I don't want that added pressure on us.
"We haven't talked about that," continued Coletti. "If we're invited to go (to the postseason) in February we'll go. If we could do that it would be special, especially with the seasons we've had over the last couple of years."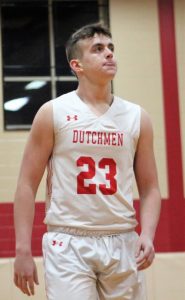 After the game was tied at 25, Annville-Cleona secured its win in the fourth quarter.
On four points from Ricky Cruz and a three-ball by Elisha Slabach, the Little Dutchmen opened the period with a 7-0 run to establish a 32-25 advantage. Four minutes later, another Slabach three-pointer made Annville-Cleona's lead 40-31.
"We can play better," said Coletti. "We're becoming a good team. When you don't play well and you find ways to win, that's the sign of a good team.
"We had our best practice of the season yesterday (Thursday)," added Coletti. "But it's been a combination of getting better and playing AAA schools. We're not playing five-A schools and we're gaining confidence."
After trailing by three points at the break, Annville-Cleona took its first lead of the game at 25-24, on a jumper from Jon Shay with 13 seconds left in the third quarter.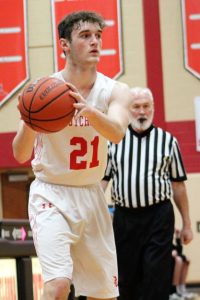 "I told them (his players) at halftime, 'It was 14-5 and we won the second quarter,'" said Coletti. "'Now go out and win the third quarter.' That was the message. When we climbed up the hill you could see us relax."
"I think Annville-Cleona is in the same situation we're in," said Pequea Valley head coach Thad Rittenhouse. "We're in a tough section. It's hard for us. We know when we play each other it's going to be a battle. We love this battle. They (the Little Dutchmen) won it tonight."
Slabach led the Annville-Cleona scoring parade with 16 points, while Cruz contributed 14. The Little Dutchmen drained four three-pointers in the fourth quarter and outscored the Braves 24-12 from beyond the arc.
"This gets us to .500," said Coletti. "We continue to get better. It keeps us hanging around for the district playoffs. I don't mention that to them (his players), but they're not dumb. Over the last couple of games, we want to be in position to control our own destiny."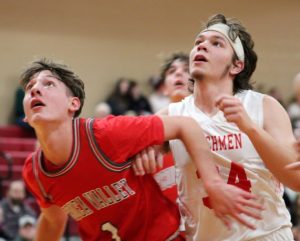 Annville-Cleona did not score a point over the first 6:05 of the game, and Pequea Valley raced out to a 14-3 lead.
"It took a while to get going," said Coletti. "We were too tense. There was a little energy in the gym and we were amped up. Then we relaxed.
"Once we settled down, we were fine," Coletti continued. "We've been getting off to really good starts, so we were due for a sluggish one."
In the middle of the second period, the Little Dutchmen strung together a 7-1 spurt to close to within 18-14 of the Braves. Shay accounted for four of those points with a stick-back and a couple of foul shots, and Slabach drained a three-ball.
"They (the Braves) were sitting in a zone and we were cold," said Coletti. "We finally made a 'three' and it got us going. Then we got a couple of easy ones inside."
"It was a tale of two halves," said Rittenhouse. "We struggled offensively, and give them credit, they came out and put the ball in the basket. We were forcing shots. We missed so many opportunities in this game."
To purchase images in this article please email jeff@lebcosports.com.
2022-23 Annville-Cleona Boys' Basketball Results
| | | | | | |
| --- | --- | --- | --- | --- | --- |
| 2022-12-02 | A | vs | Brandywine Heights(3) | L | 41-29 |
| 2022-12-03 | A | vs | Northern Lehigh(11) | W | 45-26 |
| 2022-12-06 | A | vs | Upper Dauphin(3) | W | 48-42 |
| 2022-12-09 | H | vs | Millersburg(3) | W | 42-39 |
| 2022-12-13 | A | vs | Oley Valley(3) | L | 58-30 |
| 2022-12-19 | H | vs | Big Spring(3) | L | 55-24 |
| 2022-12-20 | A | vs | Lancaster Mennonite(3) | L | 49-40 |
| 2022-12-27 | A | vs | Kutztown(3) | L | 46-32 |
| 2022-12-28 | A | vs | York County School of Technology(3) | L | 51-39 |
| 2023-01-03 | A | vs | Tulpehocken(3) | W | 52-41 |
| 2023-01-06 | H | vs | Lancaster Country Day School(3) | L | 50-38 |
| 2023-01-07 | A | vs | Susquenita(3) | W | 58-34 |
| 2023-01-09 | H | vs | Northern Lebanon(3) | W | 39-30 |
| 2023-01-12 | A | vs | Columbia(3) | L | 68-34 |
| 2023-01-16 | H | vs | Williams Valley(11) | W | 51-37 |
| 2023-01-20 | H | vs | Pequea Valley(3) | | 0-0 |
| 2023-01-23 | H | vs | Lancaster Mennonite(3) | | 0-0 |
| 2023-01-25 | H | vs | Eastern Lebanon County(3) | | 0-0 |
| 2023-01-26 | A | vs | Lancaster Country Day School(3) | | 0-0 |
| 2023-01-31 | H | vs | Columbia(3) | | 0-0 |
| 2023-02-03 | A | vs | Mount Carmel(4) | | 0-0 |
| 2023-02-08 | A | vs | Pequea Valley(3) | | 0-0 |
PIAA District Three Class AAA Power Rankings
| | | | | | | | | | | | |
| --- | --- | --- | --- | --- | --- | --- | --- | --- | --- | --- | --- |
| AAA | School |  W |  L |  T |  Rating |  TWP |  OWP |  TWPW |  OWPW |  TWPL |  OWPL |
| 1 | Columbia | 12- | 1- | 0 |  0.745027 |  0.931727 |  0.516839 |  11.60 |  152.70 |  0.85 |  142.75 |
| 2 | Trinity (3) | 12- | 2- | 0 |  0.695501 |  0.865248 |  0.488032 |  12.20 |  138.65 |  1.90 |  145.45 |
| 3 | Delone Catholic | 11- | 3- | 0 |  0.632088 |  0.792254 |  0.436329 |  11.25 |  149.05 |  2.95 |  192.55 |
| 4 | York Catholic | 11- | 5- | 0 |  0.610446 |  0.700617 |  0.500236 |  11.35 |  159.10 |  4.85 |  158.95 |
| 5 | Oley Valley | 12- | 4- | 0 |  0.609756 |  0.754839 |  0.432432 |  11.70 |  144.80 |  3.80 |  190.05 |
| 6 | Brandywine Heights | 7- | 8- | 0 |  0.487390 |  0.462295 |  0.518061 |  7.05 |  172.10 |  8.20 |  160.10 |
| 7 | Annville-Cleona | 7- | 8- | 0 |  0.425189 |  0.437288 |  0.410402 |  6.45 |  133.75 |  8.30 |  192.15 |
| 8 | Kutztown | 5- | 10- | 0 |  0.411894 |  0.319588 |  0.524713 |  4.65 |  175.70 |  9.90 |  159.15 |
| 9 | Tulpehocken | 5- | 13- | 0 |  0.367993 |  0.291667 |  0.461280 |  5.25 |  151.30 |  12.75 |  176.70 |
| 10 | Camp Hill | 2- | 13- | 0 |  0.329733 |  0.142373 |  0.558728 |  2.10 |  163.40 |  12.65 |  129.05 |
| 11 | Upper Dauphin | 4- | 10- | 0 |  0.320639 |  0.250000 |  0.406975 |  3.90 |  135.95 |  11.70 |  198.10 |
| 12 | Pequea Valley | 3- | 12- | 0 |  0.305725 |  0.190031 |  0.447129 |  3.05 |  145.25 |  13.00 |  179.60 |
| 13 | Susquenita | 2- | 14- | 0 |  0.242324 |  0.105263 |  0.409844 |  1.80 |  134.90 |  15.30 |  194.25 |