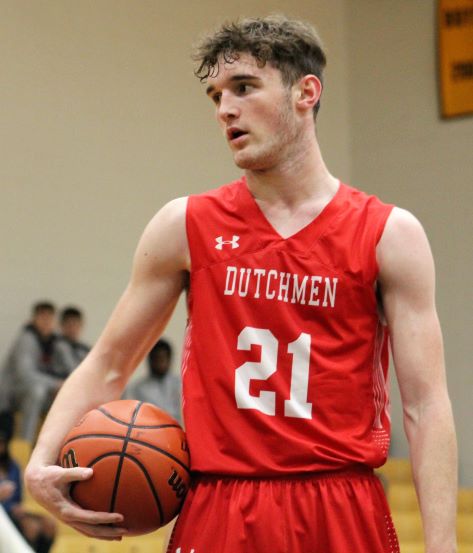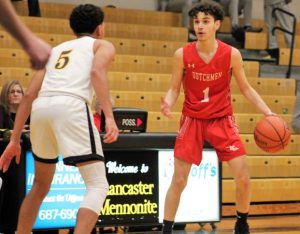 BY JEFF FALK
Editor
LANCASTER – Hustle doesn't require talent. Neither does competitiveness or intensity.
Those are the elements upon which that the Annville-Cleona boys' basketball squad has chosen to build its team culture.
On Tuesday night at Lancaster Mennonite High School, the Little Dutchmen's building blocks were very much on display, during a 49-40 setback at the hands of the homestanding Blazers. Annville-Cleona competed and worked hard throughout, but its skills and offensive touch abandoned it at key moments of the contest.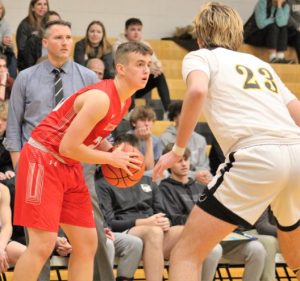 The result was Annville-Cleona's second loss in as many nights, after it had rattled off three straight promising triumphs. The Little Dutchmen now stand at 3-4 on the year and 0-1 in Section Four of the Lancaster-Lebanon League.
Lancaster Mennonite moved to 4-3 overall and 1-0 in Section Four.
"I told the guys, 'We're not coaching effort and competitiveness, any more,'" said Annville-Cleona head coach Jason Coletti. "Now, it's what we do. We want to build on it, so we can coach other things.
"This was the first game we played, start to finish," continued Coletti. "And they're (his players) not being rewarded for it. But there was a pride factor coming out of the locker room. We're trying to get to a level where we're doing it every night."
The Little Dutchmen's intestinal fortitude first manifested itself late in the opening period, after the Blazers had notched nine of the contest's initial 11 points. Paced by five points from sophomore Jon Shay and a three-pointer by Ricky Cruz, Annville-Cleona rattled off eight unanswered points to grab a 10-9 edge.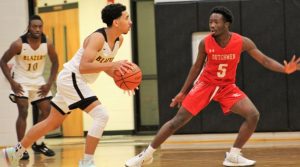 "We start slow all the time," said Coletti. "It's a confidence thing. We start games feeling the other team out. But our kids didn't quit. We fought back and took the lead.
"We competed," added Coletti. "We had a game last (Monday) night and we slept through it. We felt we should've played better. We were disappointed. Tonight we gave ourselves a chance. We're starting to learn how to play hard every night."
Three minutes into the second stanza, Jake Zdazinksi's three-pointer gave the Little Dutchmen a 13-11 margin. But over the final 2:20 of the first half, the Blazers outscored Annville-Cleona 8-4 to take a 22-18 lead to the break.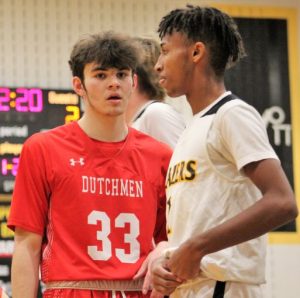 "The message at halftime was, 'Don't be satisfied,'" said Coletti. "There have been times when we've taken a lead at halftime and relaxed. 'Don't get complacent.' 'Keep doing what you're doing'."
"That's a gritty win," said Lancaster Mennonite head coach Seth Buckwalter. "To Annville-Cleona's credit, they never went away. I wasn't sure how our guys would respond. But they pulled away at the end."
Shay poured in 17 points and showed the way for the Annville-Cleona offense. The Little Dutchmen made just seven of their 14 foul shots, and they were outscored 27-9 from three-point land.
"We need Jon Shay to score," said Coletti. "He gets whacked and kicked, and he's a bruiser out there. We're struggling to score. Tonight, we got 40. That's not going to beat a lot of teams. It's just a mindset."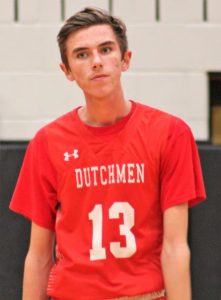 Thanks in part to baskets by Ben Marcom and Gavin Keller, Annville-Cleona stayed within striking distance of the Blazers in the early portions of the second half. That was until Lancaster Mennonite pieced together a 10-2 spurt over the final 4:07 of the third quarter to extend its lead to 38-27.
The closest Annville-Cleona could come the rest of the way was 40-34, courtesy of an inside bucket by Shay, 2:14 into the fourth period.
"We played really well defensively," said Coletti. "That's the effort we're trying to get every night. They (his players) competed against a much better team (than on Monday). This is how we should've been playing from Day One. It took us six games to figure it out."
"Coach Coletti is doing a fantastic job with them," said Buckwalter of the Little Dutchmen. "He's got them running some really good stuff offensively. I really feel like he's getting the most of his players. They're young and they're growing."
To purchase images in this article please email jeff@lebcosports.com.
2022-23 Annville-Cleona Boys' Basketball Schedule
| | | | | | |
| --- | --- | --- | --- | --- | --- |
| 2022-12-02 | A | vs | Brandywine Heights(3) | L | 41-29 |
| 2022-12-03 | A | vs | Northern Lehigh(11) | W | 45-26 |
| 2022-12-06 | A | vs | Upper Dauphin(3) | W | 48-42 |
| 2022-12-09 | H | vs | Millersburg(3) | W | 42-39 |
| 2022-12-13 | A | vs | Oley Valley(3) | L | 58-30 |
| 2022-12-19 | H | vs | Big Spring(3) | L | 55-24 |
| 2022-12-20 | A | vs | Lancaster Mennonite(3) | | 0-0 |
| 2022-12-27 | A | vs | Kutztown(3) | | 0-0 |
| 2022-12-28 | A | vs | Tournament() | | 0-0 |
| 2023-01-03 | A | vs | Tulpehocken(3) | | 0-0 |
| 2023-01-06 | H | vs | Lancaster Country Day School(3) | | 0-0 |
| 2023-01-07 | A | vs | Susquenita(3) | | 0-0 |
| 2023-01-09 | H | vs | Northern Lebanon(3) | | 0-0 |
| 2023-01-12 | A | vs | Columbia(3) | | 0-0 |
| 2023-01-16 | H | vs | Williams Valley(11) | | 0-0 |
| 2023-01-20 | H | vs | Pequea Valley(3) | | 0-0 |
| 2023-01-23 | H | vs | Lancaster Mennonite(3) | | 0-0 |
| 2023-01-25 | H | vs | Eastern Lebanon County(3) | | 0-0 |
| 2023-01-26 | A | vs | Lancaster Country Day School(3) | | 0-0 |
| 2023-01-31 | H | vs | Columbia(3) | | 0-0 |
| 2023-02-03 | A | vs | Mount Carmel(4) | | 0-0 |
| 2023-02-08 | A | vs | Pequea Valley(3) | | 0-0 |