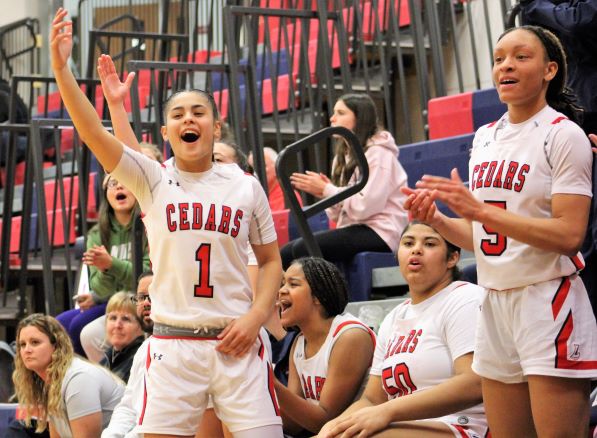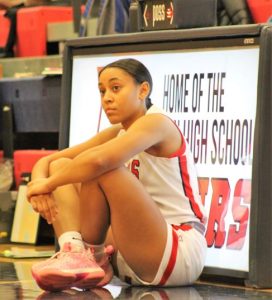 BY JEFF FALK
Editor
LEBANON – Quick story.
Last year, the Lebanon girls' basketball team rode a fast start to a share of the Lancaster-Lebanon Section Two championship. But down the stretch and into the postseason, the Cedars didn't fare quite as well, before finishing 15-9 overall.
This year, after graduating some key character leaders, Lebanon has moved up to Section One of the L-L, and is now off to an even better start.
There's no moral to our little tale. Or at least not one which has been written yet.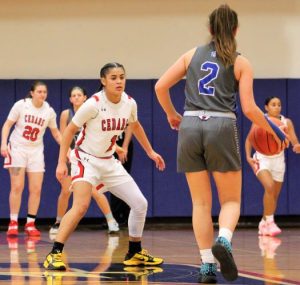 On Monday night at Lebanon High School, the Cedars' torrid start to the 2022-23 campaign gained momentum, with an 82-30 non-league, mercy-rule dismantling of Garden Spot. Deploying its frantic man-to-man full-court defense, Lebanon unleashed 'controlled chaos' on the Spartans late in the first quarter, and the visitors never came close to recovering.
With key contests against McCaskey, Cedar Crest, Northern Lebanon and Manheim Township – among others – on the horizon, the Cedars improved to 6-0 overall. The 82 points that Lebanon scored was a season-high, by 33 points.
With the setback, Garden Spot slipped to 1-6 on the season.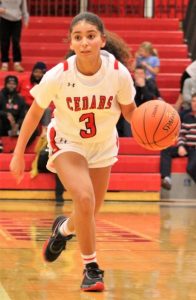 "It's a good start, and it's early yet," said Lebanon head coach Jaime Walborn, effectively dousing the rampant Cedar mania. "We just started section play, and we've had some good non-league tests. We just look at it one game at a time. We don't set goals. We set milestones. Win a home game, win a tournament. Now, knock off a section opponent and keep a win streak going.
"Last year, we had a win streak going right before Christmas," added Walborn. "Those things all play a part in it. Kailah (Correa) and Lily (Harrison) were freshmen. They're still young, but they're not new to varsity basketball."
At the outset, last night's contest was very much a struggle for Lebanon.
Garden Spot shot well from the floor, and a driving lay-in from Lebanon freshman Olive Brandt gave the home side a 14-8 margin. A minute later, Harrison scored on the inside to make the Cedars' lead 16-10.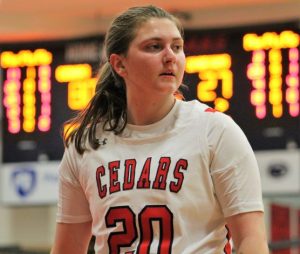 "They came out and made their first couple of shots," said Walborn of the Spartans. "I think we were tentative on defense. That's not our style. We were kind of sitting back. Once we adjusted, we went to our style of play.
"We like to pressure the ball," continued Walborn. "Our guards have a knack for the game. They're all things we work on in practice. We have fast, good perimeter guards."
"We showed in the first quarter that we can compete," said Garden Spot head coach Scott Boyd. "Now we've got to take that energy and sustain it over four quarters. Obviously, they're (the Cedars) a great team. But we've got to put it all together."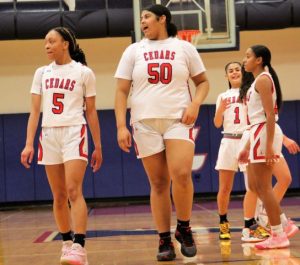 The score was 19-14 and there was less than three-and-a-half minutes left in the first quarter, when the Cedars' run came. And when the Lebanon run came, it came in waves.
Forcing turnovers and quick shots, and then getting out in transition and sharing the ball – both inside and out – Lebanon hit Garden Spot with a debilitating 23-2 spurt that spilled over into the middle of the second quarter. When it subsided, the Cedars had a hefty 42-16 cushion.
Ferrer tallied 12 points during the burst, Correa scored eight and Harrison had three.
"We were on fire in the first half," said Walborn. "(Senior) Aaliyah (Ferrer) made five 'threes'. That was huge. We have a shooter on the perimeter. Kailah was running the floor and Lily was scoring inside. We're tough when we're all on."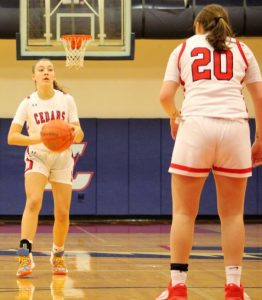 Correa poured in a game-high 19 points, while Ferrer and Harrison each posted 17 Cedar points. Lebanon outscored Garden Spot 52-14 on two-point field goals.
"Kailah is a great leader," said Walborn. "But not just what people see on the floor, also in the locker room. She's always celebrating everyone else. She's a team-oriented player. She has a contagious smile off the court. The kids enjoy being around her."
If the outcome was still in doubt after halftime, the Cedars removed it by holding the Spartans without a score over the final 5:08 of the third period. Over that span, Lebanon was posting 16 points to stretch its advantage to 72-25.
"We had great leadership last year and we graduated some seniors," said Walborn. "But they did a good job of grooming the next group to be leaders. Right now, this group is jelling."
"They (the Cedars) have great talent," said Boyd. "Everyone knows Kailah Correa. They play together very well. You can tell they've been nurturing the talent for a while. They're very resilient as well. They're a good team."
To purchase images in this article please email jeff@lebcosports.com.
2022-23 Lebanon Girls' Basketball Schedule
| | | | | | |
| --- | --- | --- | --- | --- | --- |
| 2022-12-06 | H | vs | Manheim Central(3) | W | 43-40 |
| 2022-12-09 | A | vs | Bethlehem Catholic(11) | W | 55-53 |
| 2022-12-10 | A | vs | Fleetwood(3) | W | 59-24 |
| 2022-12-10 | P | vs | TBA() | | 0-0 |
| 2022-12-13 | A | vs | Governor Mifflin(3) | W | 51-45 |
| 2022-12-16 | A | vs | Manheim Township(3) | W | 53-50 |
| 2022-12-19 | H | vs | Garden Spot(3) | | 0-0 |
| 2022-12-21 | H | vs | J P McCaskey(3) | | 0-0 |
| 2022-12-28 | H | vs | Northern Lebanon(3) | | 0-0 |
| 2022-12-29 | H | vs | TBA() | | 0-0 |
| 2023-01-06 | A | vs | Cedar Crest(3) | | 0-0 |
| 2023-01-10 | H | vs | Penn Manor(3) | | 0-0 |
| 2023-01-12 | A | vs | Hempfield (3)(3) | | 0-0 |
| 2023-01-14 | H | vs | Ephrata(3) | | 0-0 |
| 2023-01-16 | A | vs | Hershey(3) | | 0-0 |
| 2023-01-20 | H | vs | Manheim Township(3) | | 0-0 |
| 2023-01-24 | A | vs | J P McCaskey(3) | | 0-0 |
| 2023-01-27 | H | vs | Cedar Crest(3) | | 0-0 |
| 2023-01-31 | A | vs | Cocalico(3) | | 0-0 |
| 2023-02-02 | A | vs | Penn Manor(3) | | 0-0 |
| 2023-02-04 | H | vs | Reading(3) | | 0-0 |
| 2023-02-07 | H | vs | Hempfield (3)(3) | | 0-0 |
| 2023-02-09 | H | vs | Milton Hershey(3) | | 0-0 |