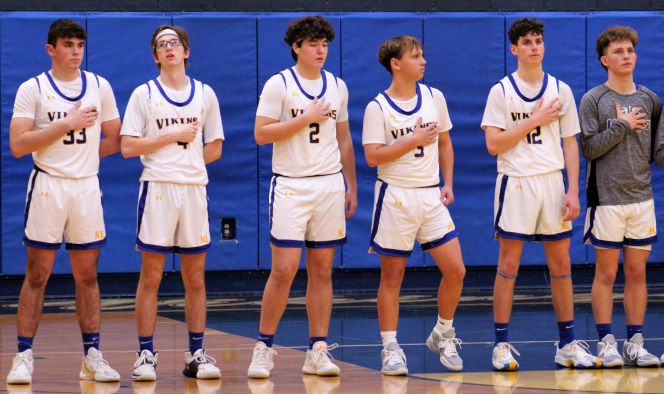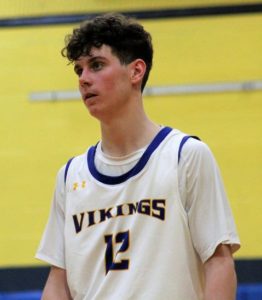 BY JEFF FALK
Editor
FREDERICKSBURG – Everybody's always in such a big hurry to grow up and stop making mistakes. But sometimes the best way to eliminate mistakes is to embrace them, learn from them and grow from them.
It's four games into the season, and that's where the Northern Lebanon boys' basketball team finds itself right now.
On Friday night at Northern Lebanon High School, the Vikings continued to make youthful and fixable mistakes, during a 64-47 setback at the hands of visiting Cocalico. Northern Lebanon was competitive early in the contest, before turnovers, missed assignments and fundamental miscues began to catching up with it.
The game served as the Lancaster-Lebanon Section Three opener for both sides. The Vikings dropped to 0-4 on the year, while Cocalico moved to 2-3 overall.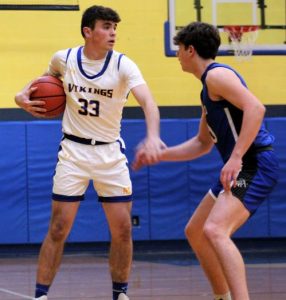 "I thought we'd be a little more competitive early on," said Northern Lebanon head coach Chris George of his side's start to the winter campaign. "I thought we could get one or two of these. It's been an adjustment. We're young and making a lot of mistakes. These kids have to make mistakes before they don't.
"You have to do those things to grow," continued George. "We have guys who do all sorts of good things. But until they get some things out of their system, we're not going to get where we want to be."
Most of the Vikings' positives on the night came early on.
Riley Clinger's jump shot gave Northern Lebanon a modest 4-2 edge a minute in. Then two minutes later, a pair of Clinger foul shots established a 6-5 margin.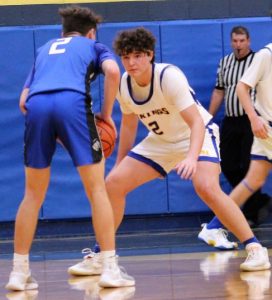 But Cocalico concluded the opening quarter with a 9-2 spurt and a 14-8 advantage.
"The game plan was followed early," said Geroge. "Our goal was to hang in there as long as we can. Our starts have been a problem. It was about hanging around and getting off to a good start.
"In the second quarter, we made too many mistakes," George continued. "We turned the ball over and lost some people on defense. There were probably four or five possessions where we got a steal or got a stop, and gave it right back to them. You can't work that hard and just give the ball away."
After freshman Brady Krall converted an old-fashioned three-point play to draw the Vikings to within 14-11 of the lead, Northern Lebanon went the next 2:50 of the second stanza without a point, as the Eagles stretched their advantage to double digits. Cocalico also tallied the final five points of the first half to take a 28-18 lead to the locker room.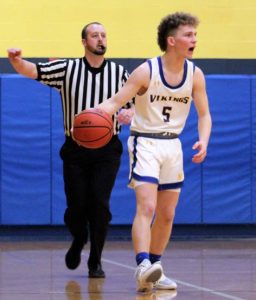 "I liked the fight," said George of his troops. "They didn't give up. They kept plugging away. Obviously, their (the Eagles') press gave us problems tonight. I don't think we shot particularly well either. We tried some different things. We made some adjustments."
"They play hard," said Cocalico head coach Seth Sigman, of the Vikes. "Chris gets the most out of his talent, maybe as much as any coach in the league, especially at home. This is a tough place to play. When you're young and you have to grow, sometimes the best way to do that is to throw them into the fire. They're going to be OK."
Clinger posted 13 points to show the way for the Northern Lebanon offense. The Vikings converted just six of their 16 free throw attempts and were outscored 24-12 from three-point land.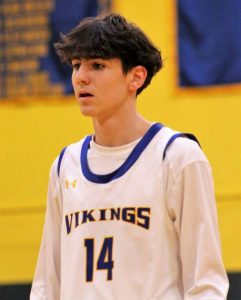 "I think things are going great," said George. "The kids come to practice and compete. We have 11 kids playing. I feel like we're getting better. I know the final scores don't show it.
"But we can't use the scoreboard to evaluate how they're doing," added George. "We're pretty young. We're going to keep playing hard and giving it everything we have. We have ten or 11 kids competing for playing time. That kind of stuff is going to help us to grow."
After Cocalico tallied the first five points of the third quarter, the closest the Vikings could come in the second half was 33-20, on a driving lay-in from senior James Voight.
"We want to be competitive with the teams on our schedule," said George. "Every night we want to think we can win. Right now, we're not quite there. But I did see some things tonight."
"We played well," said Sigman. "The biggest thing was the energy and being aggressive. We needed to play at the appropriate intensity level for a high school basketball game."
To purchase images in this article please email jeff@lebcosports.com.
2022-23 Northern Lebanon Boys' Basketball Schedule
| | | | | | |
| --- | --- | --- | --- | --- | --- |
| 2022-12-05 | A | vs | Tri-Valley(11) | L | 36-50 |
| 2022-12-07 | A | vs | Solanco(3) | L | 35-61 |
| 2022-12-10 | H | vs | Pine Grove Area(11) | L | 38-49 |
| 2022-12-16 | H | vs | Cocalico(3) | | 0-0 |
| 2022-12-17 | A | vs | Octorara(3) | | 0-0 |
| 2022-12-21 | A | vs | Williams Valley(11) | | 0-0 |
| 2022-12-27 | H | vs | Tulpehocken(3) | | 0-0 |
| 2022-12-28 | H | vs | TBD() | | 0-0 |
| 2023-01-03 | H | vs | Eastern Lebanon County(3) | | 0-0 |
| 2023-01-05 | A | vs | Donegal(3) | | 0-0 |
| 2023-01-07 | A | vs | Upper Dauphin(3) | | 0-0 |
| 2023-01-09 | A | vs | Annville-Cleona(3) | | 0-0 |
| 2023-01-10 | H | vs | Lancaster Catholic(3) | | 0-0 |
| 2023-01-13 | A | vs | Lampeter Strasburg(3) | | 0-0 |
| 2023-01-19 | A | vs | Cocalico(3) | | 0-0 |
| 2023-01-21 | H | vs | Octorara(3) | | 0-0 |
| 2023-01-24 | H | vs | Hamburg(3) | | 0-0 |
| 2023-01-27 | A | vs | Eastern Lebanon County(3) | | 0-0 |
| 2023-01-30 | H | vs | Donegal(3) | | 0-0 |
| 2023-02-03 | A | vs | Lancaster Catholic(3) | | 0-0 |
| 2023-02-04 | H | vs | Schuylkill Valley(3) | | 0-0 |
| 2023-02-06 | H | vs | Lampeter Strasburg(3) | | 0-0 |

Lebanon Federal Credit Union