The Northern Lebanon section was written by Northern Lebanon student-athlete Hudson Brown, as a part of our effort to give opportunities to students within Lebanon County's high schools.
---
     Annville-Cleona Dutchmen 
Lancaster-Lebanon League Section 3
Head Coach: Mike Miller, 15th season
Key Pieces: Liam Pulaski, 127# (Jr.);  Ayden Heilmen, 152# (Sr.); Oliver Carey, 145# (Jr.); Cael Harter, 133# (Jr.);  Phoenix Music 172# (Sr.); Damien Miller, 215# (Jr.); Josh Lindsay, Heavyweight (Sr.);  Jahmar Gonzalez-Allie 152# (Sr.)
Newcomers: Carter Smith, 127# (Jr.);  Ryan Barrientos, 160# (So.); Landon Hostetter, 133# (So.); Ivan Kreider, 138# (So.);  Dominick Kline, 114# (So.); Oliver Funck, 107# (Fr.)
Key Losses: Gavin Funck; Ethan Missimer
Outlook:  The Dutchmen finished last season with a 9-11 record, going 4-2 in Section matches.  This year, Coach Miller hopes to figure out where each of his wrestlers best fit in order to give their line-up the best chances at winning each match.  The challenge is the lack of depth as they feature only one wrestler in most weight classes.  Of those wrestlers, very few of them have varsity experience.  However, there is a silver lining to this situation, as the wrestlers will get some key opportunities early on in the season, which will hopefully translate into a more competitive team effort by the time they open their Section 3 schedule.
---
     Cedar Crest Falcons 
Lancaster-Lebanon League Section 1
Head Coach: Cam Eisenhauer, 2nd season
Key Pieces: Lucas Garrett (Jr.); Jason Brooks, 133# (Sr.)
Newcomers: Landyn Kline, 189# (Fr.); Cameron Simone, 215# (Jr.); Kenyon Figueroa, 139# (Jr.)
Key Losses: Bryce Houser; Trayvon Zerbe
Outlook:  A season ago, the Falcons struggled in Coach Eisenhauer's first year, finishing with a 2-11 record overall (1-6 in Section 2).  With realignment, Cedar Crest now makes a move into Section 1. None of this will matter, as there is a new sense of optimism these days, as the program has been building from the youth program, bringing larger numbers into the high school level.  This foundational approach will pay dividends going forward.  While the team is still young at this point Lucas Garrett and Jason Brooks will be wrestlers worth paying attention to throughout this season.  If the Falcons can find some reasons to celebrate, while gaining valuable experience, this program should begin to show the progress of their hard work.
---
    ELCO Raiders  
Lancaster-Lebanon League Section 3
Head Coach: Ben Moser, 2nd season
Key Pieces: Zane Trostle, 121# (So.); Steven Rosado, 127# (So.); Mitch Frederick (So.); Sammie Bechtel, 152# (So.); Eli Krow, 160# (Jr.); Kyle Miller (So.)
Newcomers: Ashton Kriss, 114# (Fr.)
Key Losses: Eddie Bean
Outlook: The overriding theme for last year's ELCO squad was "new", with the bulk of the team was made up of freshman, wrestling for a first-year head coach.  This year, the program hopes to make huge strides forward after putting in hard off-season work. They have a lot of talent and if all goes according to plan, the Raiders should be tough to beat in several weight classes, making them a tough draw for opposing teams.  In terms of individual talent, there is an expectation that several of ELCO's wrestlers have a chance to make deep post-season runs.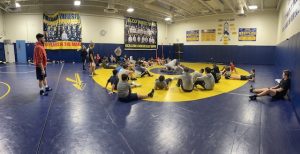 ---
     Lebanon Cedars
Lancaster-Lebanon League Section 2
Head Coach: Vaughn Black, 10th season
Key Pieces: Griffin Gonzalez, 160# (Sr.); Riley Houck,189# (Sr.); Eddiean Naphtali, 127# (Jr.); Alexander Eberly, 114# (So.)
Newcomers: None
Key Losses: Thomas Hershey; Angel Martinez; Tyler Wertley
Outlook:  One thing to know about the Lebanon Cedars wrestling program is that they just don't push for excellence on the mat, but also in the classroom as well.  This high standard makes this group of athletes among the most competitive that Lebanon puts out into competition.  Leading the way for the Cedars if Griffin Gonzalez, who enters his senior season as a Lehigh University commit after finishing seventh in the state during his junior campaign.  Beyond Gonzalez, look out for several members of Coach Black's team to continue improving.  As with most of Lebanon's programs, everything becomes a numbers game in trying to fill all weight classes, while also staying healthy.  Though, in what is essentially an individual sport, there are chances for success beyond the team's win-loss record.  Lebanon's wrestlers know this and are ready to prove themselves.
Additional Note: Lebanon approved a girls program ahead of this season.  They currently have six high school wrestlers on this roster.
---
     Northern Lebanon Vikings
Lancaster-Lebanon League Section 3
Head Coach: Russell Wallace
Key Pieces: Clayton Erb (Sr.); Owen Lehman (Sr.); Connor Leonard (Sr.); Julian Zaragoza (Jr.);
Aaron Seidel (So.); Samuel Wolford (Fr.)
Key Losses: Owen Breidegan; Kayden Clark
Outlook: The wrestling season always gives good reason for Viking Nation to get excited, as they have a rich history of success. Northern Lebanon kicked off its season with a great showing at the Solanco Mule Classic and do not plan on taking their foot off of the gas.  The team is looking to have a very successful year coming off a loss in the District 3 semifinals to West Perry that ended their postseason run. Last season, Northern Lebanon was able to take home their 10th section title in a row which was an enormous achievement. Aaron Seidel was able to secure a state championship at 106 lbs and he is looking for continued success this year along with the key players listed above. (written by NL student-athlete Hudson Brown)
---
   Palmyra Cougars
Mid-Penn Conference – Keystone Division
Head Coach: Jon Regets, 1st season
Key Pieces: Josh Smith, 114# (Jr.); Nate Foltz, 127# (Sr.); Mason Bucks, 152# (Jr.); Kadin Jones, 189# (Jr.)
Newcomers: Tyler Detwiler, 107# (Fr.); Jayson Albright, 285# (So.)
Outlook:  After a successful three-year run at the middle school level, Coach Regets now takes over as the varsity head coach.  A 1999 PIAA medalist himself, he filled out his coaching roster with three other PA state medalists.  As a result of this shift, this is a program that is dedicated to excellence and is excited for a new era.  In fact, they have completely rebranded themselves as "Palm City" in an effort to usher in this new attitude.  If this style has the same effect that it did at the middle school level, Palmyra could become a premier wrestling school within a couple of years.
---
If you are looking to provide feedback or are a business or individual interested in providing sponsorship to aid our mission at LebCoSports, you are asked to contact Dan by emailing dan@lebcosports.com.

Lebanon Federal Credit Union