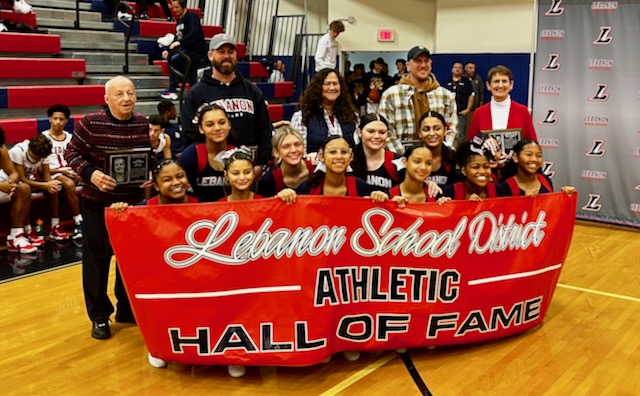 Since the year 2000, the Lebanon School District has inducted past athletes and coaches into its Athletic Hall of Fame.  On Saturday, December 10, 2022, the Cedars welcomed the Class of 2022.  The event was split between two events, a ceremony held as a luncheon during the day and a separate ceremony was held that evening to honor the inductees between the basketball tournament games.  During the nighttime event, the newly minted hall of famers were presented their plaques by Mr. Carlos Sanchez, the Lebanon High School Director of Athletics and LHS Hall of Fame (Class of '18).
Lebanon High School Athletic Hall of Fame
Class of 2022
Kathy Andrews: Served as the Girls Basketball coach for seven years.  During her time at the helm, she navigated the Lebanon program through Title IX, compiling an impressive 95-25 record.  In 1971-1972, the Cedars were the Lebanon County Champions.  Once female competition was established in the Lancaster-Lebanon League, Andrew's teams won Section 2 twice ('72/'73 & '73/'74) and Section 1 twice ('74/'75 & '75/'76).  During the '75-'76 season, Lebanon won the L-L League Championship after having completed an undefeated season in Section 1.  The Cedars were also the League runner-up in 1974 and were two semi-finalists in District 3.  As other coaches recognized her leadership abilities, Andrews was named the 1973 Coach of the Year.  She left her role to start a family, but not before laying a foundation for what the Lebanon Girls Basketball program would become.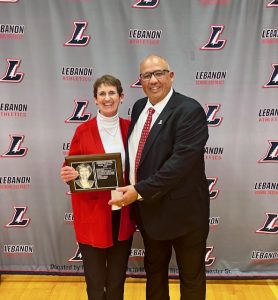 Jordan Clentimack: LHS Class of 2009. Football and Track.  On the football field, Clentimack was a standout wide receiver, serving as the primary target for James Caplleo as Coach Gerry Yonchiuk was able to successfully implement Mike Leach's Air Raid offense.  During his junior year, Clentimack had 60 receptions for 855 yards and 12 touchdowns.  For his efforts, he was named Second Team All-State.  In his senior year, he had 84 receptions for 1,412 yards and 19 touchdowns. He was named First Team All-State, along with being named as a First Team Wide Receiver by PA Football News.  His 2008 reception total of 84 ranks him 11th all-time in Pennsylvania football history. For his football career, Clentimack had 156 receptions for 2,628 yards and 32 touchdowns.  Clentimack was also impressive on the track.  During his freshman year, he was a key piece of the 4x100m relay team that went to Districts.  Fast forward to his senior year, Clentimack won three events at the Lebanon County Championships, the 100m, 200m, and the 4x100m relay.  After high school, Clentimack enlisted in the US Army.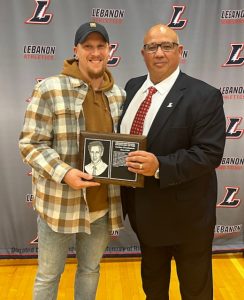 Beth Gates Sapore: LHS Class of 2006. Basketball and Softball. Gates Sapore set the standard for Lebanon's softball hitters.  When talking about offensive stats, she broke the school records in all of them: hits, doubles, triples, home runs, runs scored, RBIs, batting average, and at-bats.  On the basketball court, Gates Sapore average 14 points per game during her junior year, then 15 points per game her senior year.  She was twice named to the All-Holiday Tournament Team.  In 1986, Gates Sapore was Lebanon's nomination for the Pop Kelchner Award.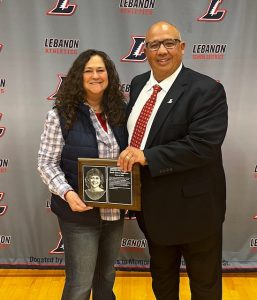 Elizabeth Carey Petcov: LHS Class of 2007. Field Hockey and Track.  Carey Petcov had an outstanding field hockey career at Lebanon, earning First Team All-Section honors in both her junior and senior years, after being named Second Team as a sophomore.  She went on to play for LaSalle University, where she led the Atlantic 10 in assists and was named an A-10 Second Team All-Star.  In track at Lebanon, Carey Petcov was a fearless pole vaulter and finished 2nd at the Lebanon County Championships her senior year.  Carey Petcov was unable to attend the event in person.
David Troain: LHS Class of 2004. Football and Basketball.  Troain was a feared running back for Lebanon during the early 2000s, being named a Section 2 First Team All-Star his sophomore, junior, and senior years.  In each of those seasons, he rushed for over 1,000 yards.  The last two years, Troain was named a Lancaster-Lebanon League First Team All-Star, rushing for over 1,300 yards in each.  For his career Troain rushed for 3,812 yards and scored 43 touchdowns.  His skill and leadership on the basketball team was a key piece of the 2004 Lebanon Cedars capturing the Lancaster-Lebanon League Championship.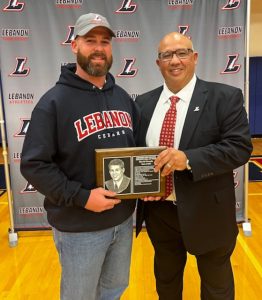 In addition to those directly involved in the athletic program, the Hall of Fame Committee each year selects an individual worthy of the Cedar Spirit Award.  This year, the award was given to John Schauer, a long-time fan and supporter of Lebanon's athletes.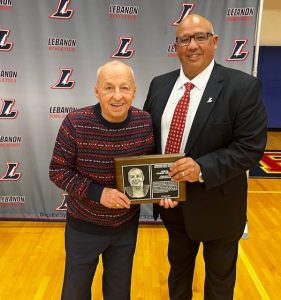 ---
The Lebanon Hall of Fame Committee is made up of the following individuals:
Terri Johnston, Chairperson
Carlos Sanchez, Athletic Director
Dave Bentz
Tom Brandt
Heather Eggert
Kathy Kline-Grove
Dawn Lawrence
Robert Nordall
Keith Rolon
Megan Sanchez
Ted Thompson
Gary Zelinske
The Selection Committee consisted of the following:
Tom Brandt
Heather Eggert
Bill Giovino
Kelly Newswanger
Amanda Rhinier
Keith Rolon
Tim Speraw
Jeff Stellar
Rebecca Thomson
For more information on who has been inducted in past classes of the LHS Athletic Hall of Fame, please visit here.