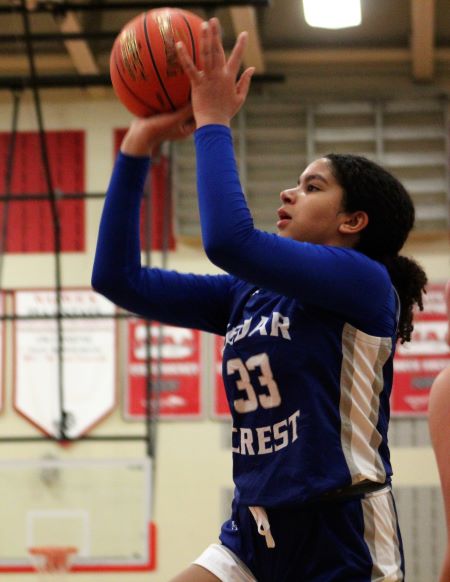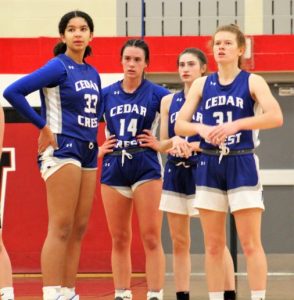 BY JEFF FALK
Editor
LITITZ – There's a difference between hope and expectations. And it's way too early to draw any type of conclusions.
But the winter season is starting to unfold, and the Cedar Crest girls' basketball team has been among the locale's most pleasant surprises.
On Wednesday night at Warwick High School, the Falcons continued to impress, during a 43-36 non-league road triumph over the hometown Warriors. Following a bit of a sluggish first half, Cedar Crest came together and put it together over the final 16 minutes of action.
The victory was the Falcons' fifth over their first six outings and left them 5-1 heading into their Lancaster-Lebanon Section One schedule, Friday at home against Hempfield. A mere 24 hours prior, Cedar Crest had registered a 50-24 home win over Twin Valley.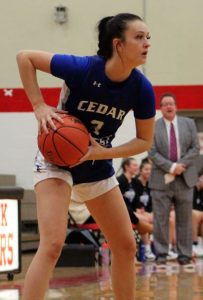 With the outcome, Warwick slipped to 2-4 on the year.
"We lost a lot of key players from last year," said Cedar Crest junior forward Lizzie Lowe. "But we knew what we had to work on. I think it's definitely been a little bit of a surprise. We've had a lot of people step up and it's helped us.
"A really good goal for us is to win the section and win the league," continued Lowe. "It's if we believe we can do that. We just need to have that great team chemistry. We have to have the will to win. It's really driving us this year, setting attainable goals."
Cedar Crest upped its level of play following halftime.
It was a 10-0 third-quarter spurt that snapped a tie and gave the Falcons a 32-22 lead it would never relinquish. Cedar Crest held Warwick without a point for a 3:23 stretch, as senior Brooke Shutter nailed back-to-back three-pointers, Lowe scored on a stick-back and Allison Metzgar maneuvered inside for a deuce.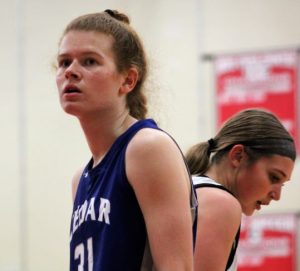 "Yeah, I think we did play better in the second half," said Lowe. "We were able to make a few lay-ups, and when Brooke made those 'threes' it gave us a spark.
"At halftime, coach (Will Wenninger) said we had to rebound the ball better," Lowe continued. "We had to keep them off the boards. We missed some of our shots in the first half, but we had to keep shooting."
"Our goal was to try to not let them get a lead," said Warwick head coach Danny Cieniewicz of the Falcons. "They're tough with the lead. We wanted to keep it a game. They separated, but we came back. I thought we did some good things against them. They're a district qualifier."
With the Warriors on the ropes, Cedar Crest applied the knockout blow at the start of the final quarter.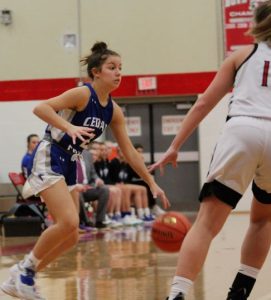 Courtesy of three points by Lowe, Shutter's steal and lay-in, a Kaila Francis bucket and a free throw from Metzgar, the Falcons opened the stanza with an 8-0 spurt. That pushed Cedar Crest's advantage to 43-29, with under four minutes remaining.
"I thought there was definitely room for improvement," said Lowe. "We could've shot better. We could've boxed out better. But when we got on a run, we tried to stay on it and keep the energy up."
Shutter posted 12 points to pace the Falcons, and Lowe contributed 11. Cedar Crest outscored Warwick 15-9 from beyond the arc.
Cedar Crest forced 13 second-half turnovers.
"We don't really have that stand-out player," said Lowe. "We have a lot of good players and we play together. We're not the biggest team, but we're athletic and fast."
After notching five of the game's first seven points, Cedar Crest opened an 11-6 lead on an inside move by Francis 25 seconds into the second period. But Warwick enjoyed a 20-18 edge at the break.
"I think we were just kind of asleep in the first half," said Lowe. "At halftime we woke up and came out with more energy.
"I'm really happy with how we're doing," added Lowe. "We've improved a lot from last year. I think a key part of our success is that we have more energy. We have the will to win."
"I view tonight as a barometer," said Cieniewicz. "Can we play with a playoff team? Obviously, that was answered."
To purchase images in this article please email jeff@lebcosports.com.
2022 Cedar Crest Girls' Basketball Schedule
| | | | | | |
| --- | --- | --- | --- | --- | --- |
| 2022-12-03 | H | vs | Manheim Central(3) | W | 37-32 |
| 2022-12-06 | H | vs | Wilson (3)(3) | W | 40-30 |
| 2022-12-09 | H | vs | Harrisburg(3) | W | 52-36 |
| 2022-12-10 | H | vs | Mechanicsburg(3) | L | 32-23 |
| 2022-12-13 | H | vs | Twin Valley(3) | W | 50-24 |
| 2022-12-14 | A | vs | Warwick(3) | | 0-0 |
| 2022-12-16 | H | vs | Hempfield (3)(3) | | 0-0 |
| 2022-12-19 | A | vs | Conrad Weiser(3) | | 0-0 |
| 2022-12-21 | H | vs | Penn Manor(3) | | 0-0 |
| 2022-12-22 | A | vs | Palmyra(3) | | 0-0 |
| 2022-12-27 | H | vs | Harrisburg(3) | | 0-0 |
| 2022-12-28 | A | vs | TBD() | | 0-0 |
| 2023-01-03 | A | vs | Reading(3) | | 0-0 |
| 2023-01-06 | H | vs | Lebanon(3) | | 0-0 |
| 2023-01-10 | A | vs | Manheim Township(3) | | 0-0 |
| 2023-01-12 | A | vs | J P McCaskey(3) | | 0-0 |
| 2023-01-17 | H | vs | Governor Mifflin(3) | | 0-0 |
| 2023-01-20 | A | vs | Hempfield (3)(3) | | 0-0 |
| 2023-01-24 | A | vs | Penn Manor(3) | | 0-0 |
| 2023-01-27 | A | vs | Lebanon(3) | | 0-0 |
| 2023-02-02 | H | vs | Manheim Township(3) | | 0-0 |
| 2023-02-07 | H | vs | J P McCaskey(3) | | 0-0 |