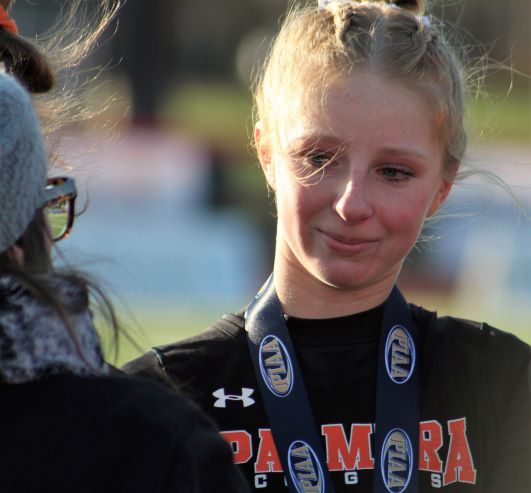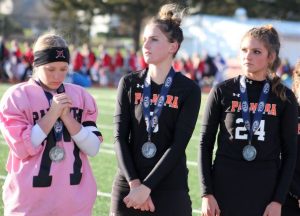 BY JEFF FALK
Editor
MECHANICSBURG – Not only is Palmyra's one of the best field hockey programs in the state of Pennsylvania, it's also one of the top in the nation. But first and foremost, the Cougars run the finest scholastic sports program in Lebanon County.
Yet, if there exists any chink in Palmyra's impressive armor, it would have to be its results in state championship games.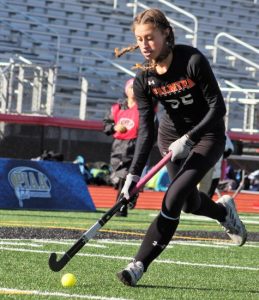 On a cold Saturday afternoon at Cumberland Valley High School's Chapman Field, the Cougars' absolutely wonderful fall campaign came to a disappointing conclusion, with a 1-0 overtime loss to Mechanicsburg in the PIAA Class AA championship contest. The Wildcats' Gracyn Catalano tallied the decisive goal with 30 seconds remaining in the initial, ten-minute, seven-on-seven extra session.
The state championship appearance was Palmyra's ninth overall, seventh in the last nine seasons and fourth in the past five years. But over those appearances, the Cougars have gone a combined 2-6-1.
Palmyra, champions of District Three, ended its 21-3-2 year as the Class AA state runner-up. The Cougars entered the PIAA title tilt riding a seven-game playoff win streak, having outscored their opponents by a total of 26-3 in those games.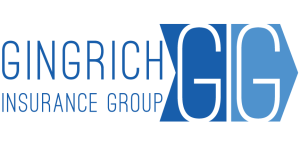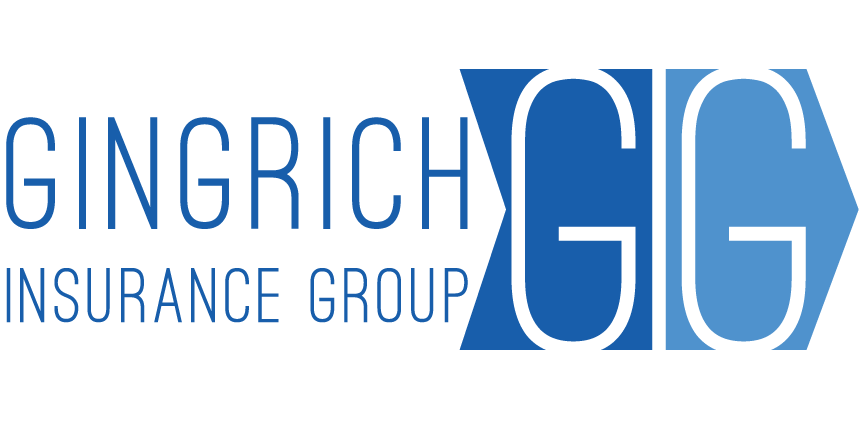 The contest also marked Palmyra's fourth meeting of the season with Mechanicsburg. The Cougars had edged the Wildcats 2-1 in the semifinals of the District Three Class AA tournament on November 2, after besting them 1-0 in Palmyra on September 7th and fighting them to a 1-1 draw in Mechanicsburg on September 27th, during the Mid-Penn Keystone Division regular season.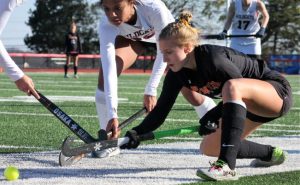 Mechanicsburg, the third-place finisher out of District Three, ended its year at 21-4-1.
"I'll remember the leadership, the camaraderie, the fact that there was zero drama with this team," said Palmyra head coach Kent Harshman. "It was a wonderful group to coach. We're definitely going to miss our senior class. They'll recover and they'll go on and do great things.
"You can't map that out," continued Harshman. "When you play that high quality of an opponent, it's hard to beat them three times, much less four. Hats off to them (the Wildcats). They did what they had to do today. I have been telling anyone who would listen all season that the Mid-Penn Keystone Division is not only the strongest division in the state, but also the strongest in the country."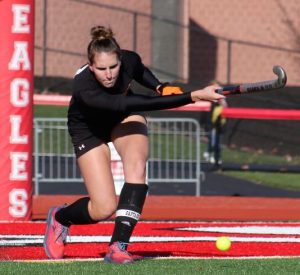 Palmyra was awarded five penalty corners in the first overtime, and on one of them the Cougars managed to work the ball behind fallen Mechanicsburg goalie Alex Brady. But they couldn't complete the play, and less than a minute later, the Wildcats counter attacked down the left side of the field.
Mechanicsburg's Casey Tyrell slotted a pass to Catalano, who got off a quick shot that beat Palmyra netminder Hailey Lambert between the pads.
"They got a break out, a breakaway," said Harshman of the Wildcats. "It was just hard to stop them. They beat us up the field, beat us in transition. Hailey (Lambert) saved us in regulation with that stroke. It was a tremendous save.
"Everything they did was exactly as we expected," added Harshman. "There was nothing about anything they did that was a surprise. When you play a team four times, it comes down to execution."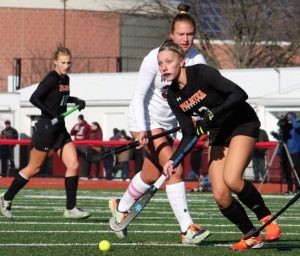 With 5:37 left in the third quarter and the Cougars shorthanded, Lambert had kept the game score-less when she stoned Mechanicsburg's Cam Standish on a penalty stroke. Lambert reacted well when Standish went left with her attempt.
"I actually thought we controlled the play in the second half," said Harshman. "Their defense, particularly their corner defense, was great. When you think about the number of corners we took, it was perfect. We just didn't finish."
The Cougars also controlled the general flow of play in the opening half. For the game, Palmyra's 18 penalty corners produced a total of four shots.
"What had to be done we worked on," said Harshman. "When you get 18 corners it's hard to say you didn't play well offensively. But we could've executed more corners. We knew how they (the Wildcats) were going to fly on corners. We worked and worked and worked and couldn't get the ball past them. It was about how good they were today."
The final statistics saw Mechanicsburg out shoot Palmyra 8-4. The Wildcats were awarded a pair of corners.
To purchase images in this article please email jeff@lebcosports.com.
2022 Palmyra Field Hockey Results
Date Day Opponent Location Varsity
Score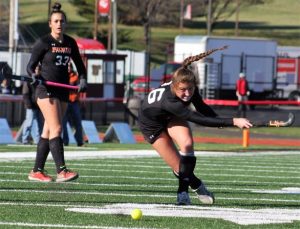 9/1/22 Thursday Central York Away 8-0
9/7/22 Wednesday Mechanicsburg Home 1-0
9/10/22 Saturday Cougar Classic – Dallastown Home 9-0
9/10/22 Saturday Cougar Classic – C.D. Home 8-0
9/12/22 Monday Hershey Home 6-2
9/15/22 Thursday East Pennsboro Home 8-0
9/19/22 Monday L.D. Away 0-0
9/21/22 Wednesday Red Land Away 3-1
9/22/22 Thursday Manheim Township Home 2-0
9/24/22 Saturday MaxFieldHockey Tournament – Garnet Valley Away 5-0
9/24/22 Saturday MaxFieldHockey Tournament – Torrey Pines Away 2-1
9/27/22 Tuesday Mechanicsburg Away 1-1
9/29/22 Thursday Hershey Away 1-2
10/3/22 Monday East Pennsboro Away 8-0
10/5/22 Wednesday L.D. Home 0-1
10/10/22 Monday Red Land Home 4-0
10/12/22 Wednesday Warwick Home 5-1
10/14/22 Friday Penn Manor Home 4-2
10/26/22 Wednesday Spring Grove – 1st Rd District Game Home 4-0
10/29/22 Saturday Ephrata – District Quarterfinal Home 7-0
11/2/22 Wednesday Mechanicsburg – District Semi-Final Home 2-1
11/5/22 Saturday Hershey – District Championship Home 2-0
11/8/22 Tuesday Merion Mercy – 1st Rd State Game Home 3-1
11/12/22 Saturday Twin Valley – State Quarterfinal Home 5-0
11/16/22 Wednesday Gwynedd Mercy – State Semi-Final Home 3-1
11/19/22 Saturday Mechanicsburg – State Championship Home
2022 Palmyra Individual Statistics
Name Goals Assists Points Penalty Corners Created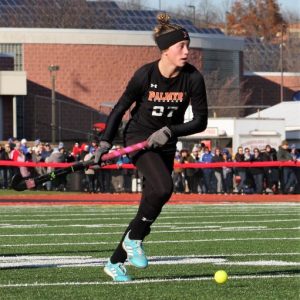 Alicia Battistelli 21 9 51 57
Katie Lintz 17 9 43 24
Keely Bowers 10 13 33 44
Hadley Hoffsmith 12 3 27 29
Olivia Kirkpatrick 9 8 26 12
Avery Russell 9 8 26 76
Jovie Weaver 7 2 16 18
Mallory Hudson 5 4 14 9
Addie Sholly 3 7 13 11
Morgan Lantz 4 1 9 2
Alaina Bryan 2 1 5 3
Bri Eckenroth 2 1 5 3
TEAM 1 2 2
Liv Gain 1 1 12
Alyssa Dugan 0 2
Maddie Blauch 0 1
102 67 271 305
Defensive Saves
Piper Taylor 3
Peyton Bean 3
Addie Sholly 3
Palmyra Field Hockey – Championship History Since 1998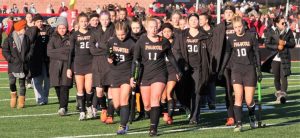 Capital Division Champions of the Mid-Penn Conference: 2001 – 2009
Keystone Division CO-Champions of the Mid-Penn Conference: 2013, 2014
Mid-Penn Conference Champions: 2009
District III AA Champions: 2001, 2002, 2004, 2005, 2007, 2011, 2013, 2019, 2020, 2022
District III AAA Champions: 2015, 2016
1984 – ???
2001, 2002, 2004, 2005, 2007 – Wendy Reichenbach
2011, 2013, 2015, 2016 – Kristi Harshman-Costello
2019 – Kent Harshman
Pa State AA Champions: 2005, 2019, 2020
Pa State AAA Co-Champions: 2014
Pa State AA Runner-Up: 2007
 Pa Sate AA Runner-up: 2022
Pa State AA Runner-Up: 2018
Pa State AAA Runner-Up: 2015
PA State AAA Runner-Up: 2016
Lebanon County History in
 State Field Hockey Championship Games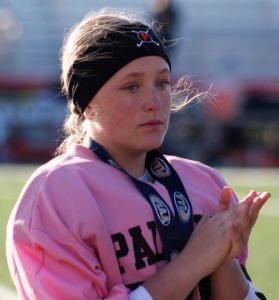 2022 – Mechanicsburg 1, Palmyra 0, OT
.2020 – Class AA, Palmyra 2, Archbishop Carroll 1, OT
2019 – Class AA, Wyoming Valley West 2, Palmyra 1
2018 – Class AA, Donegal 1, Palmyra 0, OT
2016 – Class AAA, Emmaus 5, Palmyra 1
2015 – Class AAA, Emmaus 1, Palmyra 0, OT
2014 – Class AAA, Palmyra 1, Penn Manor 1, OT
2007 – Class AA, Mifflinburg 2, Palmyra 1, OT
2005 – Class AA, Palmyra 4, Oley Valley 0
1994 – Class AA, Villa Maria Academy 1, Elco 0, OT
1992 – Class AA, Upper Moreland 1, Elco 0, 2 OTs
1979 – Class AAA, Great Valley 2, Northern Lebanon 1
1978 – Class AAA, Delaware Valley 3, Cedar Crest 0
1977 – Class AAA, Cedar Crest 3, Southern Columbia 0

Lebanon Federal Credit Union