Over the past couple of months, we have expanded our reach as a result of readers like you taking time out of your day to take interest in what is going on within the sports scene of Lebanon County. Due to this simple fact, we are having more and more brought to our attention that we think deserves recognition, but unless you are following our Facebook page religiously, these items could easily be missed. Therefore, we've decided to start a new piece that we can run from time to time in order to help encapsulate some of these noteworthy items all in one place. If you have anything for us, please reach out on our social media or send an email dan@lebcosports.com.
---
In high school volleyball news, ELCO's Taylor Stone continued to add to her legacy. Earlier this season, the senior Stone had reached the 1,000 assist milestone for her career. Earlier this week, she broke the school's single game assist record when she had 42 assists against Lancaster Catholic. The record was previously held by Maddie Stone's a 2019 ELCO grad and Taylor's older sister. The younger Stone also set ELCO's single game record for digs, as she record 38 in the 5 set match. And she also celebrated a birthday as part of her record setting week.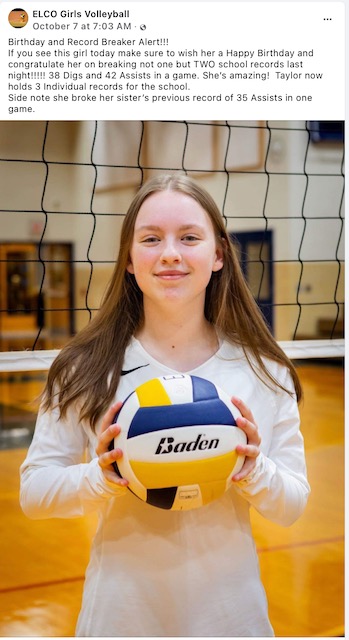 ---
More great volleyball news: New Covenant's Renae Rohrer reached the 1,000 dig milestone for her career. The senior has set a new standard for the Flames' volleyball program, one that is currently in play to make the District 3 playoffs in the first year as a AA program.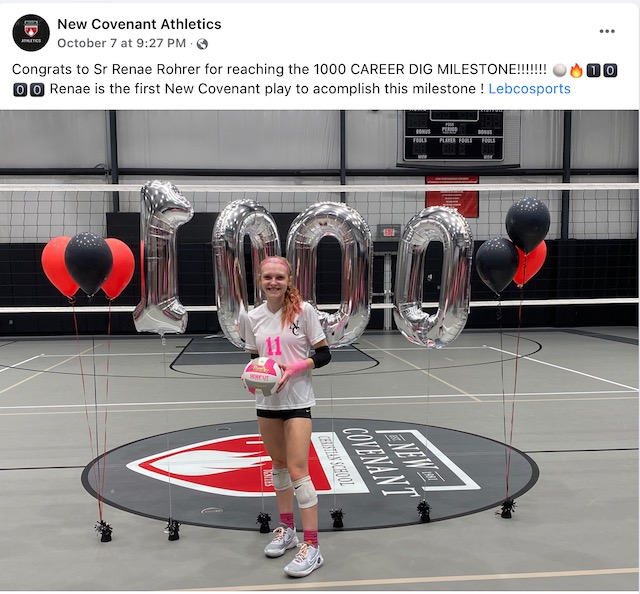 ---
A loss to Lancaster Mennonite this past Wednesday moved the Annville-Cleona field hockey team into a tie for first in Section 4. However, on Friday, Mennonite lost to Lancaster Country Day and Annville bounced back with a win over Northern Lebanon. Annville now has a full game lead with two games left to play. On A-C's schedule is Country Day (Tuesday @ home) and Lancaster Catholic (Thursday – away), while Mennonite plays Catholic (Tuesday) and McCaskey (Thursday).
---
In college news, Lebanon Valley scored a major victory over Misericordia (47-12), with major contributions from two ELCO grads, Braden Bohannon and Erik Williams.

---
LVC was not the only college to benefit from our county's talented alumni. Lebanon Cedar alumni Isaiah "Mohawk" Rodriguez and Alex Rufe each aided their schools to wins, while former Cedar Crest Falcon Cole Laney also contributed to IUP's close win over Cal.

---
Not to be outdone, Chad Ryland continues to shine after transferring to Maryland. In an update to the news below, Ryland hit a 46-yard field goal and was 2-3 in extra point attempts (one was blocked) in the Terps loss to the Boilermakers.

---
If you are looking to provide feedback or are a business or individual interested in providing sponsorship to aid our mission at LebCoSports, you are asked to contact Dan by emailing dan@lebcosports.com.

Lebanon Federal Credit Union