This section was started as we have realized that we have a way to share some of the many noteworthy items that occur on a weekly basis.  We get some of it out via Facebook, but keeping up with every item can prove difficult.  We hope you enjoy this section.  If you have anything for us, please reach out on our social media or send an email dan@lebcosports.com.
---
Today's first item is an update on the GoFundMe efforts to support father, husband, coach, and all-around great guy Bani Gbadyu and his family, as he battles advanced pancreatic cancer.  To date, the fundraising effort has collected over $60,000.  The LebCoSports team knows that many of you donated money to this cause and we thank you.  If you did not see the last Sports Shorts where we talked about Bani, here is the link.
---
Four Lebanon County golfers will be playing in the PIAA State Golf Championships beginning today at State College.  The four golfers are Ben Feeman, Dylan Ramsey, and Jill Fidler of Cedar Crest and Reagan Flynn of Annville-Cleona.  Given they are in the AAA competition, the Cedar Crest golfers will be playing the White Course.  Flynn will be golfing at the Blue Course as part of the AA competition.
---
Several area teams are gearing up for the playoffs ahead of the Districts.
In the opening round of the Lancaster-Lebanon League Field Hockey Playoffs, Section 4 winner Annville-Cleona will match up with Section 1 runner-up, Manheim Township.  The game will take place at In the Net today at 4 pm.
Annville-Cleona will not be the only area team matched up against Manheim Township this week.  After a resounding victory over Elizabethtown on Saturday, the ELCO girls soccer team will play against Manheim Township, the Section 1 champ.  The semifinals game will take place at 7:30 on Tuesday evening at neutral site Lancaster Catholic.
ELCO boys soccer also won on Saturday, with a 1-0 overtime victory over Ephrata.  On Tuesday night, 7:30 at neutral site Manheim Central, the Raiders will meet Section 4 runner-up Lancaster Catholic in the semifinals.  Lancaster Catholic upset Section 1 champion Hempfield on Saturday.
As Section 3 champions, Northern Lebanon girls volleyball earned an automatic bye in the opening round of the Lancaster-Lebanon Volleyball Playoffs.  They will play a semifinals match on Thursday, with the time, place, and opponent to be determined.  Hempfield will play either Elizabethtown or Ephrata on Wednesday night, with the winner playing Northern Lebanon the next evening.
The Palmyra runners had their chance to qualify for Districts, while their Lancaster-Lebanon League counterparts will run their championship tomorrow.  This will determine who advances to the District 3 meet.
---
In the District 3 Tennis Singles Championships this past Friday, Lebanon County had two players competing.
In AA action, ELCO's Ali Bender won her first round match against Abby Miller of York Suburban (6-2, 6-4). She then faced #3 Carina Roberts of York Catholic, to whom she lost 6-2, 6-2.  She will be joined by her doubles partner, Camryn Lehr, for the District 3 Doubles Championships, set to begin on Friday, October 21.
In AAA, Nitya Patel of Palmyra played Lexi Lakatosh of Red Lion. Patel was defeated 6-3, 6-1.  Her doubles partner, Marissa Nicholson, will join her on Friday to play in the District 3 Doubles Championships.
---
Nicole Gonzalez Ramirez set the Lebanon school record for girls volleyball, recording her 484th career dig in Thursday night's game against Elizabethtown.  Gonzalez Ramirez, a junior, will have a chance next season to continue adding to her school record.
---
In other volleyball news, each team hosted a Dig Pink game to honor October as Breast Cancer Awareness month.  ELCO girls volleyball shared the news on their Facebook page, as they used the event to raise money for a member of the community.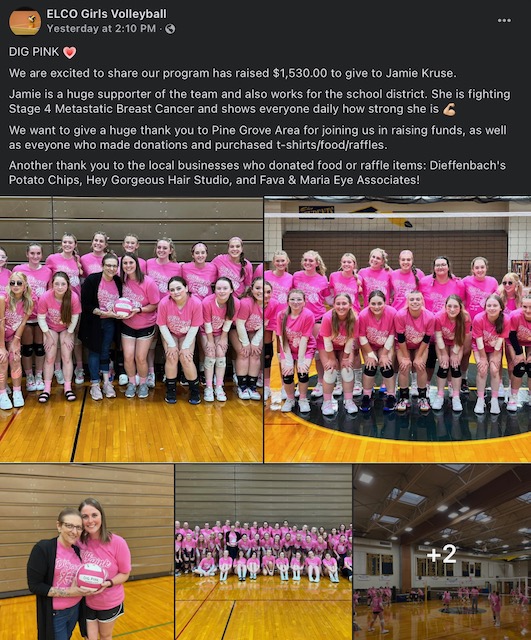 ---
On Saturday, the Palmyra field hockey junior varsity team competed at the Susquenita High School Field Hockey Play Day, going 2-0-1 in the competition.  They defeated Boiling Springs (1-0) and Greenwood (4-1) and tied Newport (1-1).  On the day the Cougars offense was led by Maddie Witt (2 goals, 1 assist) and Bri Eckenroth (2 goals, 1 assist).  In the effort, Alyssa Dugan and Maddie Blauch each added a goal each.  Abby Bennett spent the majority of the time defending the cage in the three games.  With the conclusion of their season, the junior varsity squad finished 2022 with an undefeated record of 14-0-2.
---
While it may seem too early to be reporting on wrestling, two of Lebanon County's top high school wrestlers traveled to North Carolina this weekend to compete in the Super 32 Challenge.  This tournament is considered to be among the most prestigious wrestling events in the nation and draws top wrestling talent from around the country.  In fact, 70% of last year's NCAA D-1 All-Americans were once participants in the Super 32.
Participants from Lebanon County included Griffin Gonzalez of Lebanon and Aaron Seidel of Northern Lebanon.
Gonzalez, wrestling at the 152-pound weight class, battled a Minnesota state silver medalist in the Round of 128, losing 5-2 in a full three period match.  Gonzalez was then placed in the consolation bracket, where he defeated an opponent from Nevada state silver medalist with a 3-1 decision.  Gonzalez's day ended with a 3-1 loss to a Massachusetts state champion.
Seidel wrestled at the 106-pound weight class and competed with the same level of dominance that as a freshman garnered him a gold medal in last year's PIAA State Championships.  The #5 seeded Seidel started the tournament with a 13-3 decision over a wrestler from New Jersey.  In the second round, Seidel  won 16-1 on a tech fall over a New York state bronze medalist.  The third round, brought a 6-0 Seidel win over one of Wisconsin's best wrestlers.  In the Sweet 16, Seidel worked hard for a 1-0 win over a talented Colorado opponent.  In the Elite 8, Seidel took on a California champion and won on a major decision, 10-1.  In the semifinals, Seidel met the #1 seeded Christian Castillo and lost on a 4-2 decision.  Castillo would go on to win gold, with Seidel being moved to the consolation bracket.  He went on to win a 9-5 decision over the #3 seeded wrestler, earning himself a spot in the 3rd place match.  In his final match of the tournament, Seidel met his Virginia opponent and won an exciting 2-2 match on a fall in extra time.  Seidel placed 3rd after going 7-1, asserting him as one of the best high school wrestlers in the United States.
---
Several Lebanon County high school alumni shined for their college football teams this weekend.  We'll defer to our friend, Steve Snyder for the update.



---
In addition to the football action, it was a Northern Lebanon graduate who led the LVC men's cross country team in Saturday's race at Rowan.  Jordan Berger, now a college senior, ran his career best time for an 8k (25:21.9) and finished 16th overall in the race.  For more information, go here.
---
If you are looking to provide feedback or are a business or individual interested in providing sponsorship to aid our mission at LebCoSports, you are asked to contact Dan by emailing dan@lebcosports.com.

Lebanon Federal Credit Union