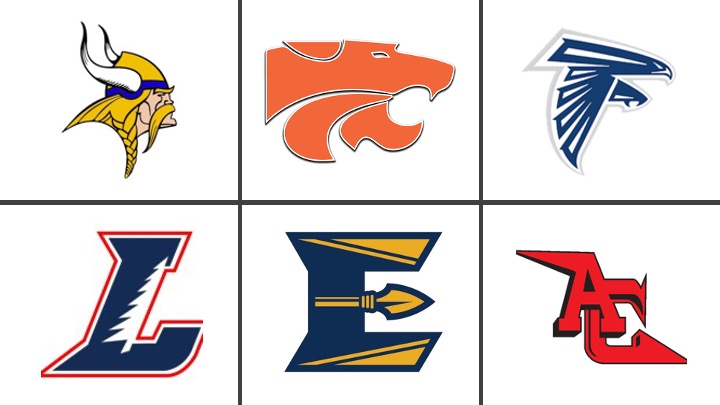 Annville-Cleona Dutchmen 
Lancaster-Lebanon League Section 3
Current Record: 7-0
Recent Results:
9-27: Annville-Cleona 16, Northern Lebanon 47
9-27: Annville-Cleona 27, Pequea Valley 32
10-11: Annville-Cleona 19, Lancaster Catholic 44
10-11: Annville-Cleona 15, Columbia 50
10-11: Annville-Cleona 15, Lancaster Mennonite 50
Update: Annville-Cleona is currently undefeated, but due last week's meet postponement, they will have to wait until today to race in hopes of finishing off a perfect regular season.  If they are able to defeat Lancaster Catholic, this group of ladies will have won the Section 3 title, a goal they had set for themselves coming into the season.  Annville's top eight runners have earned praise from Coach Heller, especially as they have improved individually and in their ability to run as a pack.  With this improvement, the reduced spread between runners will help them in the team scoring when racing at championship meets.  The team's top runner is freshman Mackenzie Stellmach, who has continued to gain confidence in her abilities in race situations.  The team is bolstered by Nory Mitchell, Emily Maag, Leah Tshudy, Cassandra Clemson, and Emilie Stefanchik, each who are continuing to run better each week.  A major test for this team when preparing for the post-season was their appearance at the PIAA Foundation Invitational held at Hershey, where they placed 10th out of a statewide field of 29 teams.  Before they get to the state championship course again, they will first have to battle through the Lancaster-Lebanon League Meet and then the District 3 meet.  Yet, they can wait, because as of today, the priority is executing the race plan that will help Annville-Cleona bring home the Section 3 crown.
10-13 Update: The Annville-Cleona girls won all three match-ups at Tuesday's meet.  Mackenzie Stellmach won the race in a time of 20:27.  With this win, Annville-Cleona became the Section 3 Champions for 2022.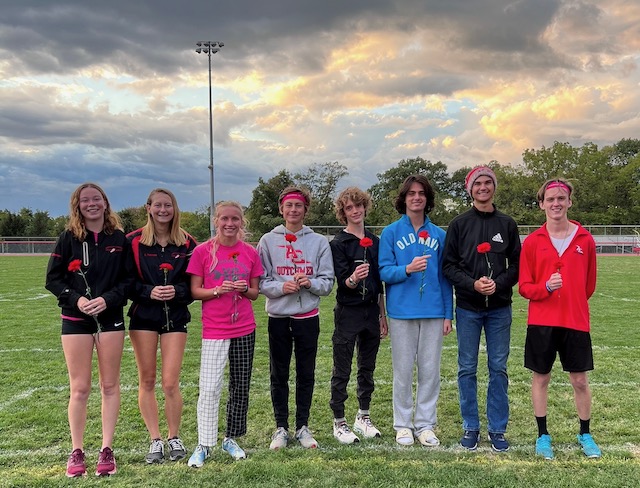 Annville's Cross Country Seniors Pose on Senior Night
---
     Cedar Crest Falcons 
Lancaster-Lebanon League Section 1
Current Record: 6-1
Recent Results:
9-27: Cedar Crest 28, McCaskey 30
10-4: Cedar Crest 17, Conestoga Valley 46
10-4: Cedar Crest 19, Warwick 38
Update: The Falcons have finished their regular season an impressive 6-1, with the only blemish coming to a very strong Manheim Township squad.  The team has been led by the fantastic freshman Ellie Schneider, who has continued to improve in her first high school season.  She took first in three out the four regular season races run, a record that will earn her League All-Star honors.  In addition, at the Paul Short Invitational, Schneider ran a blistering 18:13 to finish 14th in an elite field.  To put it in perspective, her time was the 2nd fastest ever run by a Cedar Crest female.  Obviously, a team cannot win with one athlete and the Falcons have been aided by a talented group of runners.  At Paul Short, they proved it and joined Schneider in rewriting the Cedar Crest record books: Lizzie Lowe, a junior, ran 19:42, good enough for 8th all-time; seniors Jillian Tobias (20:09) and Grace Tadajweski (20:10) crossed the line as the 15th and 16th fastest all-time; sophomore Audrey Fugate was part of the pack, finishing in 20:14, which places her 18th all-time; junior Maggie Chernich moved into 30th all-time with her time of 20:54.  As they are prep for the post-season, the Falcons joined Lebanon for a meet / training session yesterday, where teams of two ran a relay 4 x 1 mile relay race at South Hills Park.  This type of speed training is sure to make the faster team even faster as they ready themselves to do some real damage in championship races.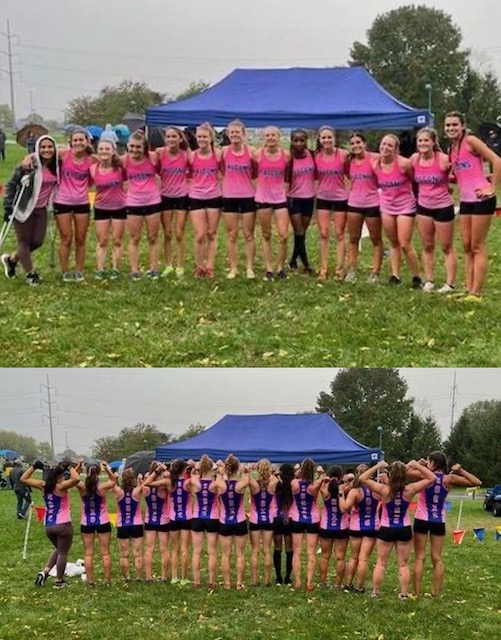 The Falcons show off their pink jerseys for Breast Cancer Awareness Month
---

 ELCO Raiders  
Lancaster-Lebanon League Section 3
Current Record: 5-3
Recent Results:
9-27: ELCO 22, Lancaster Catholic 33
10-5: Pequea Valley 27, ELCO 29
10-5: Octorara 24, ELCO 31
Update: The ELCO Raiders finished the regular season 3-3 and are looking ahead to the post-season.  Leading the way throughout the season has been senior Izzy Zwally, who has returned to the form that took her to States a year ago.  Nothing is ever a given, but she recently broke the 21-minute barrier for the first time, clocking a 20:50.  While racing is hard, Coach Gerberich has pointed out that the team has continued to improve with the girls chasing each other in races, which resulted in four of the six setting personal best times in their final regular season race last Wednesday at Pequea Valley.  Through this work, junior Nina Milosevic, sophomore Shawna Donough, and junior Loni Ogunwusi have continued to close the gaps that will make them more competitive at the Lancaster-League Championship, as they hope to earn a starting box at the District 3 Championship.
---
     Lebanon Cedars
Lancaster-Lebanon League Section 1
Current Record: 0-7
Recent Results:
9-27: Warwick 15, Lebanon 50
9-27: Penn Manor 15, Lebanon 50
10-4: McCaskey 15, Lebanon 50
10-4: Manheim Township 15, Lebanon 50
Update: While always hopeful, the season as a whole did not progress as nicely as Lebanon had originally hoped.  Junior Savannah Hershey, daughter of former Annville-Cleona star Courtney Hershey nee Ebersole, was sidelined for the entirety of the season with an injury.  Though despite her status, Hershey still was the leader of the team and became a key resource for the new girls on the team.  Of the first timers, senior Mileyska Calderon has continued to improve and has a chance to qualify for Districts.  Freshman Ella Whalen also joined the team this year, put in hard work and has improved with each race.
---
     Northern Lebanon Vikings
Lancaster-Lebanon League Section 3
Current Record: 3-4
Recent Results:
9-27: Annville-Cleona 16, Northern Lebanon 47
9-27: Pequea Valley 23, Northern Lebanon 34
10-5: Northern Lebanon 15, Columbia 50
Update: Northern Lebanon completed the regular season with a 3-4 record in the newly created Section 3, a year after only winning twice against the same field.  They have been led throughout the campaign by senior Alyssa Marlowe, who continued to improve as the season progressed.  Marlowe hopes to lead a group of her younger teammates to success at the Lancaster-Lebanon League meet.
---
   Palmyra Cougars
Mid-Penn Conference – Keystone Division
Current Record: 5-3
Recent Results:
9-20: Hershey 18, Palmyra 41
9-20: Palmyra 15, Cedar Cliff 50
9-27: Mechanicsburg 24, Palmyra 35
9-27: Palmyra 15, Susquehanna Township 50
Season Update: The Lady Cougars finished their Keystone Division competitive schedule with a 4-2 record.  The team has been led by sophomore Ellie Schaffer, junior Abby Berarducci, and sophomore Avery Rohrer who offer a strong pack to lead the rest of the team.  In fact, in their most recent meet on September 27, this trio finished with a spread of 51 seconds (21:52 / 22:25 / 22:43).  This race was held on Palmyra's home course and offered comparative improvement from earlier this season.  Freshman Andrea Cooper junior Abby Keiner are working hard to close out the scoring, which will be needed as at the Mid-Penn Championships.  Since the end of the regular season, this team of eleven girls has been working hard to prepare physically and mentally for the post-season.  They have proven already that they have the ability to improve, which should make things interesting for Palmyra as the high stakes races begin.
---
If you are looking to provide feedback or are a business or individual interested in providing sponsorship to aid our mission at LebCoSports, you are asked to contact Dan by emailing dan@lebcosports.com.

Lebanon Federal Credit Union