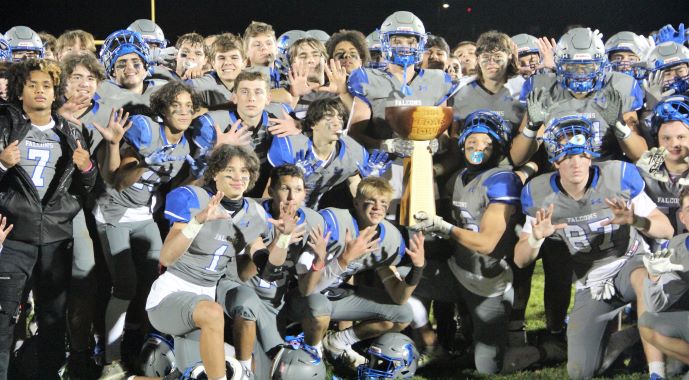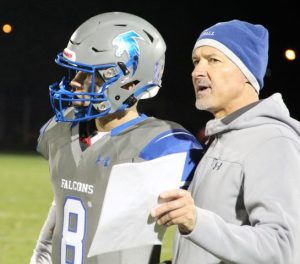 BY JEFF FALK
Editor
LEBANON – It was an important win. It was one of the most important victories of the season.
Probably not enough to change the nature of its success, but one to remember the season by. No one ever forgets what happens at the Cedar Bowl.
On a cool Friday night at Lebanon Alumni Stadium, the Cedar Crest football team extended its dominance over Lebanon, with a 47-0 mercy-rule triumph in the 50th Cedar Bowl game, which served as the season-ending contest for both schools. Following a somewhat sluggish start, the Falcons scored points in bunches on the way to their tenth straight win in the most storied rivalry in all of Lebanon County sports.
Falcon sophomore quarterback Jackson Custer tallied three touchdowns with his legs and threw for another score, while the Cedar Crest defense recorded a pair of pick-sixes.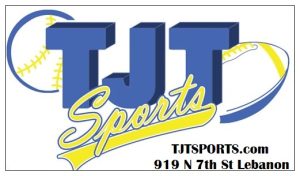 Cedar Crest now leads the all-time series 34-15-1, and the Falcons have outscored Lebanon by a combined margin of 409-108 over the past decade.
After opening 2-0, Cedar Crest concluded its season 5-5. For the Cedars, it was their 22nd straight loss overall, dating back to 2020.
"Coming into the year, I thought we could beat anybody," said Rob Wildasin, who's never lost to Lebanon as Cedar Crest's head coach. "But we needed to stay healthy, and we didn't stay healthy. We battled through it, and that's life.
"The Cedar Bowl means a lot to me," continued Wildasin. "It means a lot to the community. I've been a part of it for a long time. It's an event, and then there's a football game. I hope it never changes."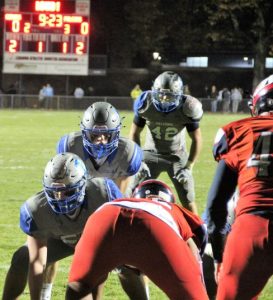 "They've had our number," said Lebanon head coach Frank Isenberg of the Falcons. "They're well-coached.
"As of right now, I can't find much positive about the season," added Isenberg. "This is the second year in-a-row that we've gone 0-10. We have to go back to the drawing board. We have right now – I'm not going to say a losing mentality – but we need to learn how to win."
Following an exchange of turnovers during a score-less opening quarter, Cedar Crest notched 21 points in a 2:14 span in the middle of the second stanza.
First, Custer turned a short field into a one-yard touchdown plunge and a 7-0 Falcon lead. Then, Custer hit tight-end Aiden Schomp over the middle for a 58-yard catch and rumble. And finally, linebacker Zion Rolon returned the interception of an errant Lebanon pass 35 yards to complete the flurry.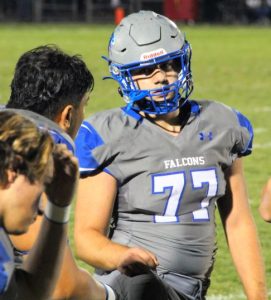 "We knew Lebanon would come out and play hard," said Wildasin. "We would've been disappointed if they didn't. We found some cracks, executed and the flood gates opened.
"It was a good experience," Wildasin added. "We had a lot of juniors and sophomores on the field. It's hard saying good-bye to the seniors. But it happens every year."
"It was a little bit of everything," said Isenberg. "We were in it early. We made mistakes. They (the Falcons) were good up front.
"We moved the ball on our first drive," Isenberg continued. "Our defense hung in there, but we couldn't score. After that, it got away from us a little bit."
Owen Chernich's 58-yard return of a pick on the second play of the second half set off a similar Cedar Crest scoring outburst. This time, the Falcons recorded 19 points in 5:04 to stretch their lead to 40-0.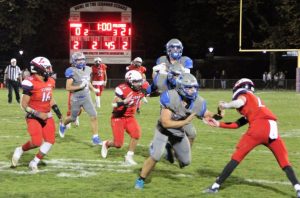 Custer scored third-quarter touchdowns on jaunts of 57 and 40 yards.
"I just told them that I'm proud of them," said Wildasin of his troops. "It wasn't the season we anticipated, but we faced adversity. We had to adjust, and I thought we did.
"We improved in a lot of ways," continued Wildasin. "The seniors led in ways they probably didn't expect. Our kids came together and fought when they could've gone a different direction. For that, I'm proud of them."
"The effort is always there," said Isenberg. "We're not completing our drives. We're making mistakes."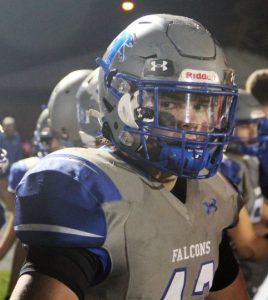 Junior Leo Tirado, Jr. capped the Cedar Crest scoring with a 16-yard touchdown run in the middle of the final period.
Cedar Crest out gained Lebanon 392 total yards to 105. Custer carried nine times for 153 rushing yards and completed ten of his 15 pass attempts for 156 yards.
Falcon senior defensive lineman Connor Schwartz registered 13 tackles, nine of which were for negative yardage, and posted three sacks. For the season, Schwartz piled up an eye-popping 28 tackles for loss.
"I don't think we needed to put a positive spin on the season," said Wildasin. "Some of our young guys had to step up. It would've been fun to see all of our seniors, all of our weapons, on the field at one time. But it never happened."
"We want to make football more of a year-round commitment," said Isenberg. "It's in its infancy right now. But we have to build on it."
To purchase images in this article please email jeff@lebcosports.com.
Cedar Bowl History
2022 – Cedar Crest 47, Lebanon 0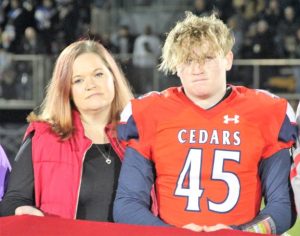 2021 – Cedar Crest 38, Lebanon 0
2020 – COVID-19
2019 – Cedar Crest 28, Lebanon 6
2018 – Cedar Crest 42, Lebanon 19
2017 – Cedar Crest 42, Lebanon 14
2016 – Cedar Crest 26, Lebanon 14
2015 – Cedar Crest 41, Lebanon 7
2014 – Cedar Crest 38, Lebanon 24
2013 – Cedar Crest 40, Lebanon 24
2012 – Cedar Crest 67, Lebanon 0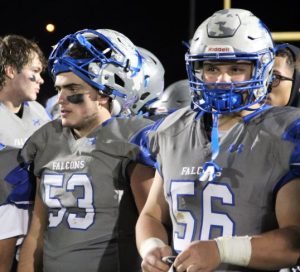 2011 – Lebanon 47, Cedar Crest 14
2010 – Lebanon 35, Cedar Crest 7
2009 – Cedar Crest 33, Lebanon 14
2008 — Lebanon 39, Cedar Crest 7
2007 — Cedar Crest 30, Lebanon 19
2006 — Lebanon 28, Cedar Crest 7
2005 — Lebanon 14, Cedar Crest 13
2004 — Cedar Crest 34, Lebanon 7
2003 — Lebanon 29, Cedar Crest 24
2002 — Cedar Crest 14, Lebanon 7
2001 — Cedar Crest 42, Lebanon 24
2000 — Cedar Crest 39, Lebanon 6
1999 — Cedar Crest 42, Lebanon 6
1998 — Cedar Crest 63, Lebanon 21
1997 — Cedar Crest 49, Lebanon 12
1996 — Lebanon 41, Cedar Crest 6
1995 — Cedar Crest 28, Lebanon 0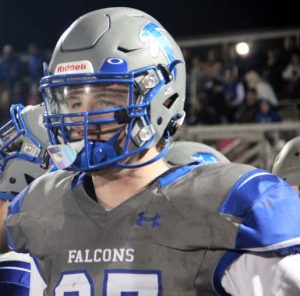 1994 — Cedar Crest 28, Lebanon 0
1993 — Cedar Crest 35, Lebanon 20
1992 — Lebanon 7, Cedar Crest 0
1991 — Cedar Crest 20, Lebanon 14
1990 — Lebanon 35, Cedar Crest 31
1989 — Lebanon 13, Cedar Crest 6
1988 — Lebanon 0, Cedar Crest 0
1987 — Cedar Crest 14, Lebanon 6
1986 — Cedar Crest 14, Lebanon 0
1985 — Cedar Crest 28, Lebanon 23
1984 — Lebanon 23, Cedar Crest 7
1983 — Cedar Crest 14, Lebanon 7
1982 — Cedar Crest 23, Lebanon 0
1981 — Lebanon 15, Cedar Crest 9
1980 — Cedar Crest 15, Lebanon 13
1979 — Cedar Crest 34, Lebanon 0
1978 — Lebanon 14, Cedar Crest 0
1977 — Cedar Crest 20, Lebanon 8
1976 — Lebanon 14, Cedar Crest 6
1975 — Cedar Crest 32, Lebanon 14
1974 — Cedar Crest 39, Lebanon 8
1973 — Lebanon 22, Cedar Crest 0
1972 — Cedar Crest 15, Lebanon 13
Note: Cedar Crest leads the all-time series 34-15-1
2022 Cedar Crest Football Results
| | | | | | |
| --- | --- | --- | --- | --- | --- |
| 2022-08-26 | H | vs | Abraham Lincoln(12) | W | 21-12 |
| 2022-09-02 | H | vs | Central Dauphin East(3) | W | 29-22 |
| 2022-09-09 | H | vs | Warwick(3) | L | 26-20 |
| 2022-09-16 | A | vs | Penn Manor(3) | L | 14-9 |
| 2022-09-23 | A | vs | Wilson (3)(3) | L | 36-13 |
| 2022-09-30 | H | vs | Reading(3) | W | 39-0 |
| 2022-10-07 | H | vs | Manheim Township(3) | L | 42-14 |
| 2022-10-14 | A | vs | J P McCaskey(3) | W | 42-19 |
| 2022-10-21 | H | vs | Hempfield (3)(3) | L | 24-0 |
| 2022-10-28 | A | vs | Lebanon(3) | | 0-0 |
2022 Lebanon Football Results
| | | | | | |
| --- | --- | --- | --- | --- | --- |
| 2022-08-26 | A | vs | Palmyra(3) | L | 14-6 |
| 2022-09-02 | A | vs | Garden Spot(3) | L | 46-14 |
| 2022-09-09 | H | vs | Ephrata(3) | L | 41-20 |
| 2022-09-16 | A | vs | Muhlenberg(3) | L | 47-25 |
| 2022-09-23 | H | vs | Exeter Township(3) | L | 69-22 |
| 2022-09-30 | A | vs | Conestoga Valley(3) | L | 38-18 |
| 2022-10-07 | H | vs | Manheim Central(3) | L | 83-7 |
| 2022-10-14 | A | vs | Governor Mifflin(3) | L | 62-0 |
| 2022-10-21 | H | vs | Warwick(3) | L | 60-13 |
| 2022-10-28 | H | vs | Cedar Crest(3) | | 0-0 |