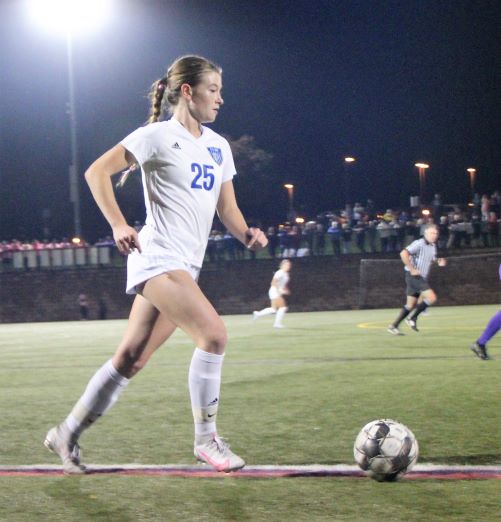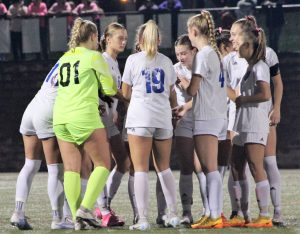 BY JEFF FALK
Editor
EPHRATA – It was a season to build on. It was a career to build on. It was a solid group of high character individuals upon which to build a foundation.
Now it falls to the next generation of Cedar Crest girls to sustain it and take the soccer program to the next level.
On a warm Tuesday night at Ephrata Middle School's Mountaineer Field, the Falcons saw their highly successful season come tumbling down, with a 4-1 loss to the hometown Mounts, in the opening round of the District Three Class AAAA postseason tournament. While Ephrata was certainly the better team and Cedar Crest didn't particularly play its best game, the result was not indicative of the 2022 fall campaign that the Falcons put together.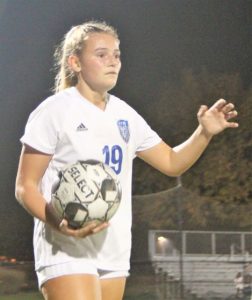 With the result, tenth-seeded Cedar Crest concluded its year at 11-8 overall. The Falcons, who qualified for the District Three Class AAAA postseason for the second straight season, compiled a 7-1 mark outside of Section One of the Lancaster-Lebanon League.
Seventh-seeded Ephrata improved to 15-5 overall and moved into Saturday's quarterfinal round opposite second-seeded Central Dauphin.
"This is a good group of seniors," said Cedar Crest head coach Scott Steffen. "The first one we brought up from freshmen. It's been great watching them grow. They've developed and helped re-establish the program. They're great kids.
"We lose our whole starting back line on defense," continued Steffen. "We have some big losses. The key now is all these other girls going back to their club teams and learning. There they can develop. We're probably going to be a little younger next year, but I think we're in a good place."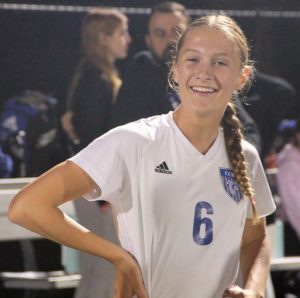 After netting a pair of tallies in the contest's first 15 minutes, Ephrata threatened to run Cedar Crest off the field. But a great individual effort by senior Abrielle Miller provided the Falcons with a spark.
Running on to a ball from Hannah Menicheschi, Miller was able to maneuver around Mountaineer goalie Alyssa Wingenroth. Miller took a touch to her right, and then from a sharp angle, ripped a right-footer into the Ephrata net.
It was 2-1 with 11:05 left in the first half.
"From what I saw, it was just a hustle goal," said Steffen. "It was a phenomenal goal. Abrielle had to work to get it. It was a hard work goal. But overall I thought their backs did a good job on our forwards. They didn't let us get set up. They defended well tonight.
"We had some momentum with the goal," added Steffen, "but we weren't able to sustain it. We gave up that third goal. We let (Emily) Weidner get loose. She hit one far post. I think that took some of the wind out of our sail."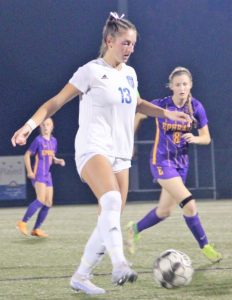 That Weidner goal came with 1:21 left in the first half and helped Ephrata regain its two-goal advantage by the break. The score remained 3-1 until 8:22 remained, when Bella Pratt converted teammate Kiersten Doutt's tic-tac-toe pass for the Mounts' final goal.
"It's disappointing," said Steffen. "I was hoping for a better effort tonight. We had some opportunities and we didn't capitalize. We've had that in some games this year. But kudos to them (the Mountaineers) They're a good side.
"I felt at times tonight we were disconnected," Steffen added. "When that happens, you give up opportunities."
"We played very well," said Ephrata head coach Wes Deininger. "We knew we were going to get some space and we exploited it. They've (the Falcons) scored a lot of goals this year, so I was proud that we were able to hold them to one goal."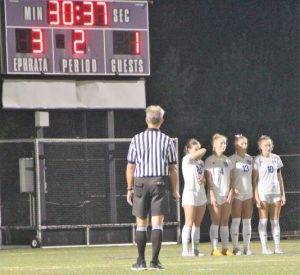 Nine minutes into the game, Weidner used her left foot to go far post, and give Ephrata a 1-0 advantage. Then six minutes later, the slick junior set up teammate Cara Tiesi for a 25-yarder from the middle of the pitch.
"It's disappointing to lose tonight, but I'm very pleased with the season," said Steffen. "When you look at last year, it's a positive. We had more wins and a better seed for the playoffs this year, but we didn't play our game tonight. It wasn't our best effort.
"We lost some close game and we lost some games in overtime," Steffen continued. "A win here or there and you move up in the standings. We played really well in the non-league. But Section One is a dogfight. You never get a night off. It's very difficult."
The final stats showed Ephrata with a 16-9 advantage in shots, while Cedar Crest posted a 10-5 margin in corner kicks.
To purchase images in this article please email jeff@lebcosports.com.
2022 Cedar Crest Girls' Soccer Results
| | | | | | |
| --- | --- | --- | --- | --- | --- |
| 2022-08-27 | H | vs | Cocalico(3) | W | 6-1 |
| 2022-09-01 | H | vs | Twin Valley(3) | W | 2-0 |
| 2022-09-03 | A | vs | Palmyra(3) | L | 2-0 |
| 2022-09-06 | H | vs | Cedar Cliff(3) | W | 7-1 |
| 2022-09-07 | H | vs | Penn Manor(3) | L | 5-3 |
| 2022-09-09 | H | vs | Central Dauphin East(3) | W | 8-0 |
| 2022-09-13 | A | vs | Warwick(3) | L | 4-3 |
| 2022-09-15 | A | vs | Hempfield (3)(3) | W | 2-1 |
| 2022-09-17 | H | vs | Eastern Lebanon County(3) | W | 2-0 |
| 2022-09-19 | H | vs | Conestoga Valley(3) | W | 7-1 |
| 2022-09-21 | A | vs | Manheim Township(3) | L | 8-1 |
| 2022-09-24 | A | vs | Solanco(3) | W | 4-1 |
| 2022-09-27 | A | vs | Penn Manor(3) | L | 5-2 |
| 2022-09-29 | H | vs | Warwick(3) | L | 4-1 |
| 2022-10-03 | H | vs | Hempfield (3)(3) | W | 2-1 |
| 2022-10-05 | A | vs | Conestoga Valley(3) | W | 2-1 |
| 2022-10-11 | H | vs | Manheim Township(3) | L | 6-1 |
| 2022-10-13 | A | vs | Elizabethtown(3) | W | 3-1 |
PIAA District Three Class AAAA Power Rankings
| | | | | | | | | | | | |
| --- | --- | --- | --- | --- | --- | --- | --- | --- | --- | --- | --- |
| AAAA | School |  W |  L |  T |  Rating |  TWP |  OWP |  TWPW |  OWPW |  TWPL |  OWPL |
| 1 | Manheim Township | 16- | 0- | 0 |  0.881319 |  1.000000 |  0.736264 |  20.20 |  207.70 |  0.00 |  74.40 |
| 2 | Central Dauphin | 15- | 1- | 1 |  0.814504 |  0.949029 |  0.650084 |  19.55 |  192.75 |  1.05 |  103.75 |
| 3 | Warwick | 13- | 3- | 0 |  0.799102 |  0.885870 |  0.693053 |  16.30 |  189.55 |  2.10 |  83.95 |
| 4 | Penn Manor | 12- | 5- | 0 |  0.760796 |  0.804233 |  0.707705 |  15.20 |  206.65 |  3.70 |  85.35 |
| 5 | Elizabethtown | 13- | 3- | 0 |  0.755731 |  0.879310 |  0.604690 |  15.30 |  161.15 |  2.10 |  105.35 |
| 6 | Cumberland Valley | 9- | 3- | 2 |  0.752926 |  0.811688 |  0.681105 |  12.50 |  173.75 |  2.90 |  81.35 |
| 7 | Ephrata | 13- | 4- | 0 |  0.733202 |  0.836066 |  0.607480 |  15.30 |  167.30 |  3.00 |  108.10 |
| 8 | Dallastown | 14- | 3- | 1 |  0.729731 |  0.879310 |  0.546911 |  17.85 |  165.55 |  2.45 |  137.15 |
| 9 | South Western | 15- | 2- | 1 |  0.727027 |  0.908867 |  0.504778 |  18.45 |  153.20 |  1.85 |  150.30 |
| 10 | Cedar Crest | 11- | 7- | 0 |  0.723538 |  0.730769 |  0.714699 |  13.30 |  222.20 |  4.90 |  88.70 |
| 11 | Governor Mifflin | 11- | 6- | 1 |  0.695425 |  0.738342 |  0.642971 |  14.25 |  201.70 |  5.05 |  112.00 |
| 12 | Mechanicsburg | 11- | 7- | 0 |  0.679833 |  0.721053 |  0.629454 |  13.70 |  199.60 |  5.30 |  117.50 |
| 13 | Northeastern | 13- | 4- | 1 |  0.677067 |  0.804813 |  0.520933 |  15.05 |  151.80 |  3.65 |  139.60 |
| 14 | Wilson (3) | 11- | 7- | 0 |  0.667756 |  0.722826 |  0.600447 |  13.30 |  188.00 |  5.10 |  125.10 |
| 15 | Central York | 11- | 7- | 0 |  0.667251 |  0.711957 |  0.612611 |  13.10 |  192.85 |  5.30 |  121.95 |
| 16 | Hempfield (3) | 7- | 10- | 0 |  0.632119 |  0.547170 |  0.735946 |  8.70 |  222.55 |  7.20 |  79.85 |
| 17 | Chambersburg Area | 8- | 9- | 1 |  0.630138 |  0.584746 |  0.685618 |  10.35 |  214.05 |  7.35 |  98.15 |
| 18 | Carlisle | 7- | 9- | 2 |  0.618012 |  0.573864 |  0.671970 |  10.10 |  209.05 |  7.50 |  102.05 |
| 19 | Cedar Cliff | 7- | 8- | 2 |  0.616476 |  0.609467 |  0.625042 |  10.30 |  185.95 |  6.60 |  111.55 |
| 20 | Palmyra | 9- | 7- | 2 |  0.614944 |  0.645833 |  0.577190 |  12.40 |  174.60 |  6.80 |  127.90 |
| 21 | Conestoga Valley | 5- | 11- | 0 |  0.560944 |  0.425373 |  0.726641 |  5.70 |  209.20 |  7.70 |  78.70 |
| 22 | Red Lion | 6- | 11- | 1 |  0.549074 |  0.482036 |  0.631010 |  8.05 |  195.55 |  8.65 |  114.35 |
| 23 | Waynesboro | 6- | 10- | 1 |  0.546506 |  0.496914 |  0.607119 |  8.05 |  184.20 |  8.15 |  119.20 |
| 24 | New Oxford | 6- | 11- | 0 |  0.495682 |  0.444444 |  0.558306 |  6.80 |  168.05 |  8.50 |  132.95 |
| 25 | J P McCaskey | 6- | 9- | 3 |  0.467505 |  0.441176 |  0.499684 |  8.25 |  157.95 |  10.45 |  158.15 |
| 26 | Dover | 6- | 10- | 1 |  0.455259 |  0.421875 |  0.496062 |  6.75 |  138.55 |  9.25 |  140.75 |
| 27 | Exeter Township | 3- | 14- | 1 |  0.427160 |  0.270701 |  0.618388 |  4.25 |  194.05 |  11.45 |  119.75 |
| 28 | Reading | 4- | 14- | 0 |  0.371758 |  0.312500 |  0.444184 |  5.00 |  132.50 |  11.00 |  165.80 |
| 29 | Lebanon | 2- | 15- | 0 |  0.290981 |  0.128655 |  0.489379 |  2.20 |  152.05 |  14.90 |  158.65 |
| 30 | Central Dauphin East | 0- | 17- | 0 |  0.273235 |  0.000000 |  0.607190 |  0.00 |  185.80 |  13.50 |  120.20 |
| 31 | York Country Day School | 4- | 13- | 1 |  0.262674 |  0.200508 |  0.338655 |  3.95 |  99.70 |  15.75 |  194.70 |
| 32 | William Penn | 0- | 18- | 0 |  0.226324 |  0.000000 |  0.502942 |  0.00 |  162.40 |  14.20 |  160.50 |

Lebanon Federal Credit Union