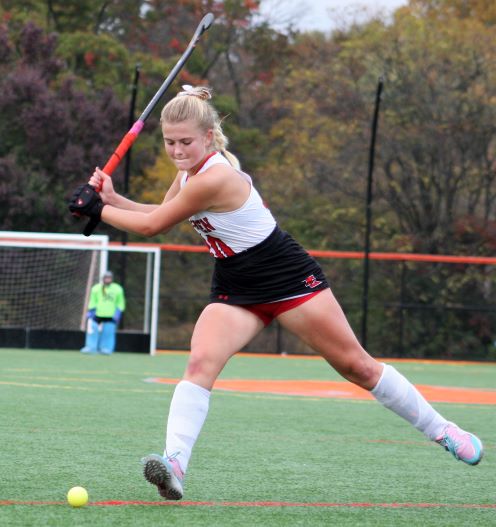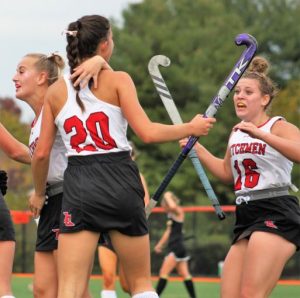 BY JEFF FALK
Editor
PALMYRA – The physical presence of the Lancaster-Lebanon Section Four championship trophy at yesterday's game symbolized the Annville-Cleona field hockey team's realization of its first stated – and most important – seasonal goal. The next logical goal is qualifying for the PIAA postseason.
But there's also something a little more subtle hovering over the Little Dutchmen's heads. If you're going to play for each other, you want to do it for as long as you possibly can.
On a seasonable Wednesday evening at Palmyra High School's OAL Sports Complex, Annville-Cleona played both well and with a sense of urgency, during a 2-0 triumph over Lancaster Mennonite, in the opening round of the District Three Class A playoffs. Netting goals in the first and third periods, the Little Dutchmen didn't overwhelm the Blazers offensively, but they were opportunistic.
The victory lifted seventh-seeded Annville-Cleona to 15-5 on the fall and into Saturday's quarterfinal round of the District Three Class A tournament, opposite the winner between Boiling Springs and Bermudian Springs. But perhaps even more critical, the result assured Annville-Cleona of at least three more playoff games this fall, three more chances to qualify for the state postseason.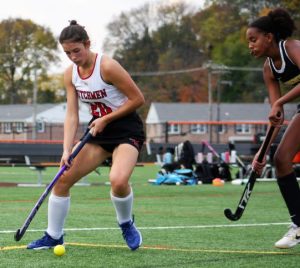 With the loss, tenth-seeded Lancaster Mennonite concluded its fall at 12-5. The Little Dutchmen and Blazers had split two previous L-L Section Four, regular-season tilts, with Annville-Cleona posting a 4-3 win at In The Net Sports Complex on September 21 and Lancaster Mennonite recording a 3-0 shutout in Lancaster on October 5.
"It's a possibility," said Annville-Cleona head coach Carrie Gingrich, of a spot in the state playoffs that eluded her side last season. "It's always huge when you can do that. Right now, we're one of the top eight (Class A) teams in the district, and I think that's a huge accomplishment as well. It gets tougher now, but I think we can hang with anyone. It's just about getting the ball in the cage.
"I thought we did play with a sense of urgency," Gingrich continued. "We've been playing good hockey. If you lose today, you're done. It could've been the last time playing field hockey for Annville-Cleona. It could've been the last time playing field hockey. It's always nice to get that first win, but especially when it guarantees you three more games."
Following a bit of a feeling-out period early on, Annville-Cleona scored on its first shot of the game, 11:08 into it.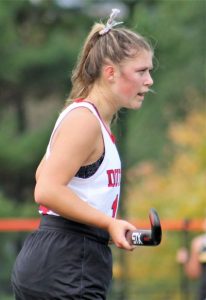 The play originated through a long pass from Tori Cisney to teammate Kendall Cooper, stationed in the right side of the circle. After controlling the feed, Cooper spun and fired a low shot that beat Lancaster Mennonite goalie Ava Glick to the far side of the cage.
"We had some opportunities down there," said Gingrich of the Little Dutchmen attack. "We missed a couple of shots. I felt offensively we did real well pressuring and getting shots on goal. Considering we were missing two starters, I thought the other girls stepped up. I was really proud of the team and how we came together.
"We definitely have a good group this year," added Gingrich. "We had a really good practice yesterday (Tuesday). After the first quarter, we had three really good quarters."
Four minutes and 42 seconds after halftime, the Little Dutchmen doubled their lead to 2-0.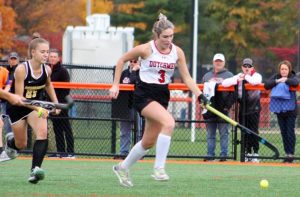 Danika Setlock played a long ball into the middle of the circle to an unmarked Josie Clay. Without stopping the ball, Clay swept the pass past Glick and into the Blazer goal.
"We don't know them as well as you think we might," said Gingrich of the Blazers. "The first game that we won was pretty even. In the second game down there, they got the first two goals unmarked. We were aware of that. I think that helped our game plan today."
According to the final stats, Lancaster Mennonite out shot Annville-Cleona 7-6. The Little Dutchmen recorded seven penalty corners, compared to the Blazers' four.
Annville-Cleona netminder Ava Wentling made four saves to log the shutout.
"Defensively, we've played well the last few games," said Gingrich, "and I think it's giving us confidence. We definitely had nerves in the first quarter. Hopefully, we got rid of those nerves. I think that's the biggest thing for us moving forward, putting four complete quarters together."
To purchase images in this article please email jeff@lebcosports.com.
2022 Annville-Cleona Field Hockey Results
| | | | | | |
| --- | --- | --- | --- | --- | --- |
| 2022-08-31 | A | vs | Berks Catholic(3) | L | 2-1 |
| 2022-09-02 | H | vs | Lampeter Strasburg(3) | L | 4-1 |
| 2022-09-06 | A | vs | Cedar Crest(3) | W | 4-3 |
| 2022-09-09 | H | vs | Eastern Lebanon County(3) | W | 4-1 |
| 2022-09-13 | A | vs | Solanco(3) | W | 7-1 |
| 2022-09-15 | H | vs | Garden Spot(3) | W | 2-0 |
| 2022-09-17 | H | vs | East Pennsboro(3) | W | 3-1 |
| 2022-09-19 | A | vs | J P McCaskey(3) | W | 3-0 |
| 2022-09-21 | H | vs | Lancaster Mennonite(3) | W | 4-3 |
| 2022-09-23 | A | vs | Northern Lebanon(3) | W | 5-0 |
| 2022-09-24 | A | vs | Bishop McDevitt (3)(3) | L | 3-1 |
| 2022-09-27 | A | vs | Lancaster Country Day School(3) | W | 2-1 |
| 2022-09-29 | H | vs | Lancaster Catholic(3) | W | 4-0 |
| 2022-10-03 | H | vs | J P McCaskey(3) | W | 3-2 |
| 2022-10-05 | A | vs | Lancaster Mennonite(3) | L | 3-0 |
| 2022-10-07 | H | vs | Northern Lebanon(3) | W | 4-0 |
| 2022-10-11 | H | vs | Lancaster Country Day School(3) | W | 5-1 |
| 2022-10-13 | A | vs | Lancaster Catholic(3) | W | 7-1 |
PIAA District Three Class A Power Rankings
| | | | | | | | | | | | |
| --- | --- | --- | --- | --- | --- | --- | --- | --- | --- | --- | --- |
| A | School |  W |  L |  T |  Rating |  TWP |  OWP |  TWPW |  OWPW |  TWPL |  OWPL |
| 1 | Oley Valley | 14- | 1- | 1 |  0.789137 |  0.925926 |  0.621951 |  15.00 |  173.40 |  1.20 |  105.40 |
| 2 | Boiling Springs | 18- | 0- | 0 |  0.750799 |  1.000000 |  0.446220 |  16.60 |  145.20 |  0.00 |  180.20 |
| 3 | Greenwood | 14- | 3- | 0 |  0.687027 |  0.792208 |  0.558472 |  12.20 |  168.10 |  3.20 |  132.90 |
| 4 | Berks Catholic | 16- | 2- | 0 |  0.686746 |  0.890244 |  0.438027 |  14.60 |  135.00 |  1.80 |  173.20 |
| 5 | West Perry | 14- | 4- | 0 |  0.668946 |  0.797872 |  0.511370 |  15.00 |  170.90 |  3.80 |  163.30 |
| 6 | Newport | 14- | 3- | 0 |  0.647047 |  0.792208 |  0.469628 |  12.20 |  143.80 |  3.20 |  162.40 |
| 7 | Annville-Cleona | 14- | 4- | 0 |  0.604121 |  0.735632 |  0.443384 |  12.80 |  139.40 |  4.60 |  175.00 |
| 8 | Bishop McDevitt (3) | 14- | 4- | 0 |  0.593344 |  0.741176 |  0.412660 |  12.60 |  135.60 |  4.40 |  193.00 |
| 9 | Littlestown | 12- | 5- | 0 |  0.558819 |  0.645570 |  0.452791 |  10.20 |  131.40 |  5.60 |  158.80 |
| 10 | Lancaster Mennonite | 12- | 4- | 2 |  0.553359 |  0.678161 |  0.400824 |  11.80 |  126.50 |  5.60 |  189.10 |
| 11 | Wyomissing | 14- | 4- | 0 |  0.548044 |  0.735632 |  0.318769 |  12.80 |  103.60 |  4.60 |  221.40 |
| 12 | Susquenita | 12- | 6- | 0 |  0.540795 |  0.600000 |  0.468434 |  10.80 |  148.40 |  7.20 |  168.40 |
| 13 | Kennard Dale | 11- | 7- | 0 |  0.518351 |  0.602273 |  0.415780 |  10.60 |  132.80 |  7.00 |  186.60 |
| 14 | Eastern Lebanon County | 10- | 7- | 1 |  0.510978 |  0.567416 |  0.441998 |  10.10 |  142.50 |  7.70 |  179.90 |
| 15 | Bermudian Springs | 10- | 7- | 1 |  0.496209 |  0.518072 |  0.469488 |  8.60 |  143.10 |  8.00 |  161.70 |
| 16 | Biglerville | 10- | 7- | 1 |  0.485484 |  0.523810 |  0.438642 |  8.80 |  134.40 |  8.00 |  172.00 |
| 17 | Schuylkill Valley | 8- | 7- | 2 |  0.453933 |  0.475000 |  0.428184 |  7.60 |  126.40 |  8.40 |  168.80 |
| 18 | Lancaster Country Day School | 10- | 8- | 0 |  0.450868 |  0.500000 |  0.390819 |  8.80 |  126.00 |  8.80 |  196.40 |
| 19 | Octorara | 7- | 9- | 1 |  0.434368 |  0.428571 |  0.441454 |  7.80 |  131.20 |  10.40 |  166.00 |
| 20 | Forbes Road | 6- | 3- | 0 |  0.430200 |  0.600000 |  0.222667 |  4.80 |  33.40 |  3.20 |  116.60 |
| 21 | Fleetwood | 5- | 11- | 1 |  0.411726 |  0.317647 |  0.526712 |  5.40 |  153.80 |  11.60 |  138.20 |
| 22 | East Pennsboro | 3- | 15- | 0 |  0.409118 |  0.157303 |  0.716891 |  2.80 |  224.10 |  15.00 |  88.50 |
| 23 | Eastern York | 6- | 11- | 1 |  0.398623 |  0.363158 |  0.441970 |  6.90 |  140.90 |  12.10 |  177.90 |
| 24 | Delone Catholic | 7- | 8- | 0 |  0.396138 |  0.426829 |  0.358626 |  7.00 |  89.80 |  9.40 |  160.60 |
| 25 | Camp Hill | 7- | 10- | 1 |  0.395798 |  0.375000 |  0.421218 |  6.90 |  134.20 |  11.50 |  184.40 |
| 26 | Hamburg | 7- | 10- | 0 |  0.376613 |  0.361446 |  0.395151 |  6.00 |  120.60 |  10.60 |  184.60 |
| 27 | Hanover (3) | 6- | 11- | 0 |  0.345461 |  0.277778 |  0.428184 |  5.00 |  126.40 |  13.00 |  168.80 |
| 28 | Big Spring | 2- | 15- | 1 |  0.318272 |  0.131579 |  0.546453 |  2.50 |  174.10 |  16.50 |  144.50 |
| 29 | Brandywine Heights | 6- | 12- | 0 |  0.315515 |  0.270833 |  0.370126 |  5.20 |  117.70 |  14.00 |  200.30 |
| 30 | Northern Lebanon | 2- | 11- | 1 |  0.299418 |  0.138889 |  0.495621 |  2.00 |  124.50 |  12.40 |  126.70 |
| 31 | Tulpehocken | 3- | 14- | 1 |  0.279133 |  0.164948 |  0.418692 |  3.20 |  134.40 |  16.20 |  186.60 |
| 32 | Fairfield | 2- | 11- | 1 |  0.277503 |  0.185185 |  0.390336 |  3.00 |  92.90 |  13.20 |  145.10 |
| 33 | Kutztown | 3- | 14- | 1 |  0.266385 |  0.168317 |  0.386247 |  3.40 |  120.20 |  16.80 |  191.00 |
| 34 | Lancaster Catholic | 1- | 17- | 0 |  0.256441 |  0.040404 |  0.520487 |  0.80 |  162.60 |  19.00 |  149.80 |
| 35 | Southern Huntingdon County Senior | 1- | 11- | 0 |  0.175460 |  0.064516 |  0.311057 |  0.80 |  51.20 |  11.60 |  113.40 |

Lebanon Federal Credit Union