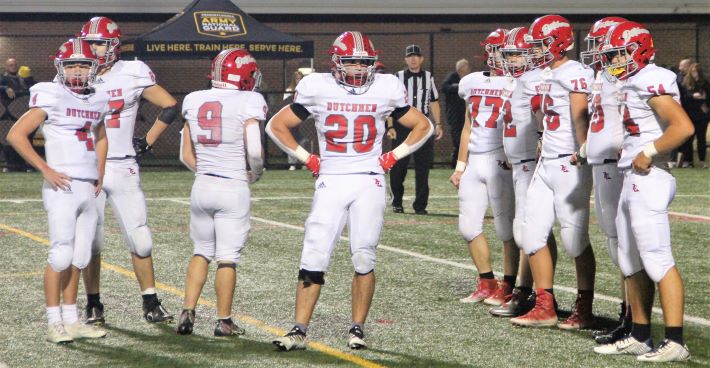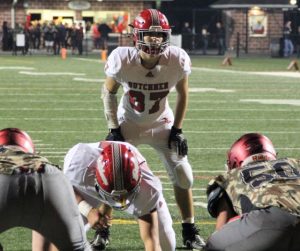 BY JEFF FALK
Editor
KINZERS  – Everyone measures improvement differently. The Annville-Cleona football team quantifies it through plays – executed plays and missed plays.
The fewer the missed plays, the more yards of offense, the greater the points differential on the scoreboard, the more triumphs. The fewer the missed plays, the greater the consistency.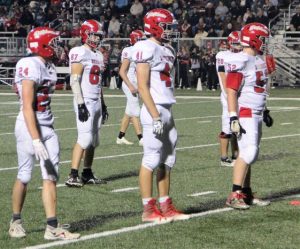 As this season has worn on, the Little Dutchmen have missed fewer and fewer plays.
On a cool Friday night at Pequea Valley, Annville-Cleona didn't miss many plays or leave many points out on the field, during a 59-12, mercy-rule shellacking of the hometown Braves. After the Braves grabbed an early 6-0 lead, the Little Dutchmen produced 59 unanswered points as their emphatic response.
Senior feature back Phoenix Music paced the onslaught with four rushing touchdowns, while fellow 12th-grader and quarterback Gavin Keller threw for a touchdown and ran for another, and sophomore stud Jonathan Shay caught a scoring pass and ran one in. Not to be outdone, kicker Antnony Lucera booted seven PATs.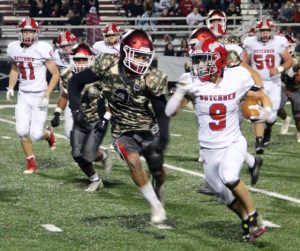 With the outcome, Annville-Cleona extended its record to 5-3 overall and 3-2 in Section Five of the Lancaster-Lebanon League. But more importantly, the triumph furthered the Little Dutchmen's pursuit of Lebanon County's first District Three championship in the sport of football.
Currently, Annville-Cleona is situated third in the District Three power rankings for an AA classification which takes four teams for its postseason tournament.
The loss dropped Pequea Valley to 1-7 on the fall and 1-4 in Section Three.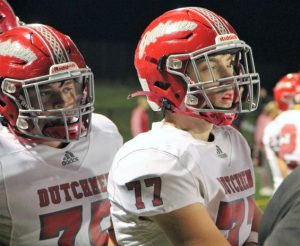 "We played very well," said Annville-Cleona head coach Matt Gingrich. "I'm obsessive compulsive and the issue I have is that I know there are plays out there. At some point, I have to adjust my expectations. But those couple of plays that we've left out there made us lose to Hamburg, made us lose to Elco, made us lose to Lancaster Catholic.
"These big games come down to those few plays," added Gingrich. "That's the difference between winning and losing. And when we're missing those plays, it's by a step or two."
Pequea Valley made it look easy while scoring on its first possession of the game. But Annville-Cleona's response was immediate and decisive.

The Little Dutchmen drove the ensuing kickoff 67 yards in 14 plays to get the three-yard Music scoring run and the Cael Harter two-point conversion that gave them an 8-6 lead they would only build upon. Music ran one in from 29 yards away a minute into the next stanza to push the Little Dutchmen advantage to nine points, and set off a 30-point second-period explosion.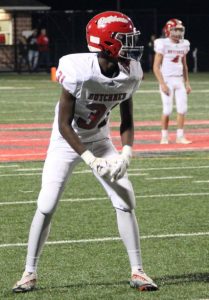 "There are two teams playing football on the field," said Gingrich. "It's not going to be perfect. They (the Braves) were ready to play. They were physical. We (the coaches) had to get into them (his players) a little. We talked to them and that was it. It was a good series, and then we figured it out.
"I think we started to execute defensively, the way we were supposed to," continued Gingrich. "We got off blocks, we were aggressive and we got after the quarterback. We did the job we were coached to do. We were physical, and when you are, it erases a lot of issues."
Annville-Cleona's huge second quarter also featured Keller's 24-yard scoring fade to Shay in the right corner of the end zone, the senior signal caller's one-yard plunge, Music's third scoring burst and a safety. The Little Dutchmen enjoyed a 38-6 advantage at the break.
"The difference now is that we're leaving fewer plays out there," said Gingrich. "They're (his players) improving. They're getting better. I've never had a group with better attendance, with better grades or that gives more effort. We're just trying to get them to progress."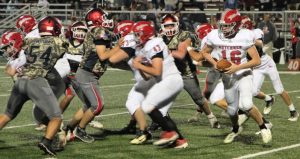 The Little Dutchmen marched the second-half kickoff 57 yards on nine Music carries, including a three-yard burst that gave them a 45-6 bulge. Shay provided a glimpse of Annville-Cleona's distant future with his 34-yard scoring scamper.
Annville-Cleona's final touchdown came courtesy of Cam Connelly's 49-yard touchdown run late in the fourth quarter.
"I'd really love to be 7-3," said Gingrich, when questioned about the rest of the season. "Schuylkill Valley is a really good football team and Northern Lebanon is a rivalry. It's not out of the question to go 5-5. The goal is to go into the playoffs ready to go. We could make a little noise in the playoffs.
"Now the goal is the district championship," Gingrich added. "But we've got to win the next two games before we worry about that."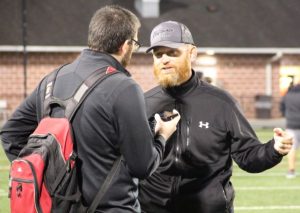 Annville-Cleona piled up 404 yards of total offense. After Pequea Valley drove the opening kickoff 73 yards in seven plays, the Little Dutchmen limited the Braves to just 63 more yards of total offense.
With his 25-carry, 172-yard performance, Music neared the 1,500-yard plateau for his season and increased touchdown total to 17.
"Yeah, I think we do, at this point," said Gingrich, when asked if his squad must qualify for the playoffs for the season to be considered a success. "We only won three games in each of the last two years, and now we have five wins. This senior group hasn't had a winning season. I think it's really important for the state of the program to get into districts, and to drum up some support."
To purchase images in this article please email jeff@lebcosports.com
2022 Annville-Cleona Football Results
| | | | | | |
| --- | --- | --- | --- | --- | --- |
| 2022-08-26 | A | vs | Hanover (3)(3) | W | 55-12 |
| 2022-09-01 | H | vs | Eastern Lebanon County(3) | L | 22-19 |
| 2022-09-09 | H | vs | Littlestown(3) | W | 42-14 |
| 2022-09-16 | H | vs | Hamburg(3) | L | 39-26 |
| 2022-09-23 | H | vs | Columbia(3) | W | 27-7 |
| 2022-09-30 | A | vs | Kutztown(3) | W | 42-28 |
| 2022-10-07 | H | vs | Lancaster Catholic(3) | L | 14-13 |
| 2022-10-14 | A | vs | Little Valley(3) | | 0-0 |
| 2022-10-21 | A | vs | Schuylkill Valley(3) | | 0-0 |
| 2022-10-28 | H | vs | Northern Lebanon(3) | | 0-0 |
PIAA District Three Class AA Power Rankings
| | | | | | | | | | | | |
| --- | --- | --- | --- | --- | --- | --- | --- | --- | --- | --- | --- |
| AA | School |  W |  L |  T |  Rating |  TWP |  OWP |  TWPW |  PLO |  TWPL |  OWPL |
| 1 | Trinity (3) | 4- | 3- | 0 |  0.565187 |  0.575540 |  0.552535 |  4.00 |  37.60 |  2.95 |  30.45 |
| 2 | Camp Hill | 5- | 2- | 0 |  0.563630 |  0.678832 |  0.422828 |  4.65 |  29.45 |  2.20 |  40.20 |
| 3 | Annville-Cleona | 4- | 3- | 0 |  0.510177 |  0.548148 |  0.463768 |  3.70 |  32.00 |  3.05 |  37.00 |
| 4 | Delone Catholic | 4- | 3- | 0 |  0.502115 |  0.567376 |  0.422351 |  4.00 |  29.10 |  3.05 |  39.80 |
| 5 | York Catholic | 3- | 4- | 0 |  0.431032 |  0.422819 |  0.441070 |  3.15 |  30.50 |  4.30 |  38.65 |
| 6 | Columbia | 2- | 5- | 0 |  0.367129 |  0.275862 |  0.478676 |  2.00 |  32.55 |  5.25 |  35.45 |
| 7 | Newport | 0- | 7- | 0 |  0.232335 |  0.000000 |  0.516300 |  0.00 |  34.05 |  7.35 |  31.90 |
Lancaster-Lebanon League
Section Five Standings

Lebanon Federal Credit Union