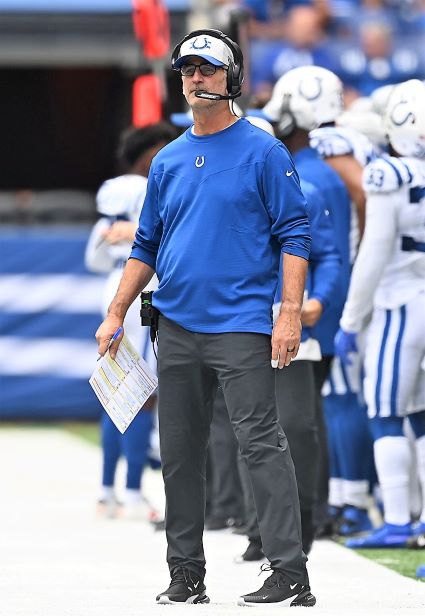 BY JEFF FALK
Editor
Photos Courtesy of Indianapolis Colts
During his playing days, Lebanon native Frank Reich was part of something special.
Reich spent a decade in Buffalo where he forged a bond with Bills' starting quarterback Jim Kelly and head coach Marv Levy. That long-standing relationship produced stability and a consistency that gave Buffalo an edge, an advantage over the rest of the NFL, which ultimately helped pave the way for four Super Bowl appearances.
As the current head coach of the Indianapolis Colts, Reich is still a man of relationships, one who's always constantly searching for an edge that will distinguish his team from the rest, and propel it to some next level. But to this point of his tenure in Indianapolis, that long-enduring relationship between head coach and quarterback – one like the Bills sported in the late 1980s and early 1990s – has eluded Reich, for a variety of reasons.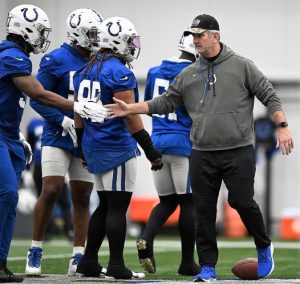 "Jim Kelly was a tough competitor," said Reich, during a recent exclusive phone interview with LebCoSports. "He was a great player and he was at his best in the biggest moments. I have the utmost respect for him. For Marv Levy, I've patterned my coaching after him. He was a master leader and motivator in every way. I continue to talk to him a couple times a year. He's an amazing man.
"A big part of what we had there was a brotherhood and a real chemistry," continued Reich. "It's going through the battles, and I think we have that here. Certainly the turnover at quarterback is very unique. But I think the players do an amazing job with it. But you're never satisfied."
In less than a week, the Colts will kick off their fifth season under Reich's leadership, with their fifth different starting quarterback. Matt Ryan, 37, will be under center on Sunday, September 11 when Indianapolis travels to Houston for its 2022 season opener.
Ryan follows in the footsteps of Carson Wentz, Philip Rivers, Jacoby Brissett and Andrew Luck as Indianapolis quarterbacks under Reich who have come before him.
"It's a challenge every year looking for ways to get better and more efficient in situational football," said Reich, a graduate of Cedar Crest High School. "We put a lot of time and study and effort into it. When you look at situational football – the last two minutes of the game or half, the last four minutes, third-down efficiency, red-zone efficiency – success doesn't come by accident.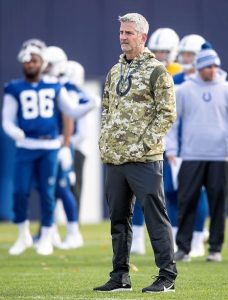 "There are two factors that affect it, preparation and execution, and players making plays," Reich added. "This year, we want to challenge ourselves to get better in those areas. But I think it's something we can continue to grow from"
Indianapolis is coming off a 2021 campaign in which it went 9-8 and failed to make the playoffs.
During the latter stages of the season, the Colts won eight of ten games to improve to 9-6 on the year. But Indianapolis couldn't seal the deal and closed out its year with disappointing losses to Las Vegas and Jacksonville.
"We got on a great stretch where I felt like we were one of the hottest team in the league," said Reich. "Over a six- or seven-week span, we were running the football really well and playing good defense. We really established ourselves. But we weren't able to finish.
"Coming into this training camp with a new quarterback, the focus was getting things squared up with our offense," added Reich. "We wanted to keep the same offense but put in things that are compatible with his (Ryan's) skills. We have a new scheme defensively, so we wanted to install it, tighten it up and get it ready for the season. But we really wanted to establish who we are as a football team."
Reich, who was named the AFC Coach of the Year in 2018, his first season as the Colts' head man, has compiled an overall record of 38-30 during his four years in Indianapolis. During that time, Reich's Colts have qualified for the playoffs twice.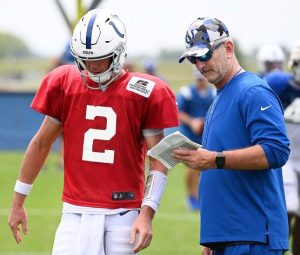 "I feel like we've made great progress," said Reich. "We've continued to build the roster every year, piece by piece. I feel like the roster gets better every year. I think we've grown.
"We've established our culture for how we want to win," continued Reich. "That we're going to do it our way. We've had a new quarterback every year."
At age 60, Reich is at the top of his game and at the top of his profession. His life continues to be an amazing journey, one highlighted by challenges and personal growth and a connection with God.
Yet through it all, Reich has stayed true to himself, his upbringing and his family.
"I love where I'm at and the people I'm doing it with," said Reich. "That's one of the things I learned from Marv Levy, there's no place I'd rather be than right here, right now. I love this team, this organization, the city, the players. I'm looking forward to this season. That's typical of every season. I feel very optimistic about this season.
"I can't imagine not coaching at this point," concluded Reich. "I feel great, and I'm thankful for my health and the opportunity I've been given. You can never take it for granted. It's the NFL. You make the most of it and reset the table every year. You don't get too far ahead of yourself."
Frank Reich's History in the NFL