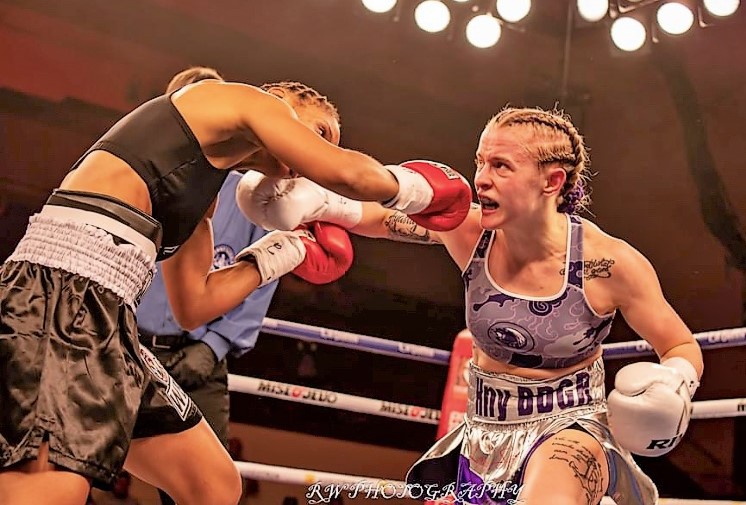 BY JEFF FALK
Editor
Photos Submitted
In Lateesha Mohl's world, tolerance of pain is toughness. Assertiveness is aggression. Intensity is scrappy.
Risk is manageable.
And fighting is self-fulfillment.
Now the differences in the terminology may seem like semantics. But rest assured that Mohl has explored every subtle nook and cranny of those nuances.
The temptation is to refer to Mohl as an aspiring boxer, kick boxer and mixed martial artist, but that would be selling her passion short. Deep down in her heart of hearts, Mohl is a fighter.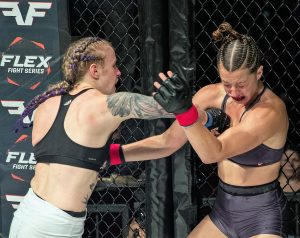 In a very real way, Mohl's just being who she is.
Mohl, a 26-year-old native of Cleona and a 2014 graduate of Annville-Cleona High School, is on her way to 'making it' as a fighter. While her fighting career is still very much in its infancy, she seems to possess everything required to realize success in the very competitive and sometimes brutal fight game.
"Absolutely not," said Mohl, when asked if she considers herself aggressive by nature. "I think I'm a competitive person. But I've never been confrontational. I've never been in a fist fight. I'm more of a people pleaser. I just found out I had this skill set by accident. It just kind of worked out this way.
"Not everyone can fight," continued Mohl. "But I can't run a marathon. That's not who I am. It's different. But I can fight. It's like anything in life. Some people do certain things better than others."
As an amateur, Mohl dabbled in boxing, mixed martial arts, ju jitsu and kick boxing matches over the last six years. But in December of 2021, she turned pro as a boxer and has gone 1-0-1 in her first professional fights.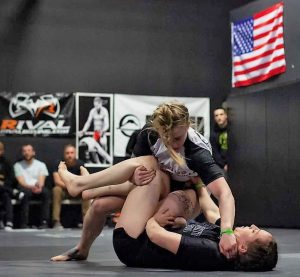 Mohl competes under the moniker of 'Honey Badger' – presumably both sweet and ferocious.
"It's going really well," said Mohl. "Pretty much the way I expected. But I feel like I'm more of a kick boxer, that I'm more of a striker. I feel like my heart will always be with MMA and kick boxing. But we're getting more fights with boxing. Boxing is the trickiest of the fighting disciplines because I can only hurt you with my fists.
"We're trying to go as far as we can," added Mohl. "I have experience in three different areas of fighting. I don't have any intentions of boxing not working out, but if it doesn't I have the others to fall back on. But I want to make money at some point."
Growing up in Cleona, Mohl was a fairly typical student-athlete, competing in more traditional sports like softball, soccer and basketball. She was a member of the Annville-Cleona High school softball team during her scholastic days and played some travel softball.
It was after high school when she sort of stumbled upon fighting.
"I didn't play softball in college, but I still wanted to do something to keep me in shape," said Mohl. "I joined a boxing gym as a way to work out. But I found I was naturally good at it. I was offered my first fight, and I thought 'Why not?' I just kind of got hooked.
"The first one I ever took was an MMA fight, and then I just kept taking offers," Mohl continued. "It was good. I won. But I don't remember a lot of it. After it was over, it was an awesome feeling. It felt really good. But I think if I had lost that fight I'd still be here. At one point, I lost seven fights in-a-row, but I'm still here. I think a lot of people in my position would've given up."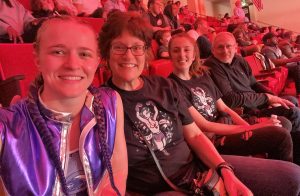 Although she doesn't know who or precisely when or exactly where, Mohl is about to begin preparations for her next fight, which could occur sometime in November. In the boxing game, it consists of a six- to eight-week fight camp which incorporates elements of swimming, running, various cardio exercises and strength training, and features purposefully schedule periods of rest.
But Mohl's 'camp' can also refer to the extensive support system she has surrounded herself with.
"My boyfriend helps me, and it's definitely a group effort," said Mohl. "It would be really hard to do this by myself. People on the outside don't know what goes into it. There's a lot that goes into it.
"You're getting punched in the face, so yeah there's danger to it," Mohl added. "But we've trained to deal with that type of situation. We kind of know what we're doing, so it makes it safer."
Fighting in general and boxing specifically are very serious undertakings, ones that Mohl personally takes seriously. Diligently, she controls the things that she can control, and that begins with preparation.
"I think anyone who does anything related to martial arts can be considered 'tough'," said Mohl. "The thing with people who fight is that they're mentally tough. I've been told I have heart. You can hit me again and again, and I keep coming.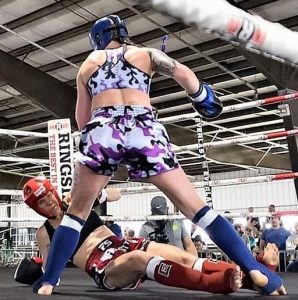 "When you step inside the ring, you get hit with this fight-or-flight feeling," continued Mohl. "I have a high tolerance for pain in life. But with adrenaline added, you don't even realize it if you're being hit. After the adrenaline wears off, you're going to feel the pain. But during the fight, it doesn't affect you."
In the pursuit of her individual and professional goals, one of the many things Mohl has going for her is that she is of the female gender. Once derogatory, 'fighting like a girl' has now taken on a completely different meaning.
"At the level I'm at in boxing, I'm not making money," said Mohl. "But if I can make it to that next level, you can make money in boxing. A lot of people don't think MMA fighters get paid enough. If I could get paid $50,000 for 15 minutes of my life, I'm OK with that.
"The nice thing about being a female in a male-dominant sport is that there's not a lot of us," added Mohl. "Some places are desperate for women fighters. In boxing, I'm going to need a few more fights. But by the time I'm 6-0 or 7-0, I can get my name out there, and that's when the pay checks come."
Because there is value in heart and focus and toughness.