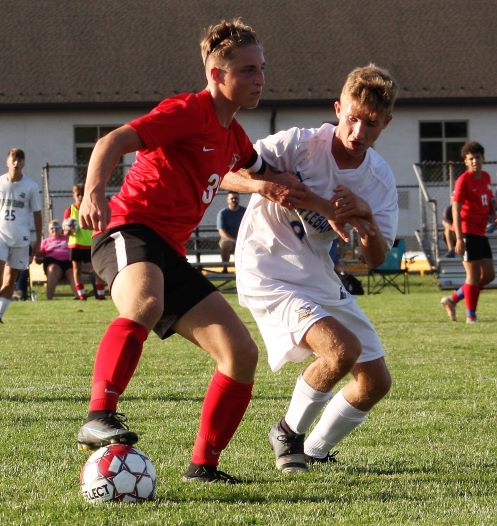 BY JEFF FALK
Editor
ANNVILLE – Winning isn't everything. Everybody knows that.
But it sure as heck beats the alternative.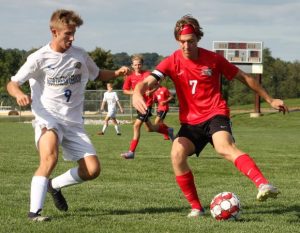 Improvement is king, it reigns supreme. But results matter.
On a picturesque Tuesday evening at Annville-Cleona High School, the Little Dutchmen boys' soccer team registered its first victory of the season, in an emphatic way, with a resounding 4-0 whitewashing of rival Northern Lebanon. Controlling the flow of play throughout, the Little Dutchmen posted a pair of goals in each half.
Junior midfielder Zachary Sperlich netted two of those A-C tallies, while senior Anthony Lucera and junior Samuel Domencic each contributed a goal and an assist.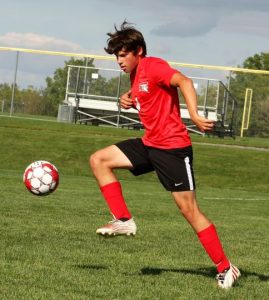 After opening the fall with seven straight defeats, the triumph lifted the Little Dutchmen to 1-7 overall and 1-3 in Section Four of the Lancaster-Lebanon League. Northern Lebanon fell to 4-6 on the year and 4-2 in Section Three.
Not only was Annville-Cleona's offensive output its most prolific of the season, it was also the Little Dutchmen's initial shutout.
"We finally showed up," said veteran Annville-Cleona head coach Ray Kreiser. "This was the first time all year we put a whole game together. We've been in games. But if there have been bad breaks, they've gone against us – and it's in the back of the net. I knew sooner or later something had to break. We've literally hit more crossbars and posts than we've scored goals. We've been doing good things.
"They (his players) could've easily folded their tents," continued Kreiser. "But it's such a nice group of kids. They work so hard. They've been dedicated to each other. They've made the resolution that the only way to get out of this is by working together."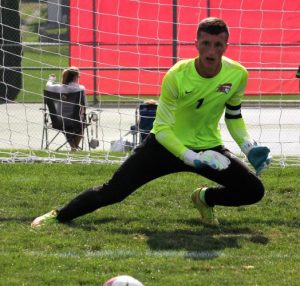 "They showed up and played today, for sure," said Northern Lebanon head coach Brooks Tomazin of the Little Dutchmen. "They're a good squad, and they finally put things together. And we didn't.
"They're all important," Tomazin added. "It's a section game. We're in good standings in the section. Today would've been an important win."
It took Annville-Cleona 16 minutes of game action to take a 1-0 lead. With a free kick from the left side of the pitch, Lucerna found Sperlich, who made no mistakes at the right post.
Then 9:42 before intermission, Domencic worked hard in the right corner, before centering a feed to an unmarked Sperlich in the Viking goal mouth.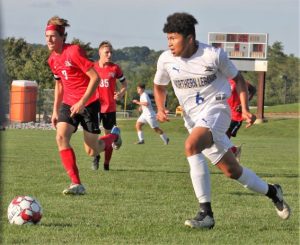 "We've scored a couple of first goals," said Kreiser. "But then we've given up the tying goal right away. Once we got the second goal, we got a little hungry, like 'we've got a chance now'.
"Offensively, that was probably the best we've done all year," added Kreiser. "We started putting some pieces together. We've been working on some things in practice to get the offense going. Today, they (his players) did what we asked them to do, and they did it well. It's nice to be home for a change."
"They (the Little Dutchmen) had most of the play," said Tomazin. "We had a couple of opportunities, but not as many as they had. Annville-Cleona wanted it and it showed on the field.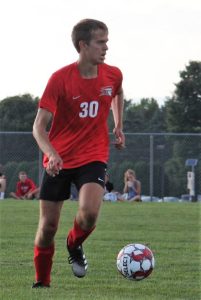 "Defensively, we had some mistakes in the back line," Tomazin continued. "We had a tough game last night (an 8-2 loss at Conrad Weiser) and we were a little tired. "
The unrelenting Little Dutchmen kept coming, and 14:49 into the second half, Domencic made it 3-0. After gaining control of a loose ball deep in Northern Lebanon territory, Domencic dribbled along the baseline before using his right foot to beat Viking keeper Riley Messinger to the short side.
With 1:15 remaining, Lucerna placed an exclamation point on the initial win by turning and ripping a 25-yard right-footer into the right side of the net.
"The big one was they (the Vikings) were missing their midfielder, and without him it opened up some space," said Kreiser. "I thought number six (Diego Bustillo) played very well for them. They seemed to have trouble in that last third of execution. But I thought both teams did well in the midfield.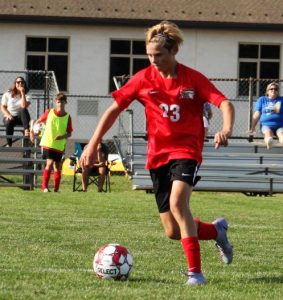 "We've definitely improved," continued Kreiser. "We have been getting better. But sometimes the strides are slower than we want them to be. They work hard in practice. They're constantly asking, 'What can we do better?' We've got to work through it. We just have to give everything we can every game. But this is definitely a nice feeling."
"From talking with Ray, every game they play is close," said Tomazin. "Today I thought number 35 (Lucera) controlled the game.
"Besides today, we've been playing well," added Tomazin. "We've been possessing the ball and we've been scoring. Today we were not the team we've been the last couple of weeks."
The final stats really reflected the flow of the game.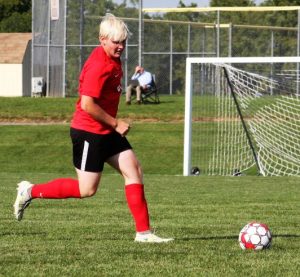 Annville-Cleona out shot Northern Lebanon 18-9, and the Little Dutchmen recorded a 5-1 advantage in corner kicks. Little Dutchmen netminder Braden Wolfe logged the shutout.
"It was no real surprise, because coming into the season we knew we were very young," said Kreiser. "We knew a lot of the teams in the section had key returning players. Then we had three monster games right out of the gate. We tried something new this year, no individual goals. We only have one team goal, and that's to get a little better every day. It's been two steps forward and six steps back. Today, we finally put both halves together.
"We hope to build from this," Kreiser added. "If you look at the league from top to bottom, it's so tight. The games have continued to be tight. Any team can beat any other team, depending on who shows up."
"I told our guys from Day One that we had a very winnable schedule," said Tomazin. "There wasn't a game we couldn't compete in. One of our goals is to be in the top two in the section and get to the league playoffs. It's very doable. Every game is close.
"It's going to be an uphill climb to Districts now," continued Tomazin. "Being an AAA school and with most of our schedule being against AA schools, losses cripple us. A successful second half of the season for us would be finishing above .500."
To purchase images in this article please email jeff@lebcosports.com.
2022 Annville-Cleona Boys' Soccer Schedule
| | | | | | |
| --- | --- | --- | --- | --- | --- |
| 2022-08-29 | A | vs | Tulpehocken(3) | L | 4-0 |
| 2022-09-01 | H | vs | New Covenant Christian School(3) | L | 6-3 |
| 2022-09-08 | H | vs | Lancaster Mennonite(3) | L | 2-1 |
| 2022-09-10 | A | vs | Millersburg(3) | L | 5-2 |
| 2022-09-13 | A | vs | Lancaster Country Day School(3) | L | 2-1 |
| 2022-09-14 | A | vs | Pequea Valley(3) | L | 2-0 |
| 2022-09-17 | A | vs | Schuylkill Valley(3) | L | 3-0 |
| 2022-09-20 | H | vs | Northern Lebanon(3) | | 0-0 |
| 2022-09-22 | A | vs | Lancaster Catholic(3) | | 0-0 |
| 2022-09-24 | H | vs | Berks Catholic(3) | | 0-0 |
| 2022-09-26 | A | vs | Hanover (3)(3) | | 0-0 |
| 2022-09-28 | H | vs | Lancaster Country Day School(3) | | 0-0 |
| 2022-09-30 | A | vs | Lancaster Mennonite(3) | | 0-0 |
| 2022-10-04 | H | vs | Pequea Valley(3) | | 0-0 |
| 2022-10-06 | A | vs | Northern Lebanon(3) | | 0-0 |
| 2022-10-08 | H | vs | Cedar Crest(3) | | 0-0 |
| 2022-10-10 | H | vs | Lancaster Catholic(3) | | 0-0 |
| 2022-10-12 | H | vs | Kutztown(3) | | 0-0 |
2022 Northern Lebanon Boys' Soccer Schedule
| | | | | | |
| --- | --- | --- | --- | --- | --- |
| 2022-08-30 | H | vs | Hamburg(3) | L | 0-2 |
| 2022-09-03 | N | vs | Kutztown(3) | W | 3-1 |
| 2022-09-03 | A | vs | Wyomissing(3) | L | 1-2 |
| 2022-09-07 | A | vs | Pequea Valley(3) | W | 2-0 |
| 2022-09-09 | H | vs | Cedar Crest(3) | L | 2-3 |
| 2022-09-12 | H | vs | Lancaster Catholic(3) | L | 2-3 |
| 2022-09-14 | H | vs | Lancaster Country Day School(3) | W | 3-2 |
| 2022-09-15 | H | vs | Blue Mountain(11) | | 0-0 |
| 2022-09-16 | A | vs | Lebanon(3) | W | 2-1 |
| 2022-09-19 | A | vs | Conrad Weiser(3) | L | 2-8 |
| 2022-09-20 | A | vs | Annville-Cleona(3) | | 0-0 |
| 2022-09-22 | A | vs | Lancaster Mennonite(3) | | 0-0 |
| 2022-09-26 | H | vs | Pequea Valley(3) | | 0-0 |
| 2022-09-28 | A | vs | Lancaster Catholic(3) | | 0-0 |
| 2022-10-04 | A | vs | Lancaster County Christian(3) | | 0-0 |
| 2022-10-06 | H | vs | Annville-Cleona(3) | | 0-0 |
| 2022-10-10 | H | vs | Lancaster Mennonite(3) | | 0-0 |
| 2022-10-12 | H | vs | Tulpehocken(3) | | 0-0 |
| 2022-10-13 | P | vs | Bishop McDevitt (3)(3) | | 0-0 |

Lebanon Federal Credit Union