This feature recaps last weekend's action from the youth football organizations that chose to partner with LebCoSports.
     Northern Lebanon Vikings
CFA – Federal Conference
Midgets (1-0)     Vikings 20 @ Swatara Tigers 6
Ponies (0-1)        Vikings 6 @ Swatara Tigers 13
Peewees (0-1)     Vikings 0 @ Swatara Tigers 27
Smurfs                  Exhibition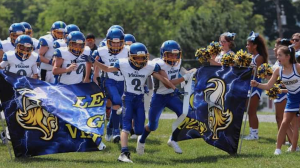 The Vikings take the field against the Swatara Tigers.
Notes:
While competing in the CFA Liberty Conference during the 2021 season, the Vikings were the most decorated team in the whole CFA winning both the PeeWee and Pony Super Bowls, along with the Smurf Bowl.  This meant that the program was moved to compete in the Federal Conference against a whole new slate of opponents in 2022.

The Smurfs played an exhibition game and got a lot of really good work in against the Tigers while learning the fundamentals of football.
The PeeWee team was shutout in a tough loss to a very skilled Swatara team.
The Midgets won their matchup against the Tigers. The star of the game on offense for the Vikings was Brady Ryan. Ryan scored three touchdowns on the day three different ways. He scored on a kickoff return, rushing touchdown and also a receiving touchdown from QB Owen Fahringer. On Defense the Vikings played very strong only allowing one long touchdown reception. Azir Mcadoo and Landon Copenhaver had interceptions for the Vikings on the defensive side of the ball.
The Ponies ended the day with a tough, one TD loss. Defensively the Vikings played tough allowing two big plays from the Tigers that were the difference in the game. Offensively the Vikings score came from a touchdown pass from Markus Miller to Sam Kline.
Next up: Northern Lebanon hosts the East Pennsboro Panthers at Northern Lebanon HS on Saturday, September 3.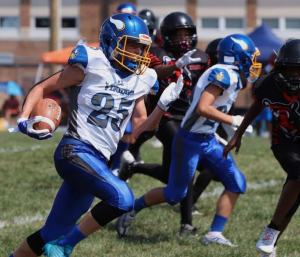 #25 Brady Ryan with a nice run, part of his 3 touchdown day.
---
   Palmyra Cougars
 CFA – Liberty Conference
Midgets (1-0)     Cougars 1 @ Big Spring Bulldogs 0
Ponies (0-1)        Cougars 13 @ Big Spring Bulldogs 20
Peewees (1-0)     Cougars 54 @ Big Spring Bulldogs 6
Smurfs                 Cougars 30 @ Big Spring Bulldogs 12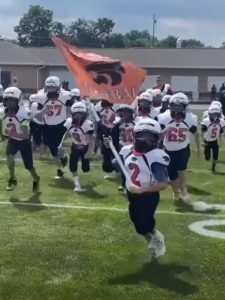 Notes:
The Smurfs were solidly in command of their exhibition games against Big Spring.  Many of the players worked on fundamentals that will allow them to succeed as they grow.
The PeeWees won big and were in control of the game from start to finish.
The Pony game was a tight matchup between the Cougars and the Bulldogs, with the Cougars driving down to the red zone late in the game before throwing an interception that ended their chances.
Big Spring did not have a Midget team, meaning the Cougars won on account of a forfeit.
Next up: Palmyra hosts the Tri-Community Panthers at home at Buck Swank Stadium on Saturday, September 3.
---
If you are looking to provide feedback or are a business or individual interested in providing sponsorship to aid our mission at LebCoSports, you are asked to contact Dan by emailing dan@lebcosports.com.

Lebanon Federal Credit Union