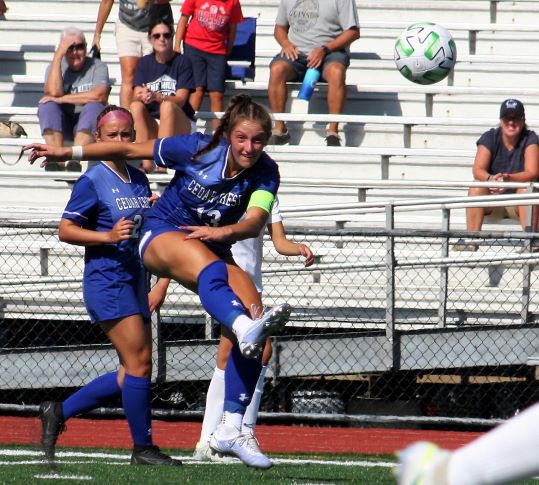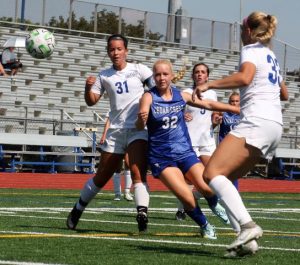 BY JEFF FALK
Editor
SOUTH LEBANON – It's the most overused axiom in athletics. It's also the most universal truth in all of sports.
There is simply nothing more crucial for success than a good start – in a match or for a season.
On a hot Saturday morning on Edward and Jeannie Arnold Field at Earl Boltz Stadium, the Cedar Crest girls' soccer team used a fast start to get off to a great start, during a 6-1 season-opening triumph over Cocalico. The Falcons tallied three goals in the opening 14 minutes of the non-league contest, on their way to a 4-0 halftime lead.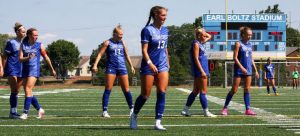 Pacing the Cedar Crest attack was senior midfielder Lilly Young, who netted four goals and an assist in her return from a third ACL tear. Junior Kayla Myer also found the back of the net for the Falcons, as did sophomore Perrin Young.
For a Cedar Crest club coming off a 9-7-3 season and the program's first trip to the District Three playoffs in five years, it may have been a result that was better than it could've imagined.
"I felt we were ready to come out today," said Cedar Crest head coach Scott Steffen. "We have a great group of seniors. It's a 6-1 win. I'm happy with it. I thought the big difference in the game was that when we had opportunities in the offensive third, we took advantage of them. I thought in the midfield, it was a very even game.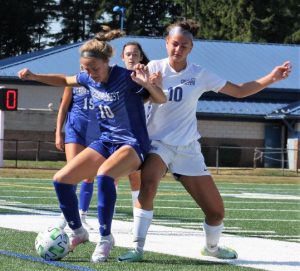 "That was very important, to get out of the chute like that," continued Steffen. "I told our players at halftime, 'We're up 4-0, but it's a very even game'. We needed to step up in the second half and win some of those 50-50s, and then we did get a couple of those. But overall, we need to tighten up our game."
Off its first corner of the season, the Falcons scored on their first shot of the game. On the inset, Young found the feet of Myer, whose quick volley with little wasted motion beat the Cocalico keeper.
Less than a minute later, Young picked up her first goal, off a feed from Abrielle Miller. From a rush down the right wing, Miller shuffled a pass to the middle of the field, where Young made no mistakes with her right foot.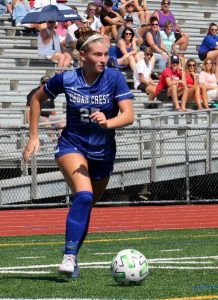 "Some of it was stuff we work on," said Steffen. "Things like 'follow the ball'. But we have girls who have a nose for the ball around the net. We have girls who can finish. We have offensive weapons this year that we didn't have in past years.
"Having Lily back this year makes a difference on the entire field," Steffen added. "Just the leadership she brings to the field. Just her ability to perform, offensively, defensively and reading the game. She brings a dynamic we didn't have last year."
"I thought they were really strong in the midfield," said Cocalico head coach Dan Hogan of the Falcons. "I thought they came out on their front feet and we were on our heels. They have good speed and for us it was hard to deal with."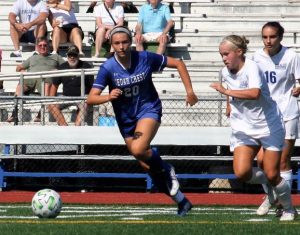 Nearing the middle of the opening half, Cedar Crest extended its lead to 3-0 on a hard shot from Alaina Miller and some old-fashioned hustle by Young. Miller's rocket from the right side of the pitch was turned aside, but Young was there to clean up the rebound.
The Falcons netted their final goal of the first half with 1:18 remaining. Off a corner kick, a loose ball pinballed around in front of the Eagles' net, before Perrin Young knocked it home.
"Cocalico is always a good game for us," said Steffen. "They're well-coached. They can have a year like this when they might be a little down, but Dan always gets the most of his players. I thought we had the better team today based on the personnel from last year. We'll take this win as a start.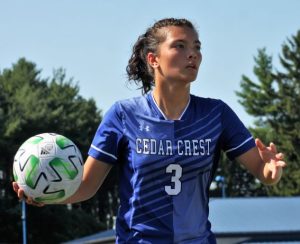 "Honestly, I don't think the early lead changed our approach," added Steffen. "We were having issues like blind passes becoming turnovers. If we had done some of those things better, we might have had less pressure on us. We're going to work on them and we'll be better on Tuesday (at home to Cedar Cliff)."
"After the game, I told our girls 'Let's make sure we play more like we did in the second half than in the first half,'" said Hogan. "I thought we were a little timid, especially in the first half. When you are, you're going to give up goals to good teams."
From the middle of the pitch, with her right foot to the left post, Young made it 5-0, 18:28 into the second half.  With 9:12 remaining, she used her speed to create space, then ripped another right footer to the far post.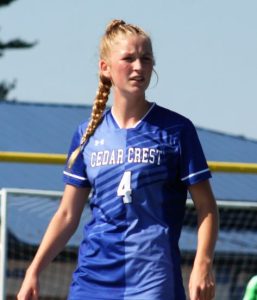 Cedar Crest out shot Cocalico 17-10. The Falcons also won the corner battle 7-1.
"Losing the way we did in districts last year left a bad taste in their (his players') mouths," said Steffen of a disheartening setback to Wilson in the opening round. "At the time, I told them 'Let this drive you for next year'. We took a team that had zero playoff experience into districts and we played well. I told them it was a learning experience.
"Certainly a return to districts is one of our goals this year," Steffen continued. "We'd like to compete in the section (One of the Lancaster-Lebanon League). We'd like to improve our win total in the section and not only make it to districts, but also get a higher seed. I'm looking forward to the season. The girls are driven. They want to succeed. They want to build off last year."
To purchase images in this article please email jeff@lebcosports.com.
2022 Cedar Crest Girls' Soccer Schedule
Date/Time
Opponent
Location
League
Mon Aug 22 4:00 PM

vs

Manheim Central School District

Cedar Crest High School
CCHS Stadium
S
Wed Aug 24 6:00 PM

@

Bishop McDevitt High School

Perfect Game Bishop McDevitt Softball Field
Bishop McDevitt Harrisburg
S
Sat Aug 27 10:00 AM

vs

Cocalico Senior High School

Cedar Crest High School
CCHS Stadium
L
Tue Aug 30 5:30 PM

vs

Cedar Cliff High School

Cedar Crest High School
CCHS Stadium
N
Thu Sep 1 5:30 PM

vs

Twin Valley High School

Cedar Crest High School
CCHS Stadium
N
Sat Sep 3 10:00 AM

@

Palmyra Area Senior High School

Palmyra Area High School – OAL Sports Complex
Belair Field
L
Wed Sep 7 7:00 PM

vs

Penn Manor High School

Cedar Crest High School
CCHS Stadium
L
Fri Sep 9 3:45 PM

vs

Central Dauphin East High School

Cedar Crest High School
Basin Field
L
Tue Sep 13 7:00 PM

@

Warwick Senior High School

Warwick Senior High School
Turf – Field 1
L
Thu Sep 15 4:00 PM

@

Hempfield Senior High School

Hempfield Senior High School
Quad (South) – Field 7
L
Sat Sep 17 5:00 PM

vs

Eastern Lebanon County

Cedar Crest High School
CCHS Stadium
L
Mon Sep 19 7:00 PM

vs

Conestoga Valley Senior High School

Cedar Crest High School
CCHS Stadium
L
Wed Sep 21 4:00 PM

@

Manheim Township High School

Manheim Township High School
Ed Journey Field
L
Sat Sep 24 10:00 AM

@

Solanco High School

Solanco High School
Soccer Field 1 Game Field
N
Tue Sep 27 4:00 PM

@

Penn Manor High School

Penn Manor Comet Field
Comet Venue Turf Field
L
Thu Sep 29 7:30 PM

vs

Warwick Senior High School

Cedar Crest High School
CCHS Stadium
L
Mon Oct 3 7:00 PM

vs

Hempfield Senior High School

Cedar Crest High School
CCHS Stadium
L
Thu Oct 6 7:30 PM

@

Conestoga Valley Senior High School

Conestoga Valley Senior High School
Stadium
L
Tue Oct 11 7:00 PM

vs

Manheim Township High School

Cedar Crest High School
CCHS Stadium
L
Thu Oct 13 7:00 PM

@

Elizabethtown Area High School

Elizabethtown Area High School
Jane Hoover Field
N