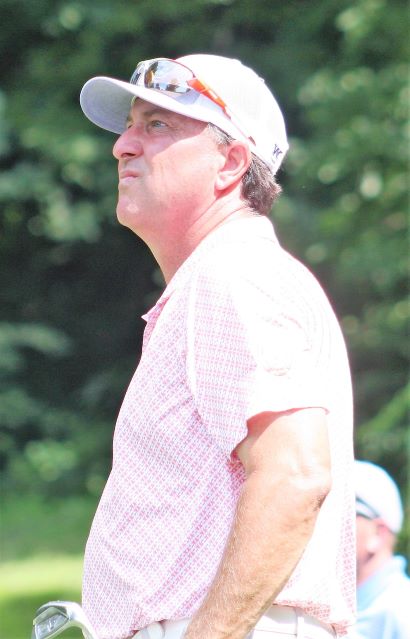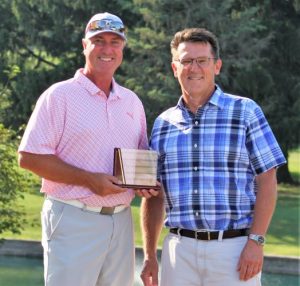 BY JEFF FALK
Editor
QUENTIN – Not only did he turn the tables on his good friend and match his brother's accomplishment from seven years prior, he completed what has come to be known as the unofficial career grand slam of local amateur golf. While all wins are special, some are even more significant than others.
On a sweltering Friday afternoon at the 6011-yard, par-71 Fairview Golf Course, Dan Brown won his first Lebanon County Senior amateur golf championship, presented by Allwein's Carpet Cleaning, but not his first local golf tournament. The 56-year-old Brown fired a two-under par score of 69 to best playing partner, friend  and runner-up Jim Gardner by a single shot.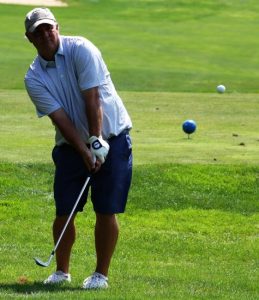 Another former champion, Billy Massar, Jr., carded an even-par 71 to finish third. Tim Leeper, Tony Deraco and Jeff True – all also former champs – recorded matching 72s to finish in a tie for fourth place.
Brian Auman, the event's 2020 champion, came in with a one-over par 73.
But the one-day tournament belonged to Brown, who had previously captured Lebanon County Amateur, Lebanon County Better-Ball-of-Partners and W.B. Sullivan Better-Ball-of-Partners titles.
Last summer, during the Lebanon County Senior Amateur contested at the Lebanon Country Club, Brown finished as the runner-up to Gardner, following a three-hole playoff. In 2015, Brown's brother Dave had captured the championship of the Lebanon County Senior Amateur.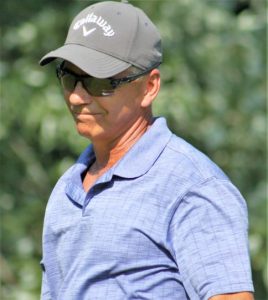 Brown also became the tournament's ninth different champion over the last nine years.
In the super seniors' division of the tournament, contested from Fairview's front/gold tees, 70-year-old Joe Faller garnered top honors with a blistering score of 66. Faller's showing marked the first time in the event's 36-year history that the victor of the super senior division posted a lower score than the overall Lebanon County Senior Amateur champion.
"This field at The Senior is one of the best fields I've seen in this event in a long time," said Brown. "I do play in a lot of events and there a lot of accomplished guys there. But we have our share of competitive guys here in the County. It's just nice to be able to compete against them. I've looked up to a lot of these guys. I always wanted to improve and win events like this.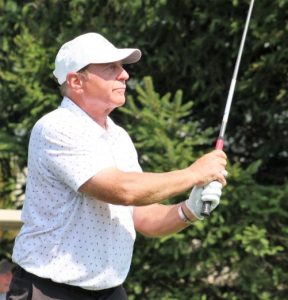 "I'm a self-taught guy," added Brown. "When I started playing, I didn't think I'd win anything. I just worked my way up the ladder."
Competing in the first group with Gardner and Auman, Brown got off to a torrid start on a hot day, then held off a late charge from Gardner.
When Brown rolled in short birdie putts at the 497-yard, par-five 14th and at the 365-yard, par-four 16th, he was at five-under par and enjoyed a seemingly comfortable advantage. But a double bogey at the par-five 17th allowed Gardner to close the gap, before Brown secured the triumph with a par at the par-three 18th.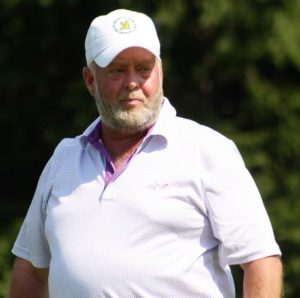 "I kind of had a good lead on them the whole day," said Brown. "At number 18, I hit it inside of Jimmy and two-putted. Going into the hole, I knew I had him by one shot.
"I thought I hit it pretty well," said Brown. "I hit some shots pretty close."
Eight holes into his round, Brown was at three-under par, thanks to short birdies at the par-four third, par-five fourth, the par-five seventh and the par-four eighth. He then parred three straight holes, before enduring a bogey at the par-four 12th.
"Putting is probably one of the most important factors in golf," said Brown. "But I hit it close on a lot of holes. It's not like a made a lot of ten- or 15-footers."
Sitting at one-over par, a birdie at the 136-yard, par-3 13th ignited Gardner's run of three-under par over four holes. Courtesy of an eagle at the par-five 14th hole, Massar recorded a 34 over his back-nine, after counting a 37 on the front.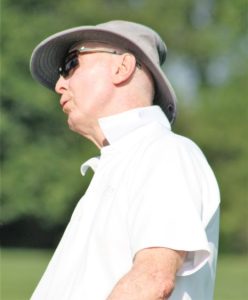 Playing from the front tees that made Fairview almost 1,000 yards shorter, Faller recorded six birdies and a double bogey, on 27 putts. He too finished with a flurry, three-under par over his last five holes.
"I would think my score would be comparable (to a 69 from the white tees), maybe," said Faller, who's also captured Lebanon County Amateur, Lebanon County Senior Amateur and Lebanon County Better-Ball-of Partners' titles. "I was kind of torn (between declaring for the overall or super senior division), but I have no regrets. My putting was the key.
"I actually wasn't going to play," Faller continued. "But my wife paid my entry fee. I'm glad I did. The company was really good."
"Any time someone shoots a 66, it's hats off," said Brown. "I've known Joe for many years and he's still a good player. If you're scoring a 66, you're putting the ball in the hole."
To purchase images in this article please email jeff@lebcosports.com.
Lebanon County Senior Amateur Golf Past Champions
Lebanon County Senior Champions
| Player Name | Year |
| --- | --- |
| Jim Gardner | 2021 |
| Brian Auman | 2020 |
| Bill Massar, Jr. | 2019 |
| Eric Boltz | 2018 |
| Jeff True | 2017 |
| Tom Kintzer | 2016 |
| Dave Brown | 2015 |
| Kerry Wentling | 2014 |
| Bill Massar, Jr. | 2013 |
| Tim Leeper | 2012 |
| Tom Sherk | 2011 |
| John Hacunda | 2010 |
| Rick Troutman | 2009 |
| Rick Troutman | 2008 |
| Tony Deraco | 2007 |
| Tony Deraco | 2006 |
| Joe Faller | 2005 |
| Joe Faller | 2004 |
| Rich Webber | 2003 |
| John Hacunda | 2002 |
| Dave Suereth | 2001 |
| Dave Suereth | 2000 |
| John Shutter | 1999 |
| Dennis Schaeffer | 1998 |
| Dick Lash | 1997 |
| Bill Massar | 1996 |
| Bill Massar | 1995 |
| Pat Petruska | 1994 |
| Marlin Spangler | 1993 |
| Bob Page | 1992 |
| Bob Page | 1991 |
| Bob Page | 1990 |
| Bob Page | 1989 |
| Bob Donnachie | 1988 |
| Craig Charles | 1987 |