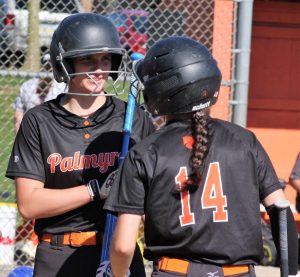 BY JEFF FALK
Editor
PALMYRA – Quietly and without much fanfare, the Palmyra softball team is soaring under the radar. Make no mistake about the fact that the Cougars are authoring the Lebanon County feel-good story of the spring sports season.
It's a story of triumph and resiliency and cohesion.
On a bright Monday evening at Palmyra High School, the Cougars authored another chapter in the inspiring tale with a convincing 7-1 triumph over rival Hershey. Palmyra stung the ball at the dish and banged out a total of 13 hits in support of a dominating pitching performance by junior Molly White.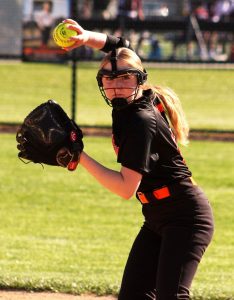 Palmyra catcher and senior leader Sam Krahling went three-for-three, including the 100th hit of her stellar career, to pace the Palmyra attack, while teammate Emily Cutman drove home a pair of runs with a couple of hits.
The victory was the Cougars' fifth in-a-row and lifted them to 11-4 overall, and to 8-2 and into first place in the Keystone Division of the Mid-Penn Conference. In the latest District Three Class AAAAA power rankings, Palmyra was positioned eighth.
The win was also the Cougars' tenth in their 12 outings under interim head coach Chelsea Ebersole. Ebersole took over the team in the fourth game of the season, after Palmyra had opened the spring by going 1-2.
With the result, Hershey fell to 4-9 on the season.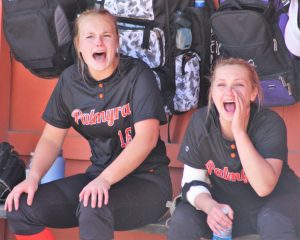 "Honestly, that's OK with me too," said Ebersole of the lack of notoriety in which her charges are currently toiling. "We work at practice. We do the little things and then they (her players) put it all together for games.
"But it is a great feeling," continued Ebersole. "I can't take the credit for it. It's the girls doing it. It's the girls putting everything in play. It's all the outside work carrying over to games."
Another of the keys to the Cougars' success has been its propensity for getting early leads and playing from the front, much like they did yesterday.
Palmyra jumped out to a 2-0 edge in the bottom of the first inning, after Mac Lafferty and Krahling led off with hits. Lafferty came around on a sacrifice fly from Cutman, while Krahling scored on a Trojan throwing error.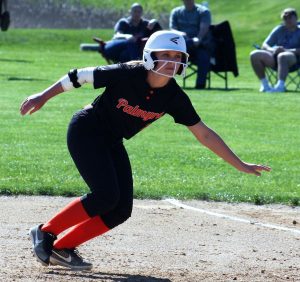 "I thought we had a great approach in the batter's box," said Ebersole. "They (her players) were aggressive. They wanted to hit. One person started and we just kept going. We were very confident.
"We've progressed a lot with our hitting," continued Ebersole. "We've gotten more confidence in the batter's box. Everyone has been cheering on each other. It was just kind of contagious today."
White was outstanding, overwhelming and overpowering. She fanned an incredible 16 Trojan batters, a couple of strikeouts short of her career-high.
In her seven innings of work, White surrendered three hits, walked one and struck out the side twice. At one point, she retired 11 Hershey hitters in-a-row, before the visitors broke up her shutout bid with two outs in the top of the seventh inning.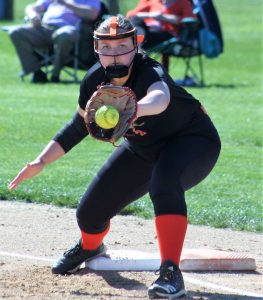 "Molly killed it," said Ebersole. "She had so much fun today. She was in it to win it. And she wanted it just as much hitting as she did pitching. She's definitely a key to our success.
"Molly looks great every single game," Ebersole added. "Molly has her pitches and she does a fantastic job working on each hitter."
Palmyra's first five hitters – Krahling, Cutman, White, Meckenzie Koennecke and Nitya Patel – reached base in the bottom of the third inning, as the Cougars extended their advantage to 4-0. Cutman's and White's safeties were of the RBI variety.
"We played very well," said Ebersole. "I told the girls we wanted to start hitting right away, and we did. We just got comfortable, and everyone joined in.
"Well, it was Hershey, but every game is important for us," Ebersole continued. "For districts and climbing up the Keystone Division. Winning is a lot of fun when everyone contributes and does their jobs."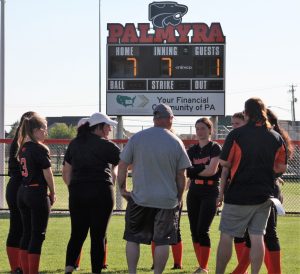 The Cougars scored three more times in the bottom of the fourth to open a comfortable 7-0 cushion. Palmyra posted five more hits, including White's two-run single and Patel's run-scoring safety.
An at-bat later, Krahling recorded her milestone hit, a ringing triple to right field with two outs.
"Oh my gosh, it's them," said Ebersole of her charges. "I'm so proud of them. We've developed so much over the last month and a half, and the girls have been great. We all work together as a team and that's what's helping us win these games.
"To be completely honest, I had no clue what to expect when I took over," added Ebersole. "We've all adjusted in the most positive ways and we have continued to excel."
To purchase images in this article please email jeff@lebcosports.com.
2022 Palmyra Softball Results
| | | | | | |
| --- | --- | --- | --- | --- | --- |
| 2022-03-25 | H | vs | Elizabethtown(3) | L | 1-6 |
| 2022-03-28 | P | vs | Mechanicsburg(3) | | 0-0 |
| 2022-03-29 | A | vs | Mechanicsburg(3) | L | 0-9 |
| 2022-03-30 | A | vs | Bishop McDevitt (3)(3) | W | 10-2 |
| 2022-04-01 | P | vs | West York(3) | | 0-0 |
| 2022-04-04 | H | vs | Central Dauphin East(3) | L | 4-14 |
| 2022-04-06 | P | vs | Carlisle(3) | | 0-0 |
| 2022-04-11 | H | vs | Susquehanna Township(3) | W | 7-1 |
| 2022-04-13 | A | vs | Hershey(3) | W | 7-2 |
| 2022-04-14 | A | vs | West York(3) | W | 9-4 |
| 2022-04-20 | H | vs | Mechanicsburg(3) | W | 3-1 |
| 2022-04-22 | H | vs | Lower Dauphin(3) | W | 1-0 |
| 2022-04-23 | A | vs | Penn Manor(3) | L | 1-2 |
| 2022-04-25 | H | vs | Bishop McDevitt (3)(3) | W | 8-7 |
| 2022-04-27 | A | vs | Central Dauphin East(3) | W | 8-6 |
| 2022-05-02 | A | vs | Carlisle(3) | W | 8-7 |
| 2022-05-04 | A | vs | Susquehanna Township(3) | W | 3-0 |
| 2022-05-05 | P | vs | Muhlenberg(3) | | 0-0 |
| 2022-05-09 | H | vs | Hershey(3) | W | 7-1 |
| 2022-05-11 | A | vs | Lower Dauphin(3) | | 0-0 |
| 2022-05-13 | H | vs | Muhlenberg(3) | | 0-0 |
PIAA District Three Class AAAAA Power Rankings
| | | | | | | | | | | | |
| --- | --- | --- | --- | --- | --- | --- | --- | --- | --- | --- | --- |
| AAAAA | School |  W |  L |  T |  Rating |  TWP |  OWP |  TWPW |  OWPW |  TWPL |  OWPL |
| 1 | South Western | 14- | 2- | 0 |  0.744196 |  0.913793 |  0.536910 |  15.90 |  149.10 |  1.50 |  128.60 |
| 2 | Lower Dauphin | 13- | 3- | 0 |  0.737605 |  0.863372 |  0.583890 |  14.85 |  157.30 |  2.35 |  112.10 |
| 3 | Exeter Township | 15- | 4- | 0 |  0.735132 |  0.848700 |  0.596326 |  17.95 |  196.40 |  3.20 |  132.95 |
| 4 | Waynesboro | 12- | 3- | 0 |  0.717076 |  0.834951 |  0.573005 |  12.90 |  168.75 |  2.55 |  125.75 |
| 5 | Shippensburg | 13- | 3- | 0 |  0.715921 |  0.843195 |  0.560363 |  14.25 |  176.15 |  2.65 |  138.20 |
| 6 | Lampeter Strasburg | 13- | 4- | 0 |  0.713492 |  0.830239 |  0.570801 |  15.65 |  168.90 |  3.20 |  127.00 |
| 7 | Mechanicsburg | 12- | 4- | 0 |  0.701543 |  0.803468 |  0.576968 |  13.90 |  171.85 |  3.40 |  126.00 |
| 8 | Palmyra | 11- | 4- | 0 |  0.694366 |  0.794212 |  0.572332 |  12.35 |  149.35 |  3.20 |  111.60 |
| 9 | New Oxford | 11- | 5- | 0 |  0.685739 |  0.762048 |  0.592471 |  12.65 |  189.65 |  3.95 |  130.45 |
| 10 | Solanco | 10- | 4- | 0 |  0.684341 |  0.796053 |  0.547804 |  12.10 |  172.75 |  3.10 |  142.60 |
| 11 | Northeastern | 10- | 4- | 0 |  0.683260 |  0.773333 |  0.573171 |  11.60 |  183.30 |  3.40 |  136.50 |
| 12 | Elizabethtown | 11- | 6- | 0 |  0.676254 |  0.735537 |  0.603796 |  13.35 |  200.40 |  4.80 |  131.50 |
| 13 | Donegal | 12- | 4- | 0 |  0.674512 |  0.779141 |  0.546632 |  12.70 |  169.68 |  3.60 |  140.73 |
| 14 | Manheim Central | 13- | 4- | 0 |  0.662059 |  0.790087 |  0.505581 |  13.55 |  156.28 |  3.60 |  152.83 |
| 15 | Twin Valley | 13- | 6- | 0 |  0.660785 |  0.727494 |  0.579253 |  14.95 |  169.75 |  5.60 |  123.30 |
| 16 | Northern York | 9- | 6- | 0 |  0.617521 |  0.651877 |  0.575530 |  9.55 |  176.40 |  5.10 |  130.10 |
| 17 | Greencastle Antrim | 8- | 9- | 0 |  0.564163 |  0.528875 |  0.607293 |  8.70 |  180.70 |  7.75 |  116.85 |
| 18 | Conestoga Valley | 6- | 11- | 0 |  0.528129 |  0.448598 |  0.625333 |  7.20 |  211.55 |  8.85 |  126.75 |
| 19 | Dover | 6- | 9- | 0 |  0.514195 |  0.470990 |  0.567002 |  6.90 |  177.50 |  7.75 |  135.55 |
| 20 | Garden Spot | 7- | 11- | 0 |  0.498413 |  0.426471 |  0.586342 |  7.25 |  187.60 |  9.75 |  132.35 |
| 21 | Cedar Cliff | 4- | 11- | 0 |  0.493093 |  0.357414 |  0.658921 |  4.70 |  194.25 |  8.45 |  100.55 |
| 22 | Hershey | 4- | 8- | 0 |  0.473791 |  0.396396 |  0.568385 |  4.40 |  165.40 |  6.70 |  125.60 |
| 23 | Cocalico | 6- | 11- | 0 |  0.467585 |  0.386707 |  0.566436 |  6.40 |  175.85 |  10.15 |  134.60 |
| 24 | Daniel Boone | 4- | 12- | 0 |  0.464545 |  0.309211 |  0.654399 |  4.70 |  211.60 |  10.50 |  111.75 |
| 25 | Susquehannock | 4- | 10- | 0 |  0.442339 |  0.335938 |  0.572386 |  4.30 |  179.30 |  8.50 |  133.95 |
| 26 | Gettysburg | 4- | 12- | 0 |  0.390074 |  0.237179 |  0.576946 |  3.70 |  175.83 |  11.90 |  128.93 |
| 27 | Red Land | 2- | 14- | 0 |  0.387455 |  0.170370 |  0.652780 |  2.30 |  194.30 |  11.20 |  103.35 |
| 28 | Spring Grove Area | 2- | 16- | 0 |  0.361903 |  0.150943 |  0.619743 |  2.40 |  195.25 |  13.50 |  119.80 |
| 29 | York Suburban | 3- | 14- | 0 |  0.337979 |  0.209302 |  0.495251 |  3.15 |  140.80 |  11.90 |  143.50 |
| 30 | Muhlenberg | 1- | 13- | 0 |  0.309410 |  0.070248 |  0.601720 |  0.85 |  164.45 |  11.25 |  108.85 |
| 31 | Milton Hershey | 1- | 11- | 0 |  0.284086 |  0.106838 |  0.500723 |  1.25 |  121.15 |  10.45 |  120.80 |