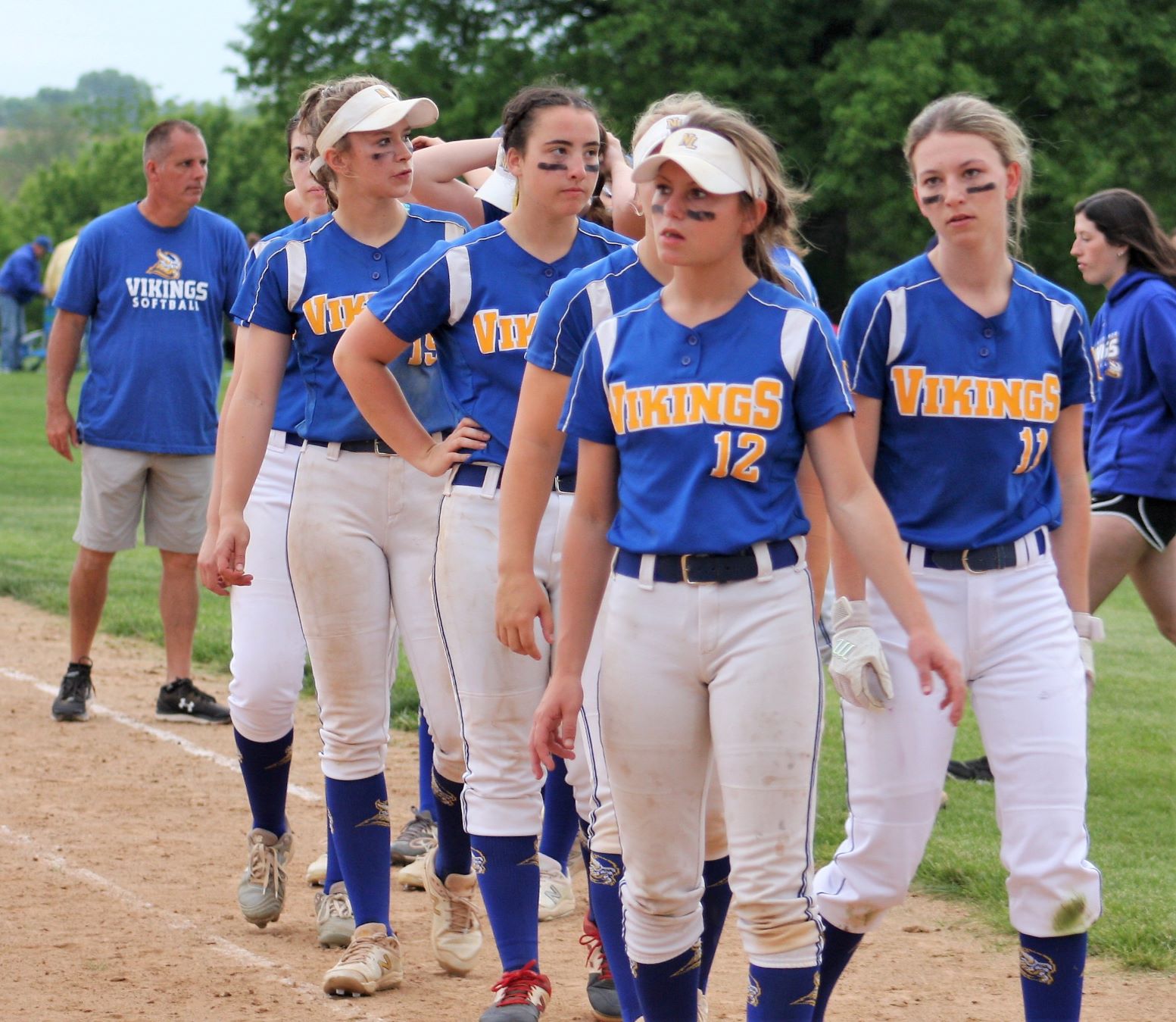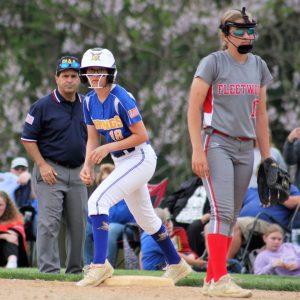 BY JEFF FALK
Editor
FREDERICKSBURG – Some of it was their own doing.
Some of it can be attributed to the quality of the opponent.
Some of it was just bad fortune.
But while yesterday was not a good day for the Northern Lebanon softball team, the Vikings deserve a friendly reminder that one bad game does not a season make.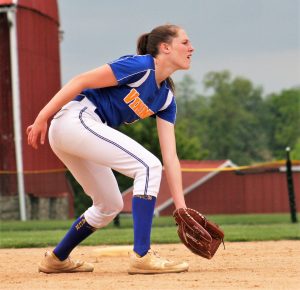 On an overcast Thursday evening at Northern Lebanon High School, the Vikings' spectacular spring campaign concluded with a disappointing 10-1 loss to Fleetwood, in the quarterfinals of the PIAA District Three Class AAAA playoffs. After some un-Viking-like mistakes early, things snowballed on Northern Lebanon just a little, but it never really got its offense untracked.
The Vikings were guilty of five errors overall and at times experienced difficulties defending Fleetwood's small-ball, bunt game. Northern Lebanon also stranded 11 runners on base.
With the result, fourth-seeded Northern Lebanon finished the year 17-5. After concluding the regular season with eight straight victories, the Vikings endured a pair of playoff setbacks.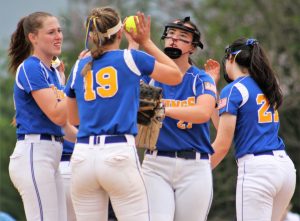 But along the way Northern Lebanon captured its first Lancaster-Lebanon Section Four championship in 22 years.
The victory pushed fifth-seeded Fleetwood to 15-4 and into next week's District Three Class AAAA semifinals.
"I think the highlight of the season had to be the section championship," said Northern Lebanon head coach Bob Bashore. "We had a good year. We were undefeated in the section. Coming into the season, it looked good on paper. But you have to see how kids play.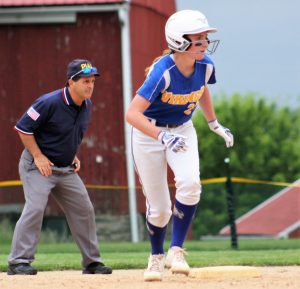 "I watched this team come together," continued Bashore. "But I think we need even more team building. I really want to keep people engaged. I don't want girls to put their gloves in the garage and not get them out again until March."
The inning that really set the tone for the outcome was the top of the second. With four walks, three errors and a hit batsman, the Vikings came unhinged just a bit.
The Tigers sent ten batters to the dish in the frame and scored four times to take a 4-0 lead.
"We were in the right place at the right time, but we didn't make it happen," said Bashore. "They (the Tigers) exposed some of our weaknesses.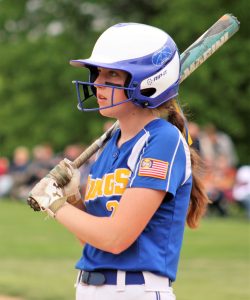 "We kind of play that ball at times – run, bunt and steal," added Bashore. "It puts pressure on the defense and it can be deflating. If we didn't make the play, they were going to bunt again. It's smart softball. It's how you win."
Trailing 10-0, Northern Lebanon tallied its lone run of the game with two outs in the bottom of the seventh inning. Lynsie Mauser knocked home senior Autumn Bohr, who had led off the at-bat with a bunt single.
"No, I don't think it changed our approach because there was still a lot of game left," said Bashore of his side's early deficit. "I think it changes your approach in the sixth or seventh inning. When we get down like that, we're trying to get back a little at a time.
"We hit the ball," Bashore added. "We had close to ten hits. But again, it's the timely hitting."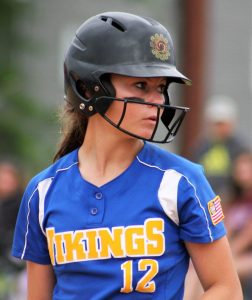 Fleetwood extended its lead to 5-0 with a single run in the top of the third inning. Then in the top of the fourth, five-hole hitter Megan Brattley's two-run dinger made the Tigers' lead 7-0.
"It's not what I expected," said Bashore. "We were thinking of taking it (the District Three tournament) one game at a time. We're young. But we wanted to do it for Autumn.
"They (the Tigers) played a good game," continued Bashore. "They were solid. They didn't make mistakes. That second inning hurt us."
In the top of the seventh, Fleetwood plated three more runs to put the outcome out of reach.
"Hope's (Ritchie) been pitching well for us," said Bashore of his starter. "We got a lot of production from all of our pitchers this year. They all contributed, and against good teams. They all stepped up, and all those girls are back next year.
"We talked about building on this (season)," Bashore continued. "We have some kids coming into the program who are going to help. We're a small school and I see bigger schools struggle to have JV teams."
To purchase images in this article please email jeff@lebcosports.com.
2022 Northern Lebanon Softball Results
| | | | | | |
| --- | --- | --- | --- | --- | --- |
| 2022-03-29 | H | vs | Octorara(3) | W | 15-0 |
| 2022-03-30 | A | vs | Eastern Lebanon County(3) | W | 7-1 |
| 2022-04-01 | H | vs | Cocalico(3) | W | 10-3 |
| 2022-04-02 | A | vs | Hamburg(3) | L | 3-15 |
| 2022-04-04 | A | vs | Donegal(3) | W | 12-7 |
| 2022-04-05 | H | vs | Manheim Central(3) | W | 10-1 |
| 2022-04-08 | A | vs | Garden Spot(3) | W | 8-1 |
| 2022-04-11 | A | vs | Pequea Valley(3) | W | 15-7 |
| 2022-04-13 | H | vs | Columbia(3) | W | 10-0 |
| 2022-04-14 | A | vs | Cedar Crest(3) | L | 8-10 |
| 2022-04-19 | A | vs | Lancaster Mennonite(3) | W | 20-2 |
| 2022-04-21 | H | vs | Lower Dauphin(3) | L | 1-8 |
| 2022-04-22 | A | vs | Annville-Cleona(3) | W | 13-2 |
| 2022-04-26 | A | vs | Milton Hershey(3) | W | 22-0 |
| 2022-04-27 | A | vs | Octorara(3) | W | 10-3 |
| 2022-04-29 | H | vs | Eastern Lebanon County(3) | W | 7-5 |
| 2022-05-02 | A | vs | Cocalico(3) | W | 21-4 |
| 2022-05-04 | H | vs | Donegal(3) | W | 8-6 |
| 2022-05-05 | A | vs | Manheim Central(3) | W | 8-1 |
| 2022-05-09 | H | vs | Garden Spot(3) | W | 10-0 |
PIAA District Three Class AAAAA Power Rankings
| | | | | | | | | | | | |
| --- | --- | --- | --- | --- | --- | --- | --- | --- | --- | --- | --- |
| AAAA | School |  W |  L |  T |  Rating |  TWP |  OWP |  TWPW |  OWPW |  TWPL |  OWPL |
| 1*** | Hamburg | 16- | 3- | 0 |  0.724719 |  0.863524 |  0.555070 |  17.40 |  196.80 |  2.75 |  157.75 |
| 2*** | East Pennsboro | 14- | 2- | 0 |  0.723828 |  0.883721 |  0.528403 |  15.20 |  156.27 |  2.00 |  139.47 |
| 3*** | Big Spring | 17- | 3- | 0 |  0.719904 |  0.883886 |  0.519481 |  18.65 |  198.00 |  2.45 |  183.15 |
| 4*** | Northern Lebanon | 17- | 3- | 0 |  0.707831 |  0.876812 |  0.501298 |  18.15 |  183.38 |  2.55 |  182.43 |
| 5*** | Fleetwood | 14- | 4- | 0 |  0.664970 |  0.793296 |  0.508127 |  14.20 |  167.25 |  3.70 |  161.90 |
| 6*** | Berks Catholic | 13- | 3- | 0 |  0.640348 |  0.799363 |  0.445997 |  12.55 |  129.25 |  3.15 |  160.55 |
| 7*** | Middletown | 15- | 5- | 0 |  0.608984 |  0.782297 |  0.397157 |  16.35 |  141.92 |  4.55 |  215.42 |
| 8*** | Conrad Weiser | 11- | 8- | 0 |  0.578518 |  0.635884 |  0.508404 |  12.05 |  176.95 |  6.90 |  171.10 |
| 9*** | Kennard Dale | 11- | 9- | 0 |  0.553682 |  0.573892 |  0.528980 |  11.65 |  211.28 |  8.65 |  188.13 |
| 10*** | Eastern York | 11- | 9- | 0 |  0.543942 |  0.569048 |  0.513257 |  11.95 |  204.23 |  9.05 |  193.68 |
| 11 | Bishop McDevitt (3) | 8- | 12- | 0 |  0.527614 |  0.462366 |  0.607363 |  8.60 |  226.85 |  10.00 |  146.65 |
| 12 | Eastern Lebanon County | 10- | 9- | 0 |  0.523320 |  0.560000 |  0.478490 |  10.50 |  166.28 |  8.25 |  181.23 |
| 13 | West York | 7- | 13- | 0 |  0.505834 |  0.421466 |  0.608951 |  8.05 |  233.35 |  11.05 |  149.85 |
| 14 | Octorara | 6- | 13- | 0 |  0.423356 |  0.343490 |  0.520970 |  6.20 |  181.98 |  11.85 |  167.33 |
| 15 | West Perry | 5- | 15- | 0 |  0.416484 |  0.268617 |  0.597210 |  5.05 |  235.45 |  13.75 |  158.80 |
| 16 | Susquehanna Township | 2- | 15- | 0 |  0.368545 |  0.159468 |  0.624083 |  2.40 |  200.68 |  12.65 |  120.88 |
| 17 | Schuylkill Valley | 4- | 13- | 0 |  0.361293 |  0.222874 |  0.530471 |  3.80 |  164.95 |  13.25 |  146.00 |
| 18 | James Buchanan | 1- | 19- | 0 |  0.294707 |  0.041436 |  0.604259 |  0.75 |  231.25 |  17.35 |  151.45 |