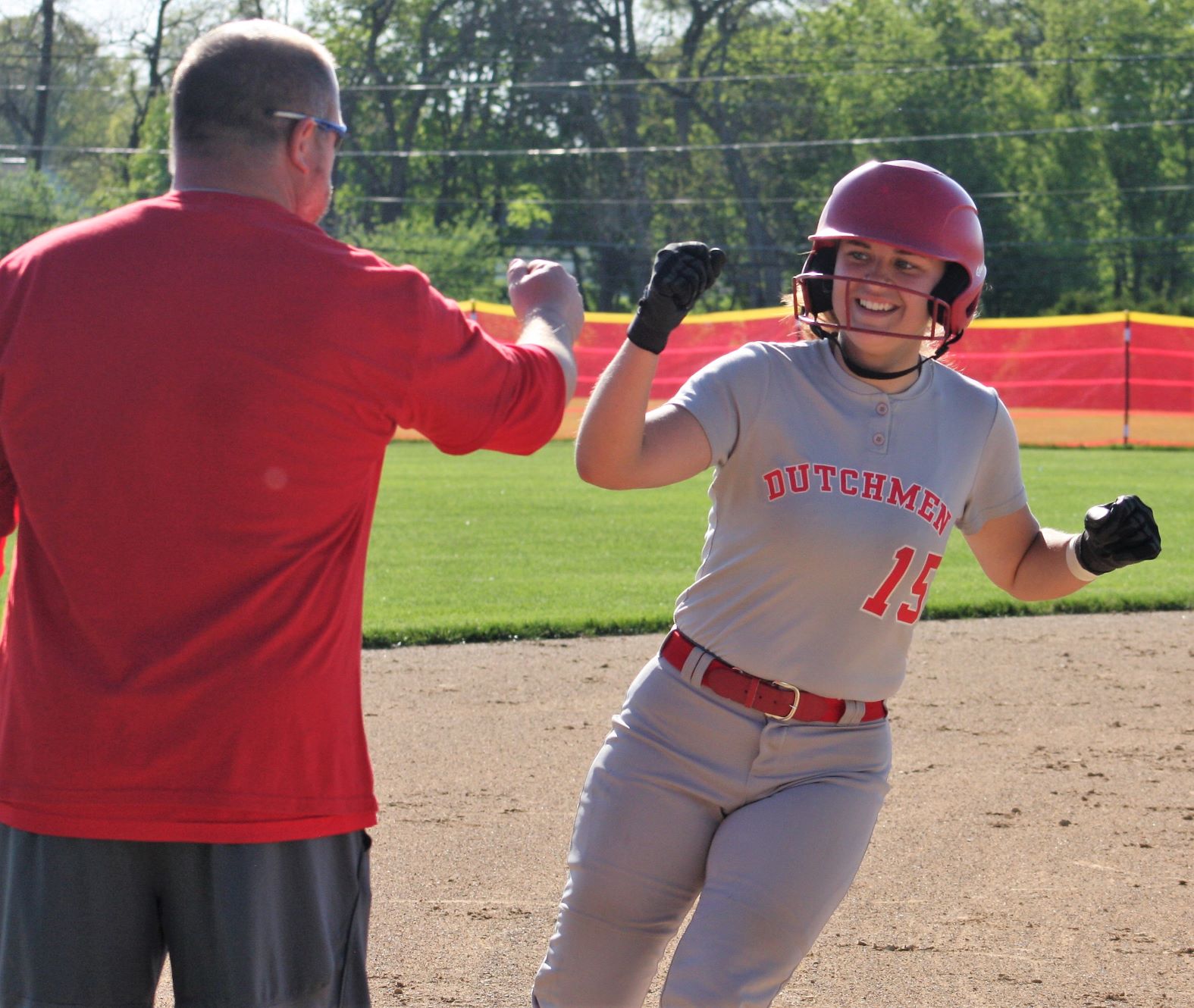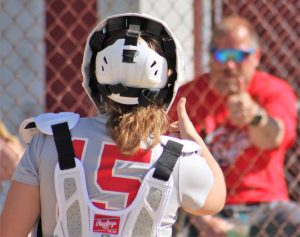 BY JEFF FALK
Editor
ANNVILLE – They've got the basics, the fundaments down pat. All that's really left are some fine-tuning, a little tightening, a bit of cleaning up.
The small details will go a long way in determining how far the Annville-Cleona softball team goes.
On a sunny Tuesday evening at Annville-Cleona High School, the Little Dutchmen closed out their regular season and prepared for the postseason with a 12-2, six-inning throttling of Camp Hill. Annville-Cleona unleashed a 17-hit barrage and scored in five of their six at-bats to bring the mercy rule into play.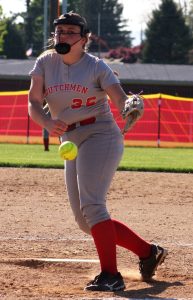 Already ahead 8-2, Annville-Cleona plated four runs in the bottom of the sixth inning to shorten the non-league contest, as Meda Pulaski, Ashlyn Shaak, Claire Hoover and Josie Clay all drove in Little Dutchmen runs. It was Clay's RBI-single with one out that officially gave Annville-Cleona a ten-run lead.
Senior Ella Andrews paced the Little Dutchmen offense with four hits, three RBIs and 11 total bases. Of Annville-Cleona's 17 hits, nine went for extra bases.
With the positive result, Annville-Cleona closed the regular season with a 12-8 overall mark. The reigning Lancaster-Lebanon Section Four champion Little Dutchmen will host the runner-up from Section Two in the quarterfinal round of the Lancaster-Lebanon League playoffs on Saturday at 10 a.m..
The triumph also solidified Annville-Cleona's sixth-place standing in the District Three power rankings for the upcoming Class AAA postseason tournament.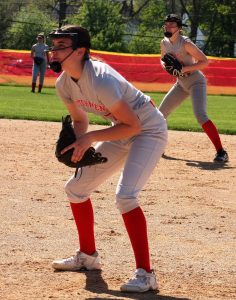 The setback dropped Camp Hill to 3-9 on the spring.
"It's those little things that win championships, that and defense," said Annville-Cleona first-year head coach Tim Bowen. "They make a difference. When you get into districts, even the league tournament, you've got to make fewer mistakes. There have been flashes of that. We haven't made many mistakes lately.
"More or less, we finished the regular season on a positive note," Bowen added. "But we still have work to do. This version of this team I like much more than the one I saw in March. The last few games we've been playing very well."
Annville-Cleona certainly got off on the right foot in support of starting pitcher Pulaski. Andrews' RBI-double in the bottom of the first inning turned Tori Cisney's lead-off single into a run and a 1-0 lead.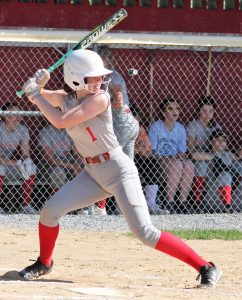 "After the second time through the order, we started to figure out some things and made adjustments," said Bowen. "Offense hasn't been our strong suit, but we've been starting to put the ball in play. The offensive improvement has been slow, but we've been getting better. Defensively, we've gotten a lot better. We're not the same team we were defensively. But I really feel we'll play our best softball in the coming weeks.
"This was an important game because we wanted to stay on pace for districts," Bowen continued. "We wanted to stay where we're at. It's always good to end the regular season with a win. A loss is not how you want to go into districts."
Except for a few minor hiccups, Pulaski was sharp. The sophomore right-hander went the distance on a five-hitter, whiffed ten and issued three free passes.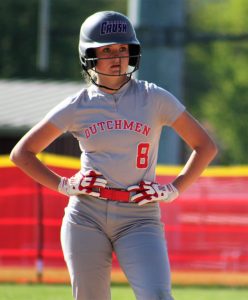 Camp Hill tallied both of its runs in the top of the fifth inning, after two outs had been recorded. But by that time, Pulaski and Annville-Cleona were protecting a 5-0 cushion.
"Over the last five or six games, Meda has been throwing very well," said Bowen. "Everything in softball starts in the circle. She didn't walk many batters and you're talking about a girl who used to walk eight or nine a game. We're going to jump on her shoulders and go as far as she's going to take us. She's been a smart pitcher.
"Right now, Meda is our 'One'," continued Bowen. "I want the ace. I want a kid who's going to show up every day and be someone you can count on. I think it makes your defense more stable. I think Meda is the girl who has to be that ace."
The Little Dutchmen had established that 5-0 advantage by scoring two runs in the bottom of the third and two more in the fourth.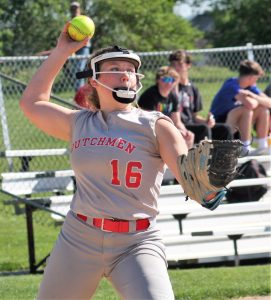 First, Andrews and Pulaski recorded RBIs. Then, Andrews followed Danika Setlock's run-scoring double with an RBI-triple.
"Any time you win a section or a division it's a meaningful accomplishment," said Bowen. "Our section wasn't very strong, but we won the games we were supposed to win. At the beginning of the season, it was a goal. The game on Saturday is the next goal."
In the bottom of the fifth, Annville-Cleona extended its lead to 8-2 on Faith Wagner's 'big girl' bomb. After Shaak and Myranda Thielemann had reached on hits, Wagner clubbed a one-out offering over the recently-erected fence in left centerfield.
"When you get into districts, anything can happen," said Bowen. "I think we're a dangerous team. When you look at our power rankings and results, teams don't know what to expect. But now we're playing better softball. Let's see what happens.
"You've got to want to compete," added Bowen. "You've got to want to fight for something. That's the standard we want to set here."
To purchase images in this article please email jeff@lebcosports.com.
2022 Annville-Cleona Softball Results
| | | | | | |
| --- | --- | --- | --- | --- | --- |
| 2022-03-25 | H | vs | Hamburg(3) | L | 13-0 |
| 2022-03-30 | A | vs | Blue Mountain(11) | L | 15-0 |
| 2022-04-01 | A | vs | Lancaster Mennonite(3) | W | 15-0 |
| 2022-04-04 | H | vs | Pequea Valley(3) | W | 18-8 |
| 2022-04-06 | H | vs | Columbia(3) | W | 12-2 |
| 2022-04-08 | A | vs | Lancaster Catholic(3) | W | 11-2 |
| 2022-04-11 | H | vs | Donegal(3) | L | 18-0 |
| 2022-04-13 | A | vs | Cocalico(3) | W | 11-4 |
| 2022-04-19 | H | vs | Garden Spot(3) | L | 17-5 |
| 2022-04-20 | A | vs | Octorara(3) | W | 31-20 |
| 2022-04-22 | H | vs | Northern Lebanon(3) | L | 13-2 |
| 2022-04-27 | H | vs | Lancaster Mennonite(3) | W | 15-0 |
| 2022-04-28 | A | vs | Pequea Valley(3) | W | 14-4 |
| 2022-04-30 | H | vs | Cedar Crest(3) | L | 11-4 |
| 2022-04-30 | H | vs | Spring Grove Area(3) | W | 5-2 |
| 2022-05-02 | A | vs | Columbia(3) | W | 2-0 |
| 2022-05-04 | H | vs | Lancaster Catholic(3) | W | 12-2 |
| 2022-05-05 | A | vs | East Pennsboro(3) | L | 9-0 |
| 2022-05-09 | H | vs | Millersburg(3) | L | 5-4 |
| 2022-05-10 | H | vs | Camp Hill(3) | | 0-0 |
PIAA District Three Class AAA Power Rankings
| | | | | | | | | | | | |
| --- | --- | --- | --- | --- | --- | --- | --- | --- | --- | --- | --- |
| AAA | School |  W |  L |  T |  Rating |  TWP |  OWP |  TWPW |  OWPW |  TWPL |  OWPL |
| 1 | Bermudian Springs | 16- | 2- | 0 |  0.703783 |  0.887701 |  0.478994 |  16.60 |  155.63 |  2.10 |  169.28 |
| 2 | Littlestown | 15- | 3- | 0 |  0.689284 |  0.848901 |  0.494197 |  15.45 |  163.93 |  2.75 |  167.78 |
| 3 | Trinity (3) | 11- | 3- | 0 |  0.685045 |  0.803571 |  0.540179 |  11.25 |  141.50 |  2.75 |  120.45 |
| 4 | Kutztown | 14- | 4- | 0 |  0.664856 |  0.789773 |  0.512181 |  13.90 |  172.40 |  3.70 |  164.20 |
| 5 | Susquenita | 14- | 2- | 0 |  0.633608 |  0.830986 |  0.392367 |  11.80 |  122.76 |  2.40 |  190.11 |
| 6 | Annville-Cleona | 11- | 8- | 0 |  0.535976 |  0.584488 |  0.476684 |  10.55 |  152.31 |  7.50 |  167.21 |
| 7 | Oley Valley | 7- | 10- | 0 |  0.456124 |  0.403077 |  0.520959 |  6.55 |  164.05 |  9.70 |  150.85 |
| 8 | Boiling Springs | 4- | 9- | 0 |  0.442584 |  0.345992 |  0.560641 |  4.10 |  159.48 |  7.75 |  124.98 |
| 9 | Wyomissing | 6- | 10- | 0 |  0.430417 |  0.373418 |  0.500083 |  5.90 |  151.10 |  9.90 |  151.05 |
| 10 | Pequea Valley | 6- | 10- | 0 |  0.429417 |  0.360000 |  0.514261 |  5.40 |  152.36 |  9.60 |  143.91 |
| 11 | Lancaster Catholic | 6- | 11- | 0 |  0.411889 |  0.354740 |  0.481738 |  5.80 |  156.96 |  10.55 |  168.86 |
| 12 | Camp Hill | 3- | 8- | 0 |  0.402677 |  0.283843 |  0.547919 |  3.25 |  146.93 |  8.20 |  121.23 |
| 13 | Biglerville | 5- | 10- | 0 |  0.389944 |  0.326733 |  0.467201 |  4.95 |  152.06 |  10.20 |  173.41 |
| 14 | Tulpehocken | 5- | 13- | 0 |  0.374572 |  0.252841 |  0.523354 |  4.45 |  168.63 |  13.15 |  153.58 |
| 15 | Hanover (3) | 4- | 13- | 1 |  0.336401 |  0.234219 |  0.461290 |  4.23 |  145.68 |  13.83 |  170.13 |