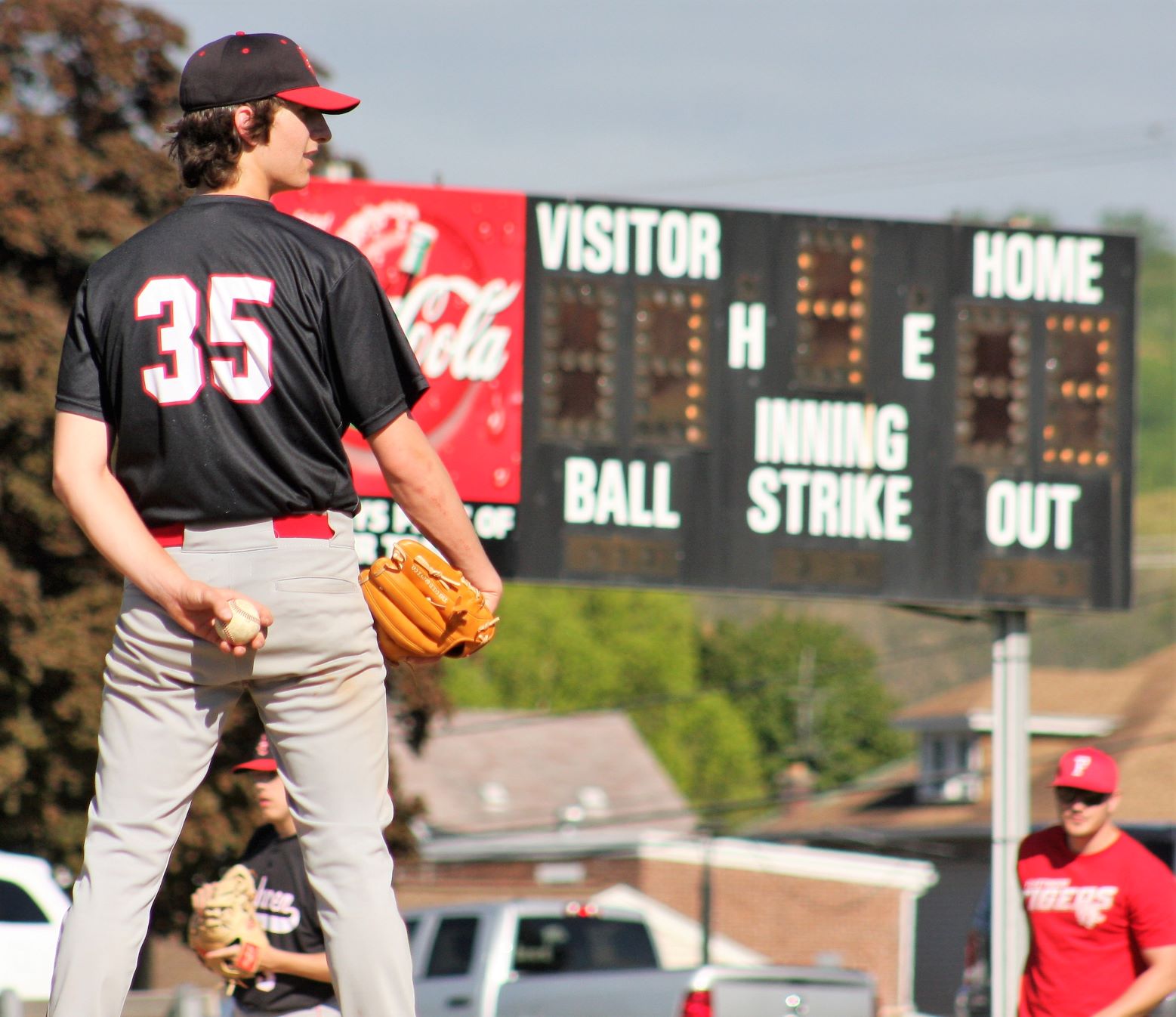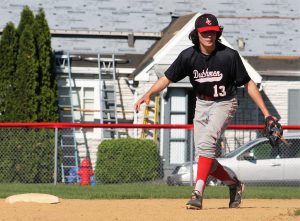 BY JEFF FALK
Editor
FLEETWOOD – It's been an up-and-down spring season for the Annville-Cleona baseball team. But certainly more ups than downs.
Yet, there's also a timing element that must be accounted for. The Little Dutchmen certainly haven't been playing their best baseball at the right time of year.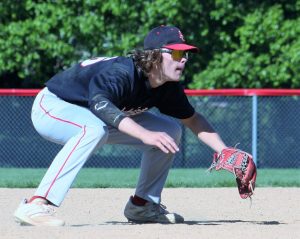 On a mostly sunny Wednesday evening at Fleetwood High School, Annville-Cleona was edged 2-1 by the homestanding Tigers in a must-win regular-season finale. The Little Dutchmen pitched and fielded well enough to emerge victorious, but their bats abandoned them at crucial moments of the contest.
Needing a win to solidify their District Three power ranking, the result could end up costing Annville-Cleona a spot in the upcoming Class AAA playoffs. Now 9-10 overall, the Little Dutchmen were positioned sixth in the latest power rankings for an AAA classification that qualifies six teams for its District Three postseason.
Before dropping its final three regular-season contests, Annville-Cleona had won five games in-a-row.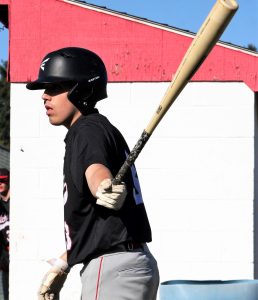 In what has been a somewhat disappointing season for Lebanon County scholastic baseball as a whole, the Little Dutchmen are the only local team with a chance at qualifying for the District Three playoffs.
On Saturday at 10 a.m. at Section Two champion Lampeter-Strasburg, the Little Dutchmen will compete in the Lancaster-Lebanon League playoffs as the runner-up from Section Four.
With the triumph, Fleetwood improved to 7-12 on the year.
"I don't know how far that will make us drop," said Annville-Cleona head coach Mike Miller of the final Class AAA power rankings. "We'll find out next week. We're tough with anyone in our classification. If you look at our schedule, we've lost to some bigger schools. We can hang with people.
"We've been all over the place this season, up and down, sideways, a little bit of everything," Miller added. "We're not consistent at all. Our fielding and pitching were pretty consistent, but our hitting wasn't at all. We could've been more consistent, especially with seven seniors."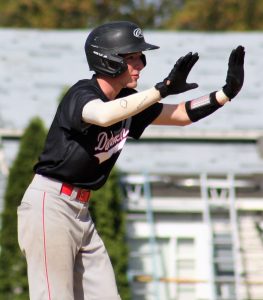 On this particular day the Little Dutchmen's inability to generate offense wasted an outstanding pitching performance by senior southpaw Isaac Good. He pitched well enough to win.
Over six innings of work, Good struck out seven and walked four.
Fleetwood's only two runs off Good came in the bottom of the third inning, after a ball popped out of teammate Alex Lingle's glove on his attempt at a spectacular, sprawling catch in center field. Good permitted only one other Tiger runner to reach second base.
"Isaac pitched well," said Miller. "He's had a very good season. He's been consistent.
"They (the Tigers) played well," continued Miller. "We didn't have errors. They didn't have errors. It was a good game."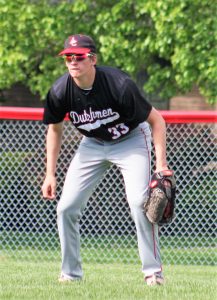 Annville-Cleona scored first, in the top of the third inning, to take a 1-0 lead.
From the nine hole, senior Jake Mills led off with a long double to left field, and Lingle followed with a bunt single. Then, as Lingle engaged the Fleetwood defense in a run-down, Mills stole home.
"I thought we had a pretty good approach at the plate," said Miller. "He's (Fleetwood starter Adam Knoll) not a bad pitcher. His ERA is low. We knew it was going to be a low-scoring game.
"We're all over the place with our hitting," Miller continued. "Earlier in the season, we had a spurt where we hit well. For the most part, we've had strong defense and we've pitched well, and the hitting's been sporadic."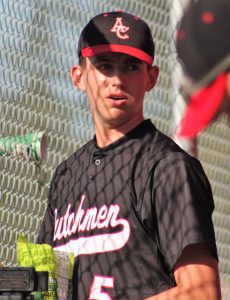 The Little Dutchmen's best chance for pushing across the tying run came in the top of the sixth, after Corey Swingholm's lead-off single. Following a Good sacrifice, Annville-Cleona stranded Swingholm at third base.
The Little Dutchmen left a total of seven runners on base.
"I said, 'Keep your heads up,'" said Miller of his post-game address. "Stranger things have happened. We ran the bases well. We fielded well. We pitched well. They (the Tigers) just played a little better today. That's baseball. It's not like other sports. You can play well and still not get the desired result.
"We're proud of the way we played," Miller added. "We're disappointed. But how can you be disappointed when you play a game like that. You get to a point, and it is what it is."
To purchase images in this article please email jeff@lebcosports.com.
2022 Annville-Cleona Baseball Results
| | | | | | |
| --- | --- | --- | --- | --- | --- |
| 2022-03-25 | H | vs | Lebanon(3) | L | 8-7 |
| 2022-03-30 | H | vs | Antietam(3) | W | 13-0 |
| 2022-04-01 | H | vs | Lancaster Mennonite(3) | W | 10-0 |
| 2022-04-02 | A | vs | Hamburg(3) | L | 3-0 |
| 2022-04-04 | A | vs | Pequea Valley(3) | L | 2-1 |
| 2022-04-08 | H | vs | Lancaster Catholic(3) | W | 5-1 |
| 2022-04-11 | A | vs | Donegal(3) | L | 8-5 |
| 2022-04-12 | A | vs | Columbia(3) | W | 10-0 |
| 2022-04-13 | H | vs | Cocalico(3) | L | 7-0 |
| 2022-04-20 | H | vs | Octorara(3) | L | 3-2 |
| 2022-04-21 | A | vs | Garden Spot(3) | L | 3-0 |
| 2022-04-22 | A | vs | Northern Lebanon(3) | W | 8-5 |
| 2022-04-27 | A | vs | Lancaster Mennonite(3) | W | 10-0 |
| 2022-04-28 | H | vs | Pequea Valley(3) | W | 6-1 |
| 2022-04-30 | H | vs | Middletown(3) | W | 2-1 |
| 2022-05-02 | H | vs | Columbia(3) | W | 6-4 |
| 2022-05-04 | A | vs | Lancaster Catholic(3) | L | 10-3 |
| 2022-05-10 | A | vs | Tulpehocken(3) | L | 9-8 |
| 2022-05-11 | A | vs | Fleetwood(3) | | 0-0 |
PIAA District Three Class AAA Power Rankings
| | | | | | | | | | | | |
| --- | --- | --- | --- | --- | --- | --- | --- | --- | --- | --- | --- |
| AAA | School |  W |  L |  T |  Rating |  TWP |  OWP |  TWPW |  OWPW |  TWPL |  OWPL |
| 1 | Lancaster Catholic | 17- | 2- | 0 |  0.682672 |  0.900262 |  0.416728 |  17.15 |  141.00 |  1.90 |  197.35 |
| 2 | Oley Valley | 11- | 7- | 0 |  0.557034 |  0.609827 |  0.492509 |  10.55 |  157.80 |  6.75 |  162.60 |
| 3 | Bermudian Springs | 9- | 8- | 0 |  0.553636 |  0.544073 |  0.565324 |  8.95 |  184.55 |  7.50 |  141.90 |
| 4 | Berks Catholic | 12- | 8- | 0 |  0.542561 |  0.606218 |  0.464758 |  11.70 |  159.90 |  7.60 |  184.15 |
| 5 | Trinity (3) | 9- | 8- | 0 |  0.522738 |  0.535411 |  0.507249 |  9.45 |  152.20 |  8.20 |  147.85 |
| 6 | Annville-Cleona | 9- | 9- | 0 |  0.470923 |  0.494012 |  0.442702 |  8.25 |  146.80 |  8.45 |  184.80 |
| 7 | Brandywine Heights | 8- | 9- | 0 |  0.456512 |  0.450450 |  0.463921 |  7.50 |  152.05 |  9.15 |  175.70 |
| 8 | Pequea Valley | 8- | 10- | 0 |  0.450287 |  0.431138 |  0.473693 |  7.20 |  148.55 |  9.50 |  165.05 |
| 9 | Biglerville | 5- | 10- | 0 |  0.427210 |  0.339806 |  0.534037 |  5.25 |  162.00 |  10.20 |  141.35 |
| 10 | Hanover (3) | 8- | 10- | 0 |  0.423262 |  0.419890 |  0.427385 |  7.60 |  133.75 |  10.50 |  179.20 |
| 11 | Susquenita | 2- | 16- | 0 |  0.256118 |  0.076923 |  0.475134 |  1.50 |  155.25 |  18.00 |  171.50 |

Lebanon Federal Credit Union