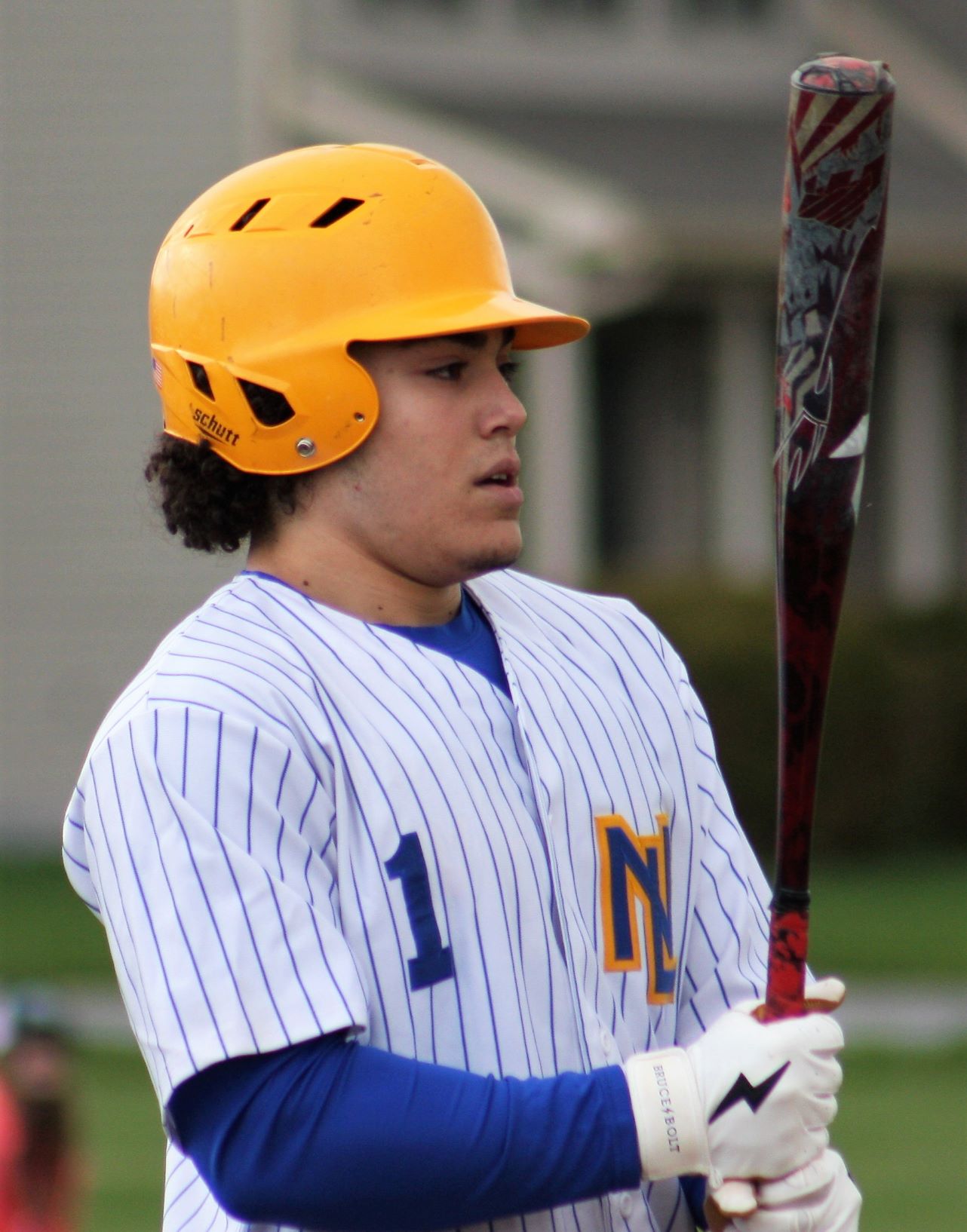 BY JEFF FALK
Editor
FREDERICKSBURG – Baseball is a sport of failures. It is that aspect which makes the game the best teacher of life lessons.
But when you do experience success, well, it just makes it that much more rewarding.
On a partly sunny Friday evening at Northern Lebanon High School, Moises Gonzalez's two-run dinger with two outs in the bottom of the eighth inning propelled the Vikings to a much-needed 4-2 triumph over Garden Spot. Beyond Gonzalez's heroics, the Lancaster-Lebanon Section Three contest was an evenly-contested, well-pitched scholastic baseball game.
After two outs had been recorded, Northern Lebanon's winning rally began with a passed ball on a third strike. That set the stage for Gonzalez, who squared up a grooved offering and drove it over the fence in left-centerfield.
"That was key," said Northern Lebanon head coach Daryl Hess of Gonzalez's game-winning swing. "He got a pitch he liked, and he drove it. He's a strong kid and he can do  things like that."
The result snapped Northern Lebanon's three-game losing streak and pushed the Vikings to 2-5 overall and 2-2 in Section Three. With the setback, Garden Spot slipped to 2-5 on the year and 2-3 in Section Three.
"Our section is really good, up and down," said Hess. "I think we've really been playing well. We've played some tough games, we just haven't been getting over the hump. We just needed to get that confidence, and things will get better. It was huge to play a close game and come out with a win.
"When you get through seven innings in such a short period of time, you know you're getting good pitching and good defense," continued Hess. "They (the Spartans) played a great game. I thought it was a well-played game by both teams."
Gonzalez's walk-off also provided Viking starting pitcher Levi Matlosz with an appropriate fate.
On 97 pitches, Matlosz went all eight innings to pick up the victory. The righthander surrendered five hits, fanned four, issued four free passes and was aided by a pair of twin-killings.
"You don't see a lot of kids go eight innings with the pitch count," said Hess of Matlosz. "I thought he started hitting his spots. He was struggling with getting the ball up. He's not as effective up there. Then he started getting his off-speed working.
"This was definitely his best outing of the season," added Hess. "I think he's had one other start and a couple of relief appearances, but this was his best performance."
Twice, Northern Lebanon rallied from one-run deficits.
Trailing 2-1, Jacob Richard led off the home half of the fifth inning with a single. After nine-hole hitter Clayton Erb doubled, Jaron Williams lifted a sacrifice fly to right that scored Richard.
"I thought our pitching and defense kept us in the game," said Hess. "We made some huge double plays, and made the plays when we needed to."
"I thought this was my best outing of the season," said Garden Spot senior pitcher Josh Tudor, who hurled seven strong innings of his own. "It felt like everything (pitch) was moving a lot. Overall, my body just felt better this game."
After the Spartans had grabbed a 1-0 lead in the top of the second, Northern Lebanon responded with a run in the bottom of the third. Erb walked and stole a base, ahead of Williams' well-struck RBI-double to right.
"Yeah, it's early, but the season goes so fast," said Hess. "We're seven games in, and after we play a couple games next week, we'll be at the halfway point. It's like 'Oh my gosh', and your head is spinning. Our goals don't change. We want to do the best we can in the section and the best we can in non-league games, and go from there.
"We're still plugging away," Hess continued. "It's always our goal to do the best we can, and try to get to the postseason. We go into every season with that mindset."
"We fought all game," said Tudor. "We stayed with it the whole way."
To purchase images in this article please email jeff@lebcosports.com
2022 Northern Lebanon Baseball Schedule
Date
Opponents
Outcomes
3/24
4:30 pm
Northern Lebanon
at Milton Hershey
Nonleague
3/25
4:15 pm
Northern Lebanon
at East Pennsboro
Nonleague
3/29
4:15 pm
Northern Lebanon
at Octorara
2
5
Nonleague
3/30
4:15 pm
Elco
at Northern Lebanon
3
4
League
4/01
4:15 pm
Northern Lebanon
at Cocalico
0
9
League
4/04
4:15 pm
Donegal
at Northern Lebanon
8
4
League
4/05
12:00 pm
Northern Lebanon
at Manheim Central
11
12
League
4/08
4:15 pm
Garden Spot
at Northern Lebanon
2

4

League
4/09
12:00 pm
Manheim Township
at Northern Lebanon
Nonleague
4/11
4:15 pm
Pequea Valley
at Northern Lebanon
Nonleague
4/13
4:15 pm
Northern Lebanon
at Columbia
Nonleague
4/18
4:15 pm
Lancaster Mennonite
at Northern Lebanon
Nonleague
4/22
7:00 pm
Annville-Cleona
at Northern Lebanon
Nonleague
4/27
4:15 pm
Octorara
at Northern Lebanon
League
4/29
4:15 pm
Northern Lebanon
at Elco
League
5/02
4:15 pm
Cocalico
at Northern Lebanon
League
5/04
4:15 pm
Northern Lebanon
at Donegal
League
5/06
4:15 pm
Manheim Central
at Northern Lebanon
League
5/09
4:15 pm
Northern Lebanon
at Garden Spot
League
5/11
4:15 pm
Lancaster Catholic
at Northern Lebanon
Nonleague