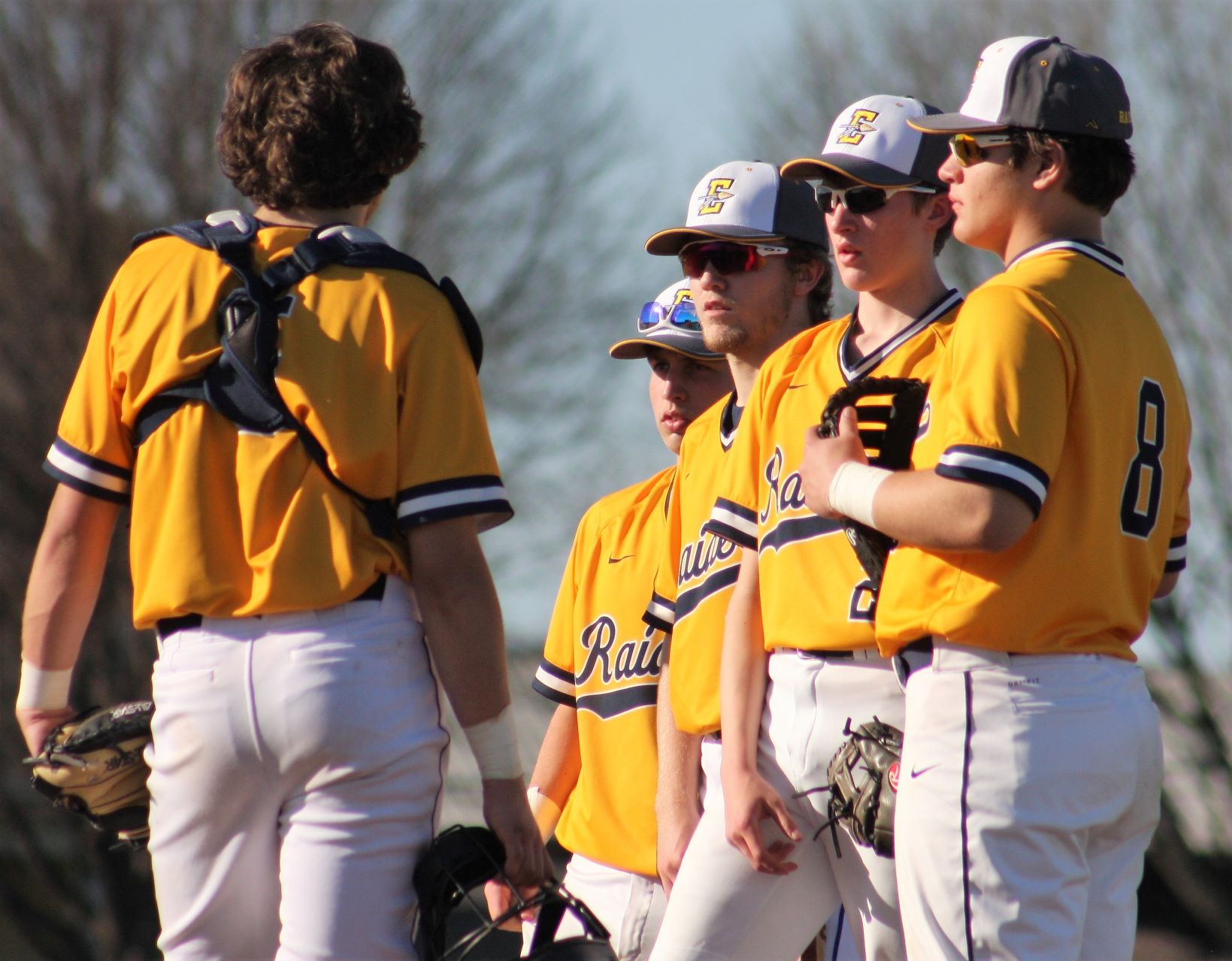 BY JEFF FALK
Editor
MYERSTOWN – If sports are brutally unforgiving, then success is exceedingly fleeting. Yet never are things ever as good or as bad as they seem.
Last season, on the way to its first ever District Three championship, everything that could right for the Elco baseball team did. This spring, it's been just the opposite, everything that could go wrong for the Raiders has.
On a bright Tuesday evening at Elco High's School's Lyle Krall Field, the Raiders registered their initial victory of the season in dramatic, walk-off fashion. Lance Weidman's ringing double to right field with two outs in the bottom of the seventh inning gave Elco a thrilling 11-10 triumph over Octorara.
With the scored tied at ten, Dallas George had started the Raiders' winning rally with a lead-off single, before advancing to second base on a wild pitch. Two outs later, Weidman turned on a belt-high pitch and drove it to the base of the fence in straightaway right field, setting off an emotional team celebration at second base.
After opening the season with seven straight defeats – including three of the one-run variety – yesterday's victory lifted the Raiders to 1-7 overall and 1-6 in Section Three of the Lancaster-Lebanon League. Entering the contest, the reigning district champions were positioned last in the current Class AAAA power rankings.
With setback, Octorara slipped to 3-5 on the year.
"It was a great feeling," said Elco head coach Roger Hehnly. "Not so much for me, it's for them (his players). They bust their butts every day. They wanted this so badly, and they finally got it.
"They fought. They kept fighting," continued Hehnly. "They've been doing it all year. We just don't finish. We're very young, but we've been in every game but two. Tonight we got down and we just kept chipping away, and fighting. It could've been a devastating loss."
After facing a number of different deficits, opportunistic Elco scored four times in the bottom of the fifth inning to take its first lead of the contest, at 10-9. The big blow was a two-run double struck by Lance Batdorf, while George also drove in a run during the rally.
"Their approach at the plate is coming," said Hehnly of the Raider offense. "They've been struggling, but they've been improving. We're trending in the right direction. This young group is responding. It's been challenging, but we have faith we're going to overcome."
"They did what we wanted to do," said Octorara head coach Ryan Novak. "We competed, but they out competed us. They had more heart today."
The Raiders spotted Octorara a 5-0 head start before they made their move in the bottom of the second inning. Singles from Gavin Bicher, Batdorf and Dalton Bressler, combined with two costly Brave errors added up to three Elco runs.
Then, in the bottom of the third, the Raiders pulled to within 5-4 of Octorara, on doubles by Morgan Shanaman and Cody Boyer.
"It was groundhog day at the beginning," said Hehnly. "We thought it was the exact same thing on a different day. It looked like it wasn't going to work out. But they (his players) pushed through.
"The mound was a rollercoaster," added Hehnly. "That was scary, and not knowing what's going to happen. We went there with a bunch (five different pitchers). We're sort of worn down on pitching and we have some injuries. It was next man up."
After Octorara re-extended its lead to 7-4, Elco answered with two runs in the bottom of the fourth. Zane Ruth and Weideman drove home Raider runs.
"Our expectations are that we're always going to be competitive," said Hehnly. "That we're always going to bring our best to the table. But we're really young. We have young pitching. We've been trending in the right direction. We're putting scare into teams. We just haven't been able to finish.
"This group could go on a similar run (as last year's), depending on how the pitching holds out," Hehnly continued. "Seven losses isn't something you can't overcome. This team has the potential to go on a run. Now, what that looks like I'm not sure. But we're gaining confidence."
To purchase images in this article please email jeff@lebcosports.com.
2022 Elco Baseball Schedule
| | | | | | |
| --- | --- | --- | --- | --- | --- |
| 2022-03-25 | H | vs | Donegal(3) | L | 4-15 |
| 2022-03-29 | A | vs | Lebanon(3) | L | 3-10 |
| 2022-03-30 | A | vs | Northern Lebanon(3) | L | 3-4 |
| 2022-04-01 | H | vs | Manheim Central(3) | L | 0-14 |
| 2022-04-04 | A | vs | Garden Spot(3) | L | 5-6 |
| 2022-04-08 | A | vs | Cocalico(3) | L | 2-3 |
| 2022-04-11 | H | vs | Lancaster Catholic(3) | L | 4-17 |
| 2022-04-12 | H | vs | Octorara(3) | | 0-0 |
| 2022-04-13 | A | vs | Pequea Valley(3) | | 0-0 |
| 2022-04-18 | H | vs | Columbia(3) | | 0-0 |
| 2022-04-20 | A | vs | Lancaster Mennonite(3) | | 0-0 |
| 2022-04-25 | A | vs | Donegal(3) | | 0-0 |
| 2022-04-26 | A | vs | Wyomissing(3) | | 0-0 |
| 2022-04-29 | H | vs | Northern Lebanon(3) | | 0-0 |
| 2022-05-02 | A | vs | Manheim Central(3) | | 0-0 |
| 2022-05-04 | H | vs | Garden Spot(3) | | 0-0 |
| 2022-05-06 | A | vs | Octorara(3) | | 0-0 |
| 2022-05-07 | H | vs | Tulpehocken(3) | | 0-0 |
| 2022-05-09 | H | vs | Cocalico(3) | | 0-0 |