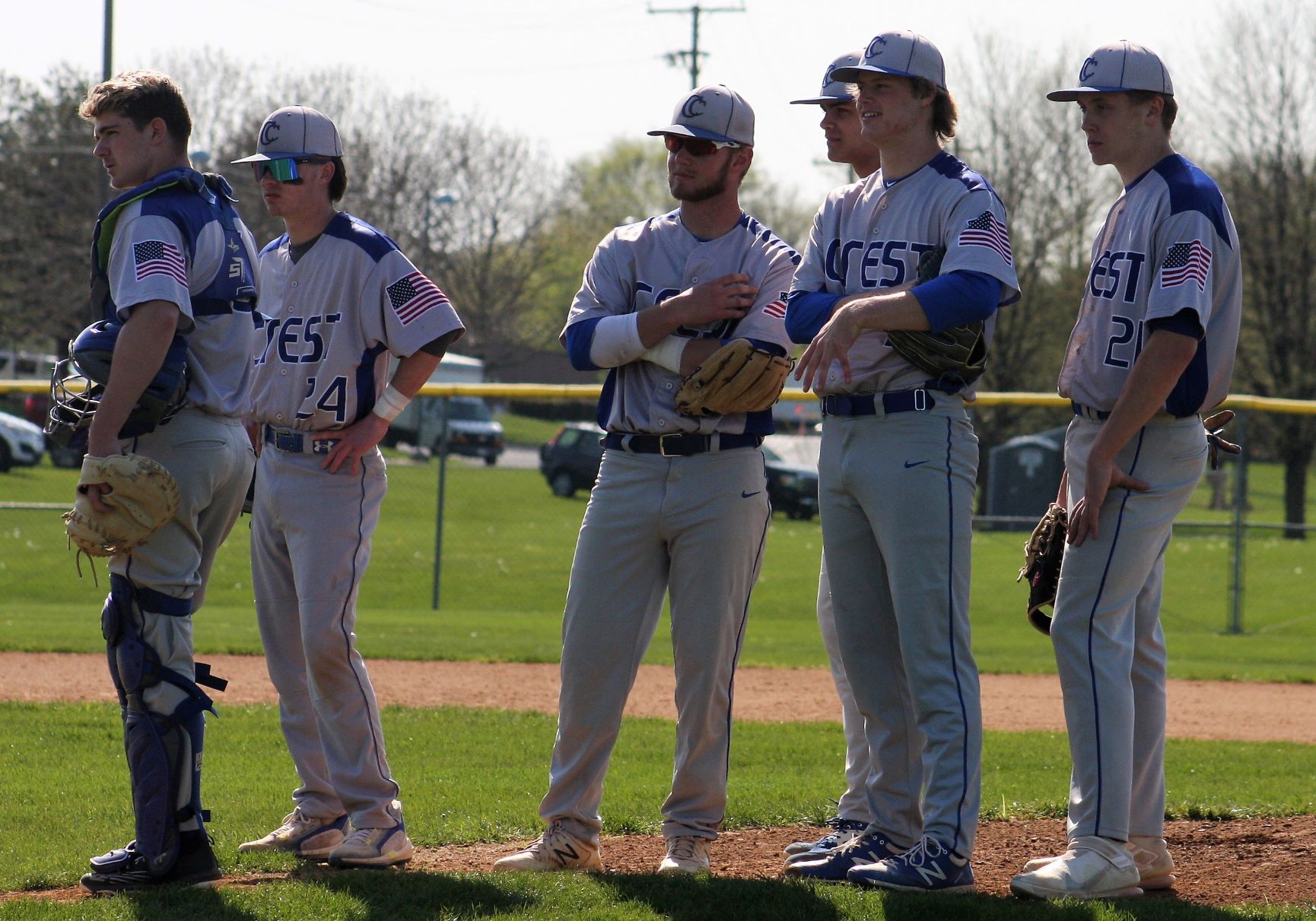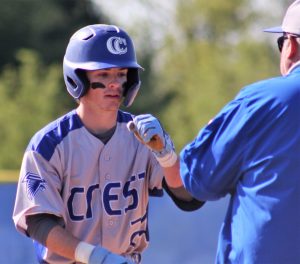 BY JEFF FALK
Editor
SOUTH LEBANON – Let's be real, sometimes the light doesn't go on. But when it does, it's truly something to behold.
The light has gone on for the Cedar Crest baseball team. The only real concern for the Falcons is the flipped switch's timing.
On a clear Friday evening at Cedar Crest High School, the Falcons continued their second-half turnaround with a convincing 10-0, five-inning, triumph over McCaskey. Cedar Crest brought the mercy rule into play by scoring five times in the bottom of the fifth inning, as senior Deklyn Marks tallied the winning run on a wild pitch.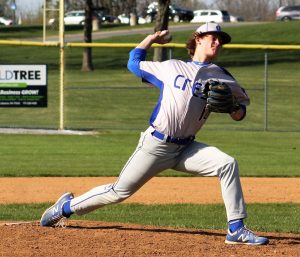 On singles from Noah Gonzalez, Jay Huber and Nolan Groff, and walks to Marks and Evan Krall, the first six Falcons to bat in the home half of the fifth inning reached base, and five scored. Groff, Marks, Krall and Austin Beard all drove home teammates.
Beard and Marks both collected three RBIs for Crest.
The victory was Cedar Crest's fourth in its last five outings – all of which have come by eight runs or more – and lifted it to 5-9 on the spring. In the latest District Three power rankings, the Falcons were situated 15th in an AAAAAA classification which takes 12 teams for its postseason.
The Falcons would probably have to go something like 4-1 or better over the remainder of their regular season schedule to qualify.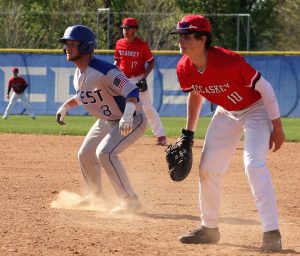 With the loss, McCaskey slipped to 3-13 on the year. Back on April 1 in Lancaster, Cedar Crest toppled the Red Tornado 8-3.
"To be honest, we've gotten better at everything," said Cedar Crest head coach Matt Knox. "From what we've gotten on the mound to defensively to how we're swinging the bats. It's just been continuous improvement. We had back-to-back games where we had 16 hits and 17 hits. Hitting is contagious.
"I don't think you're every going to be perfect in the game of baseball," continued Knox. "It's a sport of failure and the idea is to learn from it. We learned a lot in the first half of the season. They've (his players) come out and played a lot better in the second half of the season."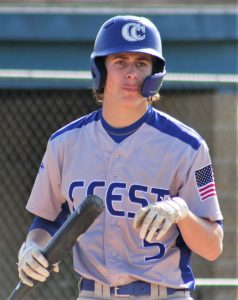 Getting off to a fast start certainly never hurts.
Cedar Crest notched three runs in the bottom of the second inning, following safeties from senior James Norris and sophomore Dayton DiBiaso. Marks came through with a crucial two-out, two-run single, ahead of an RBI by Caleb Dorshimer.
"We sent five batters to the plate in the first inning," said Knox. "In the second inning, we scored three runs. Then, we had better at-bats, got some hits and scored some more runs. We had some big two-out hits, and some big at-bats for the team."
"Cedar Crest has been having a rocky season too," said McCaskey head coach Gilbert Vega. "But today they came out and took care of business."
The Falcons' fifth-inning rally turned starter Huber's outing into a complete-game performance.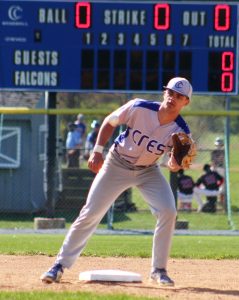 After working out of trouble and stranding runners in the second and third innings, Huber appeared to get more efficient as the game wore on. He finished with a one-hitter, seven strikeouts and four walks.
"He threw the ball exceptionally well today," said Knox of his junior right-hander. "He worked himself out of some jams early, and we did a good job defensively. That (the fifth) was going to be his last inning. He went into it with 84 pitches and had a seven-pitch inning.
"He (Huber) has gotten better as the season has gone along," Knox continued. "Early in the season, he had some relief appearances, and then he got a start. He's thrown the ball well ever since."
In the bottom of the fourth, Cedar Crest registered a pair of runs to extend its lead to 5-0. Huber walked and Groff doubled, ahead of Beard's two-out, two-run single.
"Mathematically, to be honest, I'm not sure," said Knox of his club's chances of qualifying for the playoffs. "I haven't worried about that. I'm just focused on the improvement and having these guys play good baseball.
"I'll take a peek at them (District Three power rankings) to have an idea of where we're at," Knox added. "We knew coming into the season that we were going to be young and learning on the fly. They've (his players) responded in the second half of the season."
To purchase images in this article please email jeff@lebcosports.com.
2022 Cedar Crest Baseball Results
| | | | | | |
| --- | --- | --- | --- | --- | --- |
| 2022-03-30 | H | vs | Warwick(3) | L | 9-0 |
| 2022-04-01 | A | vs | J P McCaskey(3) | W | 8-3 |
| 2022-04-04 | H | vs | Hempfield (3)(3) | L | 15-2 |
| 2022-04-06 | H | vs | Manheim Township(3) | L | 5-0 |
| 2022-04-08 | A | vs | Penn Manor(3) | L | 7-1 |
| 2022-04-11 | A | vs | Ephrata(3) | L | 9-1 |
| 2022-04-13 | H | vs | Lampeter Strasburg(3) | L | 7-4 |
| 2022-04-14 | A | vs | Exeter Township(3) | L | 11-1 |
| 2022-04-20 | A | vs | Elizabethtown(3) | L | 8-3 |
| 2022-04-21 | H | vs | Solanco(3) | W | 13-3 |
| 2022-04-22 | A | vs | Conestoga Valley(3) | W | 12-4 |
| 2022-04-25 | H | vs | Lebanon(3) | W | 15-3 |
| 2022-04-27 | A | vs | Warwick(3) | L | 12-1 |
| 2022-04-29 | H | vs | J P McCaskey(3) | W | 10-0 |
| 2022-04-30 | A | vs | Governor Mifflin(3) | | 0-0 |
| 2022-05-02 | A | vs | Hempfield (3)(3) | | 0-0 |
| 2022-05-04 | A | vs | Manheim Township(3) | | 0-0 |
| 2022-05-06 | H | vs | Penn Manor(3) | | 0-0 |
| 2022-05-13 | H | vs | Palmyra(3) | | 0-0 |

Lebanon Federal Credit Union