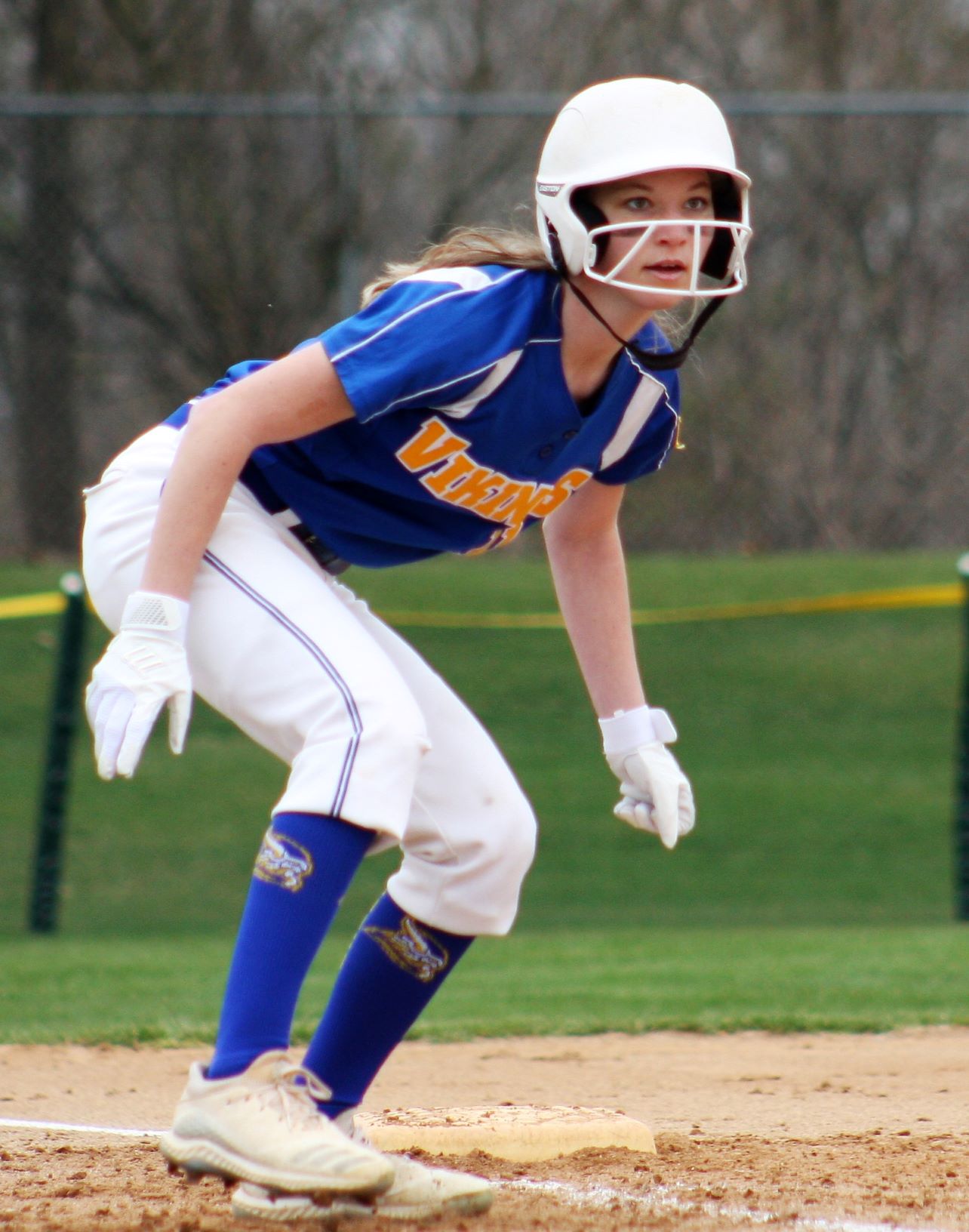 BY JEFF FALK
Editor
FREDERICKSBURG – Small ball and long ball.
Patience and aggression.
Pressure and opportunism.
Throw them all together and mix them up and what you've got is some early season momentum and a second statement win – as well as a comfortable spot in the section driver's seat.
On a cloudy Tuesday afternoon at Northern Lebanon High School, the Vikings employed a balanced and versatile attack to demolish Manheim Central 10-1 in a key early-season softball showdown for first place in Section Three of the Lancaster-Lebanon League. Northern Lebanon pounded out ten hits, laid down four sacrifice bunts and pressured the Barons into five errors in order to score runs in four of its six at-bats.
Viking senior Autumn Bohr went three-for-four and picked up the 100th hit of her career – in just 47 games. Bohr was one of five Northern Lebanon batters to drive in runs, a list that included Brooke Beamsderfer and her two RBIs.
The triumph over a Lancaster-Lebanon Section Three contender was the Vikings' second in as many nights. On Monday, Northern Lebanon had scored a critical 11-7 victory at Donegal.
Northern Lebanon is now 5-1 overall, 5-0 and alone atop Section Three of the L-L. It's way, way too early to even start mentioning that the Vikings haven't worn an L-L section crown since 2000.
With the setback, Manheim Central slipped to 3-1 on the spring, and 2-1 in the circuit.
"It was very important," said Northern Lebanon rookie head coach Bob Bashore of the result. "They're (the Barons) a good team. They came in undefeated. You always want to win your section games. It's one game at a time and every game is important.
"You try to set yourself up," continued Bashore. "Last year, we beat Donegal twice and lost at Elco. That hurt us. Then we lost to Manheim Central here. We took it (the section title) out of our own hands. I tell the girls that you want to put yourself in control."
"We just need to keep winning," said Bohr. "Everyone has a target on our back. I think we'll do really well if we keep up the confidence.
"I just try to help everyone out," added Bohr. "I try to encourage everyone. I really love all the underclassmen. I like doing all the team-bonding stuff."
Northern Lebanon erupted for five runs in the bottom of the second inning to take control of the outcome.
Beamesderfer started it with a lead-off single, but it was sacrifice bunts from Lynsie Mauser and Kayden McMurtry that really fueled the flames. Bohr and Hope Ritchie drove home Viking teammates.
"I feel like we have a lot of good athletes, so we've got options," said Bashore. "We can run the bases, we can bunt. That Manheim Central pitcher (Gabby Wettig) was good. I don't want to be too predictable. I had one of the best guys to coach with (former head coach Ed Spittle), and he would always talk about the details of the game.
"When we talk at practice, everything starts with a good pitch," Bashore continued. "It's about swinging at good pitches. It's all about putting pressure on the defense."
"I don't know what they call it," said Bohr of the Vikings' offensive approach. "In practice, coach tells us to get the bunt down. I think we're really starting to hit the ball well. I really think our hits can be contagious. But I think we need to work on the field."
"They've got good bats," said Manheim Central head coach Janelle Heying of the Vikings. "They kept them hot throughout the whole game. They put up runs, and we didn't."
Viking starter Mauser took full advantage of the early runs she was presented.
Mauser went the distance to pick up the win, scattered 11 hits, fanned seven and did not issue a free pass. The righthander didn't beat herself and really came up with key pitches and key outs when she needed them most.
"I was really happy with her (Mauser)," said Bashore. "She pitched well. She worked from ahead. She was around the strike zone all night.
"Her key is hitting her spots. That's the key with every pitcher," Bashore added. "We haven't always had good pitchers here. But our pitchers have always hit their spots. Trusting her defense is key. She doesn't have to strike everybody out."
Northern Lebanon plated two more runs in the bottom of the fourth inning to increase its advantage to 7-0. Bohr led off with a single, was sacrificed by Olivia Shutter and later scored, before Abby Palkovic drove in another Viking run.
In the fifth, the Vikings were at it again, this time McMurtry knocked home Keira Anspach, who had doubled.
"We've got a couple of things to clean up," said Bashore. "We're very young. But we're very athletic. I'm really happy where we are right now. But you always want to keep improving."
"Whenever I go into the box, I think I need to get a hit to help out my team," said Bohr. "When I go in the box, I don't really get nervous any more. Coach Spittle really helped me during the three years I played for him. I tried not to cry when I got that hit (100th). I know Coach Spittle is looking down on us."
"Our girls kept battling the whole way through," said Heying. "Sometimes things don't go your way. We get them (the Vikings) again (May 6 in Manheim) and the girls will be ready for them."
Ahead 8-1, the Vikings flirted with the ten-run rule in the bottom of the sixth. Beamesderfer's two-run double made Northern Lebanon's lead nine, with nobody out.
"Yes, the girls know that," said Bashore, of Northern Lebanon's last section championship 22 years ago. "There's a banner hanging in the gym. But we're trying to stay focused on one game at a time.
"We haven't changed a lot of stuff (since Spittle's passing a year go)," continued Bashore. "We say a lot of the same things. I coached with Coach Spittle for 20-plus years. He's been my mentor. He understood the game so well."
"I think we all want to be section champions and district champions," said Bohr. "But do it game by game. We just can't get ahead of ourselves and we have to keep our heads in the right spot."
To purchase images in this article please email jeff@lebcosports.com.
2022 Northern Lebanon Softball Schedule
Date
Teams
Score
3/29
4:15 pm
Octorara
at Northern Lebanon
0

15

Nonleague
3/30
4:15 pm
Northern Lebanon
at Elco
7
1
League
3/31
4:15 pm
Northern Lebanon
at Hamburg
3

15

Nonleague
4/01
4:15 pm
Cocalico
at Northern Lebanon
3

10

League
4/04
4:15 pm
Northern Lebanon
at Donegal
11
7
League
4/06
4:15 pm
Manheim Central
at Northern Lebanon
1

10

League
4/08
4:15 pm
Northern Lebanon
at Garden Spot
League
4/11
4:15 pm
Northern Lebanon
at Pequea Valley
Nonleague
4/13
4:15 pm
Columbia
at Northern Lebanon
Nonleague
4/15
4:15 pm
Northern Lebanon
at Cedar Crest
Nonleague
4/18
4:15 pm
Northern Lebanon
at Lancaster Mennonite
Nonleague
4/21
4:00 pm
Lower Dauphin
at Northern Lebanon
Nonleague
4/22
4:15 pm
Northern Lebanon
at Annville-Cleona
Nonleague
4/26
4:15 pm
Northern Lebanon
at Milton Hershey H.S.
Nonleague
4/27
4:15 pm
Northern Lebanon
at Octorara
Nonleague
4/29
4:15 pm
Elco
at Northern Lebanon
Nonleague
5/02
4:15 pm
Northern Lebanon
at Cocalico
Nonleague
5/04
4:15 pm
Donegal
at Northern Lebanon
Nonleague
5/06
7:00 pm
Northern Lebanon
at Manheim Central
Nonleague
5/09
4:15 pm
Garden Spot
at Northern Lebanon
Nonleague