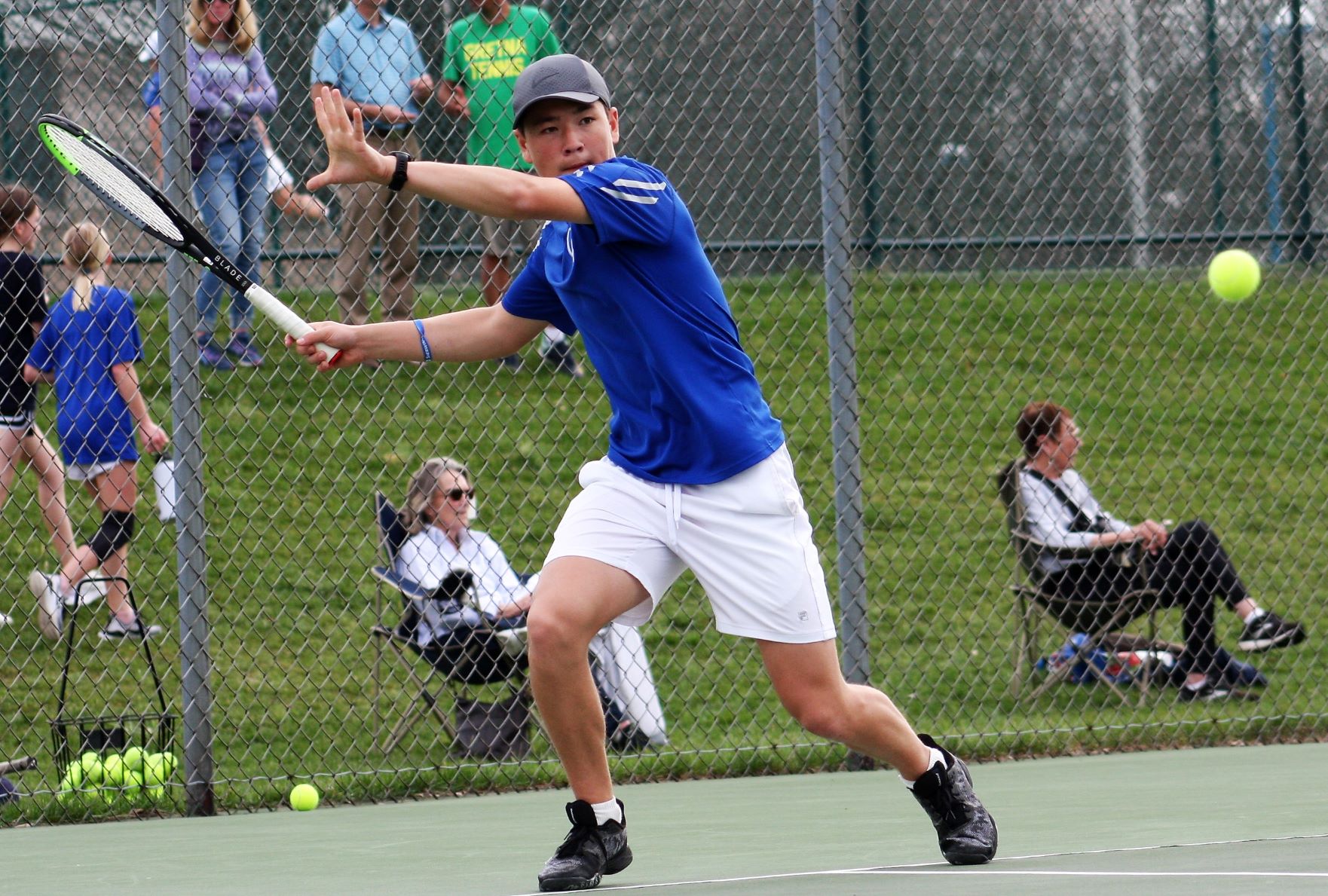 BY JEFF FALK
Editor
SOUTH LEBANON – This current edition has established itself as one of the finest teams in the long existence of boys' tennis at Cedar Crest High School, and that's quite an accomplishment. But these Falcons may very well be the best team in program history, bar none.
That particular distinction is still very much to be determined – and very much up to the Falcons themselves.
On a partly cloudy Wednesday evening at Cedar Crest, the Falcons laid claim to the Lancaster-Lebanon Section One championship – and a whole lot of other titles – with a dominant 6-1 triumph over Hempfield. After sweeping the doubles competition, Cedar Crest captured three of the four singles' matches to place an exclamation point on the victory.
The Falcons' top duo of Rocco Shkreli and Garrett Muraika nudged Hempfield's Cooper Lehman and Eric Jordan 8-5, CC teammates Viseth Meng and Charlie Robbins dusted the Black Knights' Andre Hurst and Trent Meyers 8-1 at number two, and Crest's Jozef Shkreli and Ryan Glover teamed for a similar 8-1 win over Eli Worley and Jonah Comeaux. Then, Meng defeated Jordan 6-1, 6-1 at number two singles, Robbins took care of Hurst 6-0, 6-1 at number three singles and Muriaka steam rolled Meyers 6-1, 6-0 at number four.
Cedar Crest's only setback of the match came at number one singles, where R. Shkreli endured a 6-0, 6-1 loss to Lehman.
With the final victory, the Falcons improved to 11-1 overall and 5-0 in the league, and they clinched the L-L Section One title. It was Cedar Crest's second section crown in four years, but just its fifth overall.
The Falcons will now face upcoming challenges at the Lancaster-Lebanon League and District Three team tournaments, in a quest to build upon their historic success. Cedar Crest has captured three L-L League team championships since 2012, but the Falcons have never won a District Three title in the sport.
"It's open ended. It's very much to be determined," said Cedar Crest head coach Mike Rohrbach about this team's place in program history. "Let's see what happens after the league tournament and after the district tournament. We'll have to revisit it then. But we've started to talk about it a little bit. The boys have asked me how they stack up against other Cedar Crest teams. I think that's how they have perspective. At the very minimum, it's one of the five best in school history.
"To win a section is really special," continued Rohrbach. "It's not lost on me how special it is. I think they're (his players) starting to appreciate it, but these kids have always kind of been around it. It's kind of what they've come to expect."
Internally, what makes this Cedar Crest team so good is the quality of its depth, a characteristic that was on full display yesterday.
Meng and Robbins captured the first seven games of the match on the way to their triumph at number-two doubles, while J. Shkreli and Glover won the last six of theirs at number-three doubles.
The match at number one doubles was much more of a dogfight.
R. Shkreli and Muraika overcame an early deficit to establish a modest lead in the middle of the match. But it was their wins in games ten and 11 that proved decisive.
"The guys really stepped up and played some of the best tennis I've seen this year," said Rohrbach. "The doubles wins were key. When you get off to a 3-0 start in a seven-point match, it's tough to beat. Our number-one doubles team really stepped up.
"When you have a 3-0 lead heading into singles, it makes you more comfortable," added Rohrbach. "I have faith in all of my guys, but they took care of it by winning three of the four singles matches. Knowing how hard they've worked this year gives you confidence in their games."
"They are the deepest team we've seen, especially in the Lancaster-Lebanon League," said Hempfield head coach Melinda Bell of the Falcons. "They have kids, at least one through four, who are at the same level. That's tough to beat."
At number two singles, Meng captured four of the first five games in each set. Robbins won the first six games at number three singles and Muraika claimed the final six games at number-four singles.
"I go ten deep, with guys who I feel very comfortable winning matches," said Rohrbach. "We've had 12 different starters win matches this year. I'd like to play a match that goes 15 deep. Everybody can play tennis.
"We were a very good team last year," Rohrbach continued. "We've added two freshmen to the starting lineup and we've all gotten better. The expectations were high coming in."
"We knew it was going to be a tough task," said Bell. "We knew they're deep. I feel like our guys went out and gave everything they had. We made them (the Falcons) fight for it."
To purchase images in this article please email jeff@lebcosports.com.
2022 Cedar Crest Boys' Tennis Results
| | | | | | |
| --- | --- | --- | --- | --- | --- |
| 2022-03-15 | A | vs | Lower Dauphin(3) | W | 5-0 |
| 2022-03-16 | A | vs | Dallastown(3) | L | 3-2 |
| 2022-03-21 | A | vs | Conestoga Valley(3) | W | 7-0 |
| 2022-03-25 | A | vs | Manheim Township(3) | W | 5-2 |
| 2022-03-30 | A | vs | Penn Manor(3) | W | 7-0 |
| 2022-04-01 | H | vs | J P McCaskey(3) | W | 7-0 |
| 2022-04-05 | H | vs | Ephrata(3) | W | 6-1 |
| 2022-04-06 | H | vs | Lampeter Strasburg(3) | W | 7-0 |
| 2022-04-08 | A | vs | Cocalico(3) | W | 7-0 |
| 2022-04-11 | A | vs | Elizabethtown(3) | W | 6-1 |
| 2022-04-12 | H | vs | Wilson (3)(3) | W | 5-0 |
| 2022-04-13 | H | vs | Hempfield (3)(3) | | 0-0 |
| 2022-04-18 | H | vs | Warwick(3) | | 0-0 |