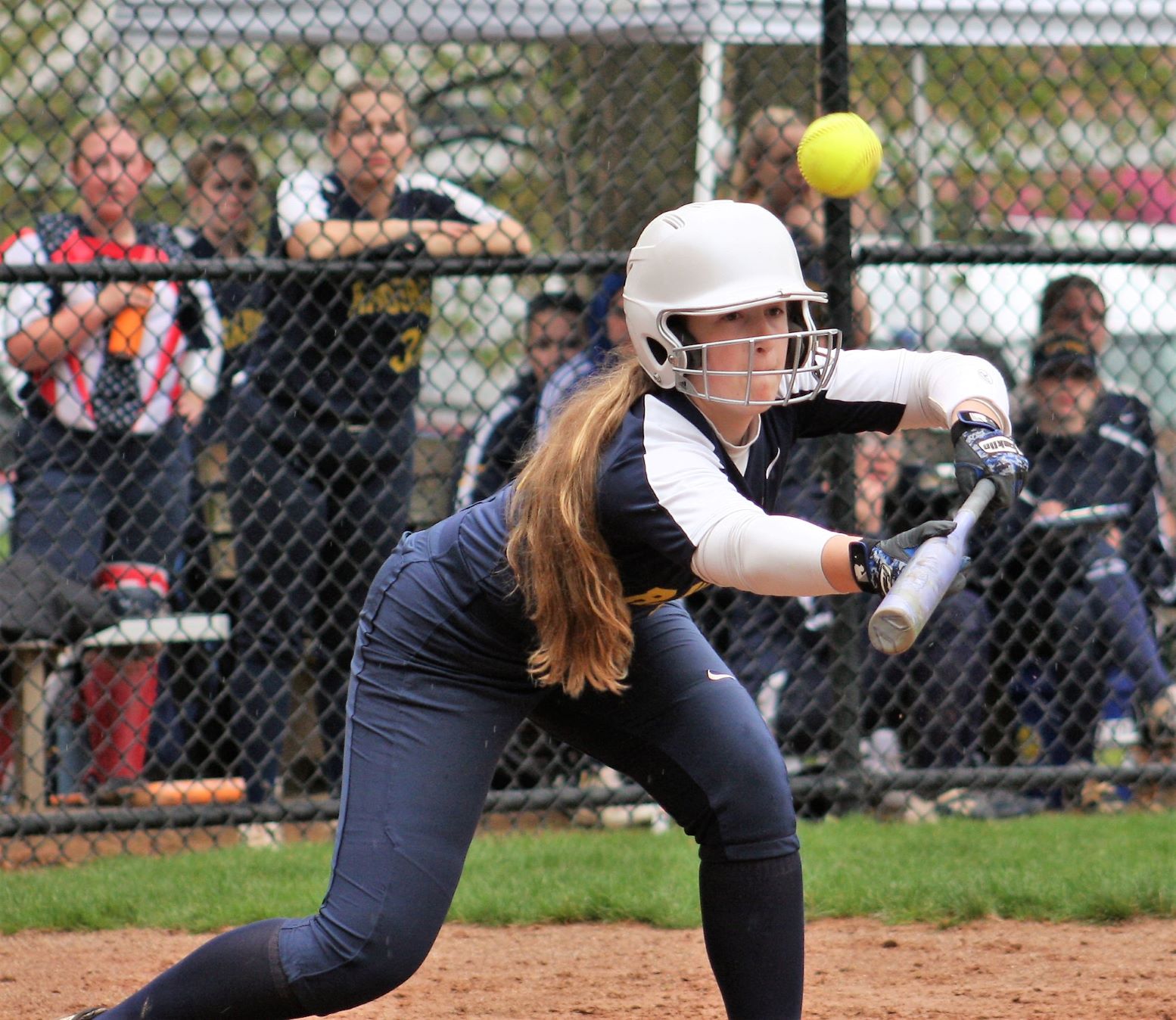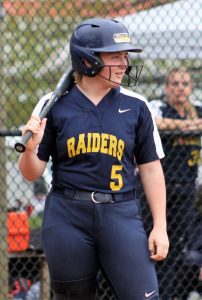 BY JEFF FALK
Editor
LANCASTER – The irony was not lost on the emerging Raiders. Nor was the symbolism.
Or the reality.
It's simply been that type of high-and-low, hot-and-cold softball season for Elco.
On a damp Tuesday evening at Manheim Township's Stauffer Park, the Raiders afforded on-lookers a glimpse of the kind of club they can be, during a 17-1 Lancaster-Lebanon Section Three-Four crossover trouncing of Lancaster Catholic. Elco scored all 17 of its runs over its final three at-bats in support of freshman righthander Gabby Smith's route-going performance.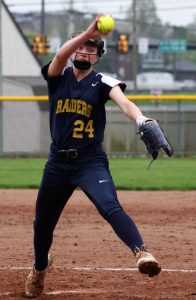 When the dust had settled, the Raiders had pounded out 16 hits. Included in Elco's onslaught was a five-for-five performance by freshman Kailen Hibshman, who was making her varsity start, and three RBIs from senior Hailey Krill.
The result was in stark contrast to the 17-2 home loss that the Raiders had suffered to Donegal 24 hours prior. With the triumph, Elco improved to 6-6 overall, 6-5 in Section Three of the Lancaster-Lebanon League and 3-3 in games decided by double digits.
In the latest District Three power rankings, the Raiders were positioned 12th in an AAAA classification which takes ten teams for its postseason.
The setback dropped Lancaster Catholic to 4-6 on the spring and 3-4 in Section Four of the L-L.
"One of the things I'm going to tell the girls is that this team (Lancaster Catholic) beat Donegal," said Elco first-year head coach Allen Phillips. "That's what we're capable of. This got us back to .500. It also gives us a little momentum going into Northern Lebanon on Friday.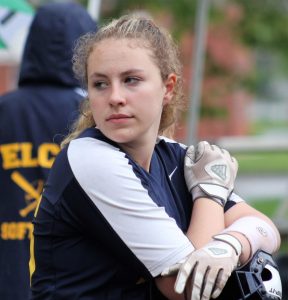 "I'm pretty happy with the result," added Phillips. "I'm really high on my freshmen, and they're going to continue to grow. Nothing but exciting things are going to happen as we grow."
After they struggled a bit with their plate approach early, the Raiders exploded for seven runs in the top of the fifth inning to snap a scoreless deadlock. Elco sent 11 hungry hitters to the dish and amassed six hits in the frame.
The rally was ignited by Hibshman's lead-off single, sacrifices from Abby Hassler and Smith and a walk to Emily Dietrich. Krill drove home a pair of teammates, as did Gracie Barshinger, while Zoe Menzel and Hibshman each contributed single RBIs.
"We had base runners. We just weren't executing to get them in," said Phillips of his club's initial four at-bats. "We had some bunts that we popped up. I thought Catholic executed very well early, and they had us quite nervous.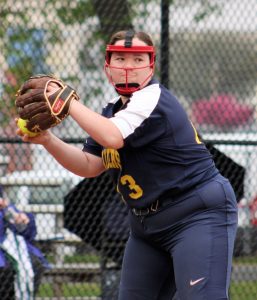 "We just started executing," continued Phillips. "We got a couple of bunts down and then we started hitting. We've been hitting, but when we run into that off-speed pitching we have trouble. We hit very well against speed and even hit very well against the curve. It's one of the things we've been working on in practice."
Those first seven runs was more than enough for Smith to work with.
Over her seven innings, Smith fanned 16, issued but a lone free pass and surrendered five hits. The Crusaders touched Smith for their only run in the bottom of the sixth, after Elco had extended its advantage to 9-0.
"Gabby's been pitching out of this world, and we've kind of been riding her," said Phillips. "She's just been lights out. I can see her growing every game. She's kind of settled in with her own catcher, and we've gone from six wild pitches a game to maybe one. She's just throwing great."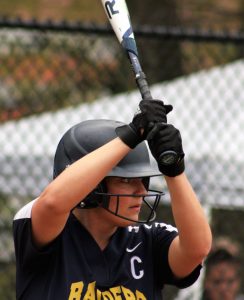 "The first four innings we looked good," said Lancaster Catholic head coach Sam Hamaker. "We made good plays. Then we made a couple of mistakes, some mental errors and it opened the flood gates."
The Raiders scored twice in the top of the sixth, courtesy of RBIs by Krill and Menzel. Then, Elco notched eight more runs in the top of the seventh.
This time, Elco sent 14 batters to the plate. Hibshman and pinch hitter Grace Phillips came through with two-run singles, while Hassler also collected an RBI.
"We've been up and down," said Phillips. "It took us four inning to get the bats going. We've been struggling with our timing. It took us a little while tonight.
"It's not always about wins and losses," Phillips continued. "I'm seeing great statistics up and down the lineup. The numbers these girls are putting up are amazing. Right now, we're sitting at .500. I think we can hopefully make a run and have a shot at the playoffs."
"They're a good team," said Hamaker of the Raiders. "Their pitching was solid today and they hit the ball well. Overall, they're just a smart team. They made some good plays."
To purchase images in this article please email jeff@lebcosports.com.
2022 Elco Softball Results
| | | | | | |
| --- | --- | --- | --- | --- | --- |
| 2022-03-29 | H | vs | Conrad Weiser(3) | L | 9-12 |
| 2022-03-30 | H | vs | Northern Lebanon(3) | L | 1-7 |
| 2022-03-31 | A | vs | Donegal(3) | L | 1-16 |
| 2022-04-01 | A | vs | Manheim Central(3) | L | 2-8 |
| 2022-04-04 | H | vs | Garden Spot(3) | W | 9-0 |
| 2022-04-08 | H | vs | Cocalico(3) | W | 4-0 |
| 2022-04-12 | H | vs | Octorara(3) | W | 17-4 |
| 2022-04-13 | H | vs | Pequea Valley(3) | W | 7-4 |
| 2022-04-20 | H | vs | Lancaster Mennonite(3) | L | 0-2 |
| 2022-04-21 | A | vs | Columbia(3) | W | 14-0 |
| 2022-04-25 | H | vs | Donegal(3) | L | 2-17 |
| 2022-04-26 | n | vs | Lancaster Catholic(3) | W | 17-1 |
| 2022-04-29 | A | vs | Northern Lebanon(3) | | 0-0 |
| 2022-05-02 | H | vs | Manheim Central(3) | | 0-0 |
| 2022-05-04 | A | vs | Garden Spot(3) | | 0-0 |
| 2022-05-06 | H | vs | Octorara(3) | | 0-0 |
| 2022-05-07 | A | vs | Tulpehocken(3) | | 0-0 |
| 2022-05-09 | A | vs | Cocalico(3) | | 0-0 |
| 2022-05-10 | A | vs | Lebanon(3) | | 0-0 |