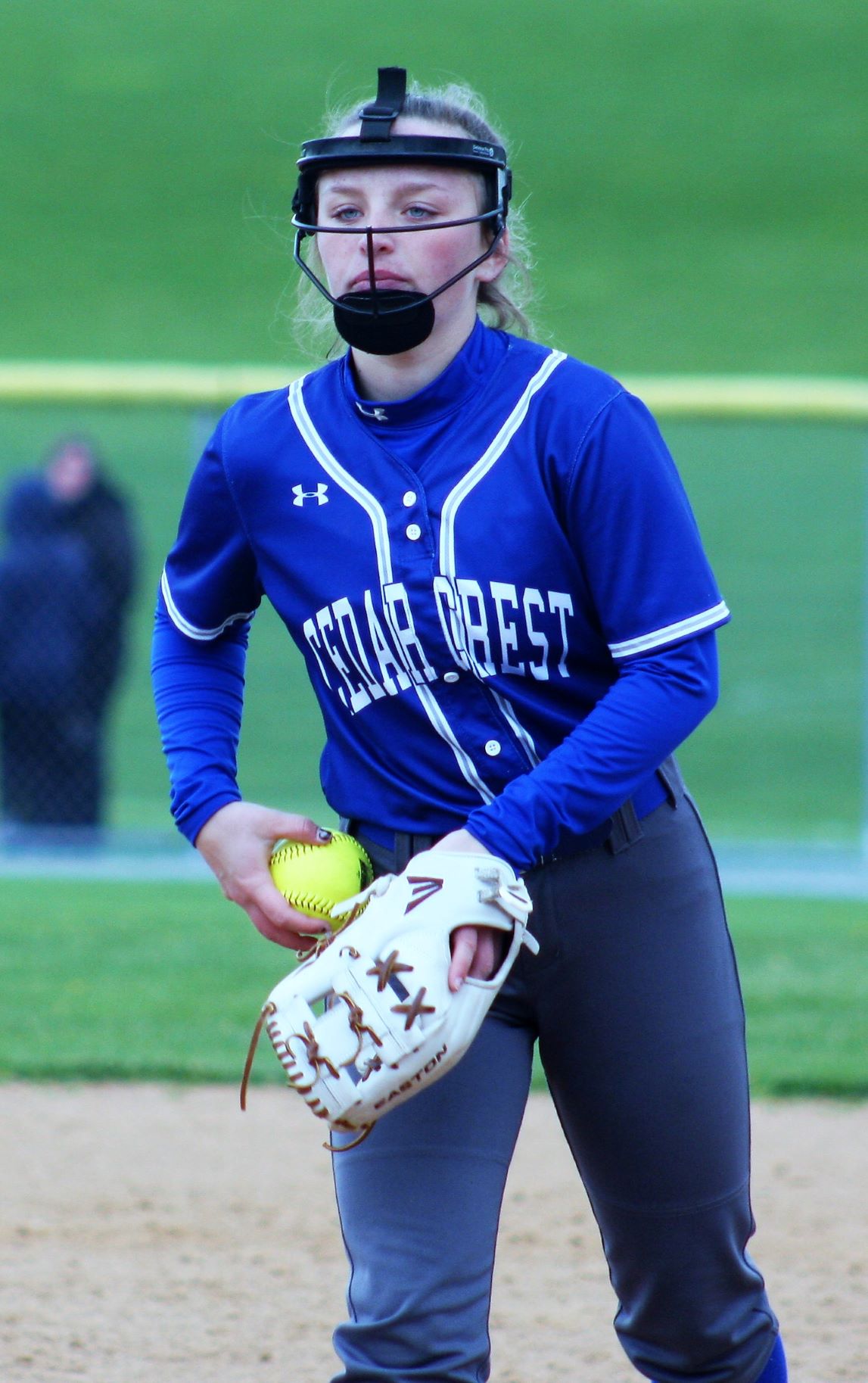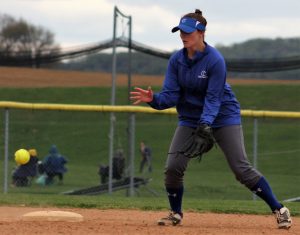 BY JEFF FALK
Editor
SOUTH LEBANON – Sports like softball demand motivation. And where there's motivation, there absolutely must be some sort of pay-off.
Whether it's some special love of the game, wins or a playoff berth.
But can improvement be its own reward?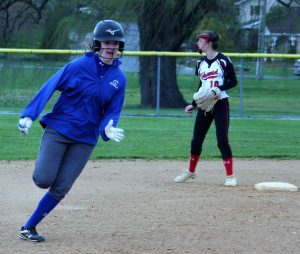 On a cool Wednesday evening at Cedar Crest Middle School, the Falcon softball team put together another solid outing and fell short against a quality opponent, this time in the form of a 7-4 loss to Warwick. Cedar Crest played steady defense, received solid pitching and had good approaches at the plate throughout, but it wasn't enough to get past the reigning District Three Class AAAAAA champion.
Cedar Crest centerfielder Sydney Black enjoyed a three-for-four outing from the two-hole, while teammates Reese Arnold and Riley Rohrer each contributed a pair of hits to the Falcon attack.
The close result dropped the Falcons to 3-9 overall and 2-9 in Section One of the Lancaster-Lebanon League. Back on March 30 in Lititz, Cedar Crest had dropped a similar 3-2 decision to Warwick.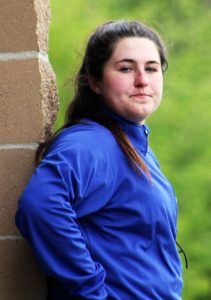 In the most recent District Three power rankings, Cedar Crest was positioned 15th in an AAAAAA classification which takes 12 teams for its playoff tournament.
The win was Warwick's eighth straight and moved it to 10-2 overall and 10-2 in Section One.
"Considering we were playing a Warwick team that's 10-2 in six-A, we played a great game," said Cedar Crest head coach Stephanie Leonardo. "We fought for a win.
"Yes, it's frustrating," continued Leonardo. "I see how good our team is and how good our team can be. It's hard to watch the team lose when you know they should win. I just want it so bad for them (her players)."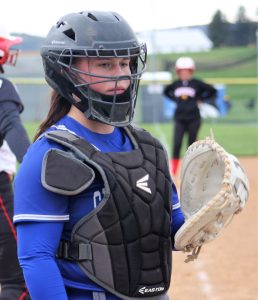 Facing a 5-2 deficit in the bottom of the sixth inning, Cedar Crest battled back to within a run of the lead. Brooke Zimmerman stole home on the back end of a double steal, before Emma Gable made it 5-4 with a pinch-hit RBI-single.
But in the top of the seventh, the Warriors padded their advantage with a couple of insurance runs, thanks to Rowan McFarling's two-out single.
"I thought today was a perfect representation of our season," said Leonardo. "We're close every game and we can't get the win. We're playing a lot of close games. In some games, we've had the lead and lost it.
"We've improved a lot," added Leonardo. "Overall, our defense is cleaner and we're making less errors each game. Our at-bats are getting better. We're putting the ball in play and we're getting hits."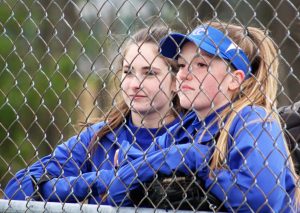 Down a run, the Falcons tied the game at two in the bottom of the fourth inning. After Rohrer and Zimmerman led off with singles, Rohrer came around to score on a different steal of home.
"It just depends on the day," said Leonardo. "Today, we didn't capitalize with runners on base. We also made two costly errors that indirectly led to four runs. If we make the play cleanly, we would've been out of the inning. Some days, the other team starts hitting. Other days, we make errors."
"Every time we play Cedar Crest, it's always a tough game," said Warwick head coach Mark Hough. "Cedar Crest is always a challenge. They've got a good team, good coaches and great players. It was a good game."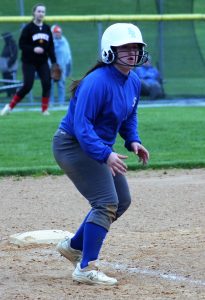 Cedar Crest scored first and assumed a 1-0 lead in the bottom of the first inning. Black tripled with one out, then was knocked home by Arnold's single.
"But we didn't win our crossover games with Section Two," said Leonardo. "We should have and they were close. I think sometimes people don't realize how good the teams are in Section One. It's tough when you play all the top teams in the district. They're teams who are beating good teams on a regular basis and only losing to each other.
"I'm always thinking, 'Can we get to the playoffs?'" Leonardo continued. "It's still a possibility, but we have to win games. It would just be so important for our belief that we can do it. We've been in position to win, but we've just got to make sure that we know we're good enough to win."
Arnold, a sophomore righthander, went the distance on the mound and was tagged with the loss. She gave up eight hits, struck out three and walked three.
"I thought she threw great today," said Leonardo of Arnold. "She hit the outside pitch all day. She got them (the Warriors) to hit the ball to our fielders. She's really stepped up for us."
To purchase images in this article please email jeff@lebcosports.com.
2022 Cedar Crest Softball Results
| | | | | | |
| --- | --- | --- | --- | --- | --- |
| 2022-03-30 | A | vs | Warwick(3) | L | 3-2 |
| 2022-04-01 | H | vs | J P McCaskey(3) | W | 12-1 |
| 2022-04-04 | A | vs | Hempfield (3)(3) | L | 10-0 |
| 2022-04-08 | H | vs | Penn Manor(3) | L | 5-1 |
| 2022-04-11 | H | vs | Ephrata(3) | L | 7-5 |
| 2022-04-13 | A | vs | Lampeter Strasburg(3) | L | 5-0 |
| 2022-04-14 | H | vs | Northern Lebanon(3) | W | 10-8 |
| 2022-04-20 | H | vs | Elizabethtown(3) | L | 5-4 |
| 2022-04-21 | A | vs | Manheim Township(3) | L | 8-5 |
| 2022-04-22 | H | vs | Conestoga Valley(3) | L | 11-0 |
| 2022-04-25 | A | vs | Lebanon(3) | W | 21-1 |
| 2022-04-27 | H | vs | Warwick(3) | | 0-0 |
| 2022-04-29 | A | vs | J P McCaskey(3) | | 0-0 |
| 2022-05-02 | H | vs | Hempfield (3)(3) | | 0-0 |
| 2022-05-04 | H | vs | Manheim Township(3) | | 0-0 |
| 2022-05-05 | A | vs | Bishop McDevitt (3)(3) | | 0-0 |
| 2022-05-06 | A | vs | Penn Manor(3) | | 0-0 |
| 2022-05-09 | A | vs | Solanco(3) | | 0-0 |