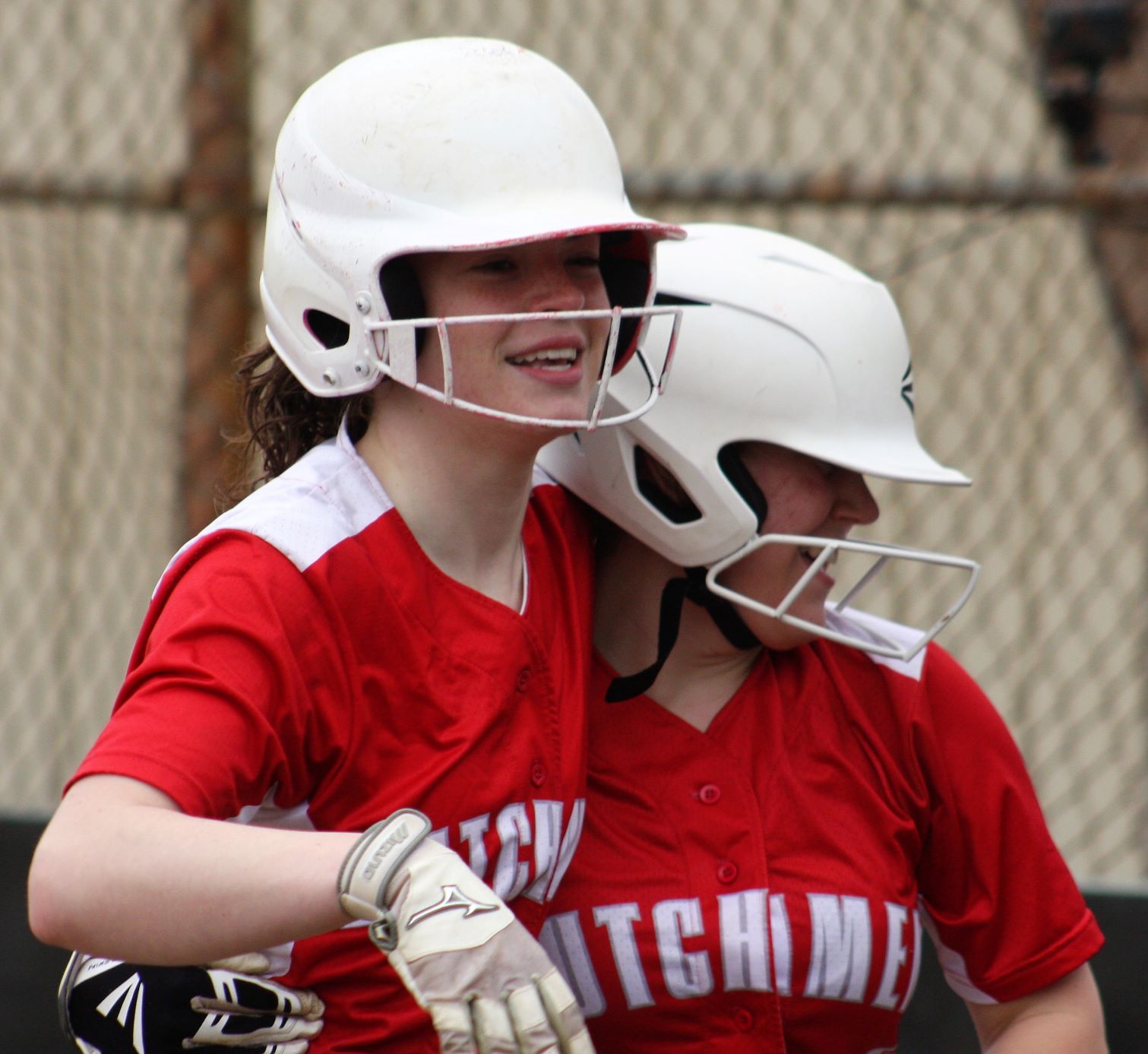 BY JEFF FALK
Editor
ANNVILLE – See the ball. Hit the ball.
Sometimes, it's that simple.
But first, the light must go on.
On an overcast Wednesday evening at Annville-Cleona High School, the Little Dutchmen's focus on the fundamentals produced a 12-2, six-inning softball triumph over visiting Columbia. Following a somewhat sluggish beginning, the Little Dutchmen's bats came alive in the middle frames, before A-C's offensive onslaught culminated with Myranda Thielemann's RBI-single with no outs in the bottom of the sixth which evoked the mercy rule.
Senior Ella Andrews starred on the bump and at the dish for the Little Dutchmen. In addition to pitching a complete game, Andrews drove in three runs with a couple of huge hits.
Thielemann and junior Josie Clay each contributed three hits to the Annville-Cleona attack, while teammates Clair Hoover and Tori Cisney both collected a pair of safeties. The Little Dutchmen totaled 13 hits and scored runs in five of their six at-bats.
The triumph was the Little Dutchmen's third straight under brand new head coach Tim Bowen. Annville-Cleona is now 3-2 on the spring and 3-0 in Section Four of the Lancaster-Lebanon League, after opening the season with a pair of concerning shutout losses.
The defeat left Columbia 0-2-1 on the year and 0-2 in Section Four.
"Things are going really well," said Bowen, the former skipper of the Bishop McDevitt ship. "The season started off with a really tough schedule. But the Lancaster Mennonite game gave us some confidence and then we took care of Pequea Valley. These section games are must-win.
"We've got some goals – we want to stay healthy, we want to win our tournament, we want to win our section and we want to get into the district playoffs and win districts," Bowen added. "These girls expect to play for a district championship. You've got to set those expectations early. I want these girls to experience what that's like."
The Little Dutchmen scored first, courtesy of a booming triple from Cisney in the bottom of the first inning, to take a 1-0 lead. But Annville-Cleona actually tallied the final 11 runs of the contest, after the Crimson Tide had forged a modest 2-1 edge in the top of the third.
It was the bottom of the third when the Little Dutchmen offense first sprung to life, scoring three times on five hits to assume a 4-2 advantage. Cisney, Alex Hackman and Thielemann all drove in runs during the rally.
"Our approach is to be aggressive, to attack early," said Bowen. "We want to teach the girls to know their strike zones. We try to play small ball when we can.
"Early on, we put the ball in play," continued Bowen. "Then finally, we stared to find some gaps. Once one or two kids start to hit, others seem to follow."
"I thought in the first couple of innings, they (the Little Dutchmen) weren't used to our pitcher," said Columbia head coach Sydney Shannon. "Once they got used to it, it was to their favor. They're a good hitting team."
From her spot on the mound, Andrews was around the plate all night. The senior hurler limited Columbia to seven hits, fanned three and walked two.
"I've seen her throw in practice, but this was the first time I saw Ella pitch in a game," said Bowen. "I thought Ella was phenomenal. Ella locates the ball, and when she does that and her off-speed is working, she's really successful. She hit the spots we call for.
"Ella was a surprise for me tonight," Bowen added. "Ella Andrews is setting the tone for the whole team right now."
In the bottom of the fourth inning, Andrews did it in the batter's box.
Her three-run dinger scored Annabelle Russell and Clay, who both had singled, to extend the Little Dutchmen lead to 8-2. Hoover had opened the frame with a solo blast of her own.
"We played good softball," said Bowen. "We started the season a little slow. But the kids are learning new ways of doing things. They're learning how to win a championship, how to compete. They're learning we're here to win ball games, and they're not just here to hang out with their friends.
"We're super young," Bowen continued. "We have 15 freshmen in the program and four of them are starting. There aren't that many teams that have that many freshmen. We're doing a lot of teaching, in-game. But our expectations are to win."
Annville-Cleona nearly evoked the mercy rule in the fifth, when it posted three more runs to make it an 11-2 game. Following a lead-off single by Thielemann, three straight Little Dutchmen batters drove in runs, Faith Wagner, Hoover and Russell.
"Think of it as the change of seasons that's going on right now," said Bowen. "The kids never had this experience, but they're buying into this. Right now, they're very attentive. They're very coachable. We work hard in practice. But we've got to continue to work hard, stay focused and get better every day."
To purchase images in this article please email jeff@lebcosports.com.
2022 Annville-Cleona Softball Schedule
| | | | | | |
| --- | --- | --- | --- | --- | --- |
| 2022-03-25 | H | vs | Hamburg(3) | L | 13-0 |
| 2022-03-30 | A | vs | Blue Mountain(11) | L | 15-0 |
| 2022-04-01 | A | vs | Lancaster Mennonite(3) | W | 15-0 |
| 2022-04-04 | H | vs | Pequea Valley(3) | W | 18-8 |
| 2022-04-06 | H | vs | Columbia(3) | | 0-0 |
| 2022-04-08 | A | vs | Lancaster Catholic(3) | | 0-0 |
| 2022-04-11 | H | vs | Donegal(3) | | 0-0 |
| 2022-04-13 | A | vs | Cocalico(3) | | 0-0 |
| 2022-04-18 | H | vs | Garden Spot(3) | | 0-0 |
| 2022-04-20 | A | vs | Octorara(3) | | 0-0 |
| 2022-04-22 | H | vs | Northern Lebanon(3) | | 0-0 |
| 2022-04-27 | H | vs | Lancaster Mennonite(3) | | 0-0 |
| 2022-04-28 | A | vs | Pequea Valley(3) | | 0-0 |
| 2022-04-30 | H | vs | Cedar Crest(3) | | 0-0 |
| 2022-04-30 | H | vs | Tournament() | | 0-0 |
| 2022-05-02 | A | vs | Columbia(3) | | 0-0 |
| 2022-05-04 | H | vs | Lancaster Catholic(3) | | 0-0 |
| 2022-05-05 | A | vs | East Pennsboro(3) | | 0-0 |
| 2022-05-09 | H | vs | Millersburg(3) | | 0-0 |
| 2022-05-10 | H | vs | Camp Hill(3) | | 0-0 |