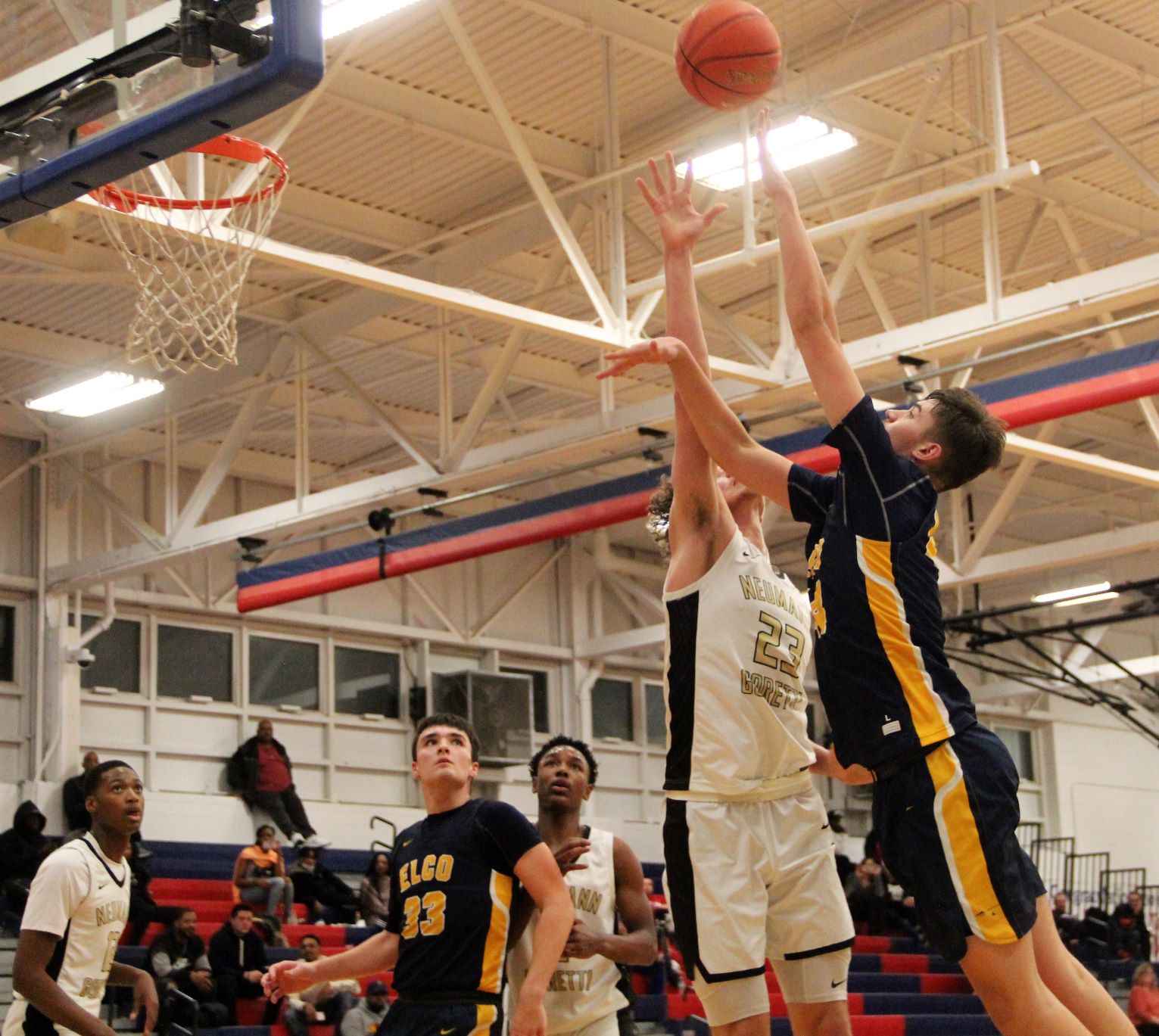 BY JEFF FALK
Editor
SPRINGFIELD – Grit means determination.
Grit means selflessness.
Grit means intensity.
The Elco boys' basketball team interpreted the concept in its own unique way. The Raiders defined grit in much the same way that it defined them.
While it evolved as a team throughout the year, Elco's commitment to grit never wavered.
On Tuesday night at Cardinal O'Hara High School, Elco's wonderfully gritty season reached a climax in a 79-47 mercy-rule loss to powerful Neumann Goretti, in the opening round of the PIAA Class AAAA playoff tournament. Although the Raiders performed with their usual grit, they just couldn't match the Saints' athleticism, shooting or quickness.
With the loss, Elco, the fifth-place finisher out of District Three, concluded its campaign 16-12. The state postseason appearance marked the third in program history and meant that the Raiders were one of 32 Class AAAA teams still standing in Pennsylvania.
As the year unfolded, Elco secured a number of critical victories, while claiming its first Lancaster-Lebanon Section Four championship in three decades.
The triumph propelled Neumann Goretti, the champion of the Philadelphia Catholic League and the top-seed out of District 12, to 19-4 and into Friday's second round of the PIAA playoffs.
"I'm just super proud of them, super proud of the effort," said Elco head coach Brad Conners of his charges. "We've been gritty all year. We wanted to stay in the game, and maybe pull it out. We'll take gritty every day. We talked about what it means to be gritty.
"For us, gritty means believing in yourself when no one else does," continued Conners. "It means finishing strong. It means playing for something bigger than yourself. For me, I had an idea about this team's identity going into the season. Then we saw how we played. It was diving on the floor. No razzle-dazzle. No flash. Just grit."
In the face of what seemed like a monumental task, a fast start was essential for the Raiders' chances of success. Instead, Elco fell into an early hole.
Neumann Goretti tallied the contest's first 13 points, and the Raiders never reduced their deficit below double-digits the rest of the way. Senior Luke Williams ended Elco's 4:06 dry spell to begin the game with a lay-in, but the damage had been done.
Conners called his third timeout of the contest with 1:35 remaining in the opening period, and the Saints ahead 23-8.
"We didn't have our hands up," said Conners of the Raiders' 3-2 match-up zone. "The last three games we did a better job of playing defense and getting our hands up. I think we forgot about that. So, I was pissed. I didn't think we were doing a good job.
"Coming in, we were thinking 'win' and 'stops'," Conners continued. "That's what we've hung our hats on. It doesn't matter if it's Neumann Goretti, or if it was anyone. We're not going to outscore anybody."
Elco did locate an offensive rhythm in the second period.
Behind four points from senior Corey Attivo and a bucket from Williams, the Raiders began the stanza with an 6-3 spurt to pull to within 29-16 of the lead. Seconds later, a driving lay-in from sophomore Dallas George made it a 31-18 score.
But time and time again, Elco's dependable defense failed.
"Stops and rebounds. We had to get stops," said Conners, who was recently honored as the Lancaster-Lebanon Section Four's coach of the year. "Then it sort of snowballed. We weren't getting help from the weak side defensively. That stopped. It wasn't there."
Williams poured in a game-high 27 points, while Attivo contributed 11. The Saints outscored the Raiders 33-0 from beyond the arc.
"It was disappointing watching the seniors, the red eyes, seeing them go," said Conners. "The toughest part to me is saying 'goodbye'. It was just a fun group, just a pleasant winter. What an opportunity to get here.
"When I look back, I'll remember the big wins," Conners added. "The first win against Octorara set the tone. Then beating (Lancaster) Catholic twice. I don't think we ever did that. I'll remember the three wins in districts. I'll remember those things."
Courtesy of four Williams points and an Attivo charity toss, Elco sliced its 23-point halftime deficit to 49-28 early in the third period. But the Raiders went the next 2:44 without a point.
Not longer after that, Neumann Goretti removed its starters, just before the mercy rule came into play.
"It was kind of like a pleasant surprise," said Conners of reaching the state playoffs. "If you look at Luke and Corey and Rheece (Shuey) they worked their butts off. Some of them learned a little by playing on that '20 team (that also qualified for the PIAA tournament).
"Sometimes I just think 'Why is it always District Three playing the District 12 champ?'" concluded Conners. "It seems like they should rotate it. It seems like every time we're in it, it's that."
To purchase images in this article please email jeff@lebcosports.com.
2021-22 Elco Boys' Basketball Results
Date
Opponents
Outcomes
12/10
6:00 pm
Elco
Red Land
at Lebanon
45
33
Nonleague
12/11
7:30 pm
Elco
at Lebanon
29
34
Nonleague
12/14
7:30 pm
Octorara
at Elco
54
57
League
12/17
7:30 pm
Elco
at Donegal
42
33
League
12/21
7:30 pm
Elco
at Northern Lebanon
50
39
League
12/29
6:00 pm
Elco
Dallastown
at Eastern York
46
48
Nonleague
12/30
6:00 pm
Elco
Spring Grove
at Eastern York
48
39
Nonleague
1/03
7:30 pm
Annville-Cleona
at Elco
25
66
Nonleague
1/05
7:30 pm
Elco
at Hamburg
70
43
Nonleague
1/07
7:30 pm
Lancaster Catholic
at Elco
50
52
League
1/11
7:30 pm
Cocalico
at Elco
39
55
League
1/14
7:30 pm
Elco
at Manheim Central
53
58
League
1/18
7:30 pm
Solanco
at Elco
34
66
League
1/21
7:30 pm
Elco
at Lampeter-Strasburg
49
71
League
1/25
7:30 pm
Elco
at Octorara
61
69
League
1/28
7:30 pm
Donegal
at Elco
45
49
League
1/29
3:00 pm
Elco
at Pottsville
45
52
Nonleague
2/01
7:30 pm
Northern Lebanon
at Elco
53
44
League
2/02
7:30 pm
Elco
at Conrad Weiser
45
55
Nonleague
2/07
7:30 pm
Garden Spot
at Elco
42
53
League
2/08
7:30 pm
Elco
at Lancaster Catholic
55
51
League
2/10
7:30 pm
Elco
at Wyomissing
51
58
Nonleague
2/14
7:00 pm
Hempfield
at Elco
50
33
Nonleague
2/21
7:00 pm
Wyomissing
at Elco
59
68
Playoff
2/24
7:00 pm
Elco
at Berks Catholic
40
55
Playoff
2/28
7:00 pm
Elco
at Eastern York
49
44
Playoff
3/02
7:00 pm
Elco
at Boiling Springs
66
50
Playoff
3/08
7:30 pm
Elco
Neumann-Goretti
at Cardinal O'Hara
StatePlayoff