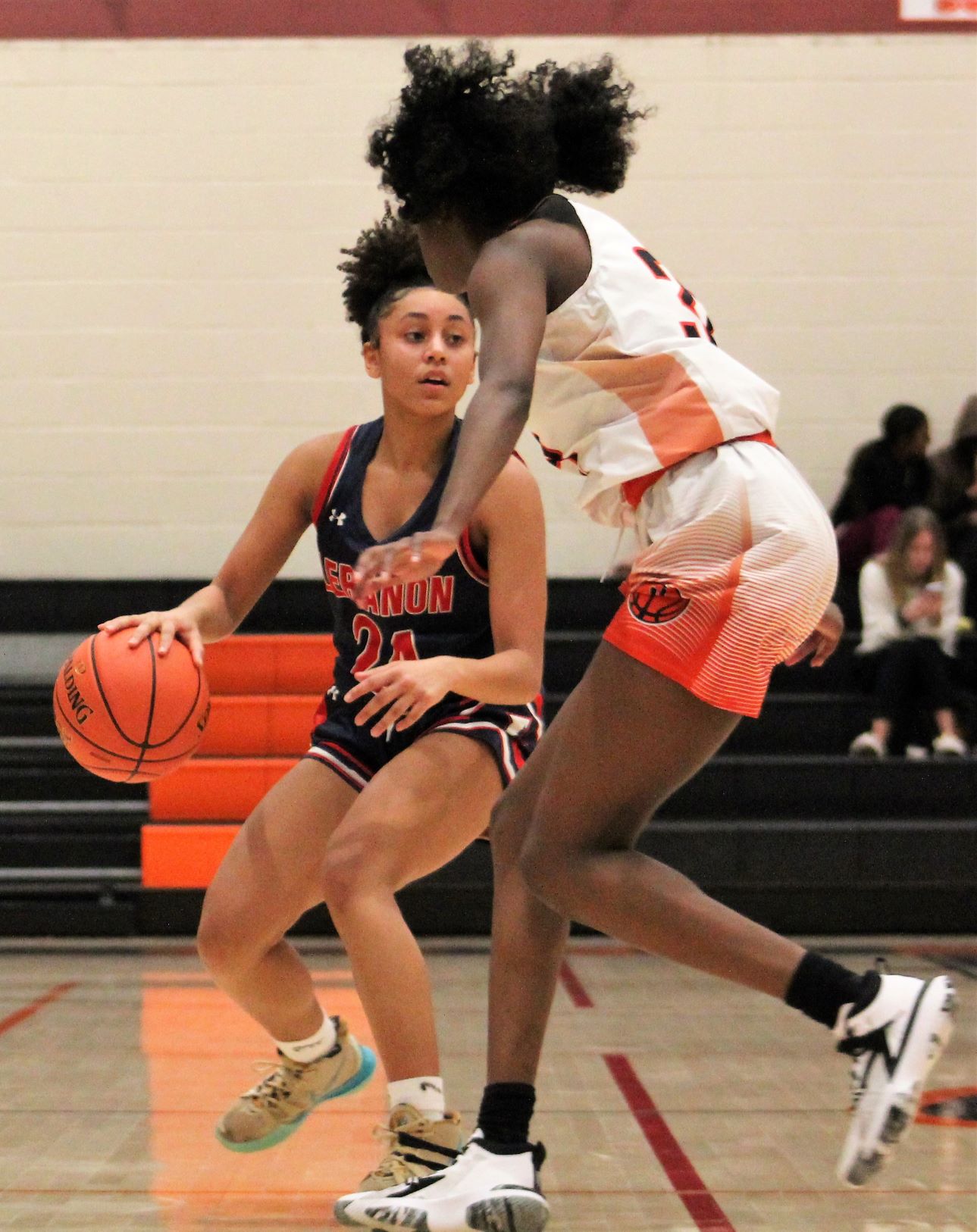 BY JEFF FALK
Editor
YORK – They began the year with uncertainty. But surprisingly, no more or less than any team, or any  season.
Sure there were some challenges, some adversity, some learning moments along they way. But what the Lebanon girls' basketball team ended up with was a solid, representative campaign, a brand new direction and a boat load of memories.
On Monday night at Central York High School, the Cedars' transitional season concluded with a 64-58 loss to the hometown Panthers, in the opening round of the District Three Class AAAAAA playoffs. After Central York parlayed some hot shooting and Lebanon turnovers into an early advantage, the Cedars made a number of runs at the home side, but could never complete the volleys.
Lebanon, the 12th seed and co-champions of Section Two of the Lancaster-Lebanon League, ended up 15-9 overall. After going 2-17 a season ago, the Cedars had started this year 10-2.
With the triumph, sixth-seeded Central York improved to 19-4, and moved into Thursday's quarterfinals of the District Three Class AAAAAA event.
"My expectations were to finish in the top of the section, and I thought we could qualify for districts," said Lebanon head coach Jaime Walborn. "I knew what we had coming back and I knew the up-and-coming players we had. I'm not surprised by the season we had. We didn't set those concrete goals. We've been rebuilding for quite a few years. You never quite know what you're going to get, but I was happy with our chemistry. We play hard and we play together, and we're unselfish.
"I got a little teary-eyed in there (the locker room)," added Walborn. "It's been such a fun ride, especially with the winning. We have four seniors in there who had some losing seasons. But they stuck with it, never faltered and never gave up."
The outset proved crucial to the outcome.
After freshman Lily Harrison had given Lebanon an early 6-5 edge, Central York closed the opening quarter on a 12-4 scoring spree. And when they drained a three-pointer to open the second period, the Panthers had themselves a 20-10 advantage.
"It's kind of something we've been through before, but again we didn't come out as strong in the first quarter," said Walborn. "I don't like to make excuses, but this is all new to us. But we battled back and made a game of it. We never hung our heads. I thought we played hard.
"I thought they (the Panthers) shot well at the beginning," added Walborn. "We had some quick fouls early. And I thought in the first quarter, we missed some easy shots."
Three minutes into the second, Harrison converted another lay-in ahead of a three-pointer from Aaliyah Ferrer, as Lebanon pulled to within 24-18 of the lead. But the Panthers closed the first half on an 8-3 spurt and took an 11-point cushion to the break.
"I wanted them, especially in the second half, to play with some sense of urgency," said Walborn of her charges. "Central York did a great job of being patient, particularly in the second half. They were working the ball. I thought there were times when we were a little too non-aggressive.
"What I love about this group is that they're believers," Walborn continued. "They weren't just happy to be in districts. They wanted to win. They've played hard, but there are times when we have had lapses. We haven't been in close games."
Following a score-less first quarter, Cedar freshman Kailah Correa netted 19 of her game-high 22 points in the second half. Central York drilled 12 of its 19 foul shots and outscored Lebanon by eight points at the charity stripe.
"She is a leader," said Walborn of Correa. "She's a point guard, and a point guard has got to be an extension of the coach. I think our kids look to her on the court. But we had a lot of leadership roles on the team and that's what made it special. We still look to those veterans, but I think we look to her (Correa) more on the floor. She knows the game."
Correa tallied Lebanon's first eight points of the third quarter, and the Cedars crept to within 37-31 of the Panthers. On three separate occasions later in the quarter, Lebanon sliced its deficit to five points.
"I thought it was a huge improvement, as far as team chemistry goes," said Walborn of the season. "We came out on fire. Then we kind of hit a rough patch. We were playing better competition. But we rebounded well from mid-season and we finished strong."
Ultimately, the Cedars were doomed by a six minute stretch in the fourth quarter when all they could manage offensively were a pair of Correa free throws. During that span, Central York was able to push its lead back to 58-45.
To purchase images in this article please email jeff@lebcosports.com.
2021-22 Lebanon Girls' Basketball Results
| | | | | | |
| --- | --- | --- | --- | --- | --- |
| 2021-12-10 | A | vs | William Allen(11) | W | 58-32 |
| 2021-12-11 | A | vs | Fleetwood(3) | W | 32-29 |
| 2021-12-14 | H | vs | Governor Mifflin(3) | L | 67-52 |
| 2021-12-16 | H | vs | Ephrata(3) | W | 49-42 |
| 2021-12-18 | A | vs | Reading(3) | L | 63-57 |
| 2021-12-21 | A | vs | Elizabethtown(3) | W | 50-44 |
| 2021-12-28 | H | vs | New Oxford(3) | W | 51-40 |
| 2021-12-29 | H | vs | J P McCaskey(3) | W | 55-43 |
| 2022-01-03 | H | vs | Carlisle(3) | W | 51-26 |
| 2022-01-04 | A | vs | Warwick(3) | W | 41-38 |
| 2022-01-10 | H | vs | Conestoga Valley(3) | W | 64-61 |
| 2022-01-11 | A | vs | J P McCaskey(3) | W | 58-53 |
| 2022-01-14 | H | vs | Cedar Crest(3) | L | 44-37 |
| 2022-01-18 | A | vs | Hempfield (3)(3) | L | 48-37 |
| 2022-01-21 | H | vs | Penn Manor(3) | L | 62-41 |
| 2022-01-24 | H | vs | Garden Spot(3) | W | 51-20 |
| 2022-01-25 | A | vs | Ephrata(3) | L | 61-51 |
| 2022-01-27 | A | vs | Manheim Township(3) | L | 61-45 |
| 2022-02-01 | H | vs | Elizabethtown(3) | W | 61-54 |
| 2022-02-05 | H | vs | Warwick(3) | W | 45-41 |
| 2022-02-08 | A | vs | Conestoga Valley(3) | W | 62-29 |
| 2022-02-09 | H | vs | Milton Hershey(3) | W | 82-58 |
PIAA District Three Class AAAAAA Power Rankings
| | | | | | | | | | | | |
| --- | --- | --- | --- | --- | --- | --- | --- | --- | --- | --- | --- |
| AAAAAA | School |  W |  L |  T |  Rating |  TWP |  OWP |  TWPW |  OWPW |  TWPL |  OWPL |
| 1 | Cedar Cliff | 22- | 0- | 0 |  0.805480 |  1.000000 |  0.567734 |  26.00 |  262.35 |  0.00 |  199.75 |
| 2 | Dallastown | 19- | 2- | 0 |  0.802370 |  0.937630 |  0.637053 |  22.55 |  285.75 |  1.50 |  162.80 |
| 3 | Red Lion | 18- | 3- | 0 |  0.767139 |  0.905263 |  0.598322 |  21.50 |  263.80 |  2.25 |  177.10 |
| 4 | Central Dauphin | 14- | 2- | 0 |  0.757796 |  0.921053 |  0.558261 |  17.50 |  186.85 |  1.50 |  147.85 |
| 5 | Cumberland Valley | 17- | 4- | 0 |  0.757030 |  0.874739 |  0.613164 |  20.95 |  265.50 |  3.00 |  167.50 |
| 6 | Central York | 18- | 4- | 0 |  0.756536 |  0.869919 |  0.617957 |  21.40 |  290.10 |  3.20 |  179.35 |
| 7 | Hempfield (3) | 14- | 5- | 0 |  0.746938 |  0.821853 |  0.655376 |  17.30 |  271.85 |  3.75 |  142.95 |
| 8 | Penn Manor | 15- | 7- | 0 |  0.724143 |  0.757261 |  0.683666 |  18.25 |  323.75 |  5.85 |  149.80 |
| 9 | Wilson (3) | 15- | 5- | 0 |  0.721774 |  0.817972 |  0.604198 |  17.75 |  257.60 |  3.95 |  168.75 |
| 10 | Manheim Township | 14- | 7- | 0 |  0.695527 |  0.761693 |  0.614657 |  17.10 |  276.35 |  5.35 |  173.25 |
| 11 | Governor Mifflin | 14- | 8- | 0 |  0.674536 |  0.721739 |  0.616844 |  16.60 |  284.55 |  6.40 |  176.75 |
| 12 | Lebanon | 15- | 7- | 0 |  0.666246 |  0.775641 |  0.532541 |  18.15 |  244.25 |  5.25 |  214.40 |
| 13 | Ephrata | 13- | 9- | 0 |  0.649388 |  0.683857 |  0.607261 |  15.25 |  285.20 |  7.05 |  184.45 |
| 14 | Cedar Crest | 11- | 11- | 0 |  0.641247 |  0.607623 |  0.682343 |  13.55 |  319.20 |  8.75 |  148.60 |
| 15 | Reading | 12- | 10- | 0 |  0.611395 |  0.638009 |  0.578866 |  14.10 |  261.30 |  8.00 |  190.10 |
| 16 | Harrisburg | 8- | 11- | 0 |  0.559820 |  0.539510 |  0.584645 |  9.90 |  230.35 |  8.45 |  163.65 |
| 17 | William Penn | 9- | 12- | 0 |  0.549100 |  0.525926 |  0.577423 |  10.65 |  253.20 |  9.60 |  185.30 |
| 18 | Carlisle | 9- | 13- | 0 |  0.536865 |  0.516990 |  0.561157 |  10.65 |  257.15 |  9.95 |  201.10 |
| 19 | Warwick | 8- | 14- | 0 |  0.516065 |  0.468293 |  0.574454 |  9.60 |  268.50 |  10.90 |  198.90 |
| 20 | Conestoga Valley | 8- | 13- | 0 |  0.504682 |  0.486076 |  0.527423 |  9.60 |  233.20 |  10.15 |  208.95 |
| 21 | Muhlenberg | 5- | 17- | 0 |  0.386565 |  0.260101 |  0.541133 |  5.15 |  249.30 |  14.65 |  211.40 |
| 22 | J P McCaskey | 3- | 18- | 0 |  0.381332 |  0.185841 |  0.620266 |  3.15 |  282.50 |  13.80 |  172.95 |
| 23 | Chambersburg Area | 3- | 19- | 0 |  0.381330 |  0.197368 |  0.606172 |  3.75 |  280.90 |  15.25 |  182.50 |
| 24 | Central Dauphin East | 0- | 22- | 0 |  0.287544 |  0.000000 |  0.638987 |  0.00 |  298.95 |  17.10 |  168.90 |
| 25 | York County School of Technology | 3- | 18- | 0 |  0.274104 |  0.149144 |  0.426832 |  3.05 |  185.80 |  17.40 |  249.50 |

Lebanon Federal Credit Union