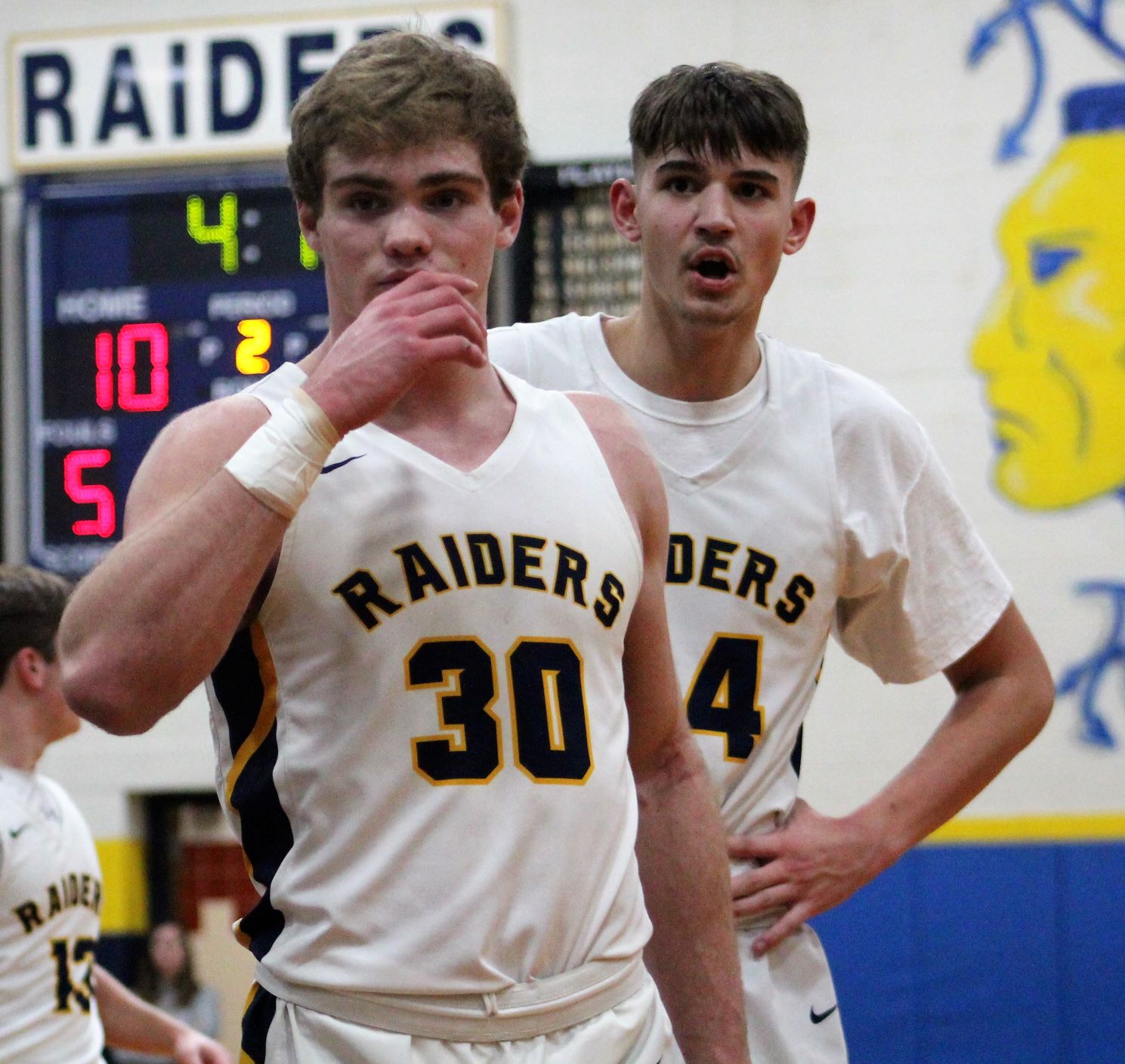 BY JEFF FALK
Editor
MYERSTOWN – The strength of the opponent was a given.
What they had to control were the things that were within their control. That absolutely, positively must happen for the Raiders to enjoy success, by any definition of the word.
On Monday night at Elco High School, in the quarterfinal round of the Lancaster-Lebanon League playoffs, the Raiders needed to be at their best and weren't, and the result was a 50-33 loss to a talented Hempfield squad. The Black Knights gained control of the outcome in the middle of the second period, but Elco struggled with its execution, and subsequently its offense, throughout.
With the outcome, Elco, the reigning Lancaster-Lebanon Section Four champion, dipped to 13-10 on the season. The loss was also the Raiders' fifth in their last seven outings, after they had begun their year 9-2.
As the number-eight seed, the Raiders will open play in the District Three Class AAAA playoffs at home on Monday, February 21 at 7 p.m., opposite ninth-seeded Wyomissing. It's the same Wyomissing outfit which had defeated Elco 58-51 in its regular-season finale on Feb. 10.
Hempfield, the co-champion of Section One, moved to 18-4 on the season and into Wednesday's Lancaster-Lebanon League semifinal against Warwick, a 59-49 winner over Columbia.
"It's disappointing," said Elco head coach Brad Conners. "We didn't execute at all. I thought over the course of the season we found out some things about ourselves. I don't know if it was the black jerseys (Hempfield). But we played like a small school going against a big school. We ate everything they gave us.
"We didn't execute from the start," continued Conners. "We felt like we were in a hole right away. They (the Black Knights) went to that 1-2-2 trap earlier than I thought, and we didn't react to it. Saturday's practice was not a good practice. We didn't have them (his players) ready for that 1-2-2. It was like we never saw it before."
The Raiders did enjoy some positive moments early.
Hempfield went the first 4:15 of the contest without a score, and Elco established a 4-0 lead, thanks to a basket from Rheece Shuey and a pair of foul shots by Corey Attivo. Later in the opening period, the Raiders stretched their advantage to 9-4, courtesy of an inside bucket by Luke Williams and Camden Marquette's three-pointer.
"Honestly, I thought we matched up well with them," said Conners of the Black Knights. "We're going to hang our hats on our defense, slowing the ball down and getting it to our 'bigs'. But I haven't seen our defense that bad all year. We saw guys staring at their men. I saw guys in black slicing through our defense.
"I would've said a couple of years ago that getting to the league playoffs was a reward," added Conners. "But right now, we want to win games. It's about taking the next step. But for us to do that we have to take a look in the mirror."
The Black Knights' half-court trap began to wear on Elco late in the first quarter.
Hempfield tallied the final eight points of the first period and the initial seven of the second, and all of a sudden, the Black Knights were sitting on a 19-9 cushion. The first half ended with Hempfield ahead 25-12.
"We wanted to get the big guys touches on the offensive end," said Conners. "He (Attivo) needs to get touches. I'm going to say he only got six or seven touches the whole game. I've got to teach our guards how to feed him the ball. There were times where they (the Black Knights) took it away. But there were other times when it was there."
George and Williams each tallied 11 Raider points. Hempfield outscored Elco 36-12 on two point field goals.
"They're good," said Conners of the Black Knights. "(Hempfield junior guard Miguel) Pen's nice. I'm just disappointed. I thought it would be a much more competitive game."
The Raiders threatened mildly in the third period.
Elco started the second half with a three-pointer from Williams that made it a 25-15 game. And the Raiders closed the third quarter with an old-fashioned three-point play from Attivo and a three-pointer by George to pull to within 35-26 of the lead.
"I don't want to drop the bar for us," said Conners. "I want our guys to know I'm disappointed. I'd like to win some district games. I expect us to come in Monday night and play better."
It was Hempfield's 7-1 spurt to open the fourth quarter that put the result to rest. That gave the Black Knights a 42-27 advantage with 3:54 remaining, and the Raiders managed only seven total points over the entire fourth period.
"I don't think we played better earlier in the year," said Conners. "It was just a matter of the schedule. The goal for districts is to win next Monday night, beat Wyomissing here and play better. The goal for us would be to take a good hard look at ourselves and make adjustments that allow us to win. We didn't have a good recipe tonight."
To purchase images in this article please email jeff@lebcosports.com.
2021 Elco Boys' Basketball Results
| | | | | | |
| --- | --- | --- | --- | --- | --- |
| 2021-12-10 | A | vs | Red Land(3) | W | 45-33 |
| 2021-12-11 | A | vs | Lebanon(3) | L | 29-34 |
| 2021-12-14 | H | vs | Octorara(3) | W | 57-54 |
| 2021-12-17 | A | vs | Donegal(3) | W | 42-33 |
| 2021-12-21 | A | vs | Northern Lebanon(3) | W | 50-39 |
| 2021-12-29 | A | vs | Dallastown(3) | L | 46-48 |
| 2021-12-30 | A | vs | Spring Grove Area(3) | W | 48-39 |
| 2022-01-03 | H | vs | Annville-Cleona(3) | W | 66-25 |
| 2022-01-05 | A | vs | Hamburg(3) | W | 70-43 |
| 2022-01-07 | H | vs | Lancaster Catholic(3) | W | 52-50 |
| 2022-01-11 | H | vs | Cocalico(3) | W | 55-39 |
| 2022-01-14 | A | vs | Manheim Central(3) | L | 53-58 |
| 2022-01-18 | H | vs | Solanco(3) | W | 66-34 |
| 2022-01-21 | A | vs | Lampeter Strasburg(3) | L | 49-71 |
| 2022-01-25 | A | vs | Octorara(3) | L | 61-69 |
| 2022-01-28 | H | vs | Donegal(3) | W | 48-44 |
| 2022-01-29 | A | vs | Pottsville(11) | L | 45-52 |
| 2022-02-01 | H | vs | Northern Lebanon(3) | L | 44-53 |
| 2022-02-02 | A | vs | Conrad Weiser(3) | L | 45-55 |
| 2022-02-04 | H | vs | Garden Spot(3) | W | 53-42 |
| 2022-02-08 | A | vs | Lancaster Catholic(3) | W | 55-51 |
| 2022-02-10 | A | vs | Wyomissing(3) | L | 51-58 |
PIAA District Three Final Class AAAA Power Rankings
| | | | | | | | | | | | |
| --- | --- | --- | --- | --- | --- | --- | --- | --- | --- | --- | --- |
| AAAA | School |  W |  L |  T |  Rating |  TWP |  OWP |  TWPW |  OWPW |  TWPL |  OWPL |
| 1 | Berks Catholic | 18- | 3- | 0 |  0.792175 |  0.897494 |  0.663452 |  19.70 |  295.80 |  2.25 |  150.05 |
| 2 | Trinity (3) | 16- | 4- | 0 |  0.679869 |  0.800995 |  0.531826 |  16.10 |  223.50 |  4.00 |  196.75 |
| 3 | Middletown | 18- | 3- | 0 |  0.672301 |  0.874715 |  0.424905 |  19.20 |  184.60 |  2.75 |  249.85 |
| 4 | Littlestown | 18- | 4- | 0 |  0.664332 |  0.827434 |  0.464985 |  18.70 |  223.10 |  3.90 |  256.70 |
| 5 | Eastern York | 14- | 8- | 0 |  0.620684 |  0.688596 |  0.537681 |  15.70 |  249.00 |  7.10 |  214.10 |
| 6 | Bishop McDevitt (3) | 14- | 8- | 0 |  0.614543 |  0.677570 |  0.537509 |  14.50 |  249.70 |  6.90 |  214.85 |
| 7 | Boiling Springs | 13- | 9- | 0 |  0.604202 |  0.656542 |  0.540230 |  14.05 |  251.45 |  7.35 |  214.00 |
| 8 | Eastern Lebanon County | 13- | 9- | 0 |  0.582309 |  0.649083 |  0.500696 |  14.15 |  233.85 |  7.65 |  233.20 |
| 9 | Wyomissing | 12- | 9- | 0 |  0.579059 |  0.612346 |  0.538376 |  12.40 |  242.35 |  7.85 |  207.80 |
| 10 | Oley Valley | 13- | 9- | 0 |  0.534653 |  0.594170 |  0.461910 |  13.25 |  215.25 |  9.05 |  250.75 |
| 11 | Kennard Dale | 9- | 13- | 0 |  0.501978 |  0.461009 |  0.552050 |  10.05 |  259.85 |  11.75 |  210.85 |
| 12 | James Buchanan | 7- | 15- | 0 |  0.455950 |  0.356796 |  0.577137 |  7.35 |  259.25 |  13.25 |  189.95 |
| 13 | Northern Lebanon | 8- | 14- | 0 |  0.439876 |  0.397129 |  0.492122 |  8.30 |  232.70 |  12.60 |  240.15 |
| 14 | Schuylkill Valley | 7- | 14- | 0 |  0.435972 |  0.359413 |  0.529544 |  7.35 |  235.25 |  13.10 |  209.00 |
| 15 | West Perry | 8- | 14- | 0 |  0.433543 |  0.400990 |  0.473330 |  8.10 |  217.85 |  12.10 |  242.40 |
| 16 | Bermudian Springs | 8- | 14- | 0 |  0.417809 |  0.380282 |  0.463675 |  8.10 |  221.15 |  13.20 |  255.80 |
| 17 | Susquehanna Township | 5- | 17- | 0 |  0.381660 |  0.235149 |  0.560729 |  4.75 |  263.15 |  15.45 |  206.15 |
| 18 | Hamburg | 5- | 17- | 0 |  0.362467 |  0.225581 |  0.529772 |  4.85 |  246.45 |  16.65 |  218.75 |
| 19 | Hanover (3) | 5- | 17- | 0 |  0.351335 |  0.224057 |  0.506897 |  4.75 |  242.55 |  16.45 |  235.95 |
| 20 | East Pennsboro | 0- | 22- | 0 |  0.231327 |  0.000000 |  0.514060 |  0.00 |  237.65 |  21.20 |  224.65 |

Lebanon Federal Credit Union