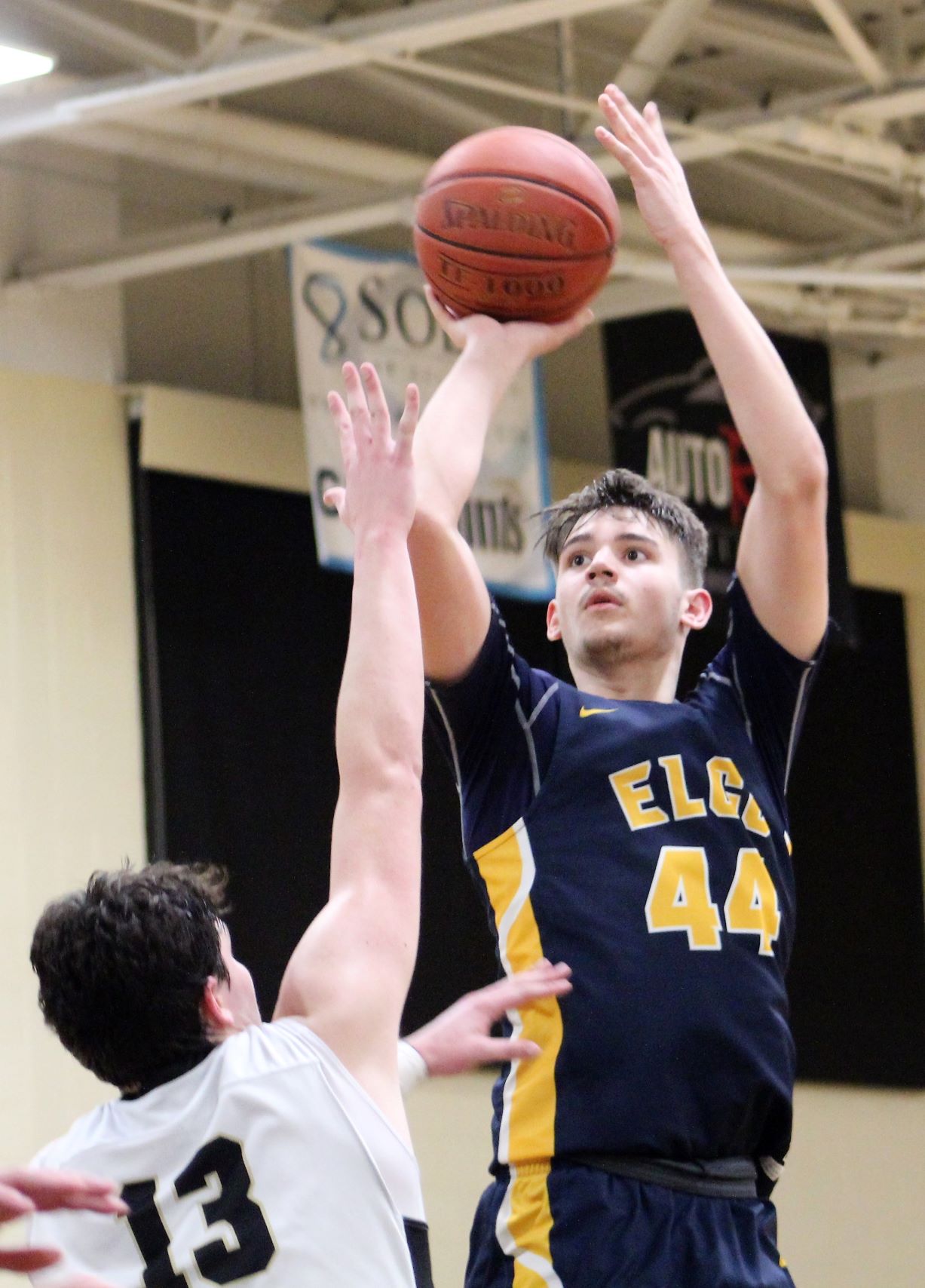 BY JEFF FALK
Editor
READING – They didn't have to be perfect. But they did have to be fine. The margin for error was slim.
To its credit, the Elco boys' basketball team put itself in a perfect position to realize success. The ball simply refused to roll the Raiders' way.
On Thursday night at Berks Catholic High School, Elco endured a 55-40 loss to the home-standing Saints, in the quarterfinals of the District Three Class AAAA playoffs. Time and time again, the Raiders got the looks at the basket they wanted, but more often than not, those attempts just wouldn't fall.
With the outcome, Elco slipped to 14-11 overall and into the consolation bracket of the AAAA postseason. Because District Three sends five squads to the PIAA Class AAAA tournament, the eight-seeded Raiders now face two must-win contests to get to states.
The first of those do-or-die games will be played on Monday at 7 p.m. at Eastern York.
The triumph pushed top-seeded Berks Catholic to 21-4 and into the District Three Class AAAA semifinals, opposite Littlestown, also on Monday.
"We even talked about that at halftime," said Elco head coach Brad Conners. "We got what we wanted. There had to be five or six shots in the second quarter alone that just rolled off the rim. The whole quarter went like that. We talked at halftime about continuing to get inside.
"I told them I was really proud of them," added Conners. "They give you everything they've got. I thought we were there, and we didn't get our hands out defensively. We were there, position-wise."
Those missed opportunities were particularly glaring during that decisive stretch in the second quarter when Berks Catholic gained an advantage it would never relinquish.
Elco did not score over the final 6:39 of the first half, as the Saints carried a 25-15 lead to the break. Prior to that, an inside move from senior Luke Williams had pulled the Raiders to within 18-15 of Berks Catholic.
"When you look at the games that went really well for us this year, we shot really well from the field," said Conners. "Tonight was not a good percentage. We were getting shots inside. We were getting shots in the paint. They just didn't drop, for a variety of reasons.
"I thought our kids battled their butts off," Conners added. "They played a good game."
The Raiders were extremely competitive in the opening quarter. Thanks in part to the scoring of Corey Attivo and its outside-in game, Elco stayed within a possession of the Saints throughout the period.
"I figured it would be within reach," said Conner of a positive result. "I really believed in our defense. It's something we've been able to hang our hats on all season. Fifty-five was a little more than we wanted to give up. We wanted a game in the 40s."
With a team-high 14 points, Attivo was the lone Raider scorer to reach double digits. Berks Catholic outscored Elco 27-9 from beyond the three-point arc.
"It's hard to do everything right," said Conners. "Our kids did a lot right defensively. That's a good team. I thought we did a good job with their drives and their three-point shots. But we didn't get our hands up. They've (the Saints) got a quick release.
"We needed to make shots inside," continued Conners. "We needed to keep them from making nine three-balls."
Elco opened the second half with a three-pointer from sophomore Dallas George to pull to within 25-18 of the lead. But the Raiders then endured another scoring drought – this one 2:41 in length – and the Saints rebuilt their advantage to a dozen points.
The closest Elco would come the rest of the way was 43-34, on a three-pointer from Attivo with 5:54 to play.
"They're in it. They're motivated," said Conners of his side's prospects for qualifying for the PIAA playoffs. "They don't want their season to end. There's a lot of tears down there (in the locker room). They're not done. They want to keep playing. And when you have kids like that who want to keep fighting, you want to keep fighting for them."
'To purchase images in this article please email jeff@lebcosports.com.
2021-22 Elco Boys' Basketball Results
| | | | | | |
| --- | --- | --- | --- | --- | --- |
| 2021-12-10 | A | vs | Red Land(3) | W | 45-33 |
| 2021-12-11 | A | vs | Lebanon(3) | L | 29-34 |
| 2021-12-14 | H | vs | Octorara(3) | W | 57-54 |
| 2021-12-17 | A | vs | Donegal(3) | W | 42-33 |
| 2021-12-21 | A | vs | Northern Lebanon(3) | W | 50-39 |
| 2021-12-29 | A | vs | Dallastown(3) | L | 46-48 |
| 2021-12-30 | A | vs | Spring Grove Area(3) | W | 48-39 |
| 2022-01-03 | H | vs | Annville-Cleona(3) | W | 66-25 |
| 2022-01-05 | A | vs | Hamburg(3) | W | 70-43 |
| 2022-01-07 | H | vs | Lancaster Catholic(3) | W | 52-50 |
| 2022-01-11 | H | vs | Cocalico(3) | W | 55-39 |
| 2022-01-14 | A | vs | Manheim Central(3) | L | 53-58 |
| 2022-01-18 | H | vs | Solanco(3) | W | 66-34 |
| 2022-01-21 | A | vs | Lampeter Strasburg(3) | L | 49-71 |
| 2022-01-25 | A | vs | Octorara(3) | L | 61-69 |
| 2022-01-28 | H | vs | Donegal(3) | W | 48-44 |
| 2022-01-29 | A | vs | Pottsville(11) | L | 45-52 |
| 2022-02-01 | H | vs | Northern Lebanon(3) | L | 44-53 |
| 2022-02-02 | A | vs | Conrad Weiser(3) | L | 45-55 |
| 2022-02-04 | H | vs | Garden Spot(3) | W | 53-42 |
| 2022-02-08 | A | vs | Lancaster Catholic(3) | W | 55-51 |
| 2022-02-10 | A | vs | Wyomissing(3) | L | 51-58 |
PIAA District Three Class AAAA Power Rankings
| | | | | | | | | | | | |
| --- | --- | --- | --- | --- | --- | --- | --- | --- | --- | --- | --- |
| AAAA | School |  W |  L |  T |  Rating |  TWP |  OWP |  TWPW |  OWPW |  TWPL |  OWPL |
| 1 | Berks Catholic | 18- | 3- | 0 |  0.791674 |  0.897494 |  0.662338 |  19.70 |  295.80 |  2.25 |  150.80 |
| 2 | Trinity (3) | 16- | 4- | 0 |  0.679869 |  0.800995 |  0.531826 |  16.10 |  223.50 |  4.00 |  196.75 |
| 3 | Middletown | 18- | 3- | 0 |  0.672301 |  0.874715 |  0.424905 |  19.20 |  184.60 |  2.75 |  249.85 |
| 4 | Littlestown | 18- | 4- | 0 |  0.664332 |  0.827434 |  0.464985 |  18.70 |  223.10 |  3.90 |  256.70 |
| 5 | Eastern York | 14- | 8- | 0 |  0.620684 |  0.688596 |  0.537681 |  15.70 |  249.00 |  7.10 |  214.10 |
| 6 | Bishop McDevitt (3) | 14- | 8- | 0 |  0.614543 |  0.677570 |  0.537509 |  14.50 |  249.70 |  6.90 |  214.85 |
| 7 | Boiling Springs | 13- | 9- | 0 |  0.604202 |  0.656542 |  0.540230 |  14.05 |  251.45 |  7.35 |  214.00 |
| 8 | Eastern Lebanon County | 13- | 9- | 0 |  0.582309 |  0.649083 |  0.500696 |  14.15 |  233.85 |  7.65 |  233.20 |
| 9 | Wyomissing | 12- | 9- | 0 |  0.579059 |  0.612346 |  0.538376 |  12.40 |  242.35 |  7.85 |  207.80 |
| 10 | Oley Valley | 13- | 9- | 0 |  0.534653 |  0.594170 |  0.461910 |  13.25 |  215.25 |  9.05 |  250.75 |
| 11 | Kennard Dale | 9- | 13- | 0 |  0.501978 |  0.461009 |  0.552050 |  10.05 |  259.85 |  11.75 |  210.85 |
| 12 | James Buchanan | 7- | 15- | 0 |  0.455950 |  0.356796 |  0.577137 |  7.35 |  259.25 |  13.25 |  189.95 |
| 13 | Northern Lebanon | 8- | 14- | 0 |  0.439876 |  0.397129 |  0.492122 |  8.30 |  232.70 |  12.60 |  240.15 |
| 14 | Schuylkill Valley | 7- | 14- | 0 |  0.435972 |  0.359413 |  0.529544 |  7.35 |  235.25 |  13.10 |  209.00 |
| 15 | West Perry | 8- | 14- | 0 |  0.433543 |  0.400990 |  0.473330 |  8.10 |  217.85 |  12.10 |  242.40 |
| 16 | Bermudian Springs | 8- | 14- | 0 |  0.417809 |  0.380282 |  0.463675 |  8.10 |  221.15 |  13.20 |  255.80 |
| 17 | Susquehanna Township | 5- | 17- | 0 |  0.381660 |  0.235149 |  0.560729 |  4.75 |  263.15 |  15.45 |  206.15 |
| 18 | Hamburg | 5- | 17- | 0 |  0.362467 |  0.225581 |  0.529772 |  4.85 |  246.45 |  16.65 |  218.75 |
| 19 | Hanover (3) | 5- | 17- | 0 |  0.351335 |  0.224057 |  0.506897 |  4.75 |  242.55 |  16.45 |  235.95 |
| 20 | East Pennsboro | 0- | 22- | 0 |  0.231327 |  0.000000 |  0.514060 |  0.00 |  237.65 |  21.20 |  224.65 |