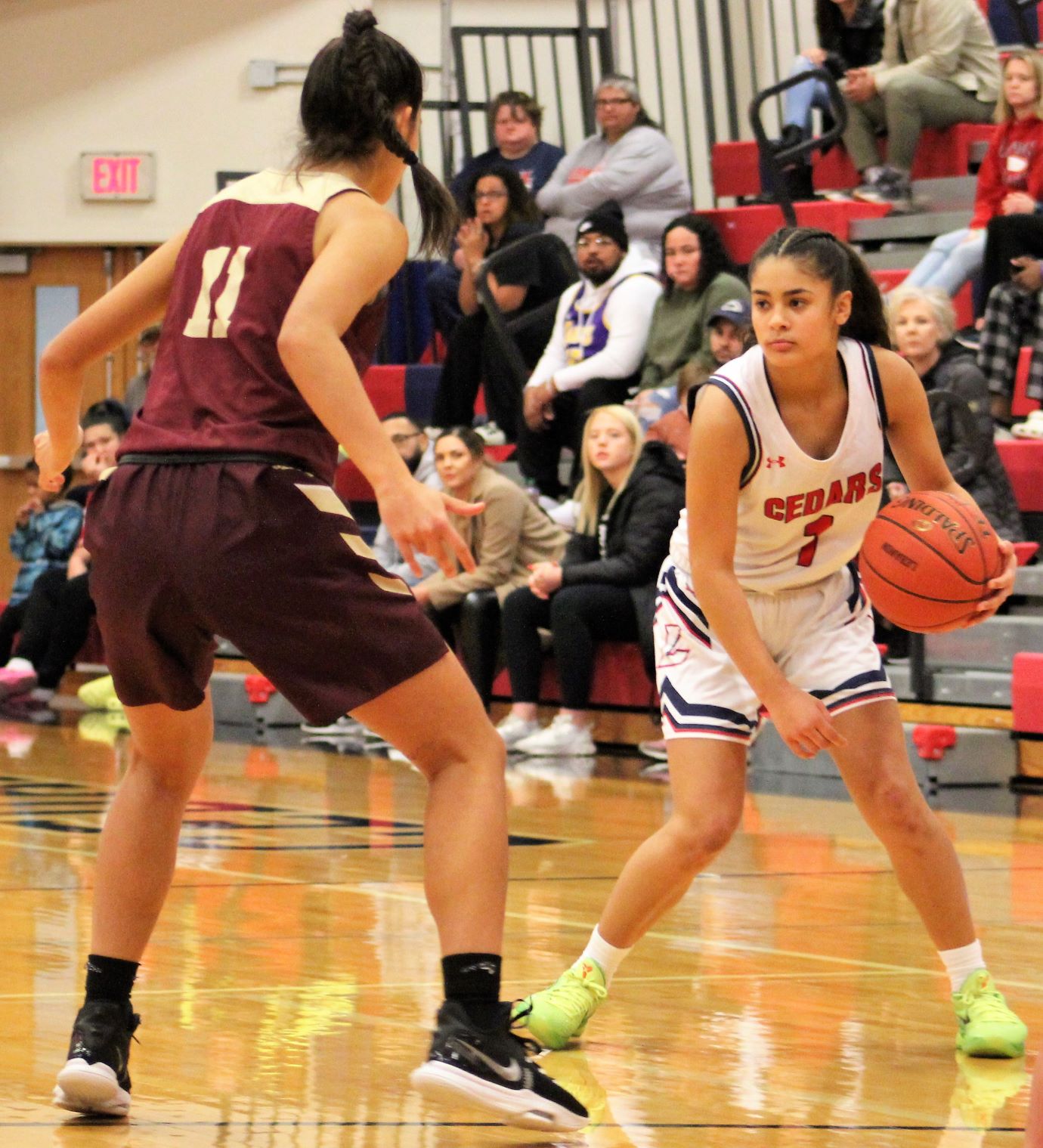 BY JEFF FALK
Editor
 She's not a basketball player. She's a student-athlete.
She's not an adult to be molded. She's a young person to be unfolded.
She's not someone to live vicariously through. She's a human being to be rooted for and supported.
She's not a star, not a 'best' anything, not a savior – God forbid. She's a 14-year-old kid.
Kailah Correa is nearing the end of a remarkable, and in many ways unprecedented, freshman season on the Lebanon girls' basketball team. What Correa has been able to achieve on the court for the Cedars may only be surpassed by what she has been able to accomplish off it.
Through all the talk, through all the hype, through all the pressure, Correa has remained true to herself and to her upbringing. She has done and said all the right things.
But no one really knows what goes on inside the mind of an adolescent.
"There is 100 percent pressure on me every day," said Correa. "I'm trying to work through it and play basketball the way I know I can. It does come from the outside, parents, friends, the media. I try to ignore it. But some comes from inside myself. I try to control it.
"I think I've been doing good with it," Correa continued. "My parents have been huge helping me with the pressure. They tell me to block it out, all the pressure, all the hate. I'm thankful for that."
With her defense, her three-point and foul shooting and her 21-points-per-game scoring average, Correa is the biggest single reason for Lebanon's remarkable turnaround this season. On the heels of last year's 2-17 campaign, the Cedars are currently 12-7 overall, 6-5 and in second place in Section Two of the Lancaster-Lebanon League and positioned 13th in the PIAA District Three Class AAAAAA power rankings.
All at a school that certainly isn't known for its female athletics, one that hasn't enjoyed a ton of success on the playing fields in girls' sports lately.
"Coming into the season, one of my individual goals was to average 15 points," said Correa. "I feel like I'm doing pretty well. I'm thankful that I've had a pretty good freshman season. Coach wants the ball in my hands, and as the season has gone on, teams have been trying to take away my game. Things have changed since the beginning of the season, but we've adjusted.
"I'm still working on my leadership skills," added Correa. "It's not easy being a freshman. I believe my job is to lead the team, direct traffic, make sure the team chemistry is there and make sure everyone is having fun. I wasn't given the captain title, but I think the girls respect me so much. They don't look at me as a freshman, but it goes both ways. We all win together."
Two weeks ago, the 5-4, 125-pound Correa received the first of what could be a number of Division One athletic grants-in-aid offers from the University of Illinois. Correa is believed to be the first Lebanon County student-athlete ever to receive a Division One scholarship as a freshman, a feat that fellow Cedars like Sam Bowie, Kerry Collins and Jared Odrick never accomplished.
There are, of course, reasons for that.
"One of the assistant coaches from Illinois watched the Cedar Crest game (at home on January 14). I had no clue she was there," said Correa. "That's when I got a call. It just went from there to a forever memory. I hope more come, but that depends on my work ethic. I have so much more work to do.
"I have asked myself that same question (when she'll make a college choice)," Correa added. "I'm so young. I have no clue. I'm going to let time pass. When the feeling hits me, I'll decide. But it's something I've been thinking about since probably the fourth grade, when I was offered to play on the boys' travel team. That's the time I started taking the game more seriously."
Forget the whole sticks-and-stones-will-break-your-bones thing, words are powerful and they can hurt. That's why they must be chosen carefully.
At 14, Correa is two years away from being legally able to drive and work, and she's four years away from being able to vote.
"People say all kinds of stuff, both positive and negative," said Correa. "I try to tune it out. I ignore it. I listen to the advice my family gives me.
"It (the talk) definitely brings something out in me," added Correa. "The positive stuff makes me feel good. Sometimes social media can be a good thing, and sometimes social media can be a bad thing. I try to tune it out the best I can."
Correa characterized herself as an 'A' and 'B' student throughout elementary school and middle school, but conceded that the scholastic work in high school has become harder. Although she's competed in track and field in the past, she stopped short of committing to the sport this spring.
"Basketball defines me," said Correa. "It's my life. I look at it not as a sport. I see it as a way out. The love I have for that sport is hard to describe. But I'm working. I'm determined. I'm going to get better.
"I think being humble is huge," Correa added. "You can have great skills, but people like a humble person. It allows you to keep pushing yourself. I always want more."
Like life, we only get one crack at this thing we call 'adolescence'. There are no do-overs, and these formative years possess the power to ultimately shape the people we become.
"My older sister Giahny played for Lebanon and just graduated," said Correa. "I knew I'd have huge shoes to fill in basketball. Coming into the season, I knew they struggled last year. I didn't want that. I wanted people to come out to our games. I wanted the team to have more focus, and I think we've done that.
"I think people looking in from the outside and watching my games think, 'She's come all this way, she had to have help," concluded Correa. "Not to boast, but I did a lot of it on my own. I just feel like people might think I had all this help, but I did it on my own."
Here's hoping that Kailah Correa isn't too mature beyond her years.
To purchase images in this article please email jeff@lebcosports.com.
2021-22 Lebanon Girls' Basketball Results
| | | | | | |
| --- | --- | --- | --- | --- | --- |
| 2021-12-10 | A | vs | William Allen(11) | W | 58-32 |
| 2021-12-11 | A | vs | Fleetwood(3) | W | 32-29 |
| 2021-12-14 | H | vs | Governor Mifflin(3) | L | 67-52 |
| 2021-12-16 | H | vs | Ephrata(3) | W | 49-42 |
| 2021-12-18 | A | vs | Reading(3) | L | 63-57 |
| 2021-12-21 | A | vs | Elizabethtown(3) | W | 50-44 |
| 2021-12-28 | H | vs | New Oxford(3) | W | 51-40 |
| 2021-12-29 | H | vs | J P McCaskey(3) | W | 55-43 |
| 2022-01-03 | H | vs | Carlisle(3) | W | 51-26 |
| 2022-01-04 | A | vs | Warwick(3) | W | 41-38 |
| 2022-01-10 | H | vs | Conestoga Valley(3) | W | 64-61 |
| 2022-01-11 | A | vs | J P McCaskey(3) | W | 58-53 |
| 2022-01-14 | H | vs | Cedar Crest(3) | L | 44-37 |
| 2022-01-18 | A | vs | Hempfield (3)(3) | L | 48-37 |
| 2022-01-21 | H | vs | Penn Manor(3) | L | 62-41 |
| 2022-01-24 | H | vs | Garden Spot(3) | W | 51-20 |
| 2022-01-25 | A | vs | Ephrata(3) | L | 61-51 |
| 2022-01-27 | A | vs | Manheim Township(3) | L | 61-45 |
| 2022-02-01 | H | vs | Elizabethtown(3) | W | 61-54 |
| 2022-02-04 | H | vs | Warwick(3) | | 0-0 |
| 2022-02-08 | A | vs | Conestoga Valley(3) | | 0-0 |
| 2022-02-10 | H | vs | Milton Hershey(3) | | 0-0 |
PIAA District Three Class AAAAAA Power Rankings
(Top 12 Qualify)
| | | | | | | | | | | | |
| --- | --- | --- | --- | --- | --- | --- | --- | --- | --- | --- | --- |
| AAAAAA | School |  W |  L |  T |  Rating |  TWP |  OWP |  TWPW |  OWPW |  TWPL |  OWPL |
| 1 | Dallastown | 17- | 2- | 0 |  0.800768 |  0.930716 |  0.641942 |  20.15 |  265.70 |  1.50 |  148.20 |
| 2 | Cedar Cliff | 20- | 0- | 0 |  0.794010 |  1.000000 |  0.542244 |  23.60 |  213.40 |  0.00 |  180.15 |
| 3 | Central Dauphin | 12- | 1- | 0 |  0.774569 |  0.952381 |  0.557244 |  15.00 |  165.00 |  0.75 |  131.10 |
| 4 | Central York | 17- | 3- | 0 |  0.770940 |  0.892070 |  0.622892 |  20.25 |  267.75 |  2.45 |  162.10 |
| 5 | Red Lion | 17- | 3- | 0 |  0.765730 |  0.900442 |  0.601081 |  20.35 |  239.05 |  2.25 |  158.65 |
| 6 | Cumberland Valley | 15- | 3- | 0 |  0.765649 |  0.892344 |  0.610800 |  18.65 |  229.05 |  2.25 |  145.95 |
| 7 | Hempfield (3) | 13- | 5- | 0 |  0.742896 |  0.810606 |  0.660139 |  16.05 |  256.20 |  3.75 |  131.90 |
| 8 | Wilson (3) | 13- | 4- | 0 |  0.731489 |  0.829333 |  0.611901 |  15.55 |  234.45 |  3.20 |  148.70 |
| 9 | Penn Manor | 14- | 7- | 0 |  0.715778 |  0.743982 |  0.681307 |  17.00 |  284.65 |  5.85 |  133.15 |
| 10 | Manheim Township | 12- | 6- | 0 |  0.707973 |  0.761658 |  0.642358 |  14.70 |  257.20 |  4.60 |  143.20 |
| 11 | Governor Mifflin | 13- | 7- | 0 |  0.680089 |  0.732227 |  0.616364 |  15.45 |  249.35 |  5.65 |  155.20 |
| 12 | Ephrata | 11- | 8- | 0 |  0.644514 |  0.672727 |  0.610030 |  12.95 |  252.40 |  6.30 |  161.35 |
| 13 | Lebanon | 12- | 7- | 0 |  0.643961 |  0.734177 |  0.533697 |  14.50 |  215.00 |  5.25 |  187.85 |
| 14 | Cedar Crest | 10- | 10- | 0 |  0.635745 |  0.605911 |  0.672209 |  12.30 |  274.90 |  8.00 |  134.05 |
| 15 | Reading | 9- | 9- | 0 |  0.586329 |  0.588068 |  0.584202 |  10.35 |  229.65 |  7.25 |  163.45 |
| 16 | Harrisburg | 8- | 10- | 0 |  0.571529 |  0.562500 |  0.582564 |  9.90 |  198.80 |  7.70 |  142.45 |
| 17 | William Penn | 9- | 11- | 0 |  0.562669 |  0.548969 |  0.579414 |  10.65 |  232.20 |  8.75 |  168.55 |
| 18 | Carlisle | 7- | 11- | 0 |  0.529970 |  0.500000 |  0.566600 |  8.35 |  225.45 |  8.35 |  172.45 |
| 19 | Warwick | 7- | 12- | 0 |  0.520055 |  0.476056 |  0.573830 |  8.45 |  235.50 |  9.30 |  174.90 |
| 20 | Conestoga Valley | 7- | 11- | 0 |  0.507259 |  0.494083 |  0.523363 |  8.35 |  203.85 |  8.55 |  185.65 |
| 21 | Muhlenberg | 5- | 14- | 0 |  0.408829 |  0.296830 |  0.545716 |  5.15 |  218.15 |  12.20 |  181.60 |
| 22 | Chambersburg Area | 3- | 17- | 0 |  0.392816 |  0.216763 |  0.607991 |  3.75 |  245.75 |  13.55 |  158.45 |
| 23 | J P McCaskey | 2- | 16- | 0 |  0.359964 |  0.151724 |  0.614479 |  2.20 |  247.85 |  12.30 |  155.50 |
| 24 | Central Dauphin East | 0- | 21- | 0 |  0.287405 |  0.000000 |  0.638677 |  0.00 |  259.75 |  16.35 |  146.95 |
| 25 | York County School of Technology | 3- | 17- | 0 |  0.276377 |  0.157216 |  0.422017 |  3.05 |  166.95 |  16.35 |  228.65 |
Lancaster-Lebanon League
Section Two Standings